The all important gullwing doors and the essential design ingredients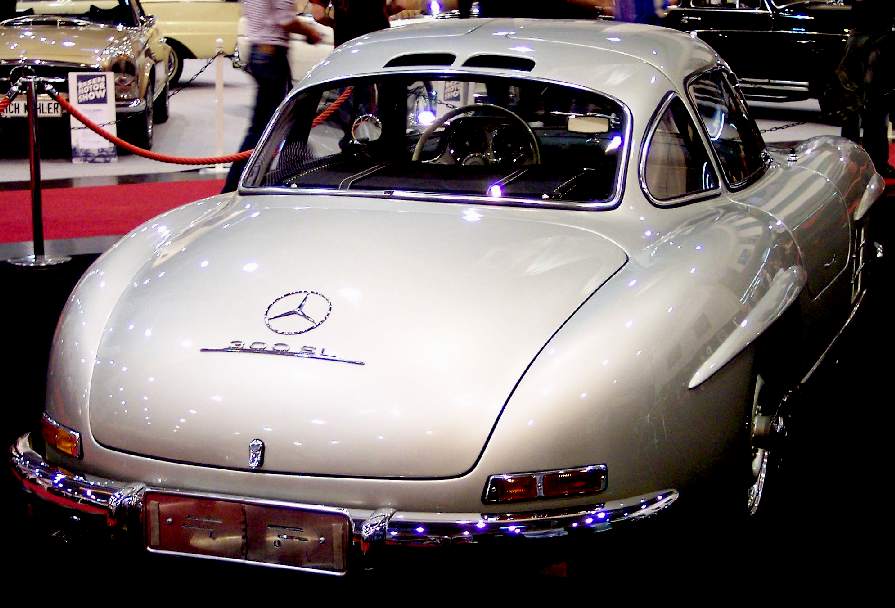 German customs officials recently (2012) seized a replica of Mercedes-Benz's legendary 300SL "Gullwing." Officials at Daimler AG, Mercedes' parent, were not amused. What did they do when German customs handed over the illegal copy? They destroyed it.
The replica Gullwing was taken to Mercedes' "used-parts centre," where prototype and test vehicles are scrapped. The car was completely disassembled, presumably taking the opportunity to see if there were any worthwhile improvements, then the fiberglass body was placed in a press capable of generating 30 tonnes of pressure.
According to a Mercedes press release, the press then smashed the body into small pieces. "This dramatic end to the unlawful body was officially documented with a signed and stamped 'confirmation of scrappage,'" the company is quoted as saying.

According to Daimler, the 300SL's distinctive shape has been the company's property from the beginning. "The employees who designed the famous gullwing model in the 1950s granted Daimler AG comprehensive exploitation rights," the company said, "the body shape has been trademarked by Daimler AG."

The original 300 SL debuted in 1954 and helped reestablish Mercedes as a maker of performance cars after World War II. To keep the body rigid, it had high, thick sills. This necessitated the trademark "gullwing" doors, which are hinged at the roof to make the door aperture bigger. SL-Class sports cars are still sold today, and the gullwing doors are replicated on the Mercedes SLS AMG coupe.

This may be the first time a car company used a crusher to solve a copyright dispute, but it is not the first time carmakers and car replicators have fought. Carroll Shelby never trademarked his original Cobra design, but he did sue companies for making replicas. Consequently, he lost, and now there are more replica Cobras on the road than real ones. Ford decided to bring back its LeMans-winning GT40 in 2005, but it had to call the new version "GT" because a builder of replicas had already trademarked the name "GT40."

Daimler, however, remembered to trademark the Gullwing's design when the car was built, not years later. Still, the Germans' response seems remarkably aggressive for an industry that doesn't seem to care much about intellectual property. There are plenty of "Fauxrrari" kit cars, Pontiac Fieros dressed up as Testarossas, driving around, and no one seems to mind.

Companies are entitled to protect their copyrights, designs and trade names, and Daimler sent a clear message to anyone thinking about ripping off a classic Mercedes design.
Imagine now Hollywood producers doing the same; smashing computers full of illegal downloads. Hey, maybe that's not a bad thing! Mercedes might not be quite so harsh. Perhaps they might give limited run licenses to enthusiasts? Imitation (after all) is the sincerest form of flattery.
Above: The Mercedes-Benz 300 SL replica is terminated. Below:
MAD ABOUT KIT CARS
I (a kit car writer) know of about a half dozen attempt to build 300SL. The most notable was Toney Osterhaus of Gullwings unlimited in Gardena California. Everyone agrees that they were great. He went into receivership (so maybe not that geat). His inventory was tied up in courts for year and may have recently been sold to England

Lone Star replicas in Texas make a roadster turnkey replica. I have not heard much of them but what I heard wasn't good

Herman Quint in Connecticutt: Quint Motorcars. He made turnkey Gullwings for 25 years. Most were built on a corvette frame. Recently sold to Matt Mazza of Wing Motorcars. Herman's cars were good but they evolved over the years. Originally (they were) all corvette parts then later all late model V-8 Mercedes with auto transmissions

Thoroughbred Motorcars in Mt Dora Florida: Has made replica SLR kits and turnkeys. Has recently made Gullwing kits. I bought his first kit and am sorting it out as Gil Lonecker has never actually assembled one his kit cars. I have been working on it for a year now. There are lots of problems to work out but I am getting there.

One problem is that unlike many kits there are no replica parts (bumpers, badges, hinges, door latches, window frames etc). There were only 1,200 made so obtaining an original part is very very pricey. I have over $30,000 invested in the project already.
Having read about the customs seizure, one would imagine counterfeiters will think twice about copying a concept.
Andrew English road testing a 300SL (Telegraph). We are interested in the clearance between the driver's head and the spring strut behind. It's close.
DAILY TELEGRAPH ROAD TEST - JUNE 2014
First I had to give my Mercedes minders the slip. Since the boom in classic car prices, gullwing values have gone nuclear. Mercedes built 1,400 gullwings with four fifths of them shipped to the US priced at about £57,500 in today's values. These days a decent one will fetch over £800,000, and about £2.5 million if it's one of 29 all-aluminium bodied examples. Today I'm one of only two people outside of Mercedes to be insured to drive this car worth about twice the value of my house.

Fortunately losing people in a gullwing is relatively simple. With a top speed of 135mph and 0-60mph in about 8.8sec, it's not super fast by modern standards, but it gathers speed deceptively quickly and you can make good time in this relatively compact (14ft 8in long) and narrow Merc. And while the 3.0-litre, seven-bearing, all-iron six pot has relatively humble origins, it's a standard bearer for the first mass-production use of automotive fuel injection, courtesy of a Bosch jerk pump delivering fuel direct into the cylinders through the spark-plug bosses in the block. And that, together with better crank damping, hotter cam profiles and timing, and optimised porting, meant that Mercedes virtually doubled the power from 115 to 212bhp. Maintenance was parlous, however, as the fuel quickly poisoned the lubricating oil, which demanded a big sump capacity of 2.2 gallons and oil-change intervals of just 1,000 miles.

This isn't a heavy car, it wasn't idly named SL (Sports Leicht) and at 1,295kg dry weight, its space-frame construction and aluminium doors, bonnet and boot gave it performance to match and beat the opposition. There's a story that when it was first seen, the speed of the Mercedes 300SL so rattled the Jaguar team that they sacrificed the C-type's reliability for speed and lost out at the 1952 Le Mans to the slippery 300SL.

Strangely the gullwing doors aren't a huge problem for bay parking, but getting in and out is an inelegant process. Once you are sitting in front of the chromium-plate, seven-dial dash it feels every millimetre a thoroughbred. The driving position isn't bad, but the red leather buckets are sweaty and have no support or whiplash protection. You sit quite close to the pedals with the wheel intimately in your lap. Ventilation is poor but there are effective quarter light windows in the door windows, which whistle loudly.

Also whistling are the aluminium doors, which don't seal as well as a modern car. In fact you can see the road through one of them, which isn't uncommon for hand built cars of this period.


A supercharged dragster modeled on the 300SL

At 80mph with 3,500rpm on the clock in fourth the gullwing is starting to tell you it's a very serious piece of kit. With its flickering instrument needles and guttural industrial engine note, it feels more like an aeroplane than a car and you half expect Berlin's old Tempelhof aerodrome to hove into view through the greenhouse-like cabin. The driveline is taut and requires smooth inputs to prevent shunt, but the engine gains revs more slowly than a modern lump and you have to double declutch the ratios going down the 'box. The gearlever pokes out of the centre tunnel like a knitting needle and has a precise mechanical action for the four speeds and a heavy clutch.

Steering is more a sensation of helming the nose between the twin pontoon wings. It's stable at speed, but there's about an inch of free movement at the 17in wheel rim, which is partly the old-fashioned steering box, partly the tall 15in Dunlops. So you need to think your way through the corners, turn in, apex and exit points; it's as much about vision as it is the car's dynamics, but you have to concentrate. And you can't throw it around like a modern hatchback. The drum brakes are stiff, but not particularly powerful, with a strong initial pull to the right. If applied in a corner they tend to jam the suspension bushings in the direction of travel so you need to brake before turning. At this point I told my tape recorder that the swing axles weren't quite as scary as I'd been warned. Ho hum.

Down the Sussex lanes the 300SL feels quite floppy and you can sense the body twisting, but it's a delightful dance between the hedgerows where it feels like a strong car if that's not too contrary. There's a steadfastness about the way it rides, with no squeaks or rattles from the latches and catches.

I arrived alone at the Goodwood estate. In two months this remarkable car will be celebrating its 60th as a road car at the Festival of Speed. There's no one about and the first corner, a double apex beckons. It's open with a decent run off, although I doubt Lord March would thank me for tearing up the sward.

Full of anticipation I throw the old car down the avenue, watching for tractors and waiting for the corner with the engine roaring at 4,000rpm in third. Brake and the nose dips. It's now or never and I turn in hard with the brakes on and feel my right buttock rising as the inside rear suspension starts to jack up. Camber and toe-in changes are steering the car straight on and I'm concentrating on correcting that, but the rear is still going up. The front tyres are squealing with the side force, now the rears join the song as the wheels tuck under. I get back on the accelerator hard, but it's too late. Oh my days we're going round, and right in front of Lord March's office... I pile on corrective lock and more power, the engine protests, but slowly the rear wheels regain their correct attitude and the back lurches and thumps back in line. I glance in the rear mirror at the lurid tyre marks and realise the corner is 100 yards behind us. If there'd been another bend, I'd have completely lost the car. I got away with it but many haven't, including some very skilled drivers.

What a thing it would have been to own one of these glamorous machines back in the Fifties. Hollywood's greatest and Wall Street's masters of the universe would have squired their gullwings around the first nights, private views and parties. Its porcelain-white steering wheel matching the gleaming smile of their gorgeous pouting companions, the scarlet upholstery mimicking her lipstick, the gleaming chromium dash, her diamonds – it would have been gasoline dream date. Just so long as they remembered that sting in the tail.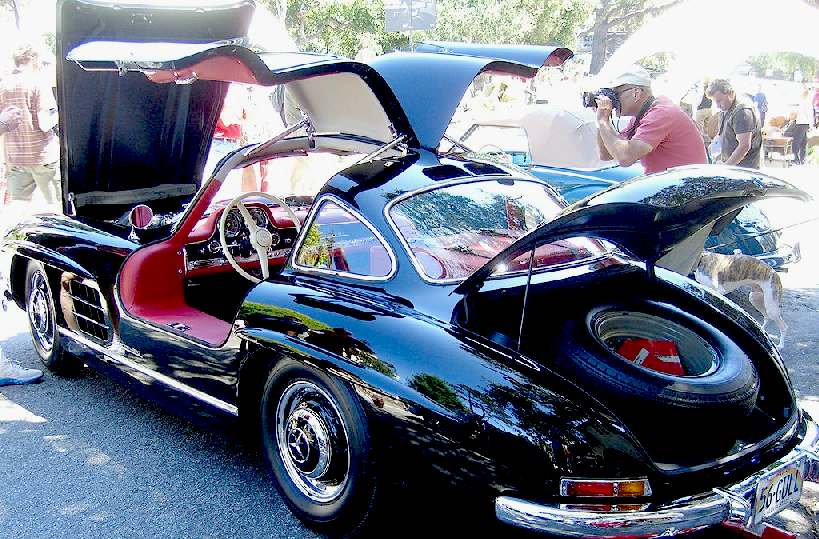 STATISTICS

1954 Mercedes-Benz 300SL gullwing

Tested: 2,996cc, straight-six cylinder petrol engine, four-speed manual gearbox, rear-wheel drive

Price: Price in 1954: £2,483/Value now about £800,000

Power/torque: 212bhp @ 5,800rpm, 202lb ft @ 4,600rpm

Top speed: 135mph

Acceleration: 0-62mph 8.8sec

Fuel economy: Between 15 and 18mpg

Verdict: One of the most involving sports coupés you can drive, but that's partly because of the flawed swing-arm rear suspension. Unbelievably expensive, complicated and high maintenance, but as historic automotive haute couture, it's irresistible.

Telegraph rating: Four out of five stars.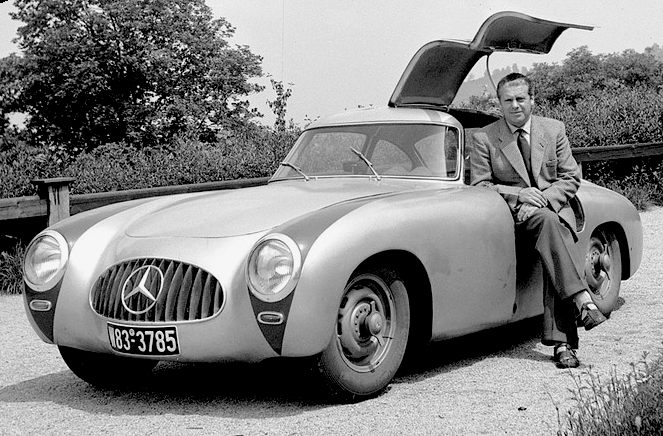 HISTORY
The Mercedes-Benz 300SL was the first iteration of the SL-Class grand tourer convertibles and fastest production car of its day. Internally numbered W198, it was introduced in 1954 as a two-seat sports car with distinctive gull-wing doors and later offered as an open roadster.

Built by Daimler-Benz AG, the fuel-injected production model was based on the company's highly successful yet somewhat less powerful carbureted 1952 race car, the Mercedes-Benz 300SL (W194).

The idea of a toned-down W194 tailored to affluent performance enthusiasts in the booming post-war American market was suggested by Max Hoffman. As such, it was introduced at the 1954 New York Auto Show rather than the Frankfurt or Geneva shows at which other Mercedes models made their debuts. The "300" in its name referred to its three litre engine displacement, and "SL" stood for "Sport Leicht" (Sport Light).

The 300SL was best known for its distinctive gull wing doors, first-ever consumer fuel-injection, and world's fastest top speed. The gull wing version was available from March 1955 to 1957, the roadster from 1957 to 1963. It was followed in the Mercedes line by the 230SL.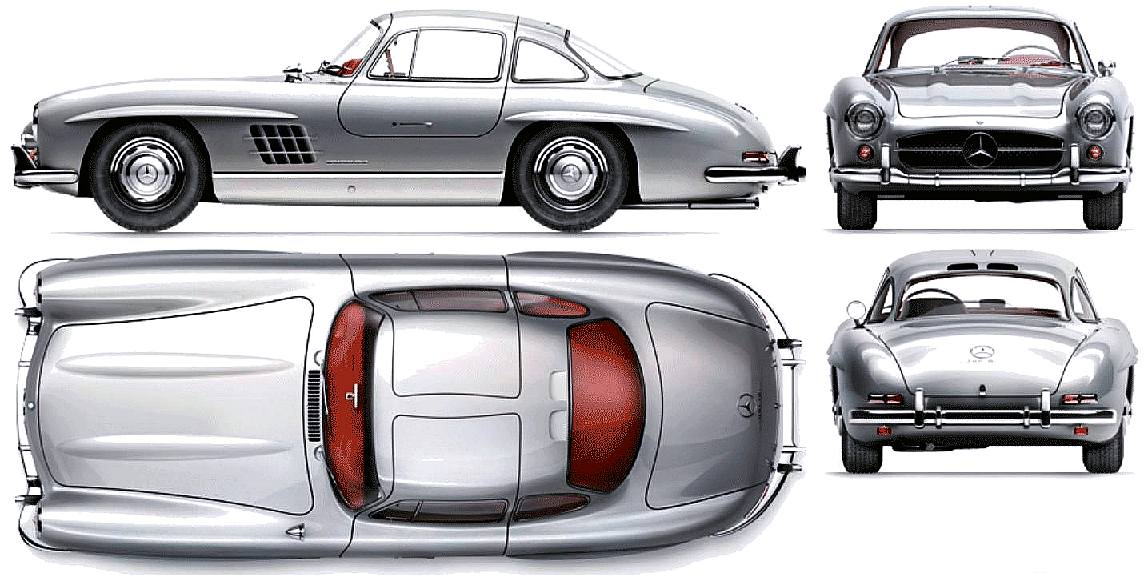 MECHANICAL FUEL INJECTION

The 300SL's engine, canted at a forty-five-degree angle to the left to allow for a lower hoodline, was the same 3.0 litre straight-6 as the regular four-door 300 tourer. Fitted with a Bosch mechanical Gasoline direct injection system it had almost double the power of the original 86 kW (115 hp) carbureted version.

While not the first fuel-injected car - Mercedes engineers who had developed the principle for the DB 601 fighter aircraft engine had used fuel injection in the tiny 2-stroke Gutbrod they had designed after the War - it was the first to inject fuel directly into the cylinders. This innovation allowed a top speed of up to 260 km/h (161 mph) depending on gear ratio and drag, making the 300SL the fastest production car of its time.

The engine's maintenance requirements were high. Unlike the current electrically powered fuel injection systems, the mechanical fuel pump would continue to inject gasoline into the engine during the interval between shutting off the ignition and the engine's coming to a stop; this gasoline was of course not burned, and washed the oil from the cylinder walls and ended up diluting the engine's lubricating oil, particularly if the engine was not driven hard enough nor long enough to reach a temperature high enough to evaporate it out of the oil. (A solution is to fit an electrical fuel injection system, at the sacrifice of originality)

Exacerbating the problem were the large oil cooler as well as the large volume of oil (10 liters), both oriented more to racing than to street driving, which virtually guaranteed that the oil would not reach a high enough temperature. In practice, many street drivers would block off airflow through the oil cooler, and the recommended oil change interval was 1,000 miles (1,600 km). Operation of the clutch was initially very heavy, later roadsters having an improved clutch arm helper spring which reduced the pedal force. From March 1963 to the end of production, a light alloy crankcase was used on a total of 209 vehicles.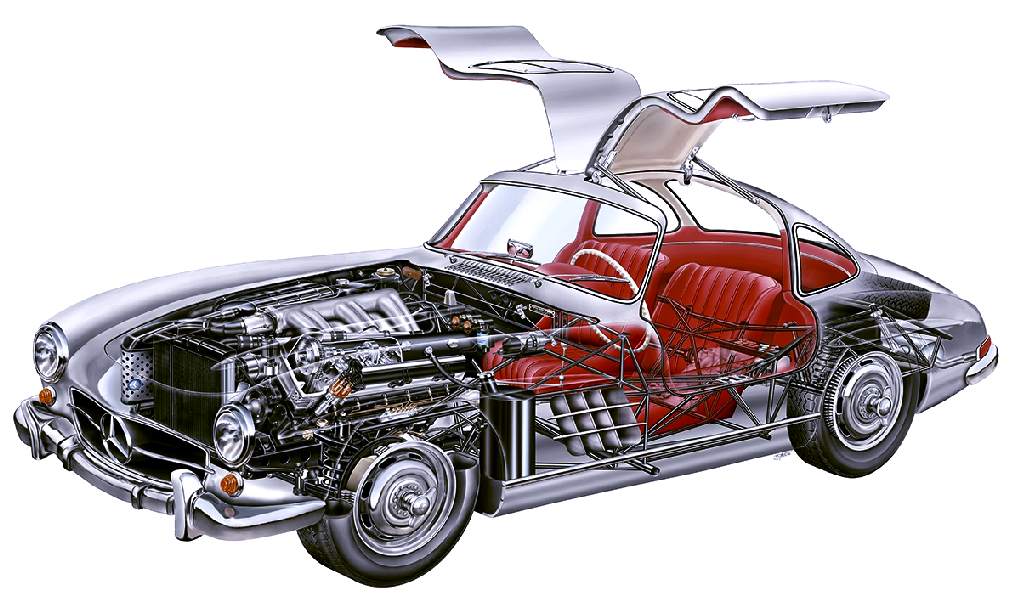 WIND TUNNEL

Aerodynamics played an important role in the car's speed, Mercedes-Benz engineers even placing horizontal "eyebrows" over the wheel openings to reduce drag. Unlike many cars of the 1950s, the steering was relatively precise and the four-wheel independent suspension allowed for a reasonably comfortable ride and markedly better overall handling. However, the rear swing axle, jointed only at the differential, not at the wheels themselves, could be treacherous at high speeds or on imperfect roads due to extreme changes in camber. The enormous fuel tank capacity caused a considerable difference in handling depending on the quantity of fuel on board.

The racing W194 300SL was built around a tubular chassis to offset its relatively underpowered carbureted engine. Designed by Daimler-Benz's chief developing engineer, Rudolf Uhlenhaut, the metal skeleton saved weight while still providing a high level of strength. Its unique architecture gave birth to the model's distinctive gull-wing doors, as part of the chassis passed through what would be the lower half of a standard door. Even with the upward opening doors, the 300SL had an unusually high sill, making entry and exit from the car's cockpit problematic. A steering wheel with a tilt-away column was added to improve driver access.

The 300SL's body was mainly steel, except for the aluminum hood, doors and trunk lid. It could also be ordered with an all-aluminium outer skin at tremendous added cost, saving 80 kg (176 lb).

More than 80% of the vehicle's total production of approximately 1400 units were sold in the US, making the Gullwing the first Mercedes-Benz which sold in considerable numbers outside its home market and confirming the validity of Hoffman's suggestion. The 300SL is credited for changing the company's image in America from a manufacturer of solid, but staid, automobiles to that of a producer of sporty cars.


RACING SCORES

In 1952, the original 300SL (model Mercedes-Benz W194) scored overall wins at the 24 Hours of Le Mans, in Bern-Bremgarten, in the sportscar race of the Eifelrennen at the Nürburgring, and in Mexico's Carrera Panamericana. It also managed second and fourth places at its first outing, the Mille Miglia in 1952.

These successes, especially those on the high speed open road races, were rather surprising as the engine then was fitted only with carburetors, producing 175 hp (130 kW), which was not only less than the competing cars by Ferrari and Jaguar, but also less than the road car of 1954. Low weight and low aerodynamic drag made the 300SL fast enough to be competitive in endurance races.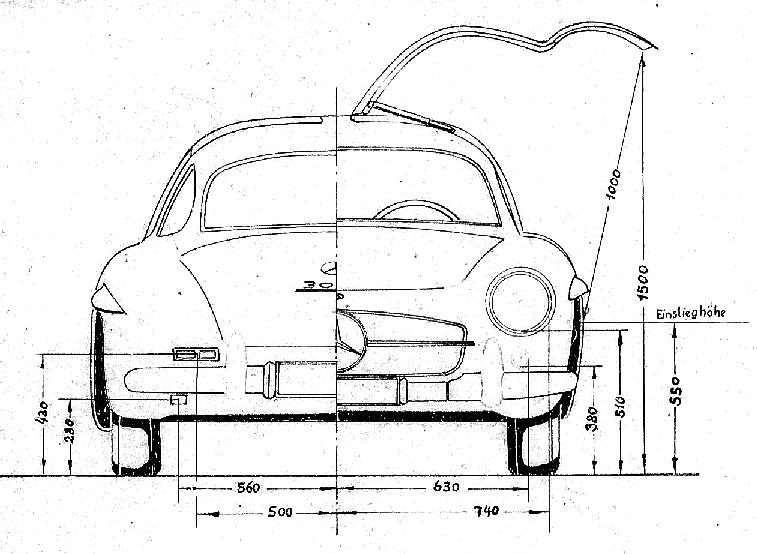 The original 1950 spaceframe chassis - and some drawings for the body giving dimensions
A-Class | C Class | CLK Class | E Class | GL Class | History | M Class | SLK Class | Unimog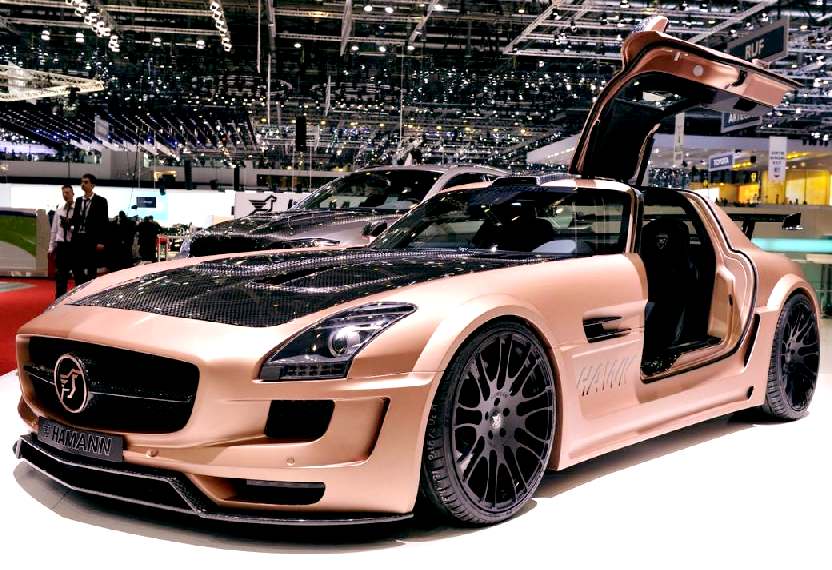 Rumor has it that Lady Penelope had a hand in choosing the paint job for this SLS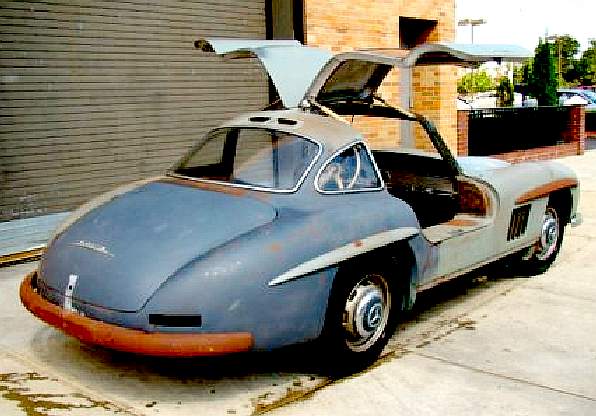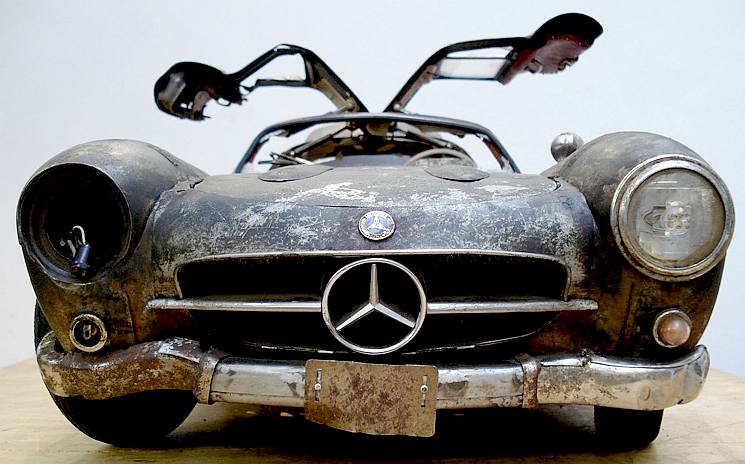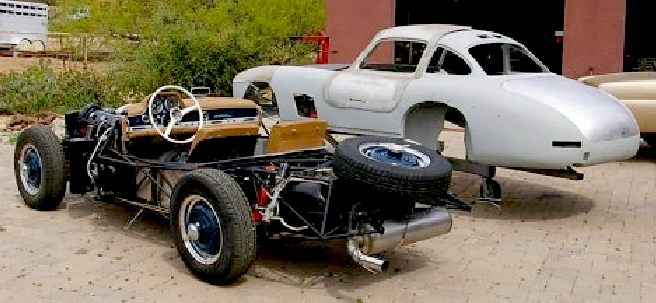 Despite their rarity, the Gullwing is mostly made of steel - and it rusts. The car needs lots of care as these pictures show, restoration projects are common. Note that the top right hand picture is actually a superb scale model sculpture.
LINKS and REFERENCE
http://www.kidselectriccars.co.uk/mercedes-300-sl-6v-electric-rideon-car-p-106.html
http://www.martin-heukeshoven.de/details.php?idx=32
Benz blogspot prototype mercedes-benz 300sl gullwing
Telegraph Goodwood Festival of Speed Mercedes-Benz 300SL gullwing review
Mercedes-Hamann sls-amg in pink gold
http://fancytuning.com/tag/mercedes-sls-amg/
http://www.madabout-kitcars.com/
http://www.madabout-kitcars.com/forum/showthread.php?t=157
Mercedes-destroys-knockoff-300sl-gullwing
http://www.digitaltrends.com/cars/mercedes-destroys-knockoff-300sl-gullwing/#!WsJzX
Mercedes-Benz Direct - Buy Used Mercedes-Benz Direct from the UK
http://en.wikipedia.org/wiki/Mercedes-Benz_SLS_AMG
http://www2.mercedes-benz.co.uk/sls_amg/
http://en.wikipedia.org/wiki/Mercedes-Benz_300SL
http://benzs.blogspot.co.uk/2009/11/essen-2009-mercedes-benz-300sl-gullwing.html
http://en.wikipedia.org/wiki/Mercedes-Benz_SLK-Class
Start out in life as you mean to go on.
The international cannonball run series rules above and Germany route map