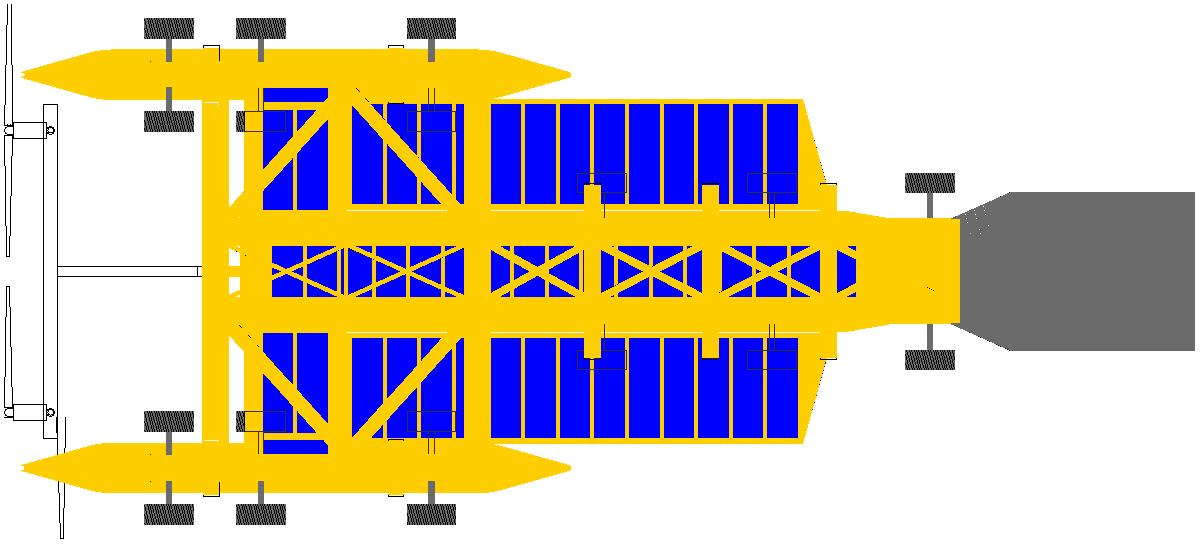 WORLD'S BIGGEST - The AmphiVax™ above, is an self-powered amphibious trailer concept that is almost 31 meters long (100 feet) and 19 meters (63 feet) wide - so 18 meters longer than the General Dynamics M3 and 5 meters (16 feet) longer than the full-size version of the US Navy's Navatek UHAC transporter.
Six of the wheels of this leviathan would need to be powered for effective recovery of the SeaVax that it is designed to support. The frame is to be made from 5083 aluminium alloy, shown here comprised of 1.0 meter diameter main tubes, triangulated to keep the boat protected from undue flex while traversing uneven shores. This grade of aluminium does not corrode in seawater. Both steel and stainless steel are also being considered as alternatives, the object being to contain cost.
DAILY MAIL 21 JULY 2014
The U.S. Marines have shown off their new amphibious vehicle designed to storm beaches, transport troops and scale buildings.

The Ultra Heavy-lift Amphibious Connector (Uhac) was unveiled at the Marine Corps Training Area Bellows in Hawaii during a month-long training and demonstration exercise.

When it enters service at an unknown date the final vehicle will have a top speed of about 25 miles (40 km) per hour and be capable of scaling obstacles such as sea walls 10 feet (three metres) high.

This particular vehicle on show was a half-scale prototype of the eventual Uhac.

It was shown as part of the Marine Corps Warfighting laboratory during the at-sea phase of the Rim of the Pacific (Rimpac) 2014 exercise.

This involved 22 nations, more than 40 ships and submarines, 25,000 personnel and more than 200 aircraft in demonstrations of new and existing technologies and procedures.

The half-scale version, made of aluminium, measured in at 42 feet (13 metres) long, 26 feet (eight metres) wide and 17 feet (five metres) high.

The full-scale Uhac will be able to carry the equivalent of three M1A1 tanks, or cargo weighing up to 200 tons, at speeds of 25 miles (40 kilometres) per hour.

It will ultimately be 84 feet (25 metres) long, 34 feet (10 metres) high and have a range of 200 miles (320 kilometres).

The Uhac model consists of two tracks that are composed of dozens of air-filled foam blocks, which gives the vehicle the propulsion it needs for land and sea travel.

In the water the tracks act as paddles but on land they are similar to a tank, letting it traverse across difficult terrain such as mud and sand.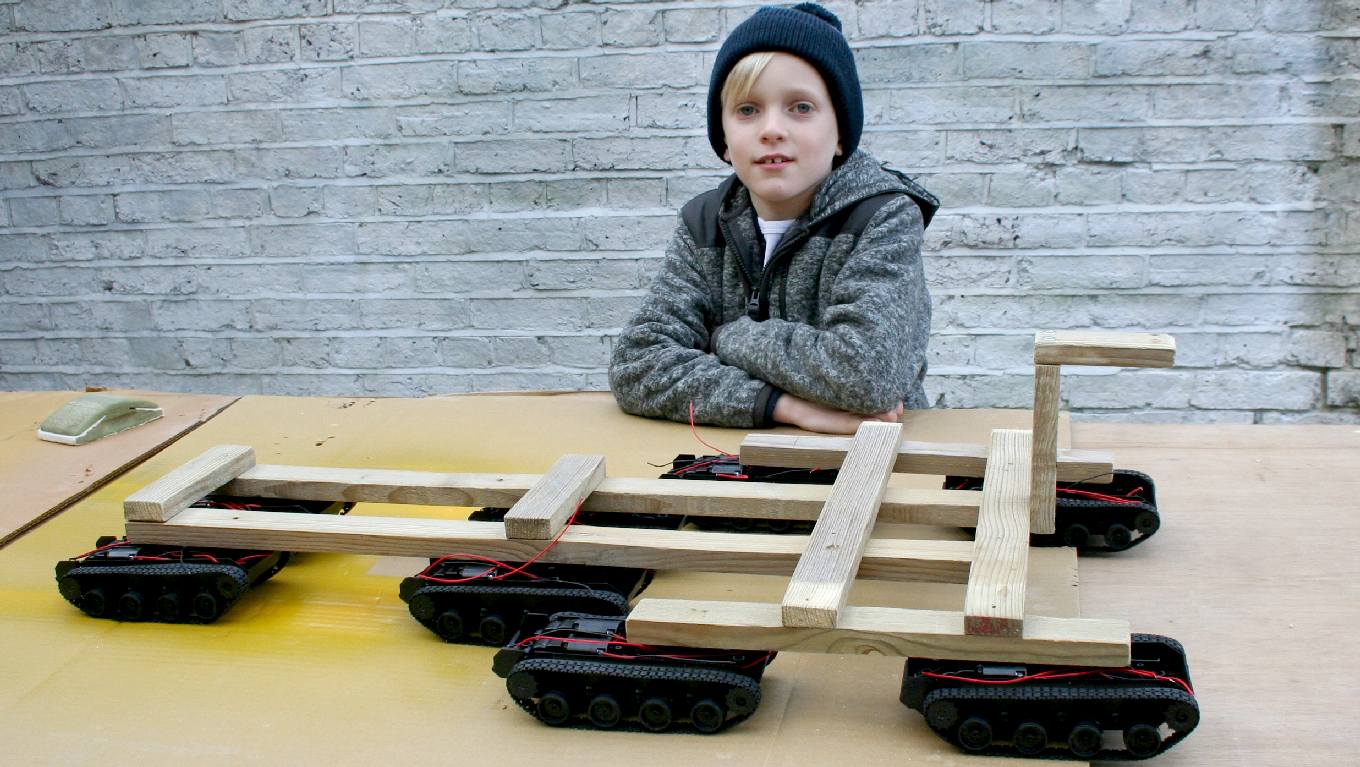 CHILD'S PLAY - This is a 1/40th scale model of what will be the world's largest amphibious vehicle when it hits the water in 2017/18. The exact date is dependent on funding, but we can say that the company building the full size craft are in negotiations for the eight undercarriages and have sourced steel suppliers for the 22 spaceframes that go to make up the AmphiMax. Please note that this photograph is Copyright © November 2016 Bluebird Marine Systems Ltd. You will need the permission of BMS Ltd to reproduce this picture except for educational and personal research and media reviews.
They also barely leave an impression on the ground as they flatten out on impact with a hard surface; in a demonstration the huge vehicle moved over a tar road without leaving a mark.

In a test Uhac drove to the USS Rushmore, picked up an assault vehicle and took it back to shore.

Although the final version will be bigger overall it will have a lower profile, as the elevated 'cab' will be removed.

While the prototype can only go five miles (eight kilometres) per hour on water, the final version will be about five times faster.

That's half the speed of the Navy's hovercraft known as the Landing Craft Air Cushion (LCAC), but the latter isn't as adept as the UHAC of moving over tough terrain.

'It has taken a number of years of development to get to this point,' said Dr Frank Leban, program officer at the Office of Naval Research.

'Over the past year the Marine Corps Warfighting Lab has gotten involved and they are looking at trying to put this technology in an operational context.

'They have been coming up with vignettes and scenarios on how the UHAC can be used.'

Commander Thomas Stephens, commanding officer of the USS Rushmore, added: 'There was generally some degree of apprehension since it is a new and unfamiliar piece of equipment and how it would operate with the ship.

'At the same time, there was an excitement about being in a position to assist in the development of something significant like UHAC.'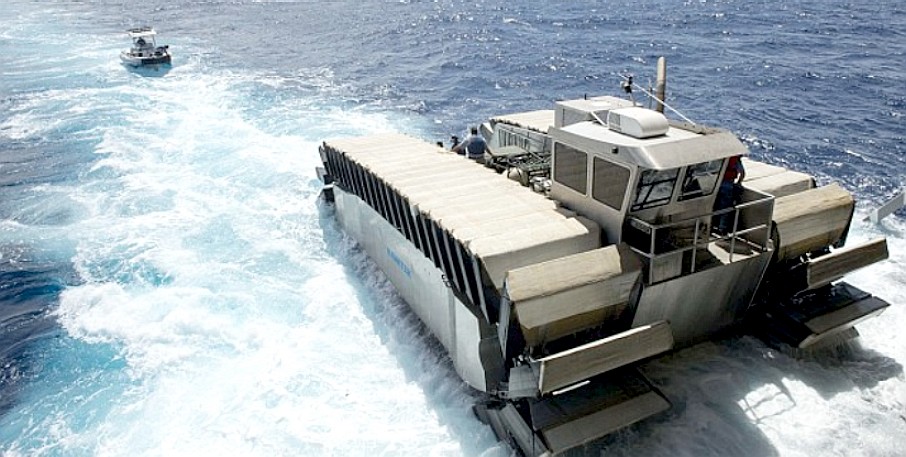 THE ULTRA HEAVY-LIFT AMPHIBIOUS CONNECTOR (UHAC) SPECS

Length: 84 feet (25 metres)
Height: 34 feet (10 metres)
Top speed: 25 miles (40 kilometres)
Range: 200 miles (320 kilometres)
Cargo capacity: 200 tons
Service entry data: TBA
DAILY MAIL 18 JANUARY 2014

Making a splash!: The world's fastest amphibious vehicle can go from car to boat in just 15 SECONDS

You no longer need to be a spy like James Bond to get your hands on an amphibious car.

David March has designed the world's fastest Jeep-style vehicle that can be driven straight from the land into the water and goes from a car to a boat in just 15 seconds.

Called the Panther, the vehicle can reach water speeds of up to 45mph - almost as fast as an average speedboat - and is fitted with a custom-made 3.7 litre V6 engine, fibreglass hull and lightweight chromoly steel chassis.

It is also capable of reaching speeds of 80mph on land.

James Bond, played by Sir Roger Moore, famously drove an amphibious Lotus Esprit from the land into the sea during the 1976 film The Spy Who Loved Me.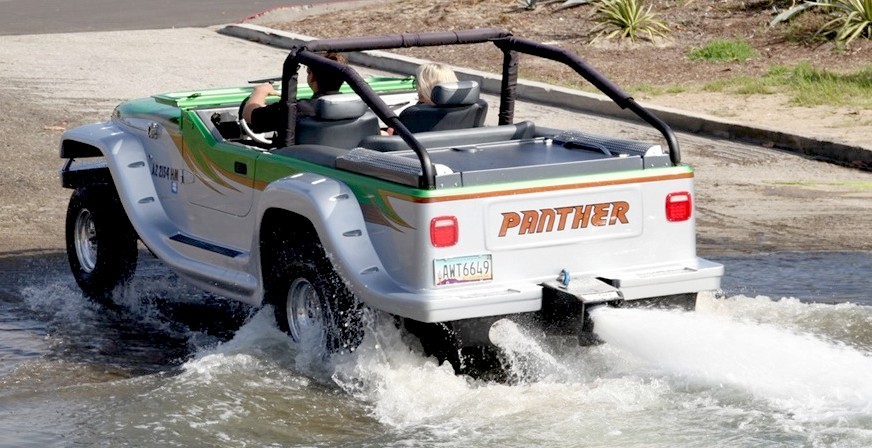 PANTHER SPECS

Weight: 2950 lbs
Height: 69" windshield up, 51" windshield down, 44" windshield down, wheels retracted
Length: 180"
Width: 72"
Water Speed: 44 mph
Land Speed: 80+ mph
Passengers: 4
Engine: Honda 3.7 liter VTEC
Transmission: 4 speed manual
Marine Propulsion: Panther Jet
Brakes: Four wheel disc
Wheel Retraction: Hydraulic
Fuel: 91 Octane Pump Gas
Cooling System: Closed with marine heat exchanger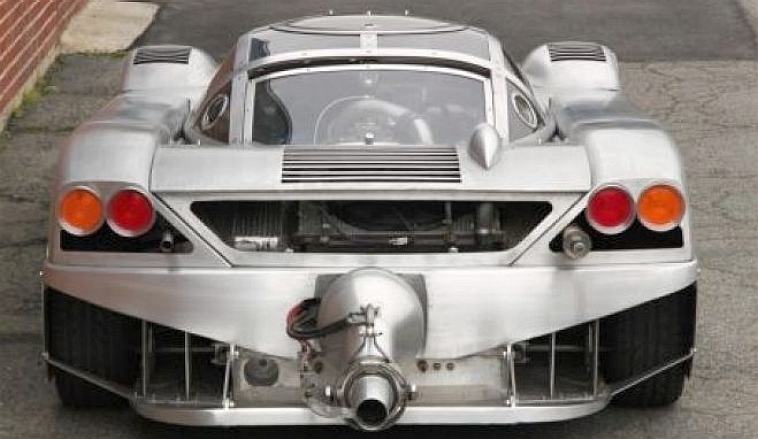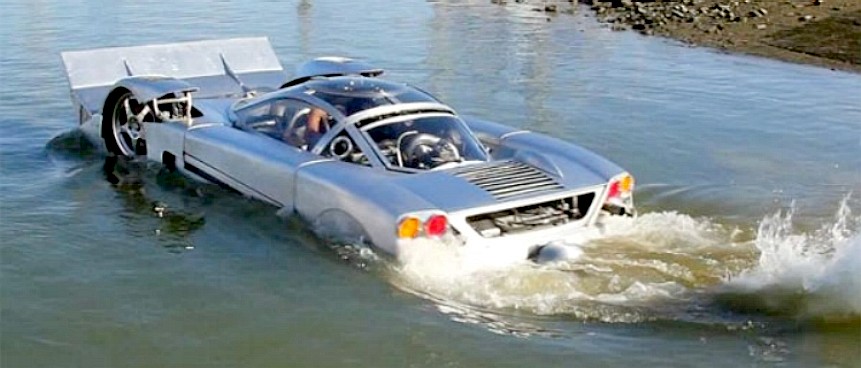 SEA LION - A good effort, but we're not sure about the huge bow plate that spoils the appearance in the water. Great Batman looks from the rear on dry land.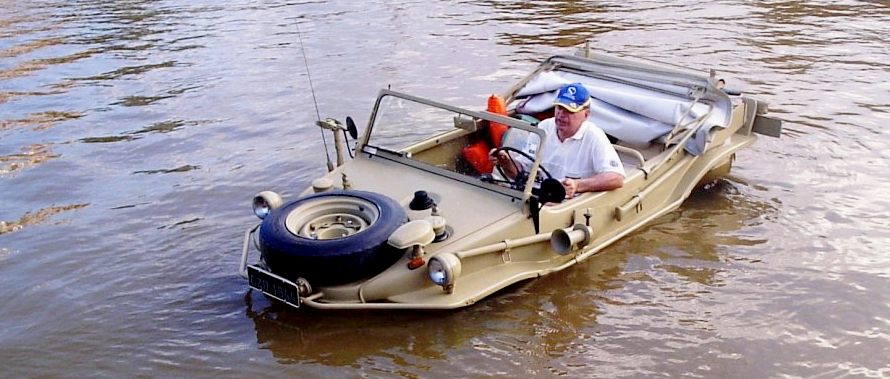 WORLD RECORD HOLDER - The Schwimmwagen is the most produced amphibious vehicle to date, a record that will be hard to beat where road and water capabilities in the same vehicle is not required that often.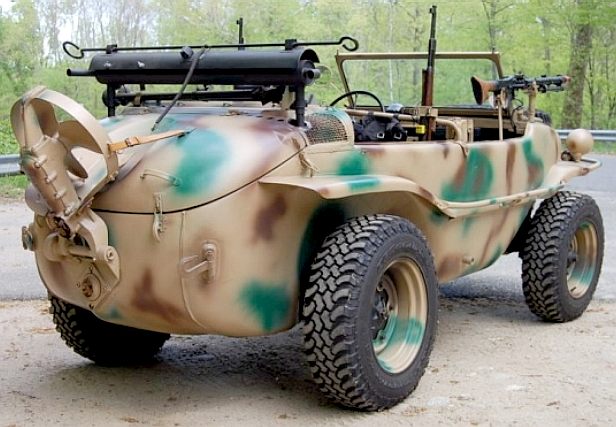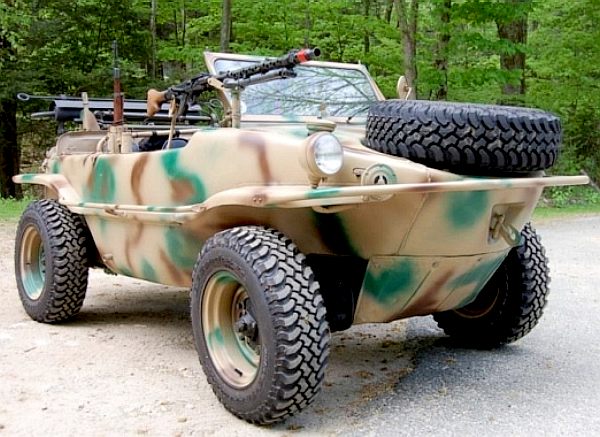 TIMELESS STYLE - If these amphibians were on sale in the showrooms today, they would sell like hot cakes. It's amazing what a good set of tyres can do.
VOLKSWAGEN SCHWIMMWAGEN

The VW Type 128 and 166 Schwimmwagen (literally Floating/Swimming Car) were amphibious four-wheel drive off-roaders, used extensively by German ground forces during the Second World War. The Type 166 is the most numerous mass-produced amphibious car in history.

Volkswagen Schwimmwagens used the engine and mechanicals of the VW Type 86 four-wheel drive prototype of the Kübelwagen and the Type 87 four-wheel drive 'Kübel/Beetle' Command Car, which in turn were based on the platform of the civilian Volkswagen Beetle. Erwin Komenda, Ferdinand Porsche's first car body designer, was forced to develop an all-new unitized bodytub structure since the flat floorpan chassis of the existing VW vehicles was unsuited to smooth movement through water. Komenda patented his ideas for the swimming car at the German Patent office.

The earliest Type 128 prototype was based on the full-length Kübelwagen chassis with a 240 cm (7.9 ft) wheelbase. Pre-production units of the 128, fitted with custom welded bodytubs, demonstrated that this construction was too weak for tough off-roading, had insufficient torsional rigidity, and easily suffered hull-ruptures at the front cross-member, as well as in the wheel-wells. This was unacceptable for an amphibious vehicle. The large-scale production models (Type 166) were therefore made smaller, and had a wheel-base of only 200 cm (6.6 ft).

VW Schwimmwagens were produced by the Volkswagen factory at Fallersleben / Wolfsburg and Porsche's facilities in Stuttgart; with the bodies (or rather hulls) produced by Ambi Budd in Berlin. 15,584 Type 166 Schwimmwagen cars were produced from 1941 through 1944; 14,276 at Fallersleben and 1,308 by Porsche. Given these numbers, the VW 166 is the most mass-produced amphibious car in history. Only 163 are known by the Schwimmwagen Registry to remain today, and only 13 have survived without restoration work.

All Schwimmwagen were four wheel drive only on first gear (and reverse gears with some models) and had ZF self-locking differentials on both front and rear axles. Just like the Kübelwagen, the Schwimmwagen had portal gear rear hubs that gave better ground clearance, while at the same time reducing drive-line torque stresses with their gear reduction at the wheels.

When crossing water a screw propeller could be lowered down from the rear deck engine cover. When in place a simple coupling provided drive straight from an extension of the engine's crankshaft. This meant that screw propulsion was only available going forward. For reversing in the water there was the choice of using the standard equipment paddle or running the land drive in reverse, allowing the wheel-rotation to slowly take the vehicle back. The front wheels doubled up as rudders, so steering was done with the steering wheel both on land and on water.
BOXER ENGINE - A little underpowered by today's standards, but still giving enough grunt to swim effectively and then climb back out of a river using muddy banks.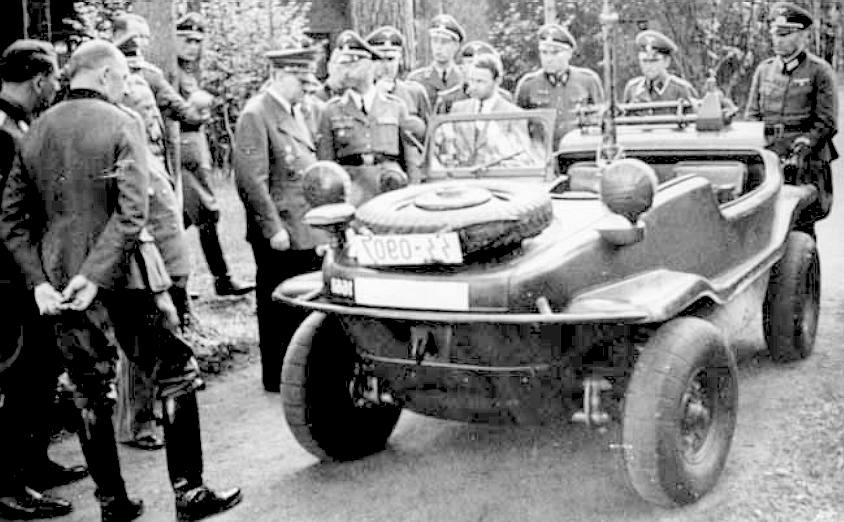 ADOLF HITLER - The High-Command inspect the genius of Porsche, breathed on by other German engineers to produce a superb all-round off-road and on-water performer: a super-jeep.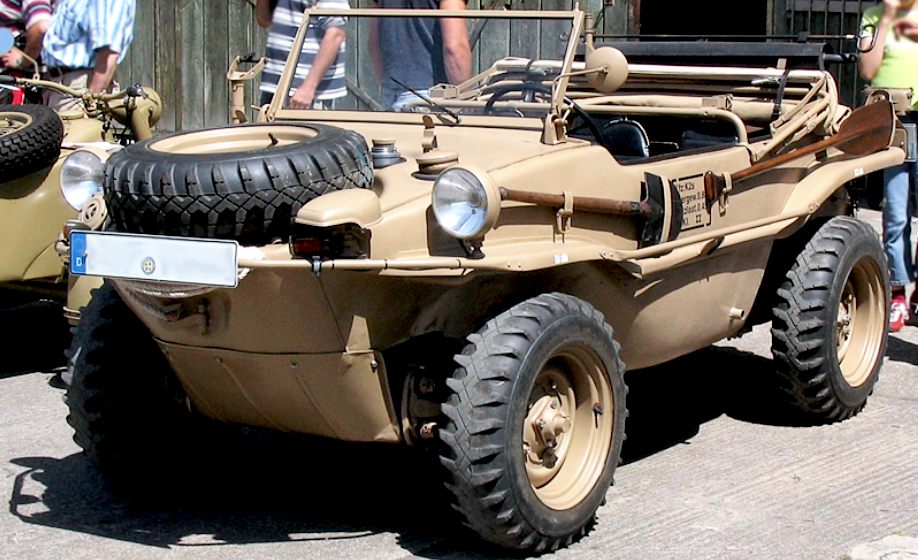 SUSPENSION - Clever design is all about keeping things as simple as possible - and adapting existing parts to increase performance. In this case the standard transverse torsion-bar suspension is added to with a modified hub (live-axle) to give four wheel drive.
LINKS & REFERENCE
http://www.schwimmwagen.co.uk/
https://en.wikipedia.org/wiki/Volkswagen_Schwimmwagen
http://www.dailymail.co.uk/news/article-2541763/Making-splash-The-worlds-fastest-amphibious-vehicle-car-boat-just-15-SECONDS.html
http://www.dailymail.co.uk/sciencetech/article-2699963/Behold-SEA-TANK-U-S-marines-unveil-amphibious-vehicle-reaches-25mph-scale-obstacles-10-FEET-high.html
This webpage is Copyright 2016 Cleaner Ocean Club Ltd. All rights reserved. The bluebird logo
and names Bluebird, RiverVax, SeaNet and SeaVax are trademarks. The SeaVax robot boat shape and configuration are design copyright ©. All other trademarks are hereby acknowledged.