Solar Car Competition Heats Up
Solar car race competitions take place on public roads. As a result, the competitors become a rolling science project. When stopped at traffic lights and other pit stops teams and drivers often endure impromptu question-and-answer sessions with drivers of regular cars.
In NASCAR or Formula One racing you might know the drivers, but in solar racing, the car is the star. The competition pits about two dozen college-based teams on a roughly 2,200-mile (3,500-kilometer) race from Chicago, Illinois, to Claremont, California. The cars compete from sunup to sundown.
The University of Missouri-Rolla team won the 2003 race, crossing the finish line in 51 hours, 47 minutes. Traffic and stoplights en route dropped the team's average speed to 43.3 miles an hour (70 kilometers an hour).
While the competition is fierce, participants say a spirit of friendly rivalry prevails. "Everybody wants to win, but there's no shortage of friendship and camaraderie. They all know about long nights in the workshop.
During races, support vehicles follow the solar-powered cars to ensure other drivers spot the low-slung vehicles. The hobby still carries risk. Last month University of Toronto student Andrew Frow died in a two-car crash on a highway near Kitchener, Ontario, while driving his team's Blue Sky Solar Racing car. (Frow was not competing at the time but was on a ten-day solar car tour.)
Of course any form of motor sport can be dangerous. These solar cars are experimental vehicles. Although teams do the best that they can with the structure, braking, and handling, the fact is that bad stuff can happen. Rigorous safety requirements, like roll bars and cages, have long been in place for solar racers. However, Eberle said Frow's death has spurred the solar-car racing community to further improve safety.
Better, Faster
The first solar car race, the World Solar Challenge, took place in 1987 in Australia. The outback race continues today. Held every two years, it is considered the sport's premier international event. As the competition has grown, some teams have incorporated sponsors—including major automakers.
It can be a very expensive proposition. There is a loose but not direct correlation between money spent and performance. But even in the face of bigger budgets and bigger teams, it's still a race where a new idea can put you in front. Creativity pays off.
That creative process is also its own reward, no matter where one ends up on the results board. Building the car is 90 percent of what you'll get out of the project. Racing is the cream on top.
Creating True Believers
The U.S. Department of Energy Solar Energy Technology Program has been cosponsoring the race since its inception. The department's Richard King explains that the race creates a hands-on, minds-on project for university engineering students.
We've had maybe six or eight thousand students involved over the years. The thing that they remember about going to college is that they made something that took very little energy to go a long way.
When graduates go to work, you see the application of those technologies. It seeds the field of people who will make stuff for you and me to use with people who will take risks and experiment with energy-efficient ideas.
Those ideas are first put to the test in the constant battle to improve the solar race vehicles. Most observers of the first American Solar Challenge 14 years ago and last year's race would not see much difference in the cars. But they are vast.
The process is part of what King terms the research-and-development benefits of the racing program. The biggest improvements have come in aerodynamics, reduced rolling resistance, and greater efficiency in converting solar energy to mechanical power.
It's really cutting edge technology, and they are pushing every year to get a faster car, King said. "That really accelerates research and development in the electric-vehicle field as well as in the hybrid field."
Fifteen years ago, an average daily speed of 25 miles an hour (40 kilometers an hour) was a great achievement for the best solar car team in the U.S. "Today the technology has improved so much that there is no highway in America that holds them back," King said. "We've imposed a 65 mile per hour [105 kilometer an hour] limit just for safety. But they can go faster … 65, 70, 80 miles an hour [105 to 128 kilometers an hour] all day long."
"It's incredible," he said. "It shows how teams have really pushed the technology in only about a decade." The race also serves as a public relations bonanza for the promise of solar power. "Lots of people come out and see the races. We need to educate the public to accept these technologies," King said. He added, "We're having a lot of fun out there while we do it."
---
A taste for adventure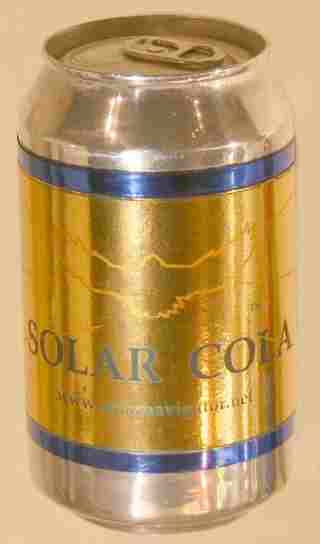 Solar Cola - a healthier alternative.