If you are looking to produce a documentary about an interesting land speed record project, you may have found what you are looking for. The Blueplanet Ecostar BE 3 is poised to be the next land speed record car likely to break the 350 mph barrier and propel the driver and backers into the record books.
Take a look at this car, which is a looker, but don't forget the ground breaking solar charging and battery cartridge exchange system. That is what makes this project so newsworty. There is also the competition between this team and earlier team partners to consider. Plus of course the fact that the designer of the vehicle is looking to overturn a major injustice by way of application to the European Court.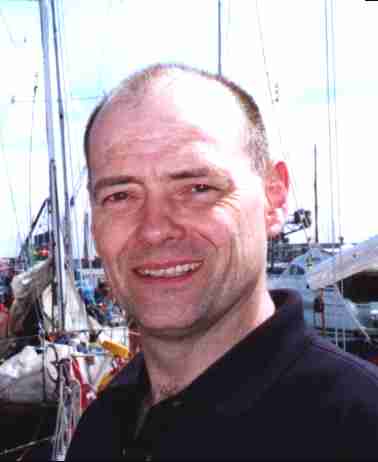 Project Engineer
You could do a Documentary, with network TV rights. This might eventually be followed up with a TV movie and after market merchandising, DVD, etc. You could also benefit from the longer term exposure from this website, not only as a genuine educational tool, but also for PR purposes.
The project could be split into parts to make several documentary broadcasts, then perhaps follow this up with a TV movie along the lines of 'Race the Sun', starring Halle Berry and James Belushi. This was the story of the Hawaian school team that took on the skeptics to complete the Darwin to Adelaide Solar Challenge.
A partnership with Max Energy Limited can offer your angels a unique opportunity to link with an exciting World land speed record project. If you are a producer looking to obtain Radio, Film or Network rights, please contact us today.

The 'Blueplanet Ecostar' electric streamliner with built in battery cartridge refueling system
Featuring a unique transmission and curvaceous styling, computer analysis reveals that in its current form the Blueplanet Ecostar is capable of significantly exceeding 350 mph. The car is to be constructed in Sussex, England, aiming for a showing in 2012-13. However, Nelson points out that we are still searching for a Prime Sponsor such as an energy company, motor manufacturer or both, without whom the attempts planned for 2013 and 2014 may not take place.
As and when the Blueplanet Ecostar breaks the 300 mph barrier and more, we hope this feat will underpin the aspirations of many Governments for efficient road going performance EV's, without having to worry about range.
The future is in our hands. It's up to us to do something now to head off a potential fuel shortage catastrophe. In the UK a new partnership has been formed to build energy self sufficient housing. The larger village and town development include a site for EV refueling via cartridge exchange, partly fed by local macro generation. See: Utopia Tristar for details. It is now a requirement in the UK when planning towns and cities, to include ways of reducing emissions from transport. What better way than electric vehicles with the infrastructure to support them. In the early days of petrol cars there was no infrastructure either - no petrol pumps, just cans of petrol sold at local hardware stores.
Transport is no longer a luxury, it's a modern day necessity. As petrol becomes more expensive and scarce, it makes sense to plan for the changeover to clean electric motoring - it is the future. But in order for such a system to become a reality, car makers around the globe will need to agree a universal format for battery cartridges and a delivery system to match. This has been the ultimate objective for Nelson Kruschandl since a patent was granted to him in 1995 for such a system. To date no patent has been filed for any particular cartridge design or loading mechanism. To date no patent has been filed for a service station to supply battery cartridges.
Blueplanet Ecostar the BE3 is not the most expensive electric streamliner in the world - but it is the most advanced. It was designed by one man and will be built in a workshop in his backyard. This has not been the case since Craig Breedlove and Art Arfons went head to head in the 60 and 70s. That in itself contributes to the storyline.
TEAM TECH WIND-TNL CHASSIS SUSP MOTORS DRIVE BATTERIES BODY
INSTRUMENTS FUNDING TIRES CLOTHING SAFETY CAPSULE LSR ESTIMATES
SERVICE STATIONS PAY AS YOU DRIVE HYBRID MULTIFUEL TRANSITION
EV MOTORING COSTS SOLAR PANELS