The Bluebird K7 is arguably the most successful water speed record boat ever built. It has inspired many reproductions such as the K777 and Barmera projects. It was designed by Ken and his brother Lewis Norris, a sturdy construction, it was built to last - and make many memorable runs it did over several years - a career in itself.
I had the great pleasure of meeting Ken Norris on many occasions at his offices in Hampshire, at Southampton University and other venues. We often chatted about my Bluebird Electric project. I recall Ken liked the steel space frame and all wheel drive of my BE1 and BE2 designs. When you see the specification of the K7 below, you'll understand why. Ken was also interested in my solar powered record boat, the Solar Navigator, although he thought it was a bit slow compared to the speeds he was used to dealing with. In his day sustainability was not a high priority. A practical man, Ken said that my drafting, metal forming and welding skills would do any project proud.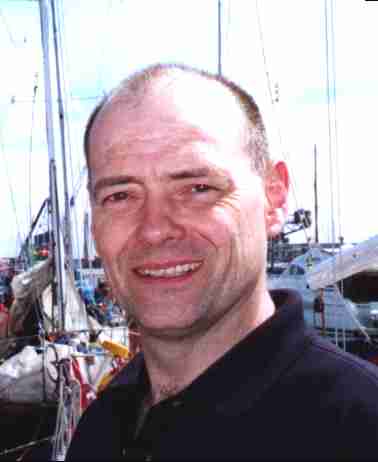 Nelson Kruschandl - Vehicle designer/constructor and patentee
The K7 was powered by a Metropolitan Vickers 'Beryl' Turbo-Jet engine developing over 4,000-lb of thrust. She was a three pointer with an offset rudder and assembled on aircraft principles, with a light mild steel space frame and a stressed skin made of Birmabright, an alloy produced by Birmetals Ltd., Clapgate Lane, Quinton in Birmingham.
The main frame was constructed by Accles and Pollock, then transported to Samlesbury Engineering Ltd, near Preston where the hull was completed. Strangely, Samlesbury's main work was the construction of buses, hence, a high speed jet water craft presented a challenge. This method of construction was designed to counter the high-speed vibrations and loads which it was thought would disintegrate a timber hull at speeds over 200mph.
The first trials of K7 were at Ullswater, England in February 1955. It was soon discovered that the bows sat too low in the water and made it high on impossible to get the boat up to plane, where jet wash swamped the cockpit. If you are lucky enough to have seen the archive footage, you will know what I mean.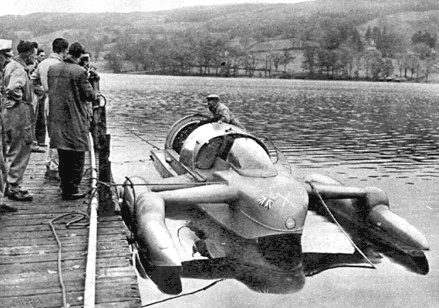 Bluebird K7 Coniston 1957
Several modifications were made to effect a cure, including trying weights on the stern and even cutting away sections of the stern. These were only temporary experiments which resulted in the boat getting up onto its planing shoes. Once proven, the K7 went back to the workshops for permanent modifications.
Thus a number of improvements were made including raising the main spars, stubbing the nose and dispensing with the electric starter system, electronic stress detectors. The rudder areas was also reduced.
Donald's first ever record was a speed of 202.32 mph at Ullswater on 23rd July 1955. This also made Donald Campbell the first person to break the 200 mph barrier on water. He collected his first £20,000 for this incredible achievement.
Then in October 1955 the K7 arrived at Lake Mead, Nevada for more trials and an attempt on a new speed record. It was not all plain sailing at first when on the 14th October at around 150 mph, K7 lost power when slowing as water was sucked into the engine intakes. After several attempts to get her restarted and back to the marina slipway, K7 sank in Lake Mead, 90 feet from the slipway.
After salvage recovery she was taken to the nearby Nellis Air Force Base where she was stripped, repaired, rebuilt and fitted with the spare "Beryl" jet engine. Roughly one month later Donald returned to Lake Mead and set a new record of 216.20 mph on 16th November 1955.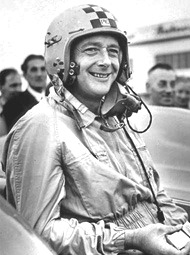 Donald Campbell in the CN7 at Goodwood
In 1956 additional modifications were made including the fitting of a new domed perspex canopy, which slid forward on two runners, and reduced trim at the stern, to reduce the problem of engine flameouts. On the 19th September 1956, K7 took to the water at Coniston for another record attempt. Donald had proposed to run K7 up to 240 mph and feel his way, and if everything felt good he would open her up on the return run. On his outbound pass, he clocked at an amazing 286 mph to the astonishment of all present, even to Donald, as his instruments had only shown 240 mph. This run also showed that the bows were beginning to come out of the water and were approaching their safe angle of operation. The return run was at a leisurely 164.48 mph, enough to give Donald and K7 another world water speed record of 225.63 mph.

K7 returned to Coniston in October 1957, after record attempts on Lake Canandagua in New York State and Lake Onandago, Syracuse did not pay off due to rough water and strange undercurrent conditions. On slipping K7 into the lake and running the engine up for tests, it was discovered that the engine had sucked in some solid objects and the blades of the axial compressor were damaged, which necessitated an engine change. Donald arrived for trials of K7 and an attempt on the record early in November. After waiting for suitable weather for a record attempt, on 7th November 1957, Donald set a new water speed record of 239.07 mph.
In 1958 K7 was further modified with the inclusion of a tail fin to house a parachute and raising of the fairings covering the front planing shoes. This last modification was to reduce the tendency of the nose lifting at speed, still the biggest problem. During trials in October 1957, K7 still lacked directional stability so a steel fin was mounted centrally on the transom. This fin also increased load on the bow, which reduced the tendency for the bows to lift at high speed. On 10th November 1958, at Coniston Water, Donald and K7 raised the record to 248.62 mph.
In 1959 K7 again returned to Coniston Waters, this time with no modifications. She had a new coat of paint and was ready to go after extensive checks. On the 14th May 1959, another new record of 260.35 mph and the first man to travel at over 250 mph on water. Donald now concentrated on the land speed record and K7 was not to hit the water again till 1964.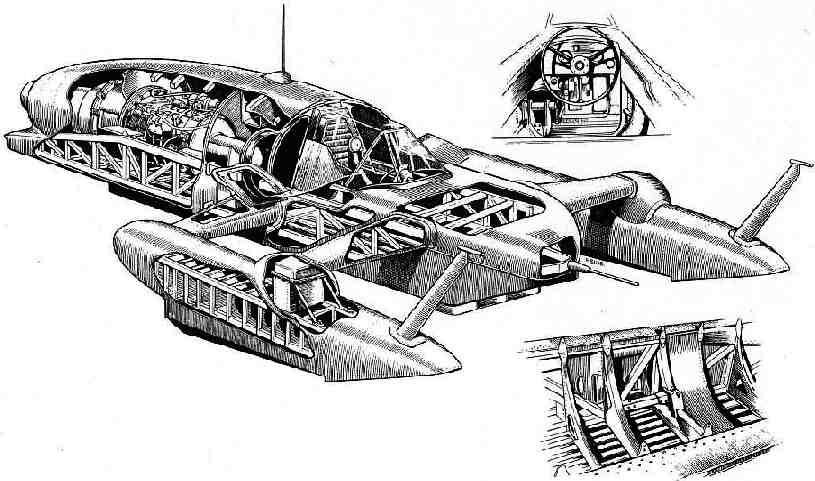 Bluebird K7 cutaway drawing
In 1964, after setting the land speed record for wheel driven vehicles on Lake Eyre in South Australia with the turbine driven Bluebird CN7, the Bluebird K7 jet boat was stripped down for X-ray examinations prior to a record attempt in Australia. Donald wanted to set both land and water speed records in the same calendar year, a feat that had never been accomplished before. After much searching for a suitable lake, it was decided to attempt the record on Lake Bonney in South Australia. Arriving in early November, the team persisted till mid December when it was decided to find an alternative location because Lake Bonney and the weather conditions were proving to be impossible for a record attempt.
Lake Dumbleyung in Western Australia was the new location chosen for the record attempt. Donald's first run on 22nd December was at a speed of 150 mph, hindered by the many wild ducks that frequented the lake and poor water conditions. Permission was given to shoot the ducks and clear the area, but bad weather halted any attempt at a new record for some time. On the 31st December 1964, the final day to achieve the double of land and water speed king, the weather was again foul. Donald was flying back to Perth when the lake suddenly settled down and was as calm as a mill pond. Donald was quickly called back and K7 was prepared for an assault on the record. With less than 8 hours of the calendar year to spare, Donald set a new world water speed record of 276.33 mph. Donald now became the only man in history to set both land and water speed records in the same calendar year - a fantastic achievement, but it was also to be his last.
A heavier, more powerful gas turbine engine was fitted to K7 and the position changed so as to correct the boats trim. Donald had overspent keeping his crew on while waiting for a break in the weather. Determined to give the Press a show to make their wait worthwhile, at around 8:30am Donald clambered into his boat. An army of photographers had been camped by Lake Conniston waiting for something to happen and this was it. To the amazement of all gathered to record the event and with shutters clicking for all they were worth, the K7 gracefully took to the air, somersaulted and abruptly nose dived into the lake. There was a stunned silence for quite a time before somebody reported over the radio: "There's been a complete accident. No details. Over." Although the wreck was not recovered, the K7's insurers made an ex-gratia payment to the estate of Donald Campbell against this total loss.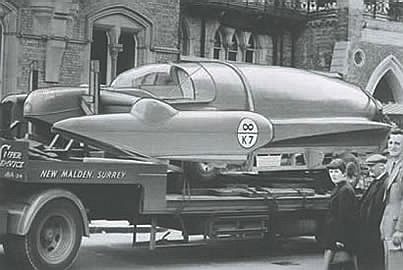 Bluebird K7 passing through Oxford in 1967
By early 1966, K7 was back in the Norris brothers workshop being stripped down and prepared for the installation of a lighter, more powerful Bristol Siddeley Orpheus Turbo-Jet engine developing over 6,000 lbs of thrust. Donald also purchased an entire Gnat fighter from the Air Ministry for a small fee of £200. This was stripped with the engine retained as a spare and several items, including the fuel pumps and starter system added to K7. Ken Norris, on walking past the stripped plane one day suggested that they also use the tail section from the plane to increase K7's stability. Also added to the transom was a water brake, a hydraulic ram that when actuated, descended 4-6 inches into the water creating drag and helping to slow the boat down after a run. The modifications were completed, she received a fresh coat of paint and was then transported up to Coniston on the 2nd of November.
First trials with the new modifications were a disappointment. K7 now sat lower in the bows due to the reduced weight of the engine and was flaming out with the large volume of water being sucked into the intakes. The engine was also not getting to maximum rpm's and this was though to be a fuel pressure problem. More bad news was to follow. On running the engine up for a static rpm test, the intake ducts collapsed sucking rivets into the engine, damaging the axial compressor. Replacement reinforced intake ducts were fabricated by Norris Brothers in Haywards Heath, then shipped to Coniston by truck. After testing the replacement intakes for strength and flow with the damaged engine, the spare Orpheus Turbo-Jet was fitted along with the new intake defectors made by Leo Villa. Weather now became a problem, with strong winds, driving rains and choppy water, the record attempt dragged on. It was now approaching 25th December 1966 and the timing officials wished to return home to their families for Christmas. The attempt was postponed until the 28th December.
With the new year approaching, the weather was still marginal for a record attempt. Donald however, did more trial runs and tested the effectiveness of the water brake and intake deflectors. Modifications continued on 2nd January 1967 and now the Orpheus engine was developing full power, Donald and the team now knew the fuel starvation problem was cured.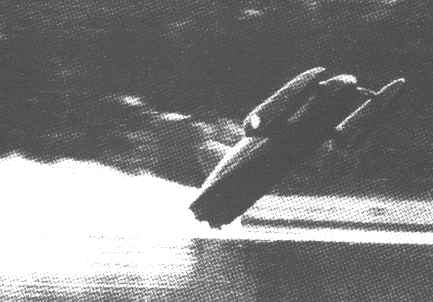 Bluebird K7 crash 4 January 1967
Wednesday 4th January 1967 dawned with a flat calm lake and dead still air, these were perfect conditions for a record attempt. The timekeepers were called and Donald took to the water in K7 at around 8.30am. At 8.42am he started up the Orpheus Turbo-Jet in K7 and ran his first timed pass for the day. He was clocked at 297mph on a glass smooth lake with K7's trim absolutely perfect. At the turnaround Donald circled the refuelling barge but did not refuel. He waited just under four minutes for his wash to subside and being unable to check with Leo Villa, who was watching the conditions in the center of the lake because of a radio communication problem, announced he was commencing his return run. This was to be a fatal mistake, as the new water brake fitted to K7 had churned up the lake surface and there was still some rippling on the surface.
Donald turned K7 around and headed back down the course at a fantastic pace for his return run, describing his run by radio to his crew all the way. He was traveling at a reported speed of 328 mph when Bluebird K7 rose, bows first from the water, did a backward somersault and plunged back into the water nose first at a 45 degree angle, destroying the sponsons, nose and cockpit, and killing Donald instantly. The main hull continued down the lake, cartwheeling for several hundred feet, destroying itself and shedding unidentifiable bits and pieces everywhere. Within 30 seconds of the crash K7 was gone, having sunk to the bottom of Coniston in 150 feet of murky water. A search was undertaken for Donald's body, but he was never found, divers recovered only his helmet, life jacket, shoes and oxygen mask. His teddy bear mascot, Mr Whoppit, floated to the surface.
Thirty-four years later a salvage operation led by Bill Smith, finally raised the wreck of the K7 to the surface of the lake. Tonia Bern-Campbell witnessed the landing of the craft. Donald's body had not been located by this time, but the search continued apace and with the aid of modern sonar equipment, Donald's body was also recovered two months later in May 0f 2001 and laid to rest. May he rest in peace.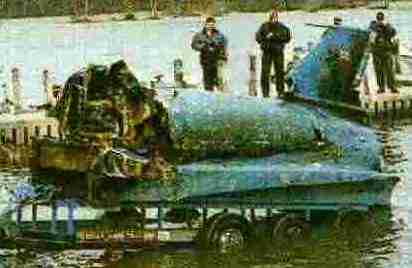 The K7 wreckage recovered 8 March 2001
It was the feats of Donald Campbell, John Cobb and other like minded pioneers which inspired me to build my electric racing vehicles and ultimately, the Solar Navigator. His efforts will continue to inspire other like minded contenders and his spirit will thus continue forever. NK
LINKS and REFERENCE
SIR MALCOLM CAMPBELL'S BLUE BIRDS
DONALD CAMPBELL'S BLUEBIRDS
A - Z OF WORLD FAMOUS RACING CIRCUITS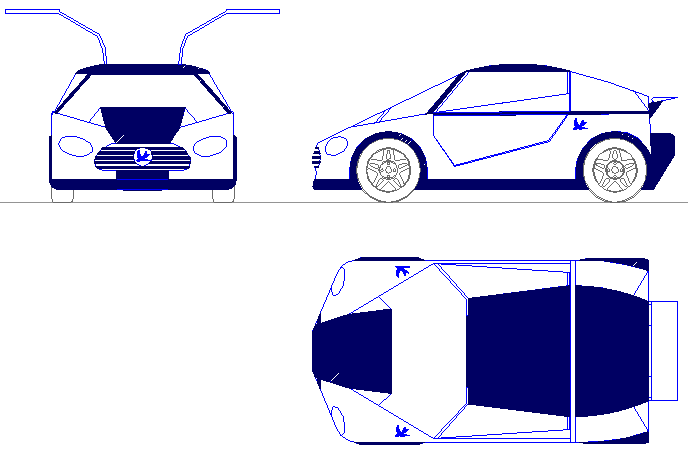 The blue bird legend continues with the first ever road car to carry the marque. Donald Campbell had a string of cars that he painted blue, such as his Jaguar E type with the number plate DC7, but he never owned a car bearing the blue bird logo. The DC in DC50 could just as easily commemorate the 50th anniversary of DC's land and water speed records. Team Speedace plan to run the Ecostar DC50 above from John O'Groats in Scotland to Lands End in Cornwall in an attempt to beat the current record set in a Tesla in 2013. Contact Chris or Terry for details.
Mobile phones keep Cannonballer's connected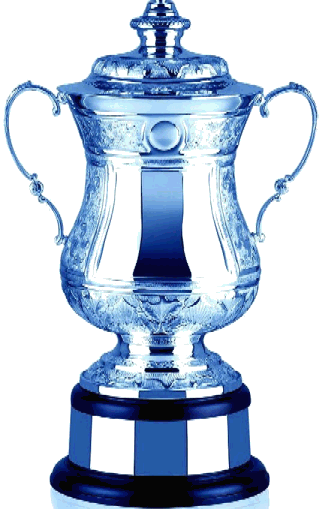 The Bluebird World Cup Trophy challenge
Finding the right mobile phone and airtime package from numerous high street and online dealers can prove to be an overwhelming challenge. However, there's more to a search than just finding a good looking phone. You need to ensure you get a reliable service and sensibly priced airtime.