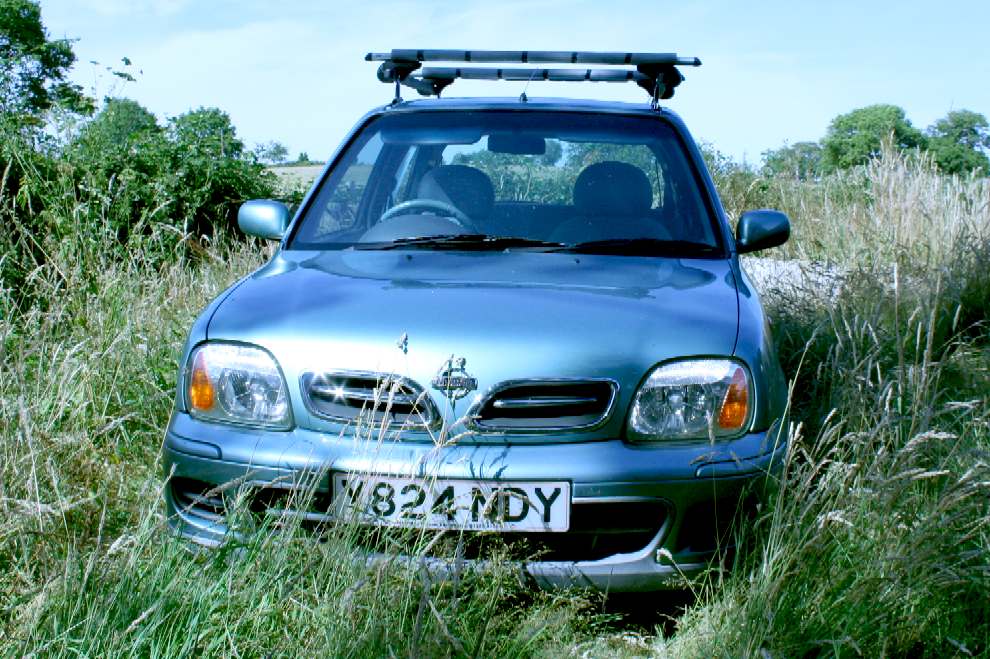 SAFARI - Small cars can do surprising things, surprisingly well. The Micra has relatively large wheels for a super mini. This reduces the rolling resistance of the car, and gives a better ride over rough ground. The original Mini cars had 10" wheel rims, so had a higher rolling resistance and bumpy ride. They cured this a lot with the Metro, that had 13" rims and returned about 50mpg. The Micra has 14" rims and a much more advanced engine, but does not manage many more miles to the gallon. The VW Beetle had 15" rims, unfortunately matched to a very inefficient air cooled engine - so about 25mpg.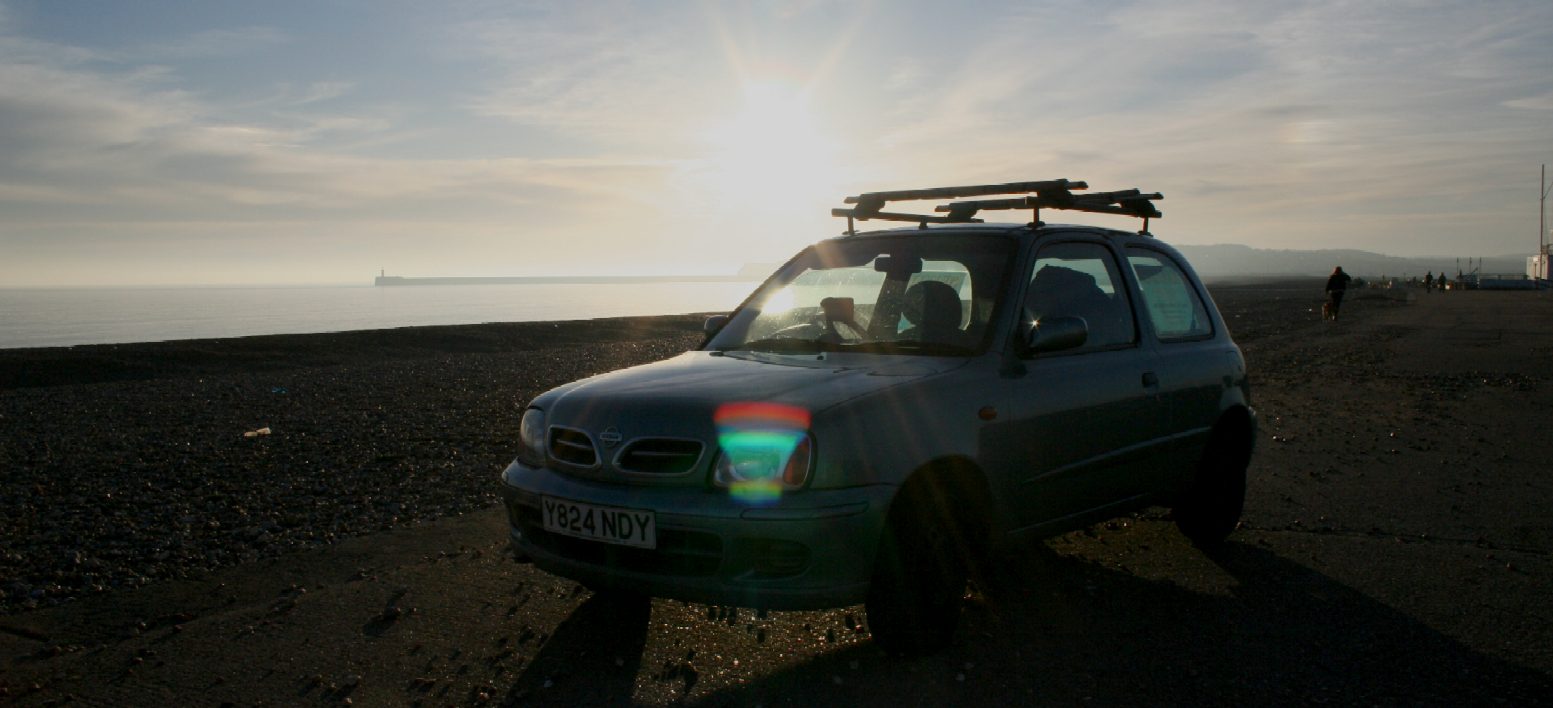 BEACH BUGGY - Here the rugged Nissan is seen on the beach at Seaford, with Newhaven Harbour in the background. This car is being used to scout for build locations for the SeaVax ocean cleanup project.
MICRA K10 - The original Micra (chassis name K10) was introduced in October 1982 as a challenger to the Honda City, and Toyota Starlet. It was intended to replace the Nissan Cherry as the company's competitor in the supermini sector, as the Cherry model sold in Europe had progressively become larger with each successive generation. In Japan, it was exclusive to Nissan Cherry store locations, as the Japanese market Cherry was renamed March. The bodystyle was originally designed for Fiat as a replacement for the Fiat 127, but Fiat then adopted the Giugiaro styled Uno instead. It was introduced in the European market in 1983, and in Canada in 1984 for the 1985 model year (replacing the slightly larger Nissan Pulsar hatchbacks). Because the Micra was launched during Nissan's rebranding effort to systematically phase out the Datsun name.

K11 - The second-generation K11 was built and launched in Japan in early 1992, and released in Europe in the fourth quarter of the year. It was powered by brand new all-aluminium 1.0 L (CG10DE) and 1.3 L (CG13DE) DOHC 16-valve engines, with 55 PS DIN (40 kW/54 hp) and 75 PS (55 kW/75 bhp) respectively (higher outputs were claimed in Japan, according the JIS rather than DIN/ECE rating), both with ECCS (Electronic Concentrated Control System) fuel injection. It was the second Nissan model line to be produced in the UK at the NMUK plant, Washington Tyne and Wear. A diesel version was offered with the 1.5 L PSA TUD market in Europe as Micra 1.5 D. CVT automatic transmission and Power steering was an option on some models, and the equipment list included safety features not usually available in this market segment: a toughened safety-cage and side-impact door beams were standard and pre-tensioning seat-belts and a driver's air-bag were optional. However, the MK2 Micra scored only a modest two stars in Euro NCAP testing in 1997. Airbags, antilock brakes, electric windows, central locking and air conditioning were as either standard equipment or options on some models in the Micra range. The European model range consisted of 1.0L and LX, 1.3LX, SLX and Super S. The car soon won the European Car of the Year award for 1993 (the first Japanese car to do so) and the Good Design Award (a Trade and Industry Design award in Japan) along with the Car of the Year Japan award in 1992. At its introduction in 1993, it won the Automotive Researchers' and Journalists' Conference Car of the Year award in Japan. Due to having won several awards, this would spawn the V3 Award edition.

After minor changes in 1996, in 1998, six years after its launch, the Micra received a facelift which saw the whole range get power steering as standard.

There was a Cabriolet (FHK11) unveiled at the Tokyo Motor Show in 1995, but it was not sold until August 1997, with an electric top. These were produced in limited numbers for the Japanese Domestic Market (JDM) only. However, much like the Nissan Figaro, some have been imported into the UK unofficially. There was also an estate version called the March Box (WK11), which was unveiled on November 1999, with a double folding rear seat, along with an automatic transmission four-wheel drive model.

K12 2002-2007 - The next version of the Micra, the K12, was unveiled in production form at the 2002 Paris Motor Show, following the lines of the Nissan mm.e concept car presented the year before at the Frankfurt Motor Show. It was introduced to the Japanese market in early 2002 and to the European market in early 2003. The car was radically redesigned: it featured a new, 70 mm longer wheelbase (developed with Renault) and an even more curvy exterior that was taller and slightly wider. Its most distinctive feature was a pair of prominent headlamps that extended to the wing-tops. The redesign coincided with the Japanese Nissan dealership network Nissan Cherry Store being renamed Nissan Red Stage in 1999. Other additions included a sliding rear seat and the option of keyless ignition on higher specification models. The range of engines included improved 1.2 (CR12DE) and 1.4 (CR14DE) petrol models, and a Renault-sourced 1.5 diesel unit (K9K). The automatic CVT transmission of the previous model was replaced by a conventional automatic transmission.

K13 - The first sketches of the latest generation Nissan Micra were unveiled on 1 October 2009, referred to as W02A, later referred to in Nissan press releases as K13.

The Nissan Micra K13 was unveiled at the 80th International Geneva Motor Show.

It will be sold in more than 160 countries, including Thailand in March 2010, India in July 2010, and Europe in November 2010. This was the first of the March/Micra to be built in a North American plant, even though this generation will not have any sales in the United States. The Micra will be available in Canada after the spring of 2014

It is based on the new Type-V platform with a new 1.2-litre HR12DE (XH5) 59 kW (79 hp) 108 N·m (80 ft·lbf), 3-cylinder engine (the first for a March/Micra). In the end of 2011 Nissan introduce the supercharged version of 1.2 (HR12DDR) called in Europe as Micra 1.2 DIG-S and the other engine 1.5 (HR15DE) and 1.6 (HR16DE) for South American, Asian and Australian country. The car is expected to be fuel efficient, delivering 18 km to a litre of petrol. The new Idling Stop System is reported to improve fuel economy by 2.0 km/L. It features variable control of voltage for power generation with alternator (including regenerative charging function with braking energy). Micra's coefficient of drag is just 0.32 achieved in part by the sleek roofline, with a raised rear end, which optimally adjusts airflow to the rear sides and other elements of the body designed to reduce air resistance such as door mirrors, a large front spoiler and the underbody configuration. A lightweight roof panel helps to keep weight to 915 kg (2,017 lb). The car was designed to appeal to a unisex crowd, yet look stylish and elegant to face the tough competition.

In India the Micra was offered with a diesel unit: the classic 1.5 dCI K9K produced by Renault with 65 hp.
MOTORSPORT

Nissan first entered the Micra in motorsports with the March Superturbo R. Introduced in 1987, this rare pre-facelift K10 weighed in at 740 kg (1630 lb) with half interior, roll cage and tool kit. It was built for the new sub-1600 cc Group A class, and shortly after in 1988 Nissan released the March Superturbo as a road car.

While the March was a favourite with the drivers in the Japanese Rally Championship, veteran Swedish rally driver Per Eklund finished the 1988 RAC Rally in 21st position and the 1989 Acropolis Rally Greece in 10th place.

During the K11's production life, there was a series of national rally championship trophies held all over Europe called the Micra Challenge. This was intended as a cheap introduction to rallying, as the cars all had identical 1.3 L race-prepared engines. The UK series ran between 1995 and 1999. This model is still used in club and national rallies. In France, the 1.3 L model was used as the basis for a circuit racing one-make cup for celebrity drivers, the Nissan Stars Cup. In Portugal, the Micra spawned a one-make trophy alongside the National Rally Championship for Beginners.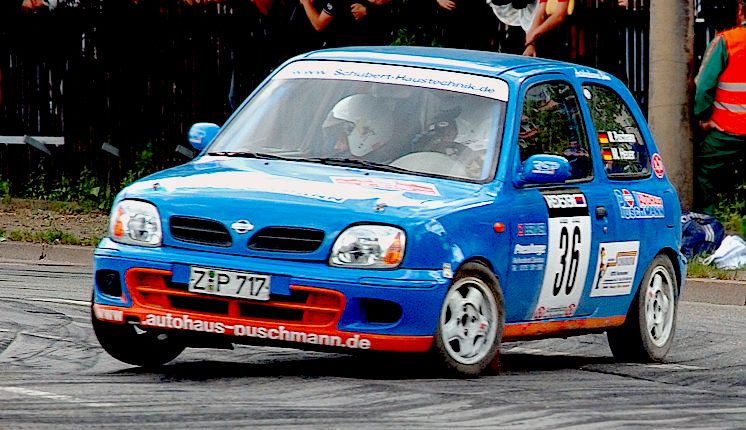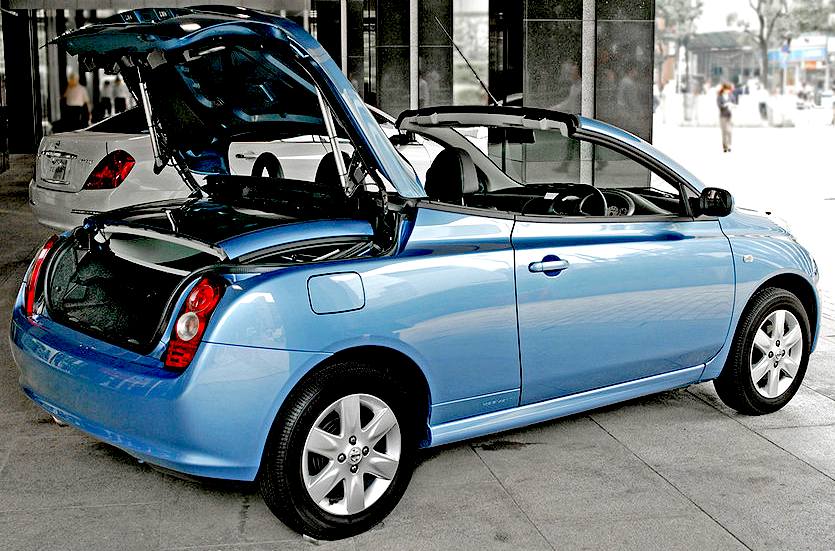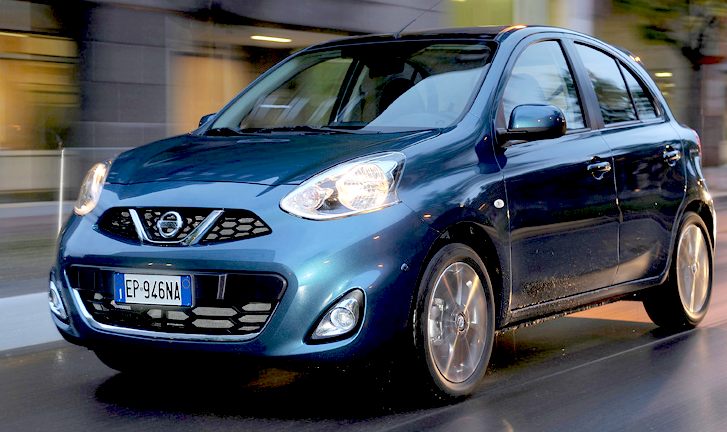 Both K10 and K11 models are very popular choices for beginner autograss but due to K10s getting rarer, K11s are more commonly used now

In 2005 a K11 model nicknamed Little Bandit, was built with a tuned SR20DET, producing approximately 400 bhp, which competed at several motorsport events.

In the late 1990s, a K11 was adapted into a VQ30 mid-engined 4WD configuration to race in the Trophée Andros, the French ice racing series. Drivers who raced this car include Érik Comas, Philippe Gache, Stéphane Peterhansel and Emmanuel Collard.

Nissan sponsors a one-make series in Japan called the March Cup, which has been running since the introduction of the K10. Usually a JGTC support race, it is held in two separate five-round championships called West Japan Series and East Japan Series, and a ladies series running simultaneously. At the end of the season, the best performing cars from both sides meet up for the Champions Cup final at the end the season.

Starting in 2015, Nissan Canada will sponsor the Nissan Micra Cup. It will consists of 10 races across 5 weekends in Quebec. Each racing weekend will include a 30-minute trial, a 30-minute qualifying session and two 30-minute races.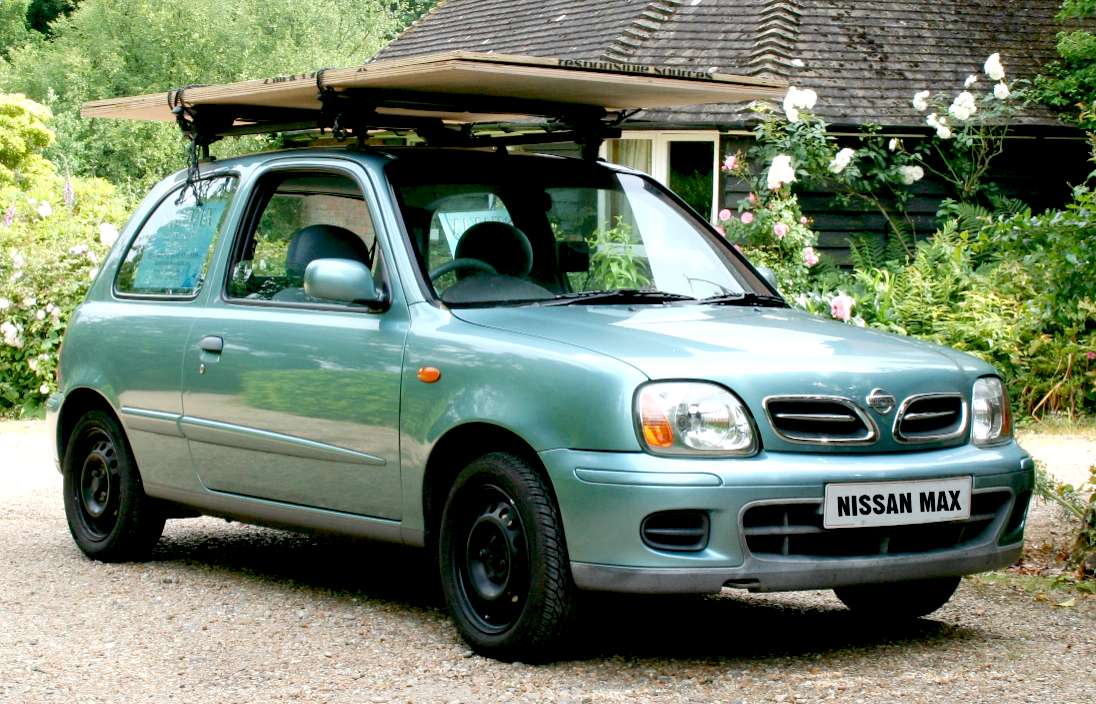 MAX LOAD - Have you ever tried to buy a decent roof rack for a two door Micra? We did. We went to Halfords and when that did not give us what we wanted, we tried Toolstation and various other DIY stores. The problem was that even if you were prepared to shell out up to £174, the method of attachment of the roof-racks we saw was far from satisfactory if carrying a heavy load. As you can see we solved this problem by making our own mounting brackets in high strength steel. Well, that is all but the aluminium cross-bars, that we finally bought from Lidl for a whopping £29. We made our own roof mounts that fit into the channel and bolt through a ribbed channel that is extremely strong, via a rubber gasket to help seat the mountings and seal against water ingress. The point here is that this roof-rack is very sturdy, making this reliable super eco-mini a very useful tool for a Heritage Trust that is always looking to save a few bob.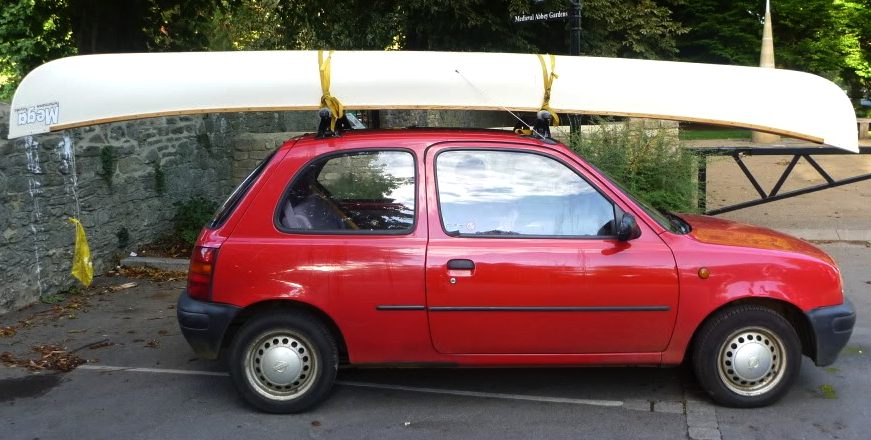 MAX LOAD - The alloy cross bars are the weakest link, being rated at just 90Kg (198 lbs). Other steel bars (G3) are rated at just 50kg (110 lbs) - incredible - shouldn't that be the other way around! Another tip for you when carrying loads on a roof rack, is to empty the vehicle of all rubbish. You can take out the spare wheel and remove wheel trims (if you have them) which affect handing detrimentally. It's only a temporary measure to reduce the weight of the car. Better still, if you car is newer, fit alloys. You'll save petrol in the long run. But only go to this expense if the car is relatively new.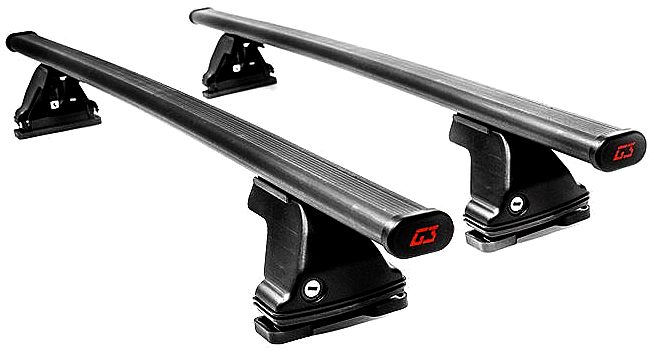 G3 - Aerodynamic Steel Roof Rack to fit Nissan Micra (K11) 1992 - 2003. This Roof Rack system contains everything you need to fit a set of roof bars to your car. The aerodynamic oval section roof bars are suitable for all Roof Rack accessories including Roof Boxes, Bike Carriers, Surfboard / Canoe / Kayak carriers, Ladder clamps, etc. Their aerodynamic profile also helps to minimize wind noise and reduces aerodynamic drag. The load carrying capacity is rated at 50Kg and price is around £80 with free delivery.

The roof bars have a tough, hard wearing black plastic coating and the fitting kits are treated with anti-corrosion thermo-setting powders to protect against harsh weather conditions and should provide years of trouble free service. This kit contains: • 1 x Exact fit kit for your Nissan Micra (K11) 1992 - 2003 • 1 x Footpack kit • 2 x Strengthened Steel Roof Bars • 4 x Locks & Keys • 1 x Allen Key - No other tools are required.

MONTE BLANC - Bar extension kit for 2 door cars, 3 including the hatchback. The steel clamping bars hook under the roof where the doors open. The extension kit takes the load backwards to a second cross-bar which has roof pads, but is not fixed. The roof pads at the rear spread the load. Halfords stock this kit, but it is in the region of £170 - so shop around.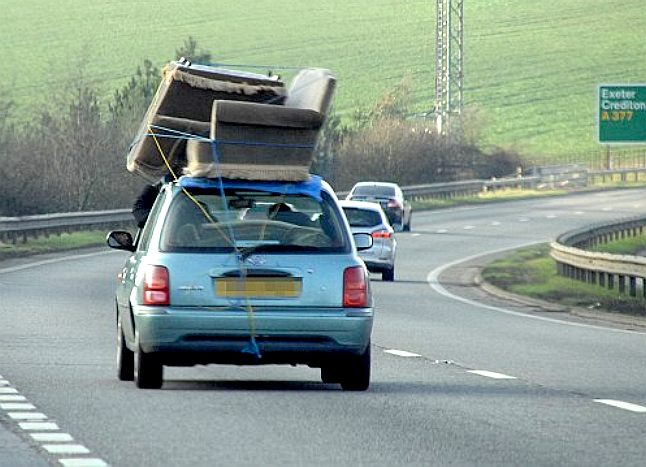 DAILY MAIL FEB 2012 - With two large settees balanced precariously on top of his little Nissan, it was hardly surprising that this driver was keeping his speed down. The car did not even have a roof rack and the furniture was secured with a few pieces of string – so ineffectually that the passenger had his left hand out of the window trying to keep it in place. The bizarre journey happened on Sunday afternoon on two dual carriageways near Exeter – the Devon Expressway and the A30.

Another motorist, who took this picture, is quoted as saying: 'The car was only doing around 30mph. I don't think they could risk going any faster because the settees would have fallen off. 'It was like watching something out of a Third World country where everything is packed on the roof. 'There was no roof rack, just a sheet protecting the car roof from being scratched. It was ridiculously dangerous. 'They were on very busy 70mph roads and they would have caused a potentially lethal crash if those sofas had slipped off the roof into the carriageways.'

The head of Devon and Cornwall police's traffic department, Inspector Richard Pryce, is quoted as saying: 'Drivers who decide to use entirely unsuitable vehicles to carry large loads present a danger to other road users. 'The load may be tied on to the vehicle but the vehicle itself is entirely inappropriate for carrying such large pieces of furniture. 'We will be making contact with the driver of this vehicle.'
LINKS
Nissan March / Micra global site
Nissan Micra site: Australia, UK
Nissan March site: Japan (Japanese), Singapore, Taiwan (Chinese)
Autech March Bolero site (Japanese)
Nissan Museum (Japanese)
March SR (Japanese)
K10 and K11 history and modifications
Nissan March K11: 1999–2000, 2000–2001, 2001–2002
Nissan March K12: 2002–2004, 2004–2005, 2005–2007, 2008–2010
http://www.nissan-global.com/
http://www.nissan.co.uk/
https://en.wikipedia.org/wiki/Nissan_Micra
http://www.micksgarage.com/proddetails.aspx?pid=1582283
http://www.lidl.co.uk/
http://www.toolstation.com/
http://www.halfords.com/
http://bluebirdelectric.com/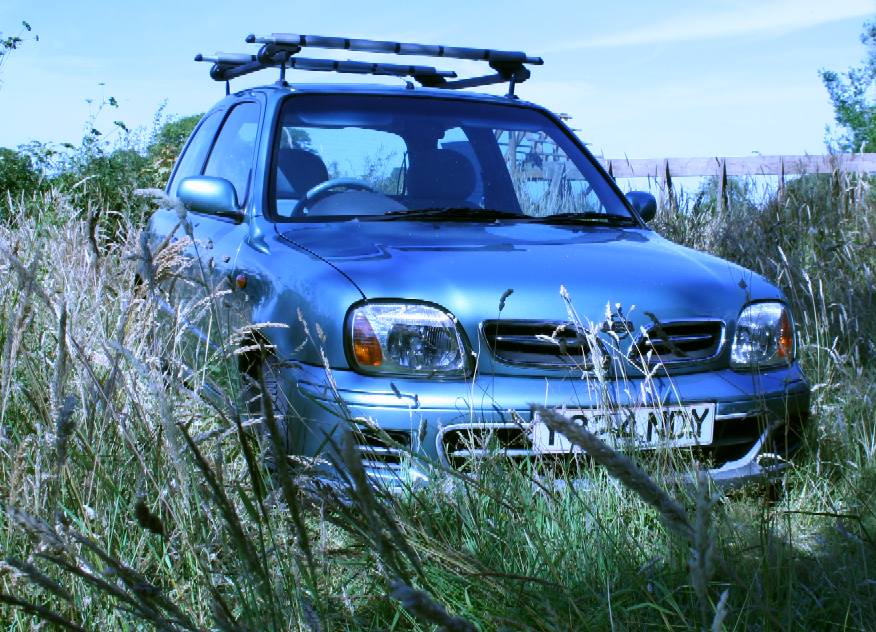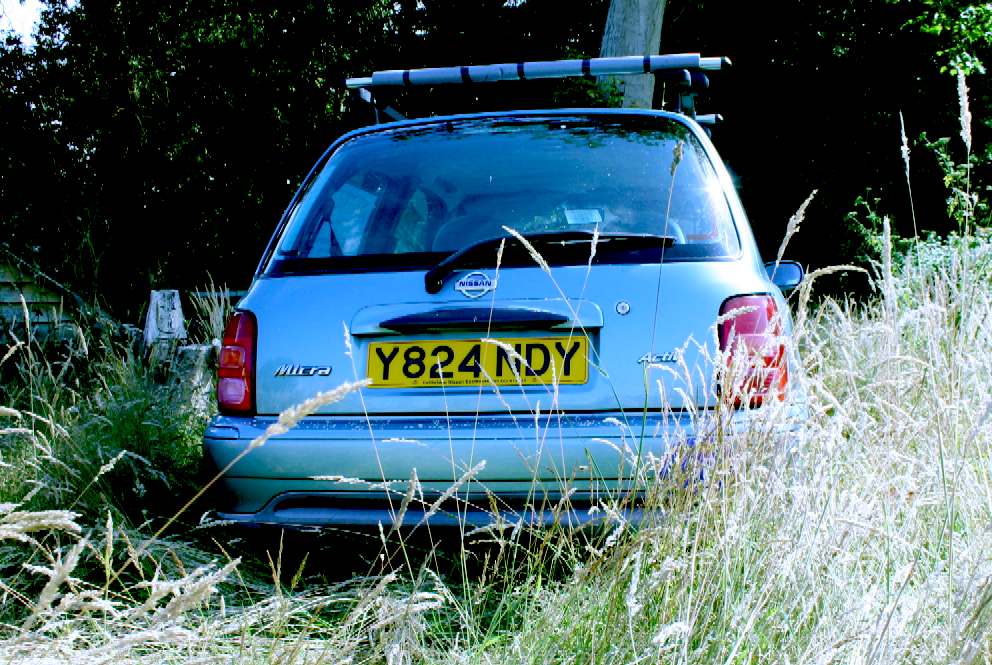 JUNGLE DRUMS - If you are going to carry anything on the roof of your car, be sure that you have a roof rack that is man enough for the job. The Micra above was traversing a hill over rough grass in the pictures above. Where you could be forgive for thinking that this super mini was on safari in Africa, in fact these pictures were taken in Sussex, England on a summer day in July, when the sun was low in the sky.