Technical Problem Scrubs Speed Record Try
Builder Colin Fallows stands next to his British electric "e=motion" car with driver Mark Newby inside Thursday, May 5, 2005, south of West Wendover, Nevada. The attempt to set a new land speed record by an electric car was aborted due to a voltage problem and cross winds that made the try unsafe. The group planned to try again Friday.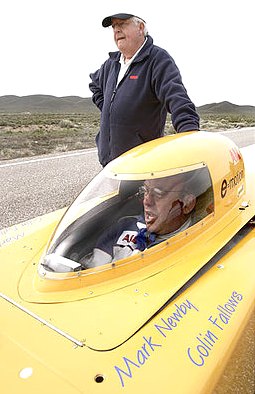 Colin Fallows and Mark Newby
WASHINGTON POST ARTICLE May 6 2005 11:00pm
WEST WENDOVER, Nevada - A British team's attempt to establish a new speed record for electric-powered vehicles was scrubbed Friday, the second day weather and technical problems foiled efforts.
The record attempt in the Nevada desert was scrapped because of a problem in the drive controller, the unit that controls the electric motor.
"It's an electrical gremlin. It could be related to cold, damp temperatures in the Nevada
desert," team member Colin Fallows said. "It's just one of those things _ never get involved in cars," said the other team member, Mark Newby.
Newby is to trying to eclipse the record for an electric car weighing more than 2,200 pounds by using a vehicle with 52 batteries and no mechanical gears. The existing record is 245 mph, set by an American team in 1999.
They planned to ready the car for one last attempt at the record Saturday on a closed highway about 25 miles south of West Wendover.
Another group, racing street cars, was arriving for a race Sunday on the same closed highway, and the British team said it was running out of money to extend its stay.
Gusty wind and battery problems on Thursday delayed the first record-breaking attempt.
The car uses compact, industrial motors and drives made by Swiss engineering company ABB Ltd.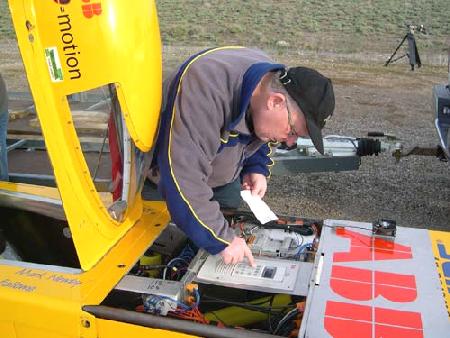 Checking the controller settings
On the Net: Team: http://www.abb.com/e(equals)motion
---
LINKS:
Contact Us | About Us | Work at washingtonpost.com | Advertise | Media Center
Site Index | Site Map | Archives | E-mail Newsletters | RSS Feeds | Wireless Access

The Washington Post:
Subscribe | Subscriber Services | Advertise | Electronic Edition | Online Photo Store The Washington Post Store

The Washington Post Company:
Information and Other Post Co. Websites