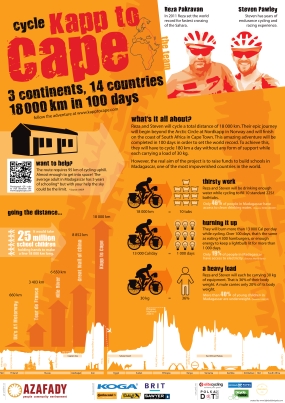 Who are Reza Pakravan and Steven Pawley?

Up until a few weeks ago Reza was a financial analyst working in London, but right now he likes to call himself an adventurer.
He's at the start of a World Record attempt with his cycling partner Steven Pawley.

They are hoping to ride the Kapp to Cape route in a new record time of 100 days in a bid to raise enough funds to build two new schools in poverty stricken Madagascar with Azafady charity.

This epic journey starts at the North Kapp in Norway and ends 11,000 miles away in Cape Town. They'll be riding through some incredible, dangerous and very challenging terrain; in total 21 countries, but they are hoping they will have what it takes as in 2011 when Reza set a new Guinness World record for cycling across the Sahara Desert – although this 'only' took 13.5 days, not the 100 days they are currently on the road for.

Check out their Facebook page find out more!

By taking part in Kapp to Cape project, when they will cycle 11,000 miles, Steven and Reza will be raising money to help building the schools in Madagascar with Azafady charity.
LINKS
http://www.wayn.com/profiles/Reza-Pakravan
.