In 1972 Nelson Kruschandl received this certificate, although he can't remember having contributed very much on this subject, it was nevertheless one of his favourite lesson and perhaps this showed through it must have.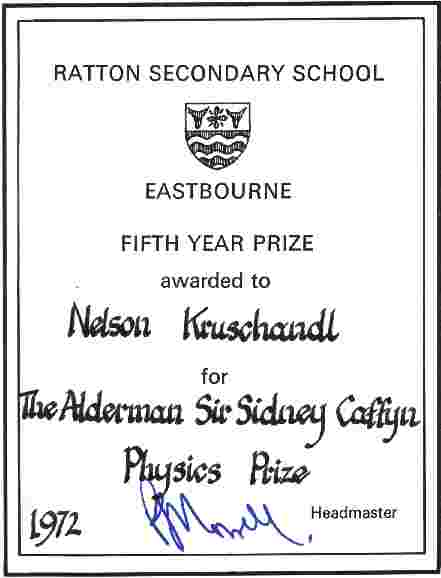 Prize Certificate 1972
Nelson reveals the above Prize Certificate brings back fond memories of Ratton Secondary School, Eastbourne in East Sussex, his Physics master, Mr Henderson (who nominated him for this prize), his early draughting lessons with Mr Rippengal (for which he also received mentions) and his Maths and English tutors Mr Campbell and Mr Mansell.
Mr Campbell and Mr Mansell would no doubt have been pleased to learn that Nelson has written a book about his archaeological exploits at Herstmonceux, now with the scientific backing of English Heritage, Archaeology South East and the County Archaeologist. The building the subject of this book is on a Monument Protection Programme (the process of discovery for which is included). This is an informative educational trip back in time with eye witness testimony from two local residents who lived in Herstmonceux at the time.
But Nelson.s bungling local authority and the Secretary of State got it wrong many years ago and still won't admit to their mistake. Or was it a mistake? Nelson's next book in the series reveals the inner workings of Wealden District Council with the benefit of transcribed recordings of council meetings and extracts from the Secretary of State's planning decision letters.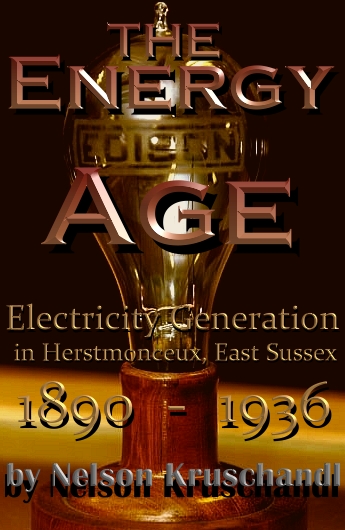 Without mentors to mould and guide us in our formative years, we could not flourish. Nelson says: "I wish I'd been more attentive at school and confided my ambitions."
To all my class mates who've stopped me in the street and wished me well in my endeavors - thanks. It really helps to have your support, and now you'll know the truth about all the stories you've read about me in the papers. To be revealed in this series of books, which I hope you will find interesting and amusing. Thank heavens for my sense of humour.
---
TEAM TECH WIND-TNL CHASSIS SUSP MOTORS DRIVE BATTERIES BODY
INSTRUMENTS FUNDING TIRES CLOTHING SAFETY CAPSULE LSR ESTIMATES
SERVICE STATIONS PAY AS YOU DRIVE HYBRID MULTIFUEL TRANSITION
EV MOTORING COSTS SOLAR PANELS