Even before the automobile, mankind has been obsessed with speed. The desire to get there faster has been a measure of progress throughout history. However, the invention of the automobile has brought on an era in which man has been able to harness increasingly greater power and an explosion in increased speeds. This history of land speed records will travel from France to the U.S. and back to England at present; with a look at what presently is happening in this fascinating world of blistering speed. No web site can do full justice to this fascinating subject, so all we shall attempt to do is give a flavour of it through some of our favourite cars, their builders and drivers.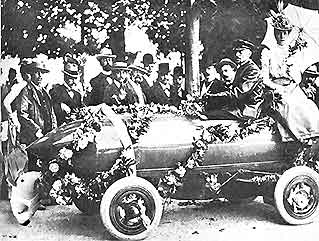 La Jamais Contente
The Early Years
Land speed record attempts are now over 100 years old. Before the advent of the automobile, man was accustomed to moving at a very leisurely pace. The fastest he could go was at a full-out gallop on a horse which may have been close to 40 MPH. The first record with an automobile was set in 1898 by Count Gaston de Chasseloup-Laubat of Paris, France. His single run through a measured kilometer took 57 seconds; an average speed of 39.24 mph (63.13 kph). All he wanted to do was prove that his automobiles worked well and for him this was one way to prove it.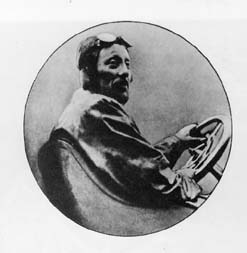 Janetzy, one of the early record holders
What the Count started, and he didn't know, was a challenge which has sparked the imagination of millions of children thrilled with the concept of speed, but has lured only a select few adults who have accepted that challenge over the last century. Hence in 1899, the first car to exceed 100kph was the streamlined electric special of Camille Jenatzy (below), named La Jamais Contente - 'The Never Satisfied'. Summing up the attitude of all the LSR contenders ever since.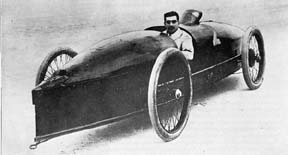 Marriot, one of the early competitors of the record seeking few
The land speed record came to the United States in 1904 when Henry Ford wanted to prove to the world that his cars were built better than anyone else's in the world. On January 12th at Lake St. Clair, Michigan near Detroit, Mr. Ford bounced his Ford Arrow across the frozen lake to reach an average speed of 91.37 mph (147.04 kph). He remarked of the run, after retirement, that it had scared him so bad that he never again wanted to climb into a racing car. With the news of his record spread around the country, his new car company got a much needed boost at becoming one of the most successful automobile manufacturers in history.

Ford in his Arrow Rigolly at the wheel
The 100 MPH barrier was quickly broken later in 1904 when the land speed record returned to France. Louis Emile Rigolly was one who loved racing wheel-to-wheel with an opponent and is considered the world's first true drag racer. After being defeated in a standing mile race by Paul Baras, Rigolly decided to do something spectacular to save face; he flew through the kilometer at 103.55 mph (166.64 kph) and dazzled the crowd.
---
The Golden Age - Wheel Driven
While there were many others who claimed the record at progressively faster speeds, the next notable level of achievement went to Malcolm Campbell of England. On February 4, 1927 Campbell drove the Napier-Campbell Bluebird to 174.883 mph (281.447 kph) on the beach at Pendine Sands. The Bluebird was the first car built strictly for breaking the land speed record; making it unique.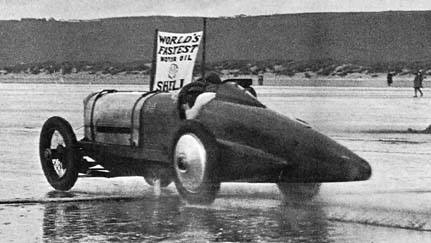 Campbell in the Sunbeam Bluebird
Breaking the 200 mph barrier was the accomplishment of Major Henry Seagrave. He drove the Golden Arrow to a new record speed of 231.446 mph (372.340 kph), again at Daytona Beach, Florida. What made this car unique is that it is on record as the least used car; having been driven a total of only 18.74 miles. Seagraves was later knighted by Queen Elizabeth for his achievements. Sir Henry also attempted to capture the water speed record in his Miss England II when his boat hit a log in the water and capsized, killing Seagrave and mechanic, Victor Halliwell.


Seagrave's Sunbeam car.
A successful racer at Brooklands, Captain Malcolm Campbell first started his association with the LSR by buying the 350hp Sunbeam which Kenelm Lee Guinness had used to set an new record of 133.75mph in 1922. In 1924 Campbell modified the car with a longer, streamlined tail and new fairings to the body and suspension. The car was repainted in Campbell's favourite shade of blue and named "Bluebird" the same as his pre-war racing cars.

After a couple of abortive attempts at Fanöe beach in Denmark, where tyre failures caused the death of one boy spectator and nearly destroyed the car, Campbell moved to Pendine Sands in South Wales and raised the record twice to 146.16 and then 150.76mph. Campbell realised that the Sunbeam with its elderly 18 litre Manitou aircraft engine was not going to stay competitive for long, and had ambitious plans for an all new 'Bluebird'. The new car took two years to build at enormous cost. Using a 450hp 12 cylinder Napier Lion aero engine, a huge Chassis built by Vickers Ltd. and a body made by Jarvis & Sons of Wimbledon, the machine was built by the Robin Hood Engineering Works in Putney Vale.

In 1927, by now obsessed with the record which had been pushed up to 171.02mph by Parry Thomas's Babs during his absence, Campbell rushed the new car to Pendine and without waiting for favourable weather or tide conditions set out on the soaking, soft beach. He managed a time through the flying kilometre at 179.158mph and was running even faster on his return run when he hit a sharp bump in the sand which knocked his goggles off. Driving one handed at nearly three miles a minute on streaming wet sand, he managed to replace them and regained enough speed to regain the record at an average of 174.883mph.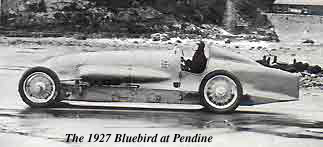 Campbell in the 1927 Bluebird at Pendine
The horrific death of Parry Thomas in 1927 was the end for Pendine Sands as a record course. Major Henry Seagrave used Daytona beach and raised the record in a quantum leap to over 200mph in his 1000 horsepower Sunbeam. This huge increase meant that Campbell had to redesign Bluebird again, using a high boost version of the Lion Engine prepared for the Schneider Trophy air race developing 875hp and a completely new wind tunnel tested body designed for it by Vickers. The Car was ready by the start of 1928.

He too took the car to Daytona, which had by now become an organised speed 'Meet' and in typically impatient style set off almost immediately without waiting for the high winds to die down completely. The beach was bumpy and at the end of his first run on 19th February he was running very fast at over 210mph when he was thrown up in his seat as before at Pendine, losing his goggles and forcing his foot off the throttle. The resulting deceleration threw the car into an enormous series of swerves, but Campbell let the car run with the skid until the speed dropped enough to regain control. He then immediately turned the car around for the return run. Either as a calculated risk, or as an oversight caused by his enormous terrifying slide, Campbell did not change tyres as arranged and set off straight away. Luckily this time he missed the bump and his tyres survived, giving him a new record average of 206.956mph.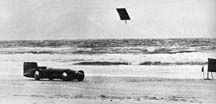 Cambell in his later Bluebird at Daytona Beach
The competition between Campbell and Seagrave brought down the 300 mph barrier when Sir Malcolm Campbell, also knighted for his achievements by the King of England, averaged a speed of 301.129 mph (484.818 kph) at the Bonneville Salt Flats, Utah on Sept. 3, 1935 with a much more powerful V-12 Rolls-Royce engine in the Campbell Rolls-Royce Bluebird.
Moving the course to Daytona had renewed American interest in the LSR and a number of projects were under way to try to end the British car's domination.. Frank Lockhart was killed when his beautiful and fast Black Hawk Stutz burst a tyre at nearly 220mph but Ray Keech's triple engined 81(!) litre Triplex snatched the record form Bluebird after only two months.

Campbell, his patriotism and ego stung, had already resolved to regain the title when it was announced that his old rival Seagrave was building a new car. Once again he redesigned Bluebird with a new body and made an attempt on the record at Verneuk Pan, a dry lake bed in South Africa. This attempt came to naught when the news came through that Segrave's new car had raised the record to 231.446mph.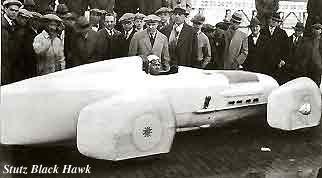 Frank Lockhart and the Black Hawk Stutz
The Golden Arrow was astonishingly efficient, completing only one quick test run at 100mph or so before making its two record runs seemingly effortlessly. This incredible car can lay claim to being the most effective LSR car built, having run for a total of roughly 24 miles in its entire lifetime.
Campbell gave up on Veneuk Pan and returned to give Bluebird her biggest redesign yet. The car was reduced to its bare chassis and under the auspices of Reid Railton at Thompson and Taylor of Booklands a new 1450 bhp Napier engine, K.L.G. gearbox and offset propshaft. The body was again redesigned much lower with a large stabilising fin at the rear.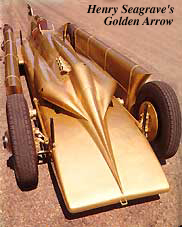 Returning to Daytona in 1931 and despite the bumps, Campbell was delighted when the new car recorded a new LSR of 246.09mph, more than four miles a minute. On his return to Southampton he was greeted by a special flight of aircraft and a "Bluebird Special" train. His Majesty the King announced that Campbell was to be knighted for his achievements in breaking the record five times. Campbell was 46 and many expected him to retire with his ambitions fulfilled. However, 'Jamais Contente', The man who had become synonymous with record breaking thought that 246.09 was tantalisingly close to the magic figure of 250 miles per hour.
In 1933, the Napier engine was replaced by a 36.5 litre Rolls Royce R type unit giving 2300 hp. With this and some minor modifications to the bodywork Campbell raised his own record to a huge 272.46mph. Despite the lack of challengers to his record, he wouldn't rest on his laurels and determined to be the first to 300mph. Yet another version of Bluebird was prepared with an all enclosing body, twin rear wheels and vacuum operated air brakes. The Car achieved a new LSR of 276.816mph but it was clear Daytona was now becoming too short at 10 miles to give enough room for these high speeds and the soft surface caused wheel-spin problems.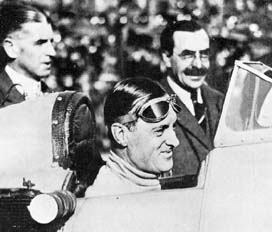 Campbell sitting at the wheel of an earlier model vehicle
Various record cars including the enormous pre-war Blitzen Benz and John Cobb's Napier Railton had used the dry lake Bonneville as a surface. This enormous area of salt flats was chosen as the venue for the assault on the 'Three Hundred'. In September 1935 a course was laid out on the salt and the Bluebird set out early in the morning of September 3rd .Oil covered the windscreen as he entered the measured mile and a front tyre burst towards the end of the run but Campbell held the car and stopped safely albeit with three tyres shredded to the canvas and one on fire. As the car was prepared for the return run, Campbell's son Donald tried to talk to him but quickly realised that it was the wrong thing to do, as the obsessive record breaker was quite expecting to die on the second run. Again the tyres were shredded and the car went into a lurid slide at the end of the course but stopped safely. The average for the two runs was 301.129mph. Finally the indefatigable Campbell was satisfied, at least with the LSR. He turned his attention then to the water speed record, still making and planning speed records until his death at 63 in 1948.
Sir Malcolm Campbell had firmly established record breaking in the public imagination. By the time Bluebird had achieved 300mph in 1935 the major players were all household names in England. Captain George Eyston's Thunderbolt record car, a 73 litre, twin Rolls Royce engined monster raised the target to 312.00mph in 1937, starting a duel with the quiet, modest Surrey fur broker John R Cobb, whose exploits in the 23 litre Napier Railton at Brooklands and Bonneville were well known. Cobb held the highest regard for Reid Railton's design genius, and this together with his own almost shy modesty led to the naming of his new LSR car simply as the Railton.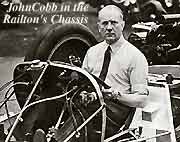 John Cobb

Startlingly beautiful in its purity, the shape of the Railton was an almost perfect teardrop. The one-piece shell lifted off to reveal an S shaped chassis containing two Napier Lion Engines which drove all four wheels. Built by Thompson and Taylor, the Railton was ready for a record attempt in the summer of 1938, arriving at Bonneville at the same time as Eyston's new Thunderbolt. The Thunderbolt pushed its own record up to 345.49mph before the much smaller engined Railton was the first to 350mph a few weeks later.
Cobb's record was only to stand for one day however, as Eyston took his quickly modified behemoth out the next morning and raised the record to 357.50mph. The following year, on the eve of the second World War Cobb returned to Bonneville and flashed through the measured mile in less than ten seconds to set a new figure of 369.70mph. The war precluded any more record attempts (including the very interesting stillborn T80 Daimler Benz project now resting in the Mercedes museum in Stuttgart) so it wasn't until 1947 that Cobb returned, His sights firmly set on 400mph in 1947. John R. Cobb was driving the Railton Mobil Special in his attempt to break the 400 mph barrier, when on Sept. 16, 1947 he managed to average only 394.196 mph (634.196 kph) at the Bonneville Salt Flats, Utah.
Bonneville's salt floods each winter so the surface varies according to the weather. This year it was bumpier than usual with soft patches and pot holes so while the Railton touched 403, the average for the two runs (and a new record) was a tantalising 394.196mph. For sixteen years, Cobb's record stood and, like the four minute mile, the four hundred miles per hour record seemed unattainable. "Class records" for cars of specific engine size or over longer distances were broken but despite the efforts of LSR legends such as Art Arfons, Mickey Thompson and Dr. Nathan Ostich no one came very close to the Railton's record. Cobb too, attempted to claim the water speed record in his Crusader on Loch Ness, Scotland, but lost his life on Sept. 29, 1952 when it flipped and exploded.

Cobb's Railton Mobil Special
The 400 mph barrier was finally broken by Mickey Thompson of the U.S. on Sept. 9, 1960. Driving the Challenger 1 powered by 4 Pontiac V-8 pushrod engines producing 700 hp each, he reached an average speed of 406.60 mph (654.359 kph) to return the record to the U.S. after belonging to Englishmen for 32 years. Donald Campbell, son of Sir Malcolm Campbell, followed in his father's footsteps and claimed the land speed record on July 17, 1964 at Lake Eyre, Australia. This record was the only one set outside the U.S. during the recent period of records. His Bluebird-Proteus CN7 reached an average speed of 403.135 mph (648.783 kph) using a gas turbine engine. He lost his life attempting to break the 300 mph barrier on Coniston Water in his jetboat Bluebird.

Donald Campbell already had broken 200mph on water and in 1956 started work on a 400mph car. The Campbell-Norris CN7 car used a Proteus gas turbine engine from the Britannia airliner and developed about 4100 hp. The body was a sort of monocoque made from aluminium honeycomb and naturally the car was named "Bluebird". Although the car used a jet engine, it was driven through its wheels via spiral bevel gearboxes at both ends. After an enormous crash at 360mph which Campbell miraculously survived, the project (which was reputed to have cost over £1 million) seemed finished. On regaining consciousness, Donald almost immediately asked how soon the car could be repaired and hearing this Sir Alfred Owen, head of the Owen Organisation said "If Campbell has the guts to carry on, I'll build him another car".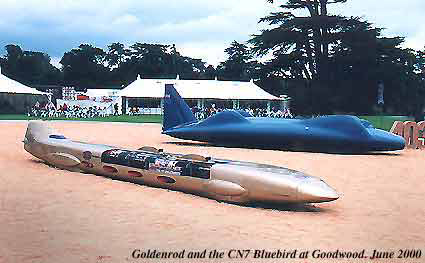 Bluebird CN7 and Goldenrod at Goodwood June 2000

The new Bluebird had a tail fin for additional stability and a modified oxygen system which had been held responsible for causing the crash by allowing the driver to become light headed Eventually after a plague of technical and weather problems the car recorded a speed of 403.10mph. It was to be Donald Campbell's only foray into the LSR and he returned to water records.

The speed of over 400mph was a qualified success however. By the time Bluebird had made it Craig Breedlove had already set 407.45mph in Spirit of America. This car was not universally recognised though, as it had only three wheels (which made it technically a motorcycle!) and because it was driven by the pure thrust from the engine like the jet aircraft it resembled. John Cobb's prophesy seemed to be held true by the authorities. "A jet propelled car would not be a motor-car; it would be a sort of aeroplane dragging its wheels along the course".

Bill Summers

Thus the Land Speed record became split into two classes, for wheel driven vehicles, and for those propelled by pure thrust. It was obvious however that Jet cars were the way to much higher speeds and quickly the ultimate LSR went up to over 500mph. The wheel driven record was much harder to crack, and the only project which managed it was the Summers brothers' Goldenrod. A beautifully shaped tiny projectile built around four Chrysler Hemi engines set in a row. The combined output of these engines was somewhere in the region of 2400 hp, the engines two shared gearboxes linked by a special Hurst shifting mechanism. I was lucky enough to meet Bill Summers (right) at Goodwood this year and he told me his brother Bob needed both hands to change gear, letting go of the wheel at over 200mph while he did so! Their 1965 record of 409.277mph stood for many years.
Don Vesco's turbine powered (but wheel driven) streamliner has recently (October 2001) raised the official FIA wheel driven record to458.440 mph! A fantastic achievement. He said " The down run Thursday morning at 11:03 a.m. resulted in a speed over the measured mile of 458.718 MPH. The return run at 11:58 a.m. was 458.162 MPH for an average of 458.440 MPH. The weather that morning was perfect, about 60 degrees (f), very little wind, no clouds. The salt was the best I have seen it in the 43 years I have been going to Bonneville." Pictures and more info are set to appear on the Team Vesco site at http://www.teamvesco.com/ Don Vesco died of cancer in San Diego aged 63 on 16 December 2002. One of the great names of record breaking and a Bonneville legend.
The wheel driven record is now the province of men like Don Vesco and Al Teague, both of whom run wheel driven streamliners at over 400mph. Things start to get complicated here as Vesco's "Turbinator" runs a turbine while the Teague "Spirit of 76" has a piston engine, so both claim records in different classes.



---
Jet Thrust - Unlimited
The early '60s was the beginning of a new era of land speed vehicles. Through most of this decade the claim to the title "The Fastest Man on Earth" went back and forth between two Americans; Art Arfons and Craig Breedlove. Their speeds crept up gradually from just over 400 to 600 mph. Art Arfons achieved a maximum speed of 576.553 mph (927.873 kph) in his Green Monster on the Bonneville Salt Flats, Utah on November 7, 1965.

Breedlove ended up in a saltwater pond after he lost both chutes
The record set by Bob Summers, the following week in 1965, was to signal the sunset of an era in land speed racing. On November 12th the Goldenrod, what the purists consider one of the few wheel powered land speed vehicles from a bygone era, reached an average speed of 409.277 mph (658.526 kph).
Future vehicles would be free wheeling; driven with jet or rocket engine thrust, with the exception of one. Three days later, Craig Breedlove drove his Spirit of America - Sonic 1 to 600.601 mph (963.364 km/h) with a 15,000 lb. thrust jet engine blazing behind him. After surviving a near fatal crash with his earlier model Spirit of America - it crashed by losing its chutes & rolling over a burm and into a canal - Breedlove had triumphantly returned to break the 600 mph barrier which had eluded him for so long.
Five years would pass before a new challenger would up the record. On October 23, 1970, Gary Gabelich drove the Blue Flame, a unique engine propelled by Liquid Natural Gas, to 622.407 mph (998.341 km/h). Gabelich's record stood unchallenged for 13 years, until on October 4, 1983 Richard Noble of the U.K. would drive his Thrust 2 to a new record of 633.468 mph (1016.083 km/h), but this time on Black Rock Desert in Nevada instead of at Bonneville. For 19 years the Americans had dominated the land speed record books, but now the British have returned to reclaim it once again.
The Budweiser Rocket Car used a sidewinder missile to push it up to Mach 1, but didn't meet the international requirements for going into the record books. Note: If you are wondering about the Budweiser Rocket car of Stan Barrett which claimed to have broken the sound barrier in the 'seventies this is a highly controversial project! It is debatable, unlikely or downright impossible (depending on your point of view) whether this car reached anything like the speed of sound. The project team basically wrote their own rules and claimed a speed which no one outside the team could verify. It therefore holds no official record despite the claims made for it. For more on this visit hhtp://roadsters.com/ or read Robin Richardson's article "The Great Pretender" at http://nitronic.com/research11/great.html

Craig Breedlove is to the jet car age as Sir Malcolm Campbell was to the 'twenties and 'thirties. The first to break 400, 500 and 600mph, he was finally eclipsed by The Blue Flame of Gary Gabelich 1n 1970 which raised the record to 622.407mph. There it stood for thirteen years while the world economic climate and a loss of public interest in record breaking seemed to mean that no serious challenge would emerge.

The patriotic British businessman Richard Noble however was busy working towards a record attempt. After spending almost every penny he had on Thrust 1, a fairly crude device used as a rolling test bed he destroyed it in a 140mph roll at RAF Fairford in 1977. Undaunted, the same evening he began work on Thrust 2.

Thrust 2 was a proper LSR car, with a tubular spaceframe chassis housing a Rolls Royce Avon turbojet from a Lightning fighter. The basic design being loosely based on one of Art Arfons' Green Monster cars. The whole car was built on an incredibly tight budget. For example, the donation by Lucas of a switch and a few feet of cable qualified them as a major sponsor! By taking a stand at the 1977 London Motorfair Noble and his team managed to enthuse the public and persuade reluctant captains of industry to help. Eventually, after innumerable financial and technical crises the Car was shipped to Bonneville in 1981 where Noble managed a peak speed of 500mph before the rains came ant turned the course back into a lake. This was similar to the appalling bad luck suffered by both Malcolm and Donald Campbell, especially when they were flooded out the following year without turning a wheel, but they had at least proved the car had potential.

Thrust 2

In 1983, moving to the Black rock Desert in Nevada, The Thrust 2 team set a new LSR of 633.468mph as Richard Noble said "For Britain, and the Hell of it". In 1983 Richard Noble flew his Thrust II low over the Black Rock desert to set a new record of 633 mph. It was learned later, as reported in a BBC two part special about the ThrustSSC Project, that had Noble gone only 7 MPH faster, the Thrust2 would have gone airborne; resulting in certain death. Noble's record stood unchallenged for 13 years.

Although they had only broken Gabelich's record by a small margin, no serious contenders seemed inspired to take Thrust 2's LSR crown, Until in the early 'nineties a number of projects were rumoured. Australian Rosco McGlashan was building a Thrust 2 lookalike called Aussie Invader II, There were stories that the Maclaren F1 team were working on a LSR vehicle and that Craig Breedlove was planning a new Spirit of America. Noble had wanted to build another car for some time and realised that the last great prize was the speed of sound. He had taught himself to drive Thrust 2 despite having no experience of racing or speed testing and acquitted himself brilliantly but he appreciated that controlling something with more than twice the power through the sound barrier was a job for an expert!

Flight Lieutenant Andy Green was selected from a field of applicants including pilots, race and rally drivers as the man with the 'right stuff'. His experience in flying supersonic fighters for the RAF and almost superhuman coolness under pressure made him the obvious choice.
Richard Noble and Thrust 2

---
The Supersonic Class - Beyond the Sound Barrier
Then, in October of 1997, Andy Green, an RAF fighter pilot, driving for Richard Noble in the Thrust SSC did the unthinkable by breaking the sound barrier at Mach 1.02. The speed of sound is estimated to be roughly around 740 MPH, but varies depending on temperature and elevation. In the process, he set a new two way average record run of 763.035 mph. While the ThrustSSC stands alone in its class of land speed record vehicles to this day, there are those who are setting their sights on getting the record back; working quietly and patiently until their time comes to take a crack at the record and hopefully reclaim it once again. Other vehicles will, no doubt, join this elite class some day with even faster speeds.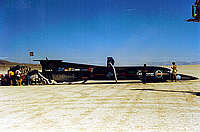 The Aussie Invader and Maclaren projects evaporated but Breedlove's Spirit of America was built. This astonishing vehicle, said to owe more to eye judgement than computer modelling was actually ready at the same time as Thrust SSC and both camps were on the Black Rock Desert together. Sadly Breedlove missed out on being the first to 700mph and he survived a huge scare when the Spirit suddenly veered nearly ninety degrees off course. In the true spirit of record breaking, the gentlemanly Breedlove offered the Thrust team the use of all his facilities and stayed on with his damaged car to help and cheer them on.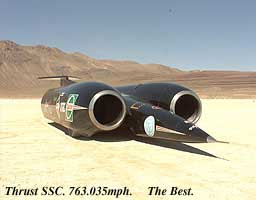 The Supersonic Thrust SSC at Black Rock Desert in 1997
On Tuesday 7th October 1997 Thrust SSC made an early morning run and generated a sonic boom for the first time. An official attempt on the record a few days later failed due to the car not being turned around within the statutory one hour allowed. A week later, on 15th October, Andy Green made the two runs through the measured mile, each time generating a perfect shockwave in front of the car and a huge sonic boom. The Land Speed Record is now faster than sound.




Richard Noble and Thrust SSC Coventry Motor Museum

---

Beyond the Combustion Engine

Although the first land speed record was set by an electric vehicle, electricity as a power source for transport, has not seen the development needed to keep pace with the requirements of modern living, this despite the fact we need clean transport more than ever.

Nelson Kruschandl

At the forefront of electric vehicle development we have three teams vying to be the first to top 300mph for the official FIA title. One such team is Bluebird Electric with the BE3. Designer Nelson Kruschandl hopes to beat White Lightning and the Buckeye Bullet in 2006 and 2007 with a series of planned assaults on the EWLSR, starting with an attempt on the British record at Pendine Sands and other location in the United Kingdom.

For 2006 the chassis has been up-rated to accommodate more power and a new transmission. A package Nelson hopes will propel him into the international record books and eventually break the 400 mph barrier. It would be great if we can get an electric vehicle to go faster than its piston petrol powered rivals. The record would then have gone full cycle, where the first land speed record was indeed electric.

Featuring all wheel drive and curvaceous styling, computer analysis reveals that in its current form the BE3 is capable of significantly exceeding 350 mph. The car is now under construction in Sussex, England, aiming for a showing in 2006. However, Nelson points out that he is still searching for a Prime Sponsor, without whom, the attempts planned for 2006 and 2007 could not take place,

As and when Nelson breaks the 300 mph barrier and more, he hopes his feat will underpin the hopes of many Governments for efficient road going performance EV's.

Contact: SPEEDACE.INFO or phone (UK) 44 (0) 7905 147709

---
1898 JEANTAUD (Gaston de Chasseloup- Laubat) Acheres 39.24

1899 JENATZY (Camille Jenatzy) Acheres 41.42

1899 JEANTAUD (Gaston deChasseloup- Laubat) Acheres 43.69

1899 JENATZY (Camille Jenatzy) Acheres 49.92

1899 JEANTAUD (Gaston deChasseloup- Laubat) Acheres 57.60

1899 JENATZY (Camille Jenatzy) Acheres 65.79

1902 SERPOLLET (Léon Serpollet) Nice 75.06

1902 MORS (William K.Vanderbilt) Ablis 76.08

1902 MORS (Henri Fournier) Ablis 76.60

1902 MORS (Augieres) Ablis 77.13

1903 GOBRON BRILLIÉ (Arthur Duray) Ostend 83.47

1903 GOBRON BRILLIÉ (Arthur Duray) Dourdan 84.73

1904 FORD ARROW (Henry Ford) Lake St. Clair 91.37

1904 MERCEDES (William K Vanderbilt) Daytona 92.30

1904 GOBRON BRILLIÉ (Louis Rigolly) Nice 94.78

1904 MERCEDES (Pierre de Caters) Ostend 97.25

1904 GOBRON BRILLIÉ (Louis Rigolly) Ostend 103.55

1904 DARRACQ (Paul Baras) Ostend 104.52

1905 NAPIER (Arther E MacDonald) Daytona 104.65

1905 DARRACQ (Victor Hémery) Arles-Salon 109.65

1906 STANLEY (Fred Marriot) Daytona 121.57

1909 BENZ (Victor Hémery) Brooklands 125.95

1910 BENZ (Barney Oldfield) Daytona 131.275

1911 BENZ (Bob Burman) Daytona 141.37

1914 BENZ (L.G.Hornsted) Brooklands 124.10

1919 PACKARD (Ralph de Palma) Daytona 149.875

1920 DUESENBERG (Tommy Milton) Daytona 156.03

1922 SUNBEAM (K.L. Guinness) Brooklands 133.75

1924 DELAGE (Réne Thomas) Arpajon 143.31

1924 FIAT (Ernest Eldridge) Arpajon 146.01

1924 SUNBEAM (Malcolm Campbell) Pendine 146.16

1925 SUNBEAM (Malcolm Campbell) Pendine 150.76

1926 SUNBEAM (Malcolm Campbell) Southport 152.33

1926 BABS HIGHAM SPECIAL (Parry Thomas) Pendine 169.30

1926 BABS HIGHAM SPECIAL (Parry Thomas) Pendine 171.02

1927 BLUEBIRD (Malcolm Campbell) Pendine 174.883

1927 SUNBEAM (Henry Seagrave) Daytona 203.792

1928 BLUEBIRD (Malcolm Campbell) Daytona 206.956

1928 WHITE TRIPLEX (Ray Keech) Daytona 207.552

1929 GOLDEN ARROW (Segrave) Daytona 231.446

1931 BLUEBIRD (Malcolm Campbell) Daytona 246.09

1932 BLUEBIRD (Malcolm Campbell) Daytona 253.97

1933 BLUEBIRD (Malcolm Campbell) Daytona 272.46

1935 BLUEBIRD (Malcolm Campbell) Daytona 276.82

1935 BLUEBIRD (Malcolm Campbell) Bonneville 301.129

1937 THUNDERBOLT (George Eyston) Bonneville 312.00

1938 THUNDERBOLT (George Eyston) Bonneville 345.50

1938 RAILTON MOBIL SPECIAL (John Cobb) Bonneville 350.20

1938 THUNDERBOLT (George Eyston) Bonneville 357.50

1939 RAILTON MOBIL SPECIAL (John Cobb) Bonneville 369.70

1947 RAILTON MOBIL SPECIAL (John Cobb) Bonneville 394.20

1963 SPIRIT OF AMERICA (Craig Breedlove) Bonneville 407.45

1964 BLUEBIRD (Donald Campbell) Lake Eyre 403.10

1964 WINGFOOT EXPRESS (Green) Bonneville 413.20

1964 GREEN MONSTER (Art Arfons) Bonneville 434.02

1964 SPIRIT OF AMERICA (Craig Breedlove) Bonneville 468.72

1964 SPIRIT OF AMERICA (Craig Breedlove) Bonneville 526.28

1964 GREEN MONSTER (Art Arfons) Bonneville 536.71

1965 SPIRIT OF AMERICA. SONIC 1 (Craig Breedlove) Bonneville 555.483

1965 GREEN MONSTER (Art Arfons) Bonneville 576.553

1965 GOLDENROD (Summers brothers) Bonneville 409.277 (wheel driven )

2001 TURBINATOR (Don Vesco) 458.440 (wheel driven)

1965 SPIRIT OF AMERICA. SONIC 1 (Craig Breedlove) Bonneville 600.601

1970 THE BLUE FLAME (Gary Gabelich) Bonneville 622.407

1983 THRUST 2 (Richard Noble) Black Rock 633.468

1997 THRUST SSC (Andy Green) Black Rock 714.144

1997 THRUST SSC (Andy Green) Black Rock 763.035
---
The American 'land speed racers' often seem to resent the FIA as the official governing body for international record attempts, pointing out that organisations like the SCTA who run Bonneville Speed Week etc. have over 50 years of experience in timing record attempts and could do the job as well if not better than expensive European officials. The counter to this is however, that the FIA is the world governing body of motorsport and only its sanction gives a record solid gold credibility. Don Vesco is one who recognises this and his insistence on having world officials present for his record runs has paid off. He is now unarguably the fastest wheel driven man on earth by along, long way.

There are of course a great many books available on the subject and these are among the best.

Bluebird and the Dead Lake John Pearson Collins 1965
Land Speed Record Cyril Posthumous & David Tremayne Osprey 1985 (1971)
Man Against the Salt Harvey Shapiro Minerva 1997
The Fastest Man on Earth David Tremayne 633 Club 1986
BP Book of the Racing Campbells Richard Hough Stanley Paul 1960
The Record Breakers Leo Villa Hamlyn 1969
Leap into Legend Steve Holter Sigma 2002
Thrust. Through the Sound Barrier Richard Noble Transworld Publishers Ltd. 1998

---
Where to find the cars
The KLG Sunbeam, 1000hp Sunbeam, Golden Arrow and CN7 Bluebird are all at the National Motor Museum at Beaulieu in Hampshire
The Napier-Railton long distance record car, plus lots of Bluebird/ Campbell memorabilia and LSR display s are at Brooklands Museum in Weybridge.
The Railton Mobil Special is at Birmingham's Museum of Science and Industry (now part of Millenium Point). http://www.millenniumpoint.org.uk/
The 1935 Bluebird is newly restored and on display at the Daytona International Speedway Circuit, Florida USA:
Replicas of various Bluebird cars and boats are part of a large display at the Lakeland Motor Museum.
Nathan Ostich's Jet car, the Flying Caduceus is in the William F Harrah National Automobile Museum, 10 Lake Street South, Reno, Nevada USA.
Thrust SSC and Thrust 2 are on display at The Museum of British Road Transport in Coventry.
Lastly of course, go to Bonneville Speed Week! See the feature article on this site . Also visit the organisers, the Southern California Timing Association.


This page is designed to be a brief outline history of the Land Speed Record, with some useful links for those who wish to find out more, we hope you enjoyed surfing with us.

While we consider most of the information above is accurate but don't consider it as an absolute reference.
SEE OUR LAND SPEED RECORD CHRONOLOGY
External links
---