The peak of land speed record design is considered by many to be in the Streamliner category, where there are virtually no restrictions. After years of achievement with vehicles in class bound by restrictive rules, the Feuling R&D team has constructed an ambitious record/research vehicle that is prepared to take on numerous land-speed records. To do this, the Feuling Streamliner employs a number of deviations from conventional designs of vehicles in this category. Hence, the early development concentrated on making their car as "slippery" as possible. The aim being to minimise drag and increase the potential speed to horsepower ratio.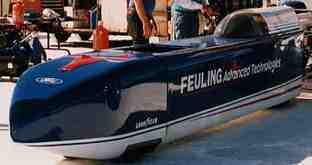 Feuling Streamliner -


Jim Feuling's own studies in gas and fluid flow, coupled with outside aerodynamics consultants resulted the refined body form of the project streamliner that was tested in the General Motors wind tunnel in Detroit. It is claimed this Streamliner achieved the lowest coefficient-of-drag GM had ever measured for any full-sized vehicle.

Wind Tunnel Development


The 25-foot-long, 40-inch high, elongated-teardrop shaped machine requires 524 aero horsepower to reach 425 mph on paper. In its initial outings in 1994, the Feuling Streamliner was tested with a stock- block 2300cc engine. Easy shakedown runs were made at 230 mph. Based on Feuling's previous record-setting experience with these engines, 600-700hp is possible when turbocharged and running on alcohol - all with only 139 cubic inches. In addition to the use of automotive power-plants, it is possible the vehicle may be fitted with one or two Feuling4-Valve@-equipped Harley-Davidson motorcycle engines.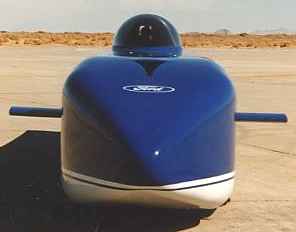 Head on view
Under the Kevlar-reinforced composite body there are departures from convention as well. A chrome-moly steel chassis features front-wheel-drive, with the engine's flywheel facing forward and mated to a five-speed transmission bolted directly to a quick-change differential. The car has been fitted with an innovative independent front suspension, rack-and-pinion steering and coil-over shocks mounted inboard. This streamliner is lighter than most vehicles in this class. Whereas, massive power has required extra ballast to add weight to achieve traction on the salt, which in turn, requires more horsepower to get all that weight up to speed. The Feuling venture uses a lighter efficient engine, with less torque adding to traction difficulties. The Feuling Streamliner weighs only 2000 pounds wet. The last time an individual designed and built their own engine and car from scratch and drove that automobile to a world land speed record was Henry Ford on a frozen lake in 1903.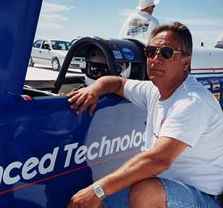 Jim Feuling
FEULING R&D SPONSORS
Auto Meter Instruments Barnett Tool & Engineering Bell Racing Castrol Champion Spark Plugs Fel Pro K-Dyne Power
K&N Filters KB Pistons MSD Ignition Oasis Performance Machine Precision Gear Servi-tech Swain Technologies
Total Seal V-12 Engineering Van Leeuwen Enterprises VP Racing Fuel Vortech
| | | | | | | |
| --- | --- | --- | --- | --- | --- | --- |
| RECORD | CLASS | VEHICLE - ENTRY | DRIVER | SPEED (MPH) | DATE | LOCATION |
| AMA | M/C | Feuling/Streamliner | Jim Feuling | 288.550 | 11/97 | Bonneville, UT |
| AMA | M/C | Feuling/Streamliner | Jim Feuling | 293.433 | 11/97 | Bonneville, UT |
| LSA | M/C OW | Feuling/Streamliner | Jim Feuling | 332.103 | 11/97 | Bonneville, UT |
| FIA | A II 10 | Feuling/Streamliner | Jim Feuling | 333.847 | 10/99 | Bonneville, UT |
| USFRA | B/FS | Feuling/Streamliner | Mike Nish | 344.114 | 09/01 | Bonneville, UT |