ELECTRICAL REVIEW MAGAZINE - 16 April 1996
HOME INDEX SOLAR CARS LEAD-WEDGE SILVER-EAGLE BATTERY-BOX BE1 LIGHTNING-ROD BE2 WHITE-LIGHTNING BUCKEYE BULLET EMOTION BLUEBIRD
Bluebird Electric 1 battery cartridge exchange system could be the way forward for road going electric cars:-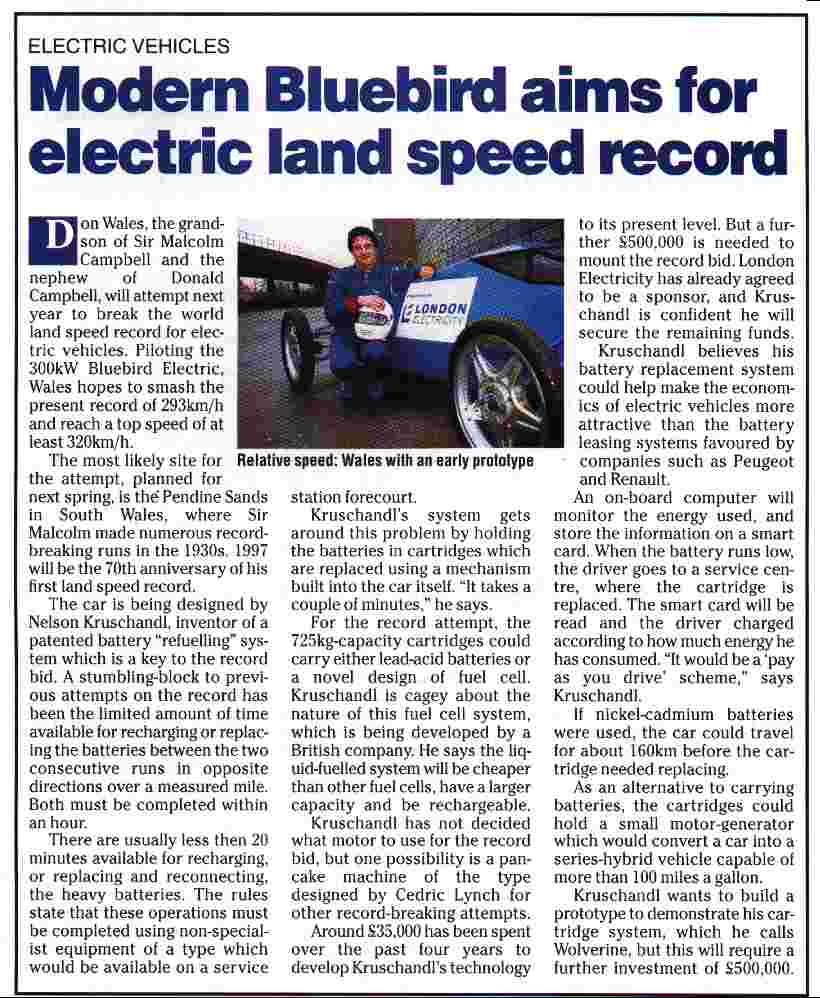 100 mpg equivalent for electric hybrid vehicle!
---
The content of this website is copyright © and design copyright 1991 and 2005 Electrick Publications. All rights reserved. The bluebird logo

& names Bluebird and Blue Max are registered trademarks. The BE2 and BE3 vehicle configurations are registered designs ®. All other trademarks are hereby acknowledged. Max Energy Ltd is an environmental educational charity.
SOLAR NAVIGATOR CATAMARAN HULL SOLAR PANELS ELECTRIC MOTORS
PARRY THOMAS HENRY SEAGRAVE JOHN COBB MALCOLM CAMPBELL DONALD CAMPBELL CRAIG BREEDLOVE KEN WARBY RICHARD NOBLE DON VESCO