Electrathon 2003 - Electric Vehicle Council of Ottawa (EVCO)
Photos of the 2003 EVCO Electrathon - May 31, 2003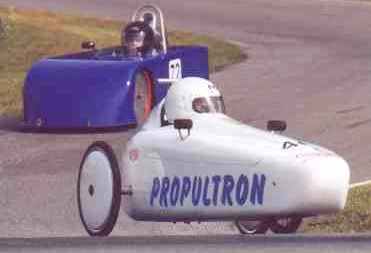 What is Electrathon:
The objective of the Electrathon contest is to travel as far as possible in one-hour in a single-seater vehicle using only the energy available from approximately 30 kilograms of lead-acid batteries. The vehicles must comply with a set of rules (e.g. 3 or more wheels, safety devices). Creativity in the design and construction of the vehicles is encouraged. The Electrathon cars are much like the solar cars that take part of international competitions, except that they do not have the (expensive) solar panels, allowing them to be constructed on limited budgets. Like larger on-road electric cars, the Electrathon cars produce no air pollution in operation, and can be virtually silent.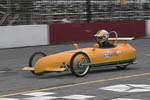 The 1998 (premiere) edition of the EVCO Electrathon was a great success! The 2nd annual EVCO Electrathon held in 1999 was bigger and better. The 3rd annual EVCO Electrathon was held in 2000 .
The 2001 EVCO Electrathon was organized and partially sponsored by EVCO (the Electric Vehicle Council of Ottawa).
The 2002 event was held at Capital City Speedway, Stittsville, Ontario.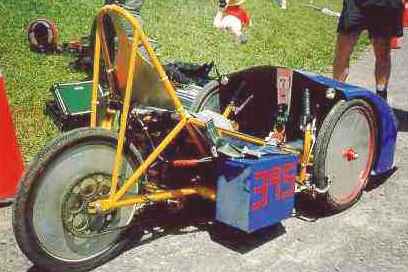 Rules - High School Electrathon Class
Rules - Open Class
Instructions for Building the HS-1
Why Do Electrathon?
Vote for the best Team Web-Site
1 Arnprior District High School (Rolling Thunder) , Arnprior, ON
2 Earl of March High School, Kanata, ON
3 Earl of March High School, Kanata, ON
4 Woodroffe High School Carbonita, Ottawa, ON
8 Woodroffe High School Smo, Ottawa, ON
9 Brookfield High School, Ottawa, ON
12 East Northumberland Secondary School, (Blue Tech Dragons) Brighon, ON
22 Perth and District Collegiate Institute (The Blue Devils and the Blue Flame) Perth, ON
31 Almonte and District High School. Almonte ON.
33 Frontenac High School. Kingston, ON
46 l'équipe PROPULTRON Repentigny, PQ
57 Vincent Black Shadow Racing, Ottawa, ON
72 Équipe court-circuit, Wakefield, PQ
73 Courtice Secondary School. Courtice, ON
99 Albert Campbell Collegiate Institute. Scarborough, ON
667 Osgoode Township High School, Osgoode, ON
747 Arnprior District High School (Red Lightning) . Arnprior, ON
News | Sponsors | Details | Rules | Teams | Registration | Links | Contact
More info at: www.electrathonnewengland.org and www.electrathonamerica.org
SOLAR PANELS ELECTRIC MOTORS BATTERIES