YAMAHA'S ELECTRIC RICKSHAW PEDALS INTO VIEW
It goes where no other taxies are allowed
Most of the UK's major cities have gone rickshaw crazy, so could we see this elegant three-wheeler on our streets any time soon?

What, you act like you've never seen a high-tech rickshaw before! Actually, this is really one of the silliest things we've ever seen—Yamaha or not— given that it's got an electric engine as well as a pedal-pushing cabbie. Why not just eliminate the pedals, eh? Perhaps because then it would be considered a "taxi", and wouldn't be allowed into Tokyo's World Expo area next year. Crazy… like a fox.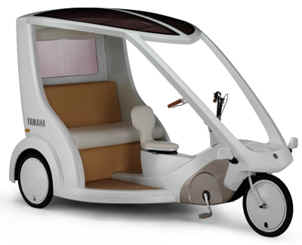 Yamaha Powerhorse 302 - electric rickshaw
Most of the rickshaws you currently see scooting through the UK's major city streets come fitted with cow-skin interiors, fluffy dice, and honking-horns as standard. Not like Yamaha's new streamlined and sophisticated electric rickshaw. It's been designed and created for use at the 2005 Japan World Expo, where taxis are off-limits.
Those sleek curved lines and transparent roof give it a much fresher and more stylish look than the rust buckets currently doing the rounds on our city streets. Plus, the assistance of an electric motor means less effort for the driver, and in turn a more pleasant ride for the passengers (no sweaty back drafts). Yamaha is yet to announce whether its eco-friendly rickshaw will make it overseas, but here's hoping Japan doesn't hog all the fun. It definitely gets T3's seal of approval.
Yamaha's electric rickshaw - Related entries: Transportation
---
| | | | | |
Contact us: SPEEDACE.INFO