There are three classes for electric vehicles - based on weight. DWRA's "White Lightning" currently competes in Class III for vehicles in excess of 1,000 kilograms. The previous world record for Class III vehicles of 215.3 mph in the two-way flying mile established in 1997 at Bonneville Salts Flats, Utah was shattered by DWRA's "White Lightning" during the 1999 World Finals. The new world record set October 22, 1999 by "White Lightning" is 245.524 mph.

"WHITE LIGHTNING II"
White Lightning II is shown above, with Pat Rummerfield and Edward Dempsey getting ready to defend their title against the ever faster vehicles now on the scene, including the Buckeye Bullet, Emotion and Bluebird Electric.
SPECIFICATIONS:
Chassis
Type
Arivett Bros.
Weight
2,450 lbs.
Wheelbase
115 in.
Bodywork
Carbon Fiber
Track, front/rear
17.25 in./16.25 in.
Width
17.25 in./16.25 in.
Aerodynamic drag
0.131 cd
Performance (Maximum)
0-100 mph in 8 seconds (on A/C)

Top Speed 300+mph

Electrical

Motor Type
Two alternating current motors and controllers by AC Propulsion Inc.
Horsepower
400 hp @10,000 rpm

(Two 200 hp motors)

Battery System
(6,040 C-Cells) Nickel Metal Hydride Moltech "C" Cells
Miscellaneous
Wheels front/rear
Custom
Tires
2 Front: 18X4.25 - 10

2 Rear: 24.5X7.50 - 16

Rear Axle
9" Ford
Safety Equipment
Simpson/Bell
Fasteners
Dzus
Batteries (Nickel Metal Hydride)
Moltech "C" Cells
Brakes
Wilwood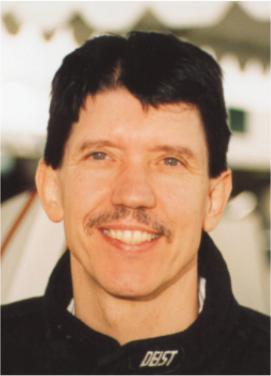 Pat Rummerfield
The speed record is another notch in the remarkable list of achievements recorded by the recovering quadriplegic, Pat Rummerfield, since the accident which left him paralyzed from the neck down. At the time, suffering a serious compression fracture of his cervical vertebrae, doctors gave him at best three days to live.
His spinal cord remains damaged and he is still in therapy, but amazingly by 1992 he was competing in the Iron Man Triathalon in Hawaii and training for the Sahara Marathon. He is now piloting a 2,450-pound monster, 25-feet long, at speeds of 245.524 MPH.
TEAM:
Founder - Edward J. Dempsey
Driver - Pat Rummerfield
Aerodynamics Consultant - Chuck Hallum
Business Consultant - R. W. (Kas) Kastner
Battery Consultant - David Swan
Data Acquisition - Ron Armstrong
Electric Power Consultant - Alan Cocconi
Paint and Graphics - Jim Tiehen, South Coast Body and Paint
Dempsey's World Record Associates Inc.
2610 S. Yale St.
Santa Ana, CA 92704
(714) 424-9550
Fax (714) 424-9554
Email dwra@dwra.net
WHITE LIGHTNING LINKS:
Pat Rummerfield's remarkable recovery
---
UK VEHICLE INSURANCE ONLINE A - Z
Solar Cola drinkers make better drivers ......

330ml Earth can - The World in Your Hands