THRUST & BLOODHOUND SSC
THRUST SSC - BLOODHOUND

AUTOMOTIVE A TO Z CLIMATE CHANGE EVENTS FUEL CELLS HYDROGEN SITE INDEX UTILITIES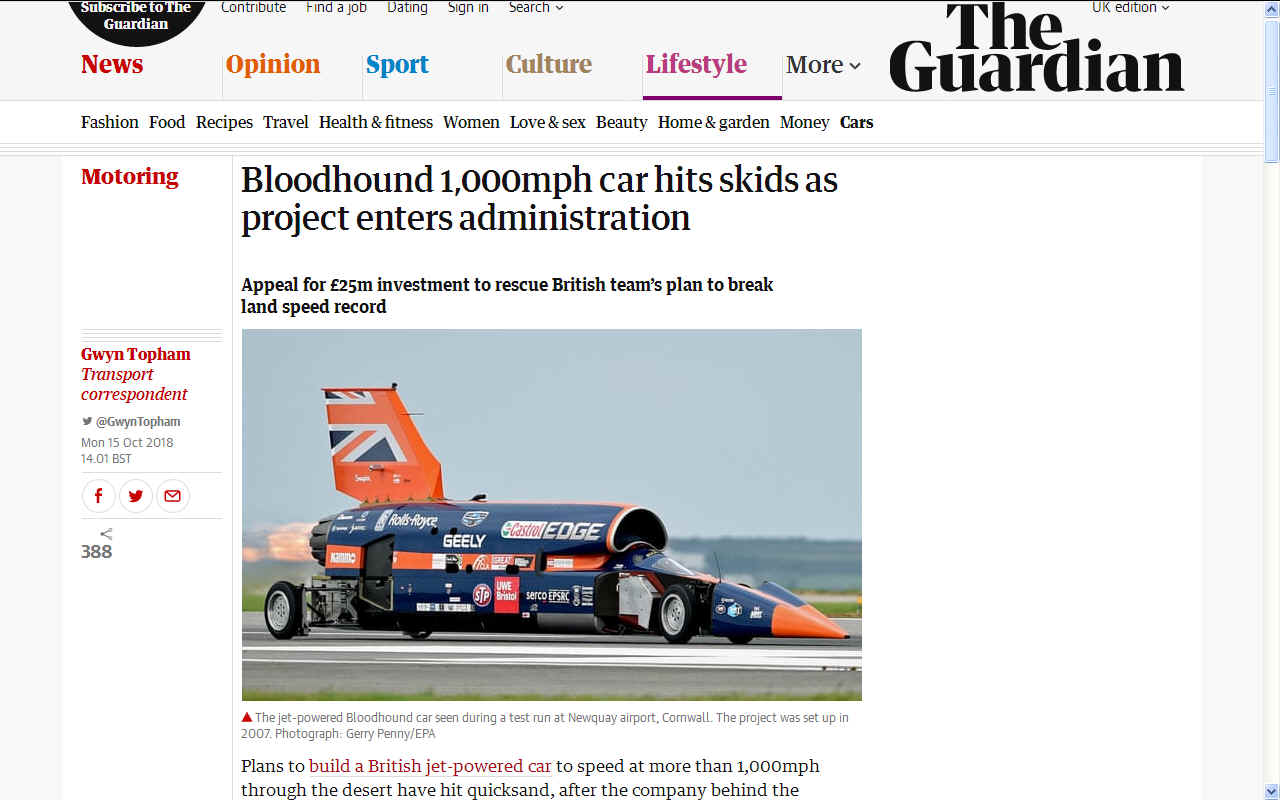 The BLOODHOUND Project was spawned from Thrust 2 and Thrust SSC, both projects with Richard Noble at the helm as the originator of the British land speed record contingent. The project is now in financial difficulties and seeking a bailout by investors in exchange for a PR return.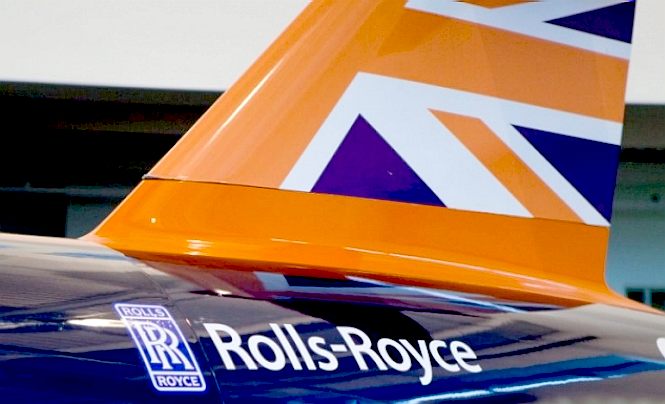 The BLOODHOUND Project is the name of an international education initiative focused around a 1,000 mph world land speed record attempt. The team aim to break the land speed record with a pencil-shaped car called BLOODHOUND SSC, powered by a jet engine and a rocket designed to reach 1,000 miles per hour (1,609 km/h). It is being developed and built with the intention of breaking the land speed record by 33%, the largest ever margin.

If £15 million of sponsorship funding is obtained the construction should be complete by the end of 2012 and the record attempts should take place in 2013 and 2014.

Bloodhound SSC concept video


DEVELOPMENT
The project was announced on 23 October 2008 at the Science Museum in London by Lord Drayson, the then Minister of Science in the UK's Department for Innovation, Universities and Skills, who in 2006 first proposed the project to Richard Noble and Andy Green; the two men who between them have held the land speed record for 29 years.

Richard Noble, engineer, adventurer, and former paint salesman, reached 633 mph (1,019 km/h) driving turbojet-powered car named Thrust 2 across the Nevada desert in 1983. In 1997, he headed the project to build the Thrust SSC, driven by Andy Green, an RAF pilot, at 763 mph (1,228 km/h), thereby breaking the sound barrier (in compliance with Fédération Internationale de l'Automobile rules) for the first time ever by a land vehicle.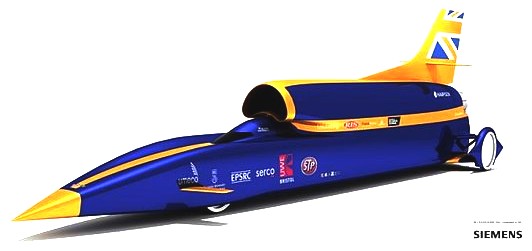 Artists impression of the Bloodhound SSC car

The task of driving the vehicle will fall to the land speed record holder Wing Commander Green, who will lie feet-first in the Bloodhound SuperSonic Car. As the car accelerates from 0-1,000 mph (1,600 km/h) in 42 seconds, he will experience a force of approximately 2.5g (two and a half times his bodyweight) and the blood will rush to his head.

To slow down, airbrakes will deploy at 800 mph (1,300 km/h) and parachutes at 600 mph (970 km/h). Disc brakes will be used below 250 mph (400 km/h). As he decelerates, experiencing forces of up to 3g, the blood will drain to his feet and he could black out. He will practice for this in a stunt aircraft, flying upside-down over the British countryside.

Bloodhound SSC
DESIGN
The project is based in what used to be the Maritime Heritage Centre on the Bristol harbourside, located next to Brunel's SS Great Britain. This building has been renamed the Bloodhound Technical Centre.

The College of Engineering at Swansea University has been heavily involved in the aerodynamic shape of the vehicle from the start. Professor Oubay Hassan, Professor Ken Morgan and their team have used Computational Fluid Dynamics (CFD) in order to provide an understanding of the aerodynamic characteristics of the proposed shape, at all speeds, including predicting the likely vertical, lateral and drag forces on the vehicle and its pitch and yaw stability. This technology, originally developed for the aerospace industry, was validated for a land-going vehicle during the design of Thrust SSC. It was this involvement with the previous land speed record that prompted Richard Noble to approach Swansea in April 2007 to see if they could help with this latest challenge. Swansea University's School of the Environment and Society was also enlisted to help determine a new test site for the record as the test site for the Thrust SSC record attempt has become unsuitable.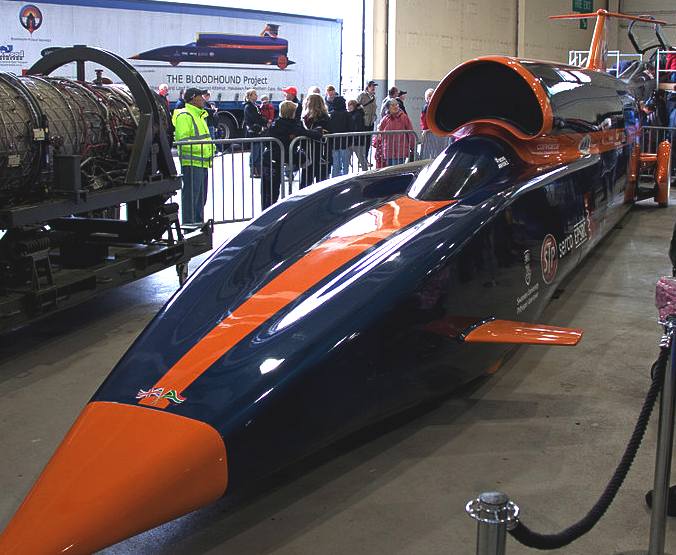 Bloodhound SSC 1,000 mph supersonic car


A prototype Eurojet EJ200 jet engine developed for the Eurofighter and bound for a museum, was donated to the project. This will take the car to 300 mph (480 km/h), after which a bespoke hybrid rocket designed by Daniel Jubb (nicknamed "Rocket Dan"), 27, from Manchester, who built his first rocket at the age of 5, will boost the car up to 1,000 mph (1,600 km/h). A third engine, an 750 hp (560 kW) 2.4 Litre Cosworth CA2010 F1 V8 petrol engine, is used as an auxiliary power unit and to drive the oxidiser pump for the rocket. The jet engine will provide nine tonnes of thrust and the rocket will add another 12. The Super Sonic Car will have roughly the same power as 180 F1 cars.

The four 36-inch (910 mm) diameter wheels will rotate at up to 10,200 rpm and will be forged from solid aluminium to resist the 50,000 g centrifugal forces.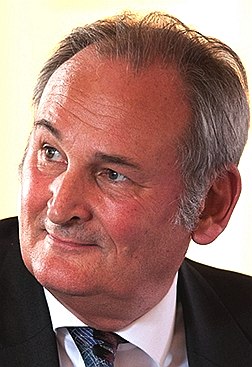 Richard Noble, Bloodhound SSC leader
CONSTRUCTION

Engineers produced the full scale model which was exhibited at the launch, and will integrate the engineering behind the car into its curriculum, working with design team, led by Chief Engineer Mark Chapman. The car will be built at a site in Bristol. The site will include an educational centre. A full scale model was unveiled at the 2010 Farnborough International Airshow, when it was announced that Hampson Industries would begin to build the rear chassis section of the car in the first quarter of 2011 and that a deal for the manufacture of the front of the car was due. Chief Engineer Mark Chapman says, "We aim to shake down the vehicle on a runway in the UK at the beginning of 2013."


EDUCATION
The BLOODHOUND Project is first and foremost an education project designed to inspire future generations to take up careers in science, technology, engineering and mathematics by showcasing these subjects in the most exciting way possible.
COMPETITION
Craig Breedlove launched a fresh Spirit of America supersonic project in 2014, the previous project having been sold to US adventurer Steve Fossett.
ROLLS ROYCE
Rolls Royce have (rather superbly) now given their official backing to Richard's project. Rolls Royce are also blazing a trail in a quest to introduce unmanned ships. Bully. Unmanned ships should be safer than crewed vessels and remove a lot of the slog. The next step is to reduce reliance on fossil fuels, perhaps using energy from nature. We know that RR have been working on wave powered devices, heading in that direction.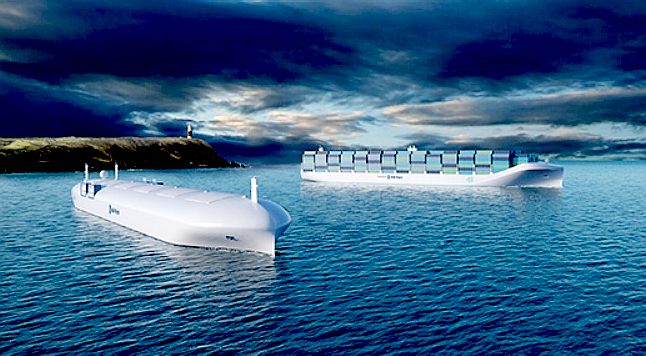 Oskar Levander, VP of Innovation, Engineering and Technology at Rolls Royce is quoted as saying: "Ship efficiency is the principal driver for the future as it directly impacts operating costs. There are many ways to improve it – change the vessel's design to do its job more effectively, improve the hull shape and systems to reduce fuel burn, and by optimising the transport chain of which the vessel is a part. All these factors must be evaluated together, avoiding silos of thinking to get the best results.
The era of cheap energy seems to be over; we are at the dawn of the fuel transition era. Today almost all marine fuel is oil based. In the future, there will be three or more choices. Heavy fuel oil (HFO) will not disappear, and low sulphur distillates will gain acceptance. Alternatives such as dimethyl ether (DME), methanol and other biofuels will probably play a smaller part. Fuel choice is driven by cost, and increasingly by emissions regulations. These rules mean there is no alternative but to move to greener fuels or fit abatement systems. Emission control areas have been introduced to limit NOx and SOx in Europe and the U.S. Legislation, plus incentives like Norway's NOx emissions tax and subsidy, is cutting pollution levels. Now attention is turning to the gases, which contribute to climate change, first is CO2. Reducing CO2 emissions is not so easy, and I have been convinced for a long time that LNG will be the fuel of the future for most ships. Natural gas is available worldwide and when used in a gas engine, CO2 reduction is sizeable, at over 20 per cent. It also supports human health concerns, as particulates are negligible.
LNG as a marine fuel has begun to take off, but so far is restricted by lack of bunkering. The engines and systems to burn the fuel are available, proven and simple to use. The transition looks like it will be similar to the change from sail to coal, which was first used on routes where coal was already available, before expanding worldwide. Choosing a fuel is one thing, but improving ship efficiency to use less is another. Times are changing, with statutory measures such as Energy Efficiency Design Index (EEDI) coming in. I approve of the idea of encouraging more efficient ships with a design index, but I am sceptical about the formulations used in EEDI. It is penalising installed power and thereby ship speed, not focusing on the actual efficiency of the design in real conditions. There is no doubt fuel efficiency will remain prominent, with plenty of new ideas and new twists on old ones."
Thrust 2 | Thrust SSC | Bloodhound SSC

Bloodhound v Jet fighter plane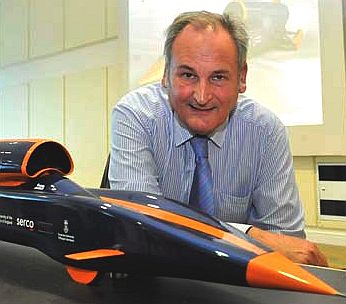 Richard Noble and Bloodhound SSC model
LINKS
Autoracing Speed Records at the Open Directory Project
Aussie Invader official website - challengers supersonic showdown
The UK Land Speed Racing Association
Andy Green's Bloodhound SSC diary for the BBC
Bloodhound SSC at Swansea University
Bloodhound SSC at the AoC (Association of Colleges) 2010 Annual Conference
Supersonic car targets 1,000mph. BBC NEWS - Science & Environment
Faster than a bullet - the 1,000mph car". The Guardian.
"Britain's Bloodhound car could reach 1,000mph". The Times Online
Unleash the Bloodhound: How to design a 1,000mph car". The Guardian
Bloodhound SSC vs Eurofighter Typhoon race (animation)
University of the West of England Project Launch Video
Supersonic car targets 1,000mph". BBC News. BBC. 22 October 2008
The land-speed record: How to build a 1,000mph car", 7 May 2011, p. 88.
Swansea University help design BLOODHOUND SSC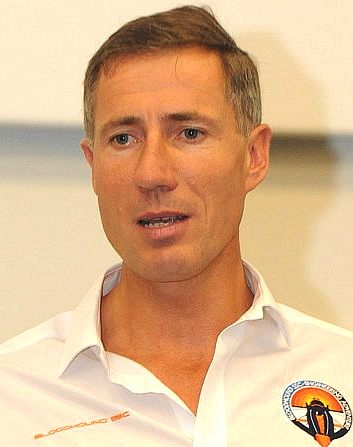 Andy Green driver Bloodhound SSC at Bristol University
Swansea University Desert Selection Programme. Swansea University
Supersonic Bloodhound car to be built in Bristol. BBC. 23 November 2009
Model of Bloodhound supersonic car unveiled
Bloodhound SSC STP 1050 mph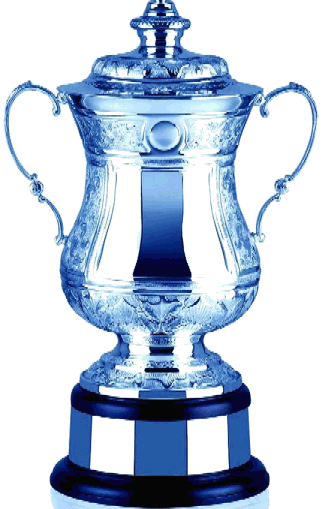 Copyright © website 2022, all rights reserved, save for educational and media review purposes. You do not need permission to use our information if it is to help promote a low carbon economy. This is a low carbon website that loads quickly and is as kept simple as possible while still providing useful information. Cleaner Ocean Foundation Ltd and Climate Change Trust.