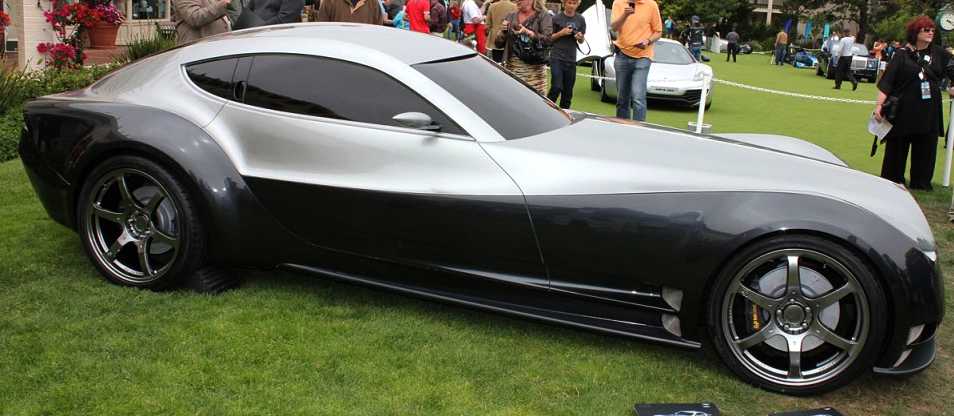 The EvaGT is an unusual design, looking a bit like a two-tone bat mobile. Project Vampire perhaps!
DECEMBER 13 2013
Morgan Motor Company announced today that the EvaGT will not be launched until the Geneva Autoshow 2014. Charles Morgan of MMC had the following to say:

"During the past 6 months, Morgan has secured funding from the Technology Strategy Board (TSB) to allow it to participate in and manage a £1.4 million collaborative project to use revolutionary materials in a chassis application. The project named MagMog consists of 5 partners who are all experts in their relevant fields. The project partners are:

· Morgan Motor Company Ltd – Lead Partner in the project

· Penso Consulting Ltd – a design house with expertise in several premium sportscar designs.


· Superform Aluminium – the current supplier of Morgan Motor Company wings and body panels, Superform have the forming knowledge required to make this project succeed.

Superform Aluminium
UK, Europe, Asia & Australia
Tel: +44 (0) 1905 874300
Email: enquiries@superform.net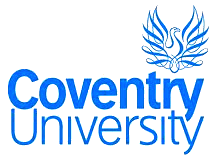 · Coventry University – Specialists in panel joining and fatigue testing
Coventry University
Priory Street
Coventry, United Kingdom
CV1 5FB
Telephone: +44 (0) 24 7688 7688



· Magnesium Elektron UK – the world's largest manufacturer of Magnesium sheet, M.E. have unrivalled knowledge in all areas of Magnesium usage.
Magnesium Elektron UK
Magnesium Technology Centre
Rake Lane
Manchester
M27 8BF United Kingdom
Tel: + 44 (0) 161 911 1000 Fax: + 44 (0) 161 911 1010

The MagMog chassis development project started on November 1st 2011. The project aims to develop appropriate technologies to enable magnesium alloy to be used as the primary material in the construction of a body-in-white structure for the EvaGT. This will improve structural performance at a reduced comparative weight.
Magnesium is the lightest structural metal available, 30% less dense than aluminium and is the eighth most abundant elements globally. Due to its inherent properties, use of sheet magnesium for vehicle structural applications will require hot-forming, increasingly being adopted by premium car manufacturers as it can produce larger and more complex panels. Morgan Motor Company intends to provide the initial route to market by adopting the developed technologies on its next generation of premium sports car, the EvaGT.

This project, along with Morgan Motor Company's desire to exceed the standard safety requirements for the EvaGT has resulted in the planned launch date being delayed. We now intend to launch the EvaGT at the 2014 Geneva Motorshow. While this delay is undesirable and inconvenient, we have taken the decision to pursue these projects to ensure the EvaGT is at the forefront of both environmental and safety technology."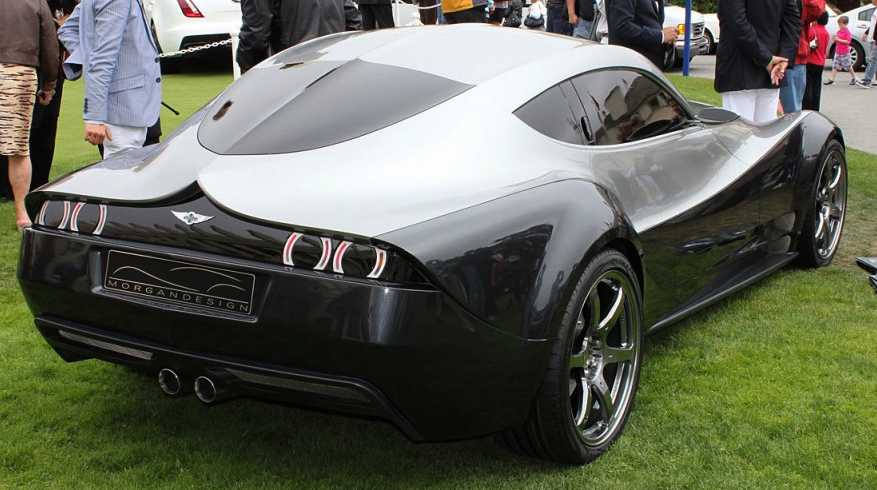 Somewhat American-ised rear end with a hint of Corvette and Chrysler (GM) custom car perhaps.
HISTORY
The Morgan Motor Company is a British motor car manufacturer. The family-owned company was founded in 1910 by Henry Frederick Stanley Morgan

Morgan is based in Malvern Link, an area of Malvern, Worcestershire and employs 163 people. Morgan produced 640 cars in 2007, all assembled by hand. The waiting list for a car is approximately 6 months, although it has been as high as ten years in the past.

A visitor centre and museum feature exhibits about the company's history from Edwardian times until the present day, developments in automobile technology, and a display of automobiles. There are also a guided tours of the factory.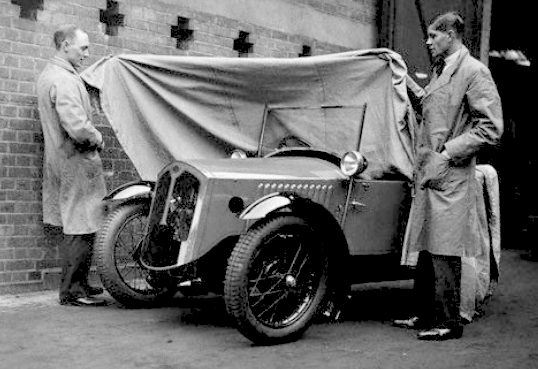 Morgan 3 wheeler at Olympia in 1931
COMPANY ACROBATICS
Henry Frederick Stanley Morgan, generally known as "HFS", was an employee of the Great Western Railway, who bought his first car in 1902 at the age of 21. In 1904, he left his railway job and co-founded a motor sales and servicing garage in Malvern Link. In 1909, he designed and built car for his own use. He began production a year later and the company prospered. Morgan continued to run it until he died at age 77 in 1959.
Morgan featured on the "Troubleshooter" series of television programs with Sir John Harvey-Jones giving advice on seizing the moment and manufacturing backlogs.

Peter Morgan, son of HFS, ran the company until a few years before his death in 2003. He was replaced as Chairman by Alan Garnett, a non-family director, from 2003 to 2006. On his departure, a 4-man management team was set up consisting of Matthew Parkin, Tim Whitworth, Steve Morris and Charles Morgan, (Peter Morgan's son). In 2010, Mr. Parkin left the Company and Charles Morgan was named Managing Director. In January of 2013 Mr. Morgan was removed as Managing Director and Steve Morris took that title. Some months later, in October of 2013, Mr. Morgan was fired as an employee and a majority of the shareholders removed him from the Board of Directors. At the end of 2013, the shareholders appointed Andrew Duncan, a local solicitor and friend of the Late Peter Morgan, as the first company Chairman since 2006.

Since 2011, the Morgan Motor Company and its related companies, (Aero Racing Limited and Morgan 3 Wheeler Ltd) have been wholly owned divisions of Morgan Technologies, a company incorporated in late 2010.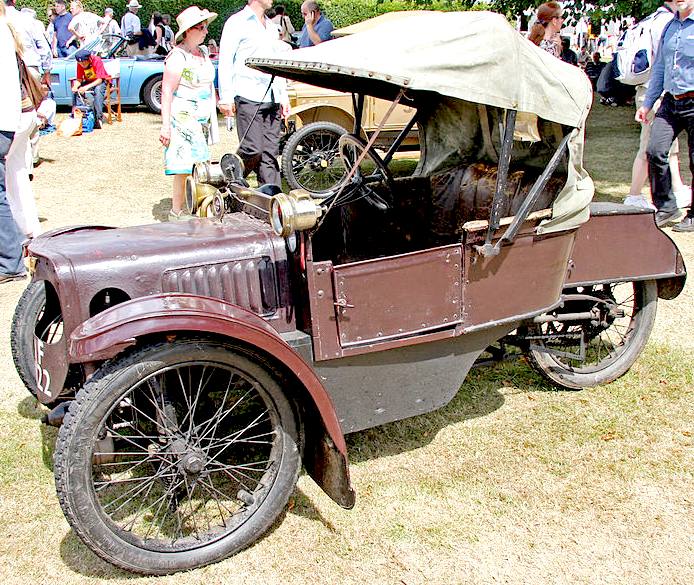 Morgan runabout 3 wheeler from 1912
V TWIN MODELS
The early cars were two-seat or four-seat three-wheelers, and are therefore considered to be cyclecars. Three-wheeled vehicles avoided the British tax on cars by being classified as motorcycles. Competition from small cars like the Austin 7 and the original Morris Minor, with comparable economy and price and better comfort, made cyclecars less attractive.

V-Twin three-wheelers (1911–1939)

H.F.S. Morgan's first car design was a single-seat three-wheeled runabout, which was fabricated for his personal use in 1909. Interest in his runabout led him to patent his design and begin production. While he initially showed single-seat and two-seat versions of his runabout at the 1911 Olympia Motor Exhibition, he was convinced at the exhibition that there would be greater demand for a two-seat model. The Morgan Motor Company was registered as a limited private company only in 1912 with "H.F.S." Morgan as managing director and his father, who had invested in his son's business, as its first chairman.

Morgan established its reputation via competition such as winning the 1913 Cyclecar Grand Prix at Amiens in France. This became the basis for the 'Grand Prix' model of 1913 to 1926, from which evolved the 'Aero', and 'Sports' models.

These models used air-cooled or liquid-cooled variations of motorcycle engines. The engine was placed ahead of the axis of the front wheels in a chassis made of steel tubes brazed into cast lugs.

The V-Twin models were not returned to production after World War II.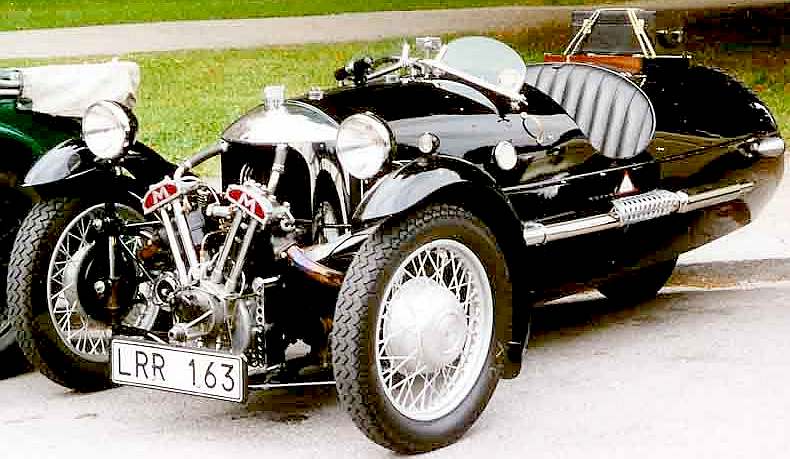 1937 V twin Morgan 3 wheeler
2011 THREE WHEELER
The Morgan Motor Company announced that they would launch the "3 Wheeler" in 2011 at the Geneva Motor Show. The 3 Wheeler was initially said to have a Harley-Davidson Screaming Eagle V-twin engine and a Mazda 5-speed manual transmission, and was estimated to deliver 115 horsepower (86 kW) at the rear wheel. However, there was a surprise when the prototype that was shown at Geneva had an S&S engine. Production three-wheelers turned out to have S&S engines.
The kerb weight was originally estimated to be less than 500 kilograms (1,102 lb), but the final weight was tested at 550 kg. The acceleration from zero to 60 miles per hour (97 km/h) was estimated by Morgan to occur in 4.5 seconds, with an (estimated) top speed of 115 miles per hour (185 km/h). The three-wheeler is to be homologated as a motorcycle in the United States.
The company states that 850 deposits have been taken since the announcement in 2011. Customer deliveries began in Europe in February 2012. USA deliveries are not expected before June 2012, when the first imported three-wheeler was displayed in New York City and at the Greenwich Concours d'Elegance. The Morgan 3 Wheeler was featured in a Series 18 episode of UK motoring show Top Gear where presenter Richard Hammond picked the Morgan 3 Wheeler in a comparison of track-day cars. The 3 Wheeler won the "Not-A-Car of the Year 2011" in Top Gear.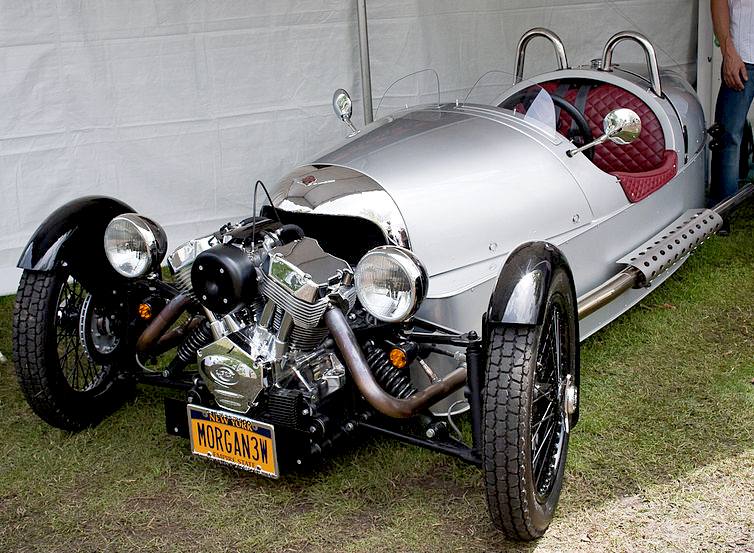 Fantastic. A modern, high-performance version of the original concept with an eco class engine, although we do admire Harley Davidson V-twins for reasons that Arnie could explain. We're equally keen on the Indian V-twin because of Burt Munro, but one has to move with the times.
LINKS
Wikipedia Morgan_Motor_Company
http://en.wikipedia.org/wiki/Morgan_Motor_Company
http://www.morgancarnews.com/tag/morgan-evagt/
http://www.morgan-motor.co.uk/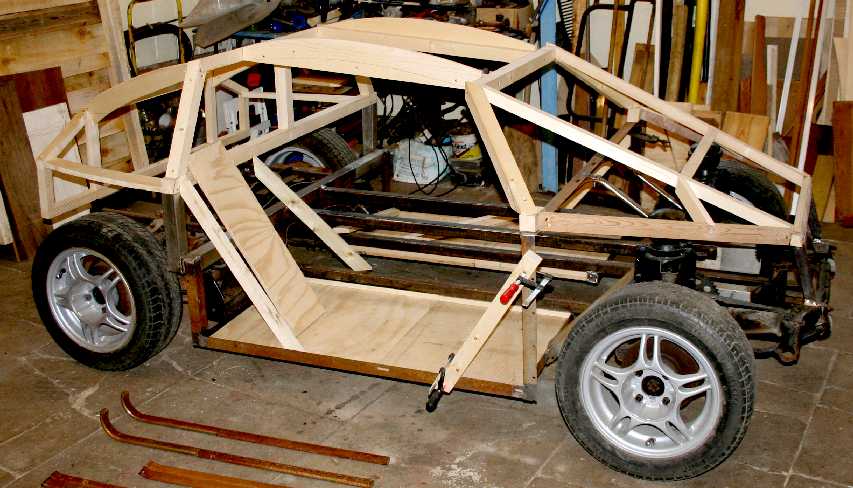 Probably the world's fastest recharging (around one minute) electric city sports car - prototype being constructed with timber frames in May 2014. Imagine this car as a production model with an aluminium chassis and magnesium body panels. Mmmmm.