Market capitalization, often abbreviated to market cap, is a measurement of corporate size that refers to the current stock price times the number of outstanding shares. This measure differs from equity value to the extent that a firm has outstanding stock options or other securities convertible to common shares. The size and growth of a firm's market capitalization is often one of the critical measurements of a public company's success or failure. However, market capitalization may increase or decrease for reasons unrelated to performance such as acquisitions, divestitures and stock repurchases.
Market capitalization is the number of common shares multiplied by the current price of those shares. The term capitalization is sometimes used as a synonym of market capitalization; more often, it denotes the total amount of funds used to finance a firm's balance sheet and is calculated as market capitalization plus debt (book or market value) plus preferred stock.
The total market capitalization of all the companies listed on the New York Stock Exchange is greater than the amount of money in the United States [1]. The global market capitalization for all stock markets was $43.6 trillion in March 2006 [2].
Valuation
Market capitalization is a function of the price of a firm's stock and may not accurately reflect intrinsic value because of varying future expectations held by investors. It is common for a firm's market capitalization to exceed "book value" (shareholders' equity) because market prices tend to increase at a quicker pace than earnings accumulate due to value placed on expected future growth. For instance, in the late 1990s the shares of Internet-related companies were highly valued by the market, and tiny companies with almost no sales (but high growth) generated market capitalizations in the billions of dollars.
"Float"
The amount of shares available on the open market, the "free float", is sometimes less than the total number of shares because a portion of the outstanding shares may be held by "insiders," and/or by the company as treasury stock. In addition to the float being perhaps much smaller than the total number of shares, a significant portion of the float may be owned by large institutional investors who rarely trade. As a result, on any given trading day, generally only a small percentage of shares are traded, as in the example of Yahoo!, about 1.5% (20,025,727/1,180,000,000).
The sudden availability on the open market of all of a company's stock, as a result of both the insiders and the company selling all shares held, could cause a plummet in the stock price (if unexpected and not already priced in by the market).
Categorization of companies by market cap
While there are no strong definitions for market cap categorizations, a few terms are frequently used to group companies by capitalization.
In the U.S., companies and stocks are often categorized by the following approximate market capitalization values:
Small-cap: market cap below US$1 billion

Mid-cap: market cap between US$1 billion and US$5 billion

Large-cap: market cap exceeds US$5 billion
The small-cap definition is far more controversial than those for the mid-cap and large-cap classes. Typical values for the ranges are enumerated here:
Blue chip is sometimes used as a synonym for a large-cap, while some investors consider any micro-cap or nano-cap issue to be a penny stock, regardless of share price.
Examples
Examples of share valuation compared to market cap (price), and share ownership, from Yahoo! Inc. ([3], [4])
Valuation measures
Market Cap (intraday): 51.21B

Enterprise Value (25-Dec-04): 49.04B

Trailing P/E (ttm, intraday): 98.54

Forward P/E (fye 31-Dec-05): 74.50

PEG Ratio (5 yr expected): 3.66

Price/Sales (ttm): 16.22

Enterprise Value/Revenue (ttm): 15.51

Enterprise Value/EBITDA (ttm): 71.99
Share statistics
Average Volume (3 month): 20,025,727

Shares outstanding: 1.37B

% of shares held by Insiders: 14%

% of shares held by Institutions: 74%

Float: 1.18B

% of float held by Institutions: 86%

Treasury stock: $160M
ttm = Trailing twelve months (or last twelve months)
Levels
Stock market capitalisation 2003 (compared with GDP converted to € through estimated purchasing power parity exchange rates)
EU: €6.0 trillion (59% of PPP GDP)

Japan: €2.4 trillion (75% of PPP GDP)

United States: €10.7 trillion (108% of PPP GDP)
One way to measure the "madness" is to measure the value of the stock market's overall capitalization to the size of the national Gross Domestic Product. Historically the stock market value has been about 58% of GDP. Lows were in the range of 37% in the early 1950s, and 25% at the bottom of the Great Depression. Highs in this measurement were around 75% and occurred at all the important market turning points in the last 80 years including 1929 and 1966. As recently as 1991, the market was at the historic 58% level of GDP.
Since 1991, all semblance to reality began to be lost in this particular measurement. By the 4th quarter of 1999 stock market capitalization had increased to an atmospheric and unprecedented 185% of total GDP. Even today the rate is still 104%.
LINKS
MONEY FINDER
---
SOLAR COLA as an INVESTMENT OPPORTUNITY?
The soft drinks market is a tough place to do business, unless you have something different to offer and the marketing muscle to match.
For nearly 100 years Coca Cola and Pepsi Cola have dominated the marketplace with similar products. Each company spends around $600-800 million dollars a year to maintain its market position. The advertising centers around sport and music, with a scattering of irregular television campaigns. Each company launches (or attempts to launch) new brands every year. So far, they have not proved as successful as their regular cola brands.
Red Bull, although in a different drinks category, spends not quite as much on advertising , but has managed to acquire instant status and volume sales from sponsoring formula one, the Darpa Desert Challenge, and now the New Jersey MetroStars football team.
Solar Cola, apart from it's contemporary name, is a healthier cola based drink. Just as refreshing, it contains a unique blend of added ingredients as an aid to good health and energy levels. The company contributes to and sponsors alternative projects, to include this website, featuring movies, music and several thousand pages of general information, which generates in excess of 3 million visits a month already. Recent acquisitions include the rights to the Solar Navigator World Electric Challenge, and also the new Bluebird Electric land speed record car for 2007. The company may also sponsor the London to Brighton Solar Car Run in 2008 (dependent on the number of university entries received).
It is thought that this marketing strategy will equal several hundred thousand dollars of conventional Ad Agency spending. As an example of the kind of media coverage such nautical antics generate, you have only to look at the newspapers when Ellen Macarthur completed her world circumnavigation. The same holds true for Sir Francis Chichester and Sir Robin Knox-Johnston.
The design of the Solar Cola can is copyright protected, with trademark applications in the USA, Australia and Europe pending in Class 32 and granted rights in the UK. Introduction of the drink is held in abeyance pending official launch of one or other sponsored projects, which will be activated when the time is right, such activation to coincide with the market introduction of the drink.
Solar Cola PLC is shortly to be activated for online investment as their trading arm. The company is forecast to produce excellent results for investors, with sustained growth to be followed by an eventual flotation on the Stock Markets of the world in the next few years. At this point estimates suggest investors will reap substantial gains - in line with international Licensing expectations.
Solar Cola Ltd is managing the funding requirement for the trading company. They are looking for medium term or seed investment between £4-5 million to kick start phase two of the venture.
If you are a Business Angel, or Equity House, looking for an opportunity with the potential for good returns, please contact SOLAR COLA LTD for details. Please ask for the funding project manager: Nelson Kruschandl
+ 44 (0) 1323 831727
+44 (0) 7905 147709

This material and any views expressed herein are provided for information purposes only and should not be construed in any way as an endorsement or inducement to invest in any specific program. Before investing in any program, you must obtain, read and examine thoroughly its disclosure document or offering memorandum.
---
A taste for adventure capitalists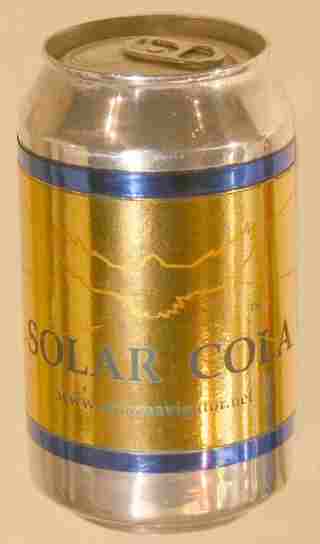 Solar Cola - a healthier alternative