New York Stock Exchange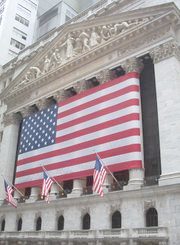 New York Stock Exchange (June 2003)
The New York Stock Exchange (NYSE), also nicknamed the Big Board, is the largest stock exchange in the world (by dollar volume) and second largest by number of listings. Its share volume was exceeded by that of NASDAQ (historic comparison graph - PDF) during the 1990s, but the total market capitalization of companies listed on the NYSE is five times that of companies listed on NASDAQ. The NYSE agreed to merge with the fully electronic stock exchange Archipelago Holdings in late April 2005.
The New York Stock Exchange trading floor is located at 11 Wall St., and is comprised of five rooms used for the facilitation of trading. The main building is located at 18 Broad Street, between the corners of Wall Street, and Exchange Pl., in New York City.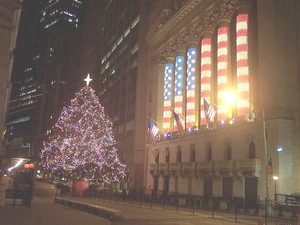 The NYSE at night, with its Christmas tree
Quick facts
NYSE is home to 2,800 companies valued at nearly $20 trillion in global market capitalization. As of July 2004, all but two of the thirty companies in the Dow Jones Industrial Average were listed on the NYSE, the exceptions being Intel and Microsoft.

The exchange opens for trading at 9:30 AM and closes at 4:00 PM. However, there had been many different trading hours over the years. From 1887 until 1952, the exchange was open from 10 AM to 3 PM. There was even a Saturday trading session from 10 AM to noon that was done away with in 1952. The present trading hours were introduced on September 30, 1985. Extended hours trading was introduced on June 13, 1991 and has since been widely expanded in terms of available trading time.

The exchange installed its first ticker in 1867 and telephones were first seen in the exchange in 1878.

The NYSE first got electric lights in 1883.

The frequently seen electronic display boards mounted on the walls of the exchange were first installed in 1966, along with radio pagers.

A highly technical wireless data system increasing the speed in which trades were executed was introduced in 1996. This allows for trading to be done with hand-held laptop-like computers carried by the floor traders.

In the final days of the month of October in 1929, the NYSE experienced the Wall Street Crash of 1929, which is considered the worst event in the American financial markets. The crash was the catalyst for the Great Depression.
Business
The NYSE trades in a continuous auction format. There is one specific location on the trading floor where each listed stock trades. Exchange members interested in buying and selling a particular stock on behalf of investors gather around the appropriate post where a specialist broker, who is employed by a NYSE member firm (that is, he/she is not an employee of the New York Stock Exchange), acts as an auctioneer in an open outcry auction market environment to bring buyers and sellers together and to manage the actual auction. They do on occasion facilitate the trades by committing their own capital (approximately 10% of the time) and as a matter of course disseminate information to the crowd that helps to bring buyers and sellers together.
Most of the time natural buyers and sellers meet in a market that provides efficient price discovery in an auction environment that is designed to produce the fairest price for both parties. The human interaction and expert judgement as to order execution differentiates the NYSE from fully electronic markets. However, in excess of 50% of all order flow is now delivered to the floor electronically. Recent proposals have been made to adopt a Hybrid market structure combining elements of open outcry and electronic markets. The frenzied commotion of men and women in colored smocks has been captured in several movies, including Wall Street and Trading Places.
History
The origin of the NYSE can be traced to May 17, 1792 when the Buttonwood Agreement was signed by twenty-four stock brokers outside of 68 Wall Street in New York under a buttonwood tree. On March 8, 1817 the organization drafted a constitution and renamed itself the "New York Stock & Exchange Board". This name was shortened to its current form in 1863. Anthony Stockholm was elected the Exchange's first president.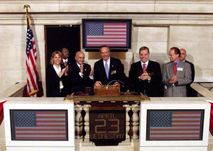 U.S. Sec Commerce Donald L. Evans rings opening bell NYSE April 23 2003
The Exchange was closed shortly after the beginning of World War I (July 1914), but it was re-opened on November 28 of that year in order to help the war effort by trading bonds.
On September 16, 1920, a bomb exploded outside the NYSE building on Wall Street in a terrorist attack, killing 33 people and injuring more than 400. The perpetrators were never found. The NYSE building and some buildings nearby, such as the JP Morgan building, still have marks on their facades caused by the bombing.
The Black Thursday crash of the Exchange on October 24, 1929 and the sell-off panic which started on Black Tuesday, October 29, are often blamed for precipitating the Great Depression. In an effort to try to restore investor confidence, the Exchange unveiled a fifteen-point program aimed to upgrade protection for the investing public on October 31, 1938.
On October 1, 1934, the exchange was registered as a national securities exchange with the U.S. Securities and Exchange Commission, with a president and a thirty-three member board. On February 18, 1971 the not-for-profit corporation was formed, and the number of board members was reduced to twenty-five.
On October 19, 1987, the Dow Jones Industrial Average fell 22.6%, one of the largest one-day declines in recorded stock market history. It has been dubbed "Black Monday."
Following a 554.26 point drop in the Dow Jones Industrial Average (DJIA) on October 27, 1997, officials at the Exchange for the first time invoked the "circuit breaker" rule to stop trading. This was a very controversial move and prompted a quick change in the rule; trading now halts for an hour, two hours, or the rest of the day when the DJIA drops 10, 20, or 30 percent, respectively. In the afternoon, the 10 and 20% drops will halt trading for a shorter period of time, but a 30% drop will always close the exchange for the day. The rationale behind the trading halt was to give investors a chance to cool off and reevaluate their positions (see the October 27, 1997 mini-crash).
The first central location of the NYSE was a room rented for $200 a month at 40 Wall Street in 1817.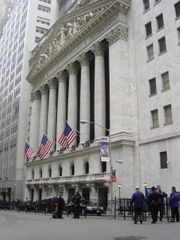 Security around NYSE
The NYSE was closed from September 11 until September 17, 2001 as a result of the September 11, 2001 attacks.
On September 17, 2003, NYSE chairman and chief executive Richard Grasso stepped down as a result of controversy concerning the size of his deferred compensation package. He was replaced as CEO by John Thain, the former President of Goldman Sachs Group Inc.
On April 21, 2005, the NYSE announced its plans to acquire Archipelago, in a deal that is intended to bring the NYSE public.
On December 6, 2005, the NYSE's governing board voted to acquire rival Archipelago and become a for-profit, public company.
John Shepard Reed is the Chairman of the New York Stock Exchange. He was previously Chairman and CEO of Citicorp, Citibank, and post-merger, Citigroup.
Statistics
Records
| Record | Value | Date |
| --- | --- | --- |
| DJIA: Highest Close | 11,722.98 | January 14, 2000 |
| DJIA: Largest Daily Gain | 499.19 | March 16, 2000 |
| DJIA: Largest Daily Loss | 617.78 | April 14, 2000 |
| NYSE: Highest Volume Day | 3,115,805,723 shares | June 24, 2005 |
| NYSE: Lowest Volume Day | 31 shares | March 16, 1830 |
From NYSE public records [4]
New York Stock Exchange website
Today's Events | The Week Ahead | Events Calendar
International Events | Earnings Calendar | Holidays and Hours
5 Mar 2006

TXU Corp. Celebrates 55th Anniversary of Listing on the NYSE

Chairman, President & CEO C. John Wilder rings The Closing BellSM on March 15, 2006.
Initial Public Offering of Transdigm Group Incorporated on the NYSE
NYSE Composite Index Sets New Closing High

On March 14, 2006, The New York Stock Exchange Composite Index® closed at a new high of 8197.60. The previous closing high for the NYA was 8139.67 on Feb. 27.
http://www.post-gazette.com/pg/05122/496749.stm All Business: The conflicted roles in NYSE merger
Move Over, Adam Smith: The Visible Hand of Uncle Sam Report concludes that the U.S. government surreptitiously intervenes in the American stock market
MONEY FINDER
---
SOLAR COLA as an INVESTMENT OPPORTUNITY?
The soft drinks market is a tough place to do business, unless you have something different to offer and the marketing muscle to match.
For nearly 100 years Coca Cola and Pepsi Cola have dominated the marketplace with similar products. Each company spends around $600-800 million dollars a year on advertising to maintain its market position. The advertising centers around sport and music, with a scattering of irregular television campaigns. Each company launches (or attempts to launch) new brands every year. So far, they have not proved as successful as their regular cola brands.
Red Bull, although in a different drinks category, spends not quite as much on advertising, but has managed to acquire instant status and volume sales from sponsoring formula one, the Darpa Desert Challenge, and now the New Jersey MetroStars football team.
Solar Cola, apart from it's contemporary name, is a healthier cola based drink. Just as refreshing, it contains a unique blend of added ingredients as an aid to good health and energy levels. The company contributes to and sponsors alternative projects, to include this website, featuring movies, music and several thousand pages of general information, which generates in excess of 3 million visits a month already. Recent acquisitions include the rights to the Solar Navigator World Electric Challenge, and also the new Bluebird Electric land speed record car for 2007. The company may also sponsor the London to Brighton Solar Car Run in 2008 (dependent on the number of university entries received).
It is thought that this marketing strategy will equal several hundred thousand dollars of conventional Ad Agency spending. As an example of the kind of media coverage such nautical antics generate, you have only to look at the newspapers when Ellen Macarthur completed her world circumnavigation - front page on every national paper. The same holds true for Sir Francis Chichester and Sir Robin Knox-Johnston in their hey day.
The design of the Solar Cola can is copyright protected, with trademark applications in the USA, Australia and Europe pending in Class 32 and granted rights in the UK. Introduction of the drink is held in abeyance pending official launch of one or other sponsored projects, which will be activated when the time is right, such activation to coincide with the market introduction of the drink.
Solar Cola PLC is shortly to be activated for online investment as their trading arm. The company is forecast to produce excellent results for investors, with sustained growth to be followed by an eventual flotation on the Stock Markets of the world in the next few years. At this point estimates suggest investors will reap substantial gains - in line with international Licensing expectations.
Solar Cola Ltd is managing the funding requirement for the trading company. They are looking for medium term or seed investment between £4-5 million to kick start phase two of the venture.
If you are a Business Angel, or Equity House, looking for an opportunity with the potential for good returns, please contact SOLAR COLA LTD for details. Please ask for the funding project manager: Nelson Kruschandl
+ 44 (0) 1323 831727
+44 (0) 7905 147709
Or email us: cola @ solarnavigator.net (spaces are an anti-spam measure)
---
This material and any views expressed herein are provided for information purposes only and should not be construed in any way as an endorsement or inducement to invest in any specific program. Before investing in any program, you must obtain, read and examine thoroughly its disclosure document or offering memorandum.
A taste for adventure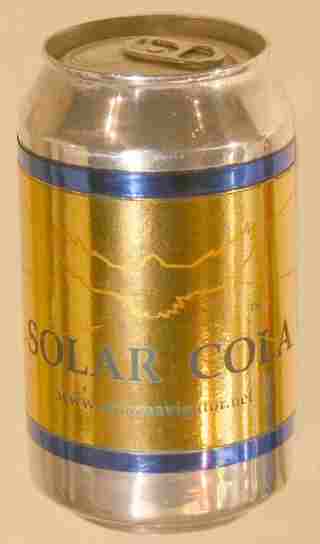 Solar Cola - the healthier alternative