In 1893, Caleb Bradham, a young pharmacist from New Bern, North Carolina, begins experimenting with many different soft drink concoctions. Like many pharmacists at the turn of the century he had a soda fountain in his drugstore, where he served his customers refreshing drinks, that he created himself. His most popular beverage was something he called "Brad's drink" made of carbonated water, sugar, vanilla, rare oils, pepsin and cola nuts.
One of Caleb's formulations, known as "Brad's drink", created in the summer of 1893, was later renamed Pepsi Cola after the pepsin and cola nuts used in the recipe. In 1898, Caleb Bradham wisely bought the trade name "Pep Cola" for $100 from a competitor from Newark, New Jersey that had gone broke. The new name was trademarked on June 16th, 1903. Bradham's neighbor, an artist designed the first Pepsi logo and ninety-seven shares of stock for Bradham's new company were issued.
A lot of people enjoy the taste of Pepsi Cola in preference to other colas. Some years ago there was the famous Pepsi challenge, where people in the street were asked to try different colas blindfolded and choose the one they liked best..............

When the thirst bites ...

One of Caleb's formulations, known as "Brad's Drink," a combination of carbonated water, sugar, vanilla, rare oils and cola nuts, is renamed "Pepsi-Cola" on August 28, 1898. Pepsi-Cola receives its first logo.

The instant popularity of this new drink leads Bradham to devote all of his energy to developing Pepsi-Cola into a full-fledged business. In 1902 he applied for a trademark with the U.S. Patent Office, Washington D.C., and forms the first Pepsi-Cola Company.


Pepsi World - The official Pepsi Cola website.
Pepsi Cola Can Display - Early Pepsi cone top cans and an early bottle.
PepsiCo Headquarters - The latest business reports and Pepsi Cola press releases.
The Pepsi Store Located on the site of Caleb Bradham's original pharmacy.
History of Pop - Timeline of the entire history of soft drinks.
Introduction to Pop - The History of Soft Drinks
---
A healthier alternative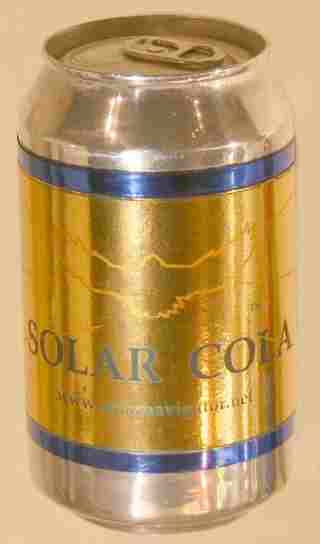 Solar Cola - a taste for adventure capitalists