Pat Rummerfield, driver of DWRA's first car, "White Lightning", is a success story in his own right. Struggling back from a crippling accident that left him a quadriplegic two decades ago, the 49 year-old driver overcame the odds of never walking again to pilot "White Lightning" in its world record speed run back in 1999.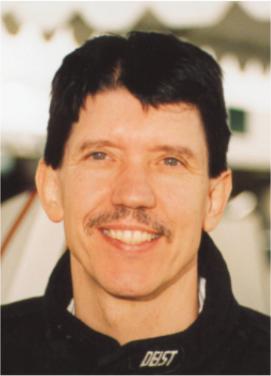 Pat Rummerfield
After years of painful therapy, Rummerfield not only drives a race car, but competed in, and finished the prestigious Ironman Triathlon in 1992. The ultradistance race consists of a 4.2 mile swim, 110-mile bicycle ride and 26.2 mile run. He has also completed the Antarctic Marathon, perhaps one of the toughest races ever organized, and the Los Angeles Marathon in March of 2000.
A graduate of University of California Medical School, Rummerfield works as a performance assessment coordinator for the Injury Prevention Program at Washington University's School of Medicine. Rummerfield is also Co-Founder of The NextSteps Foundation, a non-profit organization created to help in the prevention, treatment and cure of paralysis.
Rummerfield drove "White Lightning" to a one-way speed of 254.229 mph at the Bonneville Salt Flats in October of 1999. Rummerfield has been the recipient of numerous awards, including ESPN's prestigious ARETE award for courage and excellence in sports. Past recipients include Hank Aron, Mario Andretti and Muhammad Ali, just to name a few.
Rummerfield and DWRA are planning their return to Bonneville to establish a new world record in an electric vehicle.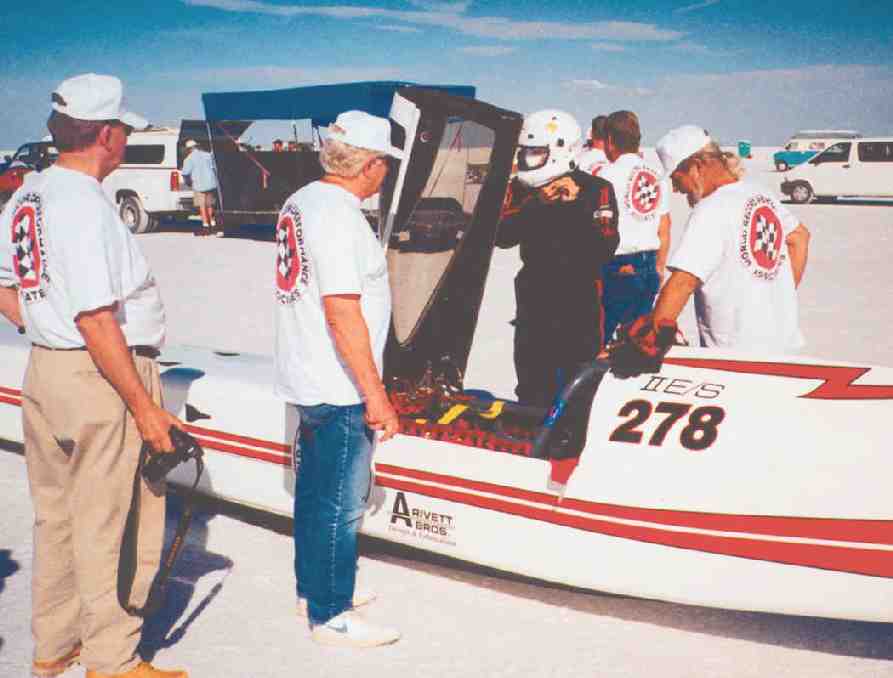 White Lightning and Team
There are three classes for electric vehicles - based on weight. DWRA's "White Lightning" currently competes in Class III for vehicles in excess of 1,000 kilograms. The previous world record for Class III vehicles of 215.3 mph in the two-way flying mile established in 1997 at Bonneville Salts Flats, Utah was shattered by DWRA's "White Lightning" during the 1999 World Finals. The new world record set October 22, 1999 by "White Lightning" is 245.524 mph.
White Lightning II is shown below, with Pat Rummerfield getting ready to defend his title against the ever faster vehicles now on the scene, including the Buckeye Bullet, Emotion and Bluebird Electric.
TEAM:
Founder - Edward J. Dempsey
Driver - Pat Rummerfield
Aerodynamics Consultant - Chuck Hallum
Business Consultant - R. W. (Kas) Kastner
Battery Consultant - David Swan
Data Acquisition - Ron Armstrong
Electric Power Consultant - Alan Cocconi
Paint and Graphics - Jim Tiehen, South Coast Body and Paint

"WHITE LIGHTNING II"
WHITE LIGHTNING LINKS: