Telefónica, S.A., (IBEX-35:TEF, Euronext: TEF, NYSE: TEF, LSE: TDE, FWB: TEF, TYO: 9481) is a Spanish telecommunication company. Operating globally, it is one of the largest fixed-line and mobile telecommunications companies in the world: 2nd in terms of number of clients (with the acquisition of O2 plc., Movistar and Manx Telecom) only behind a Chinese mobile provider, and 3rd in total market value behind the American telcos AT&T and Verizon.


Created in 1924, until liberalization of the telecom market in 1997 Telefónica was the only telephone operator in Spain and still holds a dominant position, over 75% in 2004. Since 1997, the Spanish government has privatised its interest in the company. On 5th July, 2007, the European Commission ordered Telefónica to pay a record antitrust fine of almost €152 million for activities in the Spanish broadband market that "harmed Spanish consumers, Spanish businesses and the Spanish economy as a whole, and by extension Europe's economy", as said by European Union competition commissioner Neelie Kroes.

Financial Data

Financial data in millions of euro Year 2001 2002 2003 2004 2005 2006
Sales 31 052 28 411 28 399 30 322 37 882 52 901
EBITDA 12 804 11 724 12 600 13 215 15 276 19 126
Net Results 2 106 -5 577 2 203 2 877 4 446 6 233
Net Debt 28 941 22 533 19 235 20 982 33 574 52 145

Source :'OpesC'


Key operations

Europe

Edificio Telefónica on Gran Vía in Madrid.

Spain

Telefónica is the second largest corporation in Spain. It owns Telefónica de España which is the largest fixed phone and ADSL operator in Spain, Telefónica Moviles the largest mobile phone operator in Spain (under the movistar brand) and Terra Networks, S.A. an internet subsidiary.


Czech Republic

In 2005, Telefónica bought Český Telecom (Czech Telecom), the former state-owned Czech phone operator which still dominates the Czech fixed-line market. As part of this deal Telefónica also gained its 100% subsidiary Eurotel, one of three mobile phone operators in the Czech Republic. Starting July 1st, 2006, both companies were merged into one legal entity and renamed Telefónica O2 Czech Republic.


Slovakia

In summer 2006, Telefónica (Telefónica O2 Slovakia) won the tender for the 3rd mobile phone operator in Slovakia, under the brand O2. It began providing services on the 2 February 2007, of which the first customers' registration started from the 15 December 2006 under the operation O2 Jednotka. At the start, it will provide a basic pre-paid service, and in the 2nd quarter of 2007, O2 start contracts.


United Kingdom, Republic of Ireland, Germany and Isle of Man

On 26th January 2006 Telefónica completed its £17.7 billion (€ 25,7 billion) acquisition of the UK-based operator O2 which provides mobile phone services in the UK, Republic of Ireland, Germany and Isle of Man (where it also operates a small number of fixed-line services). As part of the takeover deal these services will continue to use the O2 brand and be based in the UK.

Telefónica is also the owner of Telefónica Deutschland and Telefónica UK, two alternative IP carriers which provide of the merger of two ISPs, Telefónica subsidiaries, 'mediaWays' and 'HighwayOne' merged in January 2003, purchased by Telefónica in 2001 and February 2002 respectively..


Italy

In April 2007, Telefonica enters in the newco Telco, which holds the 23% of Telecom Italia.


Latin America

Telefónica operates the movistar mobile phone brand throughout Latin America. In Mexico it occupies a far second place as mobile phone operator and the largest in Chile, Venezuela and Peru. See movistar article for complete country list.


Argentina

Telefónica owns Telefónica de Argentina which is the largest fixed-line operation in the country. It provides broadband, local and long distance telephone services in southern part of the country as well as the Great Buenos Aires area. The Telefónica Group has been in the country since 1990. The mobile business is run by Telefónica Móviles through movistar, a local subsidiary.


Brazil

Telefónica's largest fixed-line operation in Latin America is in São Paulo where it provides broadband, local and long distance telephone services in the aforementioned state, which alone represents the highest GDP of South America. It also jointly owns the Brazilian wireless operator Vivo with Portugal Telecom. The Telefónica Group has been in the country since 1996 when it acquired CRT, a fixed-line and mobile operator in the southern part of the country. The landline division is currently part of Brasil Telecom. Telefónica is the parent of Telecomunicações de São Paulo S.A.


Chile

In Chile Telefónica owns Telefónica Chile, formerly CTC (Compañía de Teléfonos de Chile) which is the biggest fixed-line operator and internet service provider in the country. The Telefónica Group has been in the country since 1989. The mobile business is run by Telefónica Móviles through a local subsidiary.


Ecuador

After acquiring 100% of OTECEL S.A. (Bellsouth), Telefónica Móviles Ecuador started its operations in October 14, 2004 as Movistar. It offers mobile solutions for the Ecuadorian market and is one of only three mobile operators in Ecuador.


Peru

The Telefónica Group has been in the country since 1994 and owns the largest fixed-line operator in the country. The local subsidiary offers local, long distance and broadband services nationwide. The mobile business is run by Telefónica Móviles through a local subsidiary.

Telefónica is the owner of Cable Mágico (Cable Television Operator) Cable Mágico


Colombia

In April 18, 2006, Telefónica's president Cesar Alierta signs an agreement with the Colombian government to buy 50% and one share of the state-owned communications company, Colombia Telecomunicaciones (TELECOM). With this sale, Telefónica becomes the largest Colombian land-line operator, and also gains an important presence in the local, long-distance and broadband market. The mobile business is run by Telefónica Moviles through the brand movistar. It's unknown what's going to happen with their previous established subsidiary Telefónica Empresas, being most probable a merger with TELECOM. Now the company is known as Telefónica - Telecom.


Puerto Rico

Telefónica in Puerto Rico has presence through Telefónica Empresas, Telefónica Larga Distancia (TLD) and Atento. There is another "Telefónica" in Puerto Rico: PRT (Puerto Rico Telephone), the main telecommunications provider in the island, wholly owned by América Móvil, sister company of Telmex, the Mexican telco. PRT is popularly and commonly referred as "Telefónica" because for many years it was marketed as: "Nuestra Telefónica" or "Telefónica de Puerto Rico", long time before Telefónica (of Spain) entered the Puerto Rican market.


China

Telefónica has a 9.9% stake in China Netcom as of 2006.


Africa

Morocco

Telefónica also has a stake in the second Moroccan operator , Méditel.


United States

Based In Miami, Telefonica USA Inc has given Telefónica a presence in the U.S. Opened in 2001, their Miami Key Center hold a storage facility for companies to place servers in a secure environment while giving 99.99% uptime. Locations include, Miami & Boca Raton FL, New York, NY, San Diego CA, Washington D.C, Atlanta GA, and Houston, TX.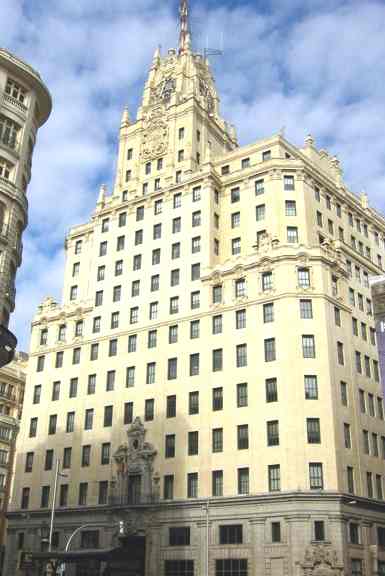 Ownership

Telefónica is a publicly owned company. It is estimated that a large part of its stock is owned by capital investment funds. Major stockholders include:

JPMorgan Chase: 10.02%
Banco Bilbao Vizcaya Argentaria, S.A. (BBVA): 5.62%
Caixa d'Estalvis i Pensions de Barcelona ("La Caixa"): 5.37%
Citibank: 4.66%
Capital Group: 3.60%
In addition to this, the company held 75% of Dutch TV firm Endemol in shares, although these have been sold to Mediaset in May 2007.


Sponsorship

Telefónica was a major sponsor of the Renault F1 Team until Fernando Alonso's departure to Vodafone McLaren Mercedes F1 Team. Through its acquisition of O2 Telefónica also indirectly sponsors the BMW Sauber. F1 Racing estimates these sponsorships amount to $18 million and $15 million respectively.

They also used to sponsor the Ford Focus WRC during the 2000 season. The sponsorship said Telefonica Movistar on it and the stickers were on the front bumper, the rear 3-quarters and the rear spoiler.
The Telefonica Movistar was also a boat entered in the 2005/6 Volvo Ocean Race.

Teléfonica also sponsors Real Zaragoza and as of 13 April 2007, Telefónica is the new sponsor of Valencia CF (both of them are Spanish football teams).


Business Practices

On its official website, Telefónica states its general business principles as follows:

To be honest and trustworthy in all its dealings, and to keep the commitments it makes.

To protect the confidentiality of company, employee, shareholder, supplier and customer information.

To comply with all applicable national or international laws, rules and regulatory obligations as well as its own internal policies and procedures.

To compete fairly in its own markets, as it believes that consumers and society in general benefit from open and free markets.

As regards, bribery and corruption, Telefónica's business principles state that it will never seek to offer or accept gifts, hospitality, bribes or other inducements to reward or encourage a decision.

The company further says that it will avoid or declare conflicts of interest that may lead to divided personal loyalties.

Telefónica has received several fines due to convictions over unfair competition, abuse of its condition as dominant provider, and antitrust violations through the Commission of Telecomunications, European Commission, and Spanish tribunals. These fines include: 900,000 euro fine, Spanish tribunals, 18 million euro fine, Spanish Telecommunication Market commission, 57 million in 2004 for unfair competition, and 151,9 million euro by European Commission for abusing of its dominant position. This last fine is the biggest fine on the history of the European for Defence of the Compentence tribunal imposed to any entity on his whole history. Now Telefonica has in court two more fines, with a value of 793 million of euros

Telefonica is considered by several of its clients that it is a firm with a history of looking down upon and alienating its own clients. Several consumer groups in Spain has reported unnecessary delays to cancel Telefonica ADSL service. Those consumer groups also claim that services canceled by his clients are billed to them. They also claim that cancellations of services are ignored. That lead Spaniards to organize themselves in consumer groups like "Asociación de Internautas" or "Bandaancha" to better defend them from Telefónica abuses, giving support and help to diverse reclamations against bad practices of Telefónica. Those practices includes the complex process to cancel the line. These procedures to cancel the line could be justificated by "defending the clients against jokes".
It is also claimed that in areas where ADSL lines are scarce, there are reports of paying clients having a contract for broadband connection, who find from one day to another that Telefónica has cancelled the connection to give that connection to another client for unexplained reasons. We understand that this is under investigation.

LINKS and REFERENCE
Why not have a look at some of the mobiles that can deliver it all. You can get market-leading Nokias and Sony Ericssons, powerful Motorolas, sexy LGs and more. If you don't find what you're looking for - shop around on our free A to Z.
Finding the right mobile phone and airtime package from numerous high street and online dealers can prove to be an overwhelming challenge. However, there's more to a search than just finding a good looking phone. You need to ensure you get a reliable service and sensibly priced airtime. We therefore recommend you see our extensive Phone Guide as a quick mission briefing before buying.
Mobile refreshment for better communicators ......

(330ml Earth Can)