T-Mobile is a mobile network operator headquartered in Bonn, Germany. It is a subsidiary of Deutsche Telekom and belongs to the FreeMove alliance.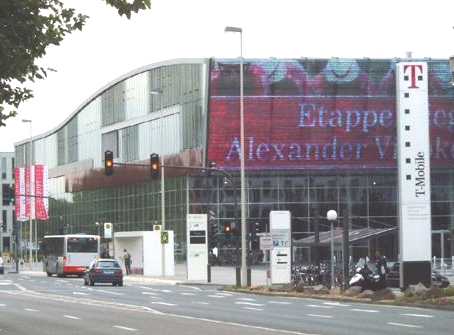 T-Mobile is a group of mobile phone corporate subsidiaries (all under the ownership of Deutsche Telekom) that operate GSM and UMTS networks in Europe and the United States. The "T" stands for "Telekom." Most subsidiaries of Deutsche Telekom have names beginning with "T-" like T-Com, T-Systems and T-Online. T-Mobile also has financial stakes in mobile operators in Eastern Europe. Globally, T-Mobile has 101 million subscribers, making it the world's sixth largest mobile phone service provider by subscribers and the third largest multinational after the United Kingdom's Vodafone and Spain's Telefonica.

T-Mobile International has a substantial presence in eleven European countries: Austria, Croatia, Czech Republic, Germany, Hungary, Macedonia, Montenegro, the Netherlands, Poland, Slovakia and the United Kingdom as well as in the United States.

Deutsche Telekom recently attempted to acquire rival mobile network operator O2, but it was eventually acquired by Spain's Telefonica.

As well as kit sponsors for FC Bayern Munich, Ferencvárosi TC, The Blues City, Borehamwood and West Bromwich Albion, T-Mobile is also a sponsor of several sports events, some of which carry the company name. For example, it sponsors its own cycling team, the T-Mobile Team, and the Austrian first division football competition, the T-Mobile Bundesliga. It was also the official global mobile phone carrier for the 2006 FIFA World Cup (football) in Germany.


T-Mobile International

Germany

The T-D1 logo and brand used in Germany beginning in the mid-1990s for Telekom's GSM network, known in Germany as the D-Netz.
Initial 1984 logo of the analog C-Netz, the first-generation analog mobile phone system that was the predecessor of DeTeMobil and T-Mobile
Logo of the C-Netz, 1993, with the magenta logotype alongside the postal horn emblem. The telephone card symbol was often used alongside the C logo to indicate that the user card, a predecessor of the SIM card, could also be used as a standard telephone card in payphones.
In Germany, its home market, T-Mobile is the largest mobile phone operator with 32 million subscribers (as of September 2005), closely followed by its primary rival, Vodafone. The highly profitable GSM network in Germany is scheduled to be supplemented and ultimately replaced by UMTS, for which T-Mobile spent €8.2 billion in August 2000 to acquire one of the six licenses for Germany.

On July 1, 1989, West Germany's state-owned postal monopoly, Deutsche Bundespost (DBP) was reorganized, with telecommunications consolidated in a new Deutsche Bundespost Telekom unit; this was renamed Deutsche Telekom in 1995, and began to be privatized in 1996.

The analog first-generation C-Netz ("C Network," marketed as C-Tel) was Germany's first true mobile phone network (the A and B networks, also owned by the post office, had been previous radiotelephone systems), and was introduced in 1985. Following German reunification in 1990, it was extended to the former East Germany.

On July 1, 1992, the Deutsche Bundespost Telekom began to operate Germany's first GSM network, along with the C-Netz, as its DeTeMobil subsidiary. The GSM 900-MHz frequency band was referred to as the "D-Netz," and Telekom named its service D1; the private consortium awarded the second license (formerly Mannesmann, now Vodafone) chose the equally imaginative name D2. In 1996, as Deutsche Telekom began to brand its subsidiaries with the T- prefix, the network was renamed T-D1 and DeTeMobil became T-Mobil; the C-Netz, in the process of being wound down, was not rebranded, and was shut down in 2000. In 2002, as Deutsche Telekom consolidated its international operations, it anglicized the T-Mobil name as T-Mobile, although sometimes also using the name T-D1 within Germany. It is still common for Germans to refer to T-Mobile and Vodafone as D1 and D2 respectively.

D1 introduced Short message service (SMS) services in 1994 and began a prepaid service, Xtra, in 1997.


Croatia

Former Cronet logoT-Mobile entered the Croatian market in October 1999 when Deutsche Telekom (DT) initially acquired a 35 percent interest in Hrvatski telekom, including its cell phone service provider Cronet. Two years later, DT signed an agreement with the Croatian government to acquire the additional 16 percent needed for a majority holding. In January 2003, Hrvatski Telekom assembled all of its mobile activities under a single brand HTmobile. Finally, in October 2004, HTmobile became T-Mobile Hrvatska, or T-Mobile Croatia, thus joining the global T-Mobile family also by name.


Czech Republic

Former Paegas logoT-Mobile was previously known as Paegas in the Czech Republic.

T-Mobile Czech Republic a.s. has been operating in the Czech market since 1996. As of 30 June 2006, 4.734 million customers were using T-Mobile services.

T-Mobile Czech Republic a.s. operates a public mobile communications network on the GSM standard in the 900 and 1800 MHz bands and is also authorized to operate a UMTS network. T-Mobile was the first operator in the Czech Republic to launch this third-generation technology on 19 October 2005 under the name Internet 4G.


Hungary

In May 2004, the same day as Hungary joined the European Union, the former company, named Westel (which was owned entirely by the former Matáv) changed its name, and the entire marketing. Westel was the most popular cellphone network in Hungary at the time. The company was called T-Mobile Hungary, but after some financial decisions, as with the other T- companies, it formed to Magyar Telekom Nyrt. Mobil Szolgáltatások Üzletág (Hungarian Telekom, Mobile Services Business Unit), but they still say T-Mobile. Overall, T-mobile has the best cellphone coverage in Hungary,[citation needed] and they also provide high-speed services, like EDGE, 3G, and HSDPA in the major cities of Hungary, and in an area of the most popular Hungarian tourist destination, Lake Balaton.




Macedonia

Former Mobimak logoIn Macedonia, T-Mobile was previously known as Mobimak. The company has been operating in the Macedonian market since 1996. On September the 7-th 2006, Mobimak accepted the international T-Mobile branding. In June 2007, T-Mobile Macedonia has reached 1 million subscribers, out of which 85% are active and using their services. T-Mobile MK covers 98.5% of the population. It has a GSM-900 license, offers GPRS, MMS and mobile internet services using T-Mobile HotSpots and has implemented the EDGE fast mobile internet specification. T-Mobile Macedonia applied for a UMTS license on the 1st of August 2007.


Montenegro

MoNET logoT-Mobile brand entered the Montenegrin market in 2006 through the acquisition of MoNet GSM mobile provider. T-Mobile Montenegro (T-Mobile Crna Gora) is fully owned by T-Crnogorski Telekom, which is itself owned by Magyar Telekom, a company majority owned by Deutsche Telekom. Although the acquisition by Magyar Telekom was done in 2005, it was not until September 26, 2006 that the MoNet GSM operator was renamed to T-Mobile Montenegro.

MoNet GSM launched on 1 July 2000, as part of Telecom Montenegro. It became an independent incorporated limited liability company a month later, on August 1, 2000.

Today's T-Mobile signal covers 99% of Montenegro's inhabited territory. T-Mobile has 188 active base transceiver stations, which cover all urban and suburban areas, major highway routes, and tourist centers. T-Mobile has roaming agreements with 172 GSM and 32 GPRS providers.

The company currently holds around 40% of the Montenegrin market and uses GSM 900, GPRS, and EDGE technologies. EDGE technology brings T-Mobile Montenegro closer towards providing UMTS, the 3G successor to GSM. EDGE was available in 14 municipalities in Montenegro as of July 1, 2005.

Since June 21, 2007 3G/UMTS services have been available in larger cities as well as on the coast.


Netherlands

Former Orange logoT-Mobile Netherlands, a 100% subsidary of T-Mobile International, acquired Orange Netherlands from France Télécom for €1.33 billion. This makes it the second largest mobile telephone operator in the country behind KPN.


Poland

T-Mobile is involved in an ownership dispute with Vivendi for Polska Telefonia Cyfrowa S.A., operator of the Era GSM network. T-Mobile owns 49 percent of the company directly, with the remaining 51 percent owned by a consortium of Vivendi and the bankrupt Polish conglomerate Elektrim. In 2006, T-Mobile reached an agreement with Elektrim to buy most of the remaining shares, but Vivendi filed suit in the United States to block the move. Should T-Mobile gain control Era will probably be rebranded to T-Mobile Polska in 2007.


Slovakia

T-Mobile entered the Slovak market in May 2005, when it acquired EuroTel Bratislava, and renamed it T-Mobile Slovensko. T-Mobile Slovensko is a subsidiary of Slovak Telekom, which is a subsidiary of Deutsche Telekom. The company has the same GSM coverage as Orange Slovensko in Slovakia. A third provider, Telefónica O2 Slovakia, obtained license in October 2006 and launched commercial service in February 2007, and launched the country's first 3G network in January 2006 in the the centre of the capital city, Bratislava.




United Kingdom

Former One2One logoT-Mobile UK was previously known as One 2 One, and before that as Mercury One 2 One. It was the world's first GSM 1800 network when it launched in September 1993. T-Mobile offers both pay-as-you-go and pay-monthly contract phones. The pay-monthly contracts are branded as Flext for both 18 month and 12 month contract customers as of February 2007; T-Mobile's 12 month contracts were previously branded as Relax. The network also offers other contract options for off-peak users and customers who call within network predominantly. T-Mobile launched their 3G UMTS services in the autumn of 2003. Additionally there is also the U-Fix plan which is a monthly plan which can also be topped up with pay as you go extra credit.

Once the smallest of Britain's four GSM operators, T-Mobile is now the United Kingdom's third largest mobile network, behind O2 and Vodafone, with over 19.2 million subscribers. This has been largely due to the virtual operators such as Virgin Mobile that use the T-Mobile network infrastructure.

T-Mobile have been the official sponsor of English Championship side West Bromwich Albion since the 2004-05 season. They also partnership sponsors of Scottish Premier League clubs Rangers FC and Celtic FC.


United States

T-Mobile USA is the United States based subsidiary of T-Mobile International AG. The US company was previously known as VoiceStream Wireless or Powertel. In May 2001, VoiceStream was acquired by Deutsche Telekom for US$24 billion, and in September 2002 changed the company name nationally to T-Mobile. Headquartered in Factoria, Bellevue, Washington, T-Mobile USA is currently the fourth-largest wireless carrier in the U.S. market with approximately 27 million customers as of August 2007 and annual revenue of US$17.1 billion.

The US T-Mobile network predominately uses the GSM/GPRS 1900 MHz frequency-band, making it the largest 1900 MHz network in the US. Service is available in 46 of the top 50 US markets, reaching 244 million potential customers. By mid-2008 the network is forecast to expand to 98 of 100 largest markets and 259 million potential customers.

On September 17, 2007 T-Mobile USA announced that it will acquire SunCom Wireless for US$2.4 billion. The acquisition will improve network coverage in North Carolina, South Carolina, Tennessee, Georgia, and Puerto Rico. At the end of the second quarter of 2007, SunCom had more than 1.1 million customers. The acquisition is subject to governmental and regulatory approvals as well as approval by SunCom shareholders. The companies expect the deal to close in the first half of 2008.


Internet hotspots (802.11 WiFi)

In addition to mobile phone service, T-Mobile also operates WiFi hotspots in the United States and Europe. In the USA alone, it operates over 8,000 (as of December 22, 2006) T-Mobile HotSpot locations for Internet access — including such locations as airports, airline clubs, Starbucks coffeehouses, Kinko's, Borders Books and Music, Hyatt and Red Roof Inn Hotels. The US WiFi infrastructure was completely replaced when T-Mobile bought the Wireless ISP MobileStar. In addition, Sony Computer Entertainment on behalf of T-Mobile introduced a HotSpot Locator and HotSpot Promotional Period (6 months from activation) for the Sony PSP system and Sony Mylo system. Both promotions are separate, and, by combining the total time allotted for each system, users can have up to one year free access, by using six months on the Mylo, and six months on the PlayStation Portable.


Statistics of Deutsche Telekom's GSM networks

All T-Mobile networks (including affiliates and minority owned): 106 million (as of May 2007)

T-Mobile branded networks

Location networks
Global (under T-Mobile brand) 95.5 million
Germany 32 million
United States 26 million
United Kingdom 19.23 million
Czech Republic 4.6 million
Hungary 4.2 million
The Netherlands 2.3 million
Austria 2.1 million
Croatia 2.1 million
Slovakia 2.0 million
Macedonia 1.0 million
Montenegro 0.2 million


Mobile operators in which T-Mobile has a substantial stake

Bosnia and Herzegovina — HT Mobile
Poland — Era

LINKS and REFERENCE
Why not have a look at some of the mobiles that can deliver it all. You can get market-leading Nokias and Sony Ericssons, powerful Motorolas, sexy LGs and more. If you don't find what you're looking for - shop around on our free A to Z.
Finding the right mobile phone and airtime package from numerous high street and online dealers can prove to be an overwhelming challenge. However, there's more to a search than just finding a good looking phone. You need to ensure you get a reliable service and sensibly priced airtime. We therefore recommend you see our extensive Phone Guide as a quick mission briefing before buying.
Mobile refreshment for better communications ......

(330ml Earth Can)