BIOGRAPHY
Birth name: Sandra Annette Bullock
Nickname: Sandy
Height: 5' 7½" (1.71 m)
Born in Arlington a Virginia suburb of Washington D.C. daughter to a German opera singer and a voice teacher, Sandra grew up on the road with her parents and younger sister. She was raised, in part, in Nuremberg. She often performed in the children's chorus of whatever production her mother was in, usually playing the part of a gypsy child in the background. Sandra and her family moved back to Virginia when she was ten years old. That singing talent later came in use for her role of an aspiring country singer in The Thing Called Love (1993). Her family moved back to the Washington D.C. area when she was a teenager.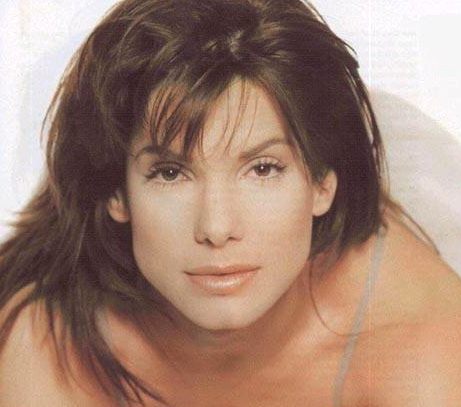 Beautiful Sandra Bullock
She later enrolled in E. Carolina University in North Carolina, USA where she studied acting. Shortly thereafter she moved to New York to pursue a career on the stage. This led to acting in television programs and then feature films. She gave memorable performances in Demolition Man (1993) and Wrestling Ernest Hemingway (1993) but did not achieve the stardom that seemed inevitable for her until her work in the smash hit Speed (1994). She now ranks as one of the most popular actresses in Hollywood.

In 1982 she graduated from Washington-Lee High School, where she was voted "The girl most likely to brighten up your day". After high school she majored in Drama at East Carolina University in North Carolina. She then moved to New York to pursue a career in acting. She worked as a waitress, went to auditions, and tried to get herself established in the acting field. She got a role in the TV version of "Working Girl", co-starring with Nana Visitor but she hated every minute of it, and was glad when it was cancelled.

She moved to Los Angeles, and got a job as a supporting role in the made-for-TV movie, "The Preppie Murder" with William Baldwin. But after making several smaller budget films (Fire in the Amazon, Who Do I Gotta Kill, etc) she replaced Lori Petty as Sylvester Stallone's partner in the futuristic action/sci-fi flick, Demolition Man. In this film, she gained a bunch of fans, and nice addition to her resume.

This helped get Sandra the part in Jan de Bont's directorial debut film, Speed, which also starred Keanu Reaves and Dennis Hopper. Speed was a huge success, grossing over 120 million dollars at the box office. In this film she stole the show from the larger stars and became a star overnight, although she missed most of the launch buzz, as she was in Europe, promoting the film.

Sandra then moved on to the hit, While You Were Sleeping, which was carried by her now-well-known name. While You Were Sleeping was a hit, bringing in 85 million, and showed that she could be very funny.

After WYWS, came The Net, and recently she starred in Two If By Sea, which brought in disappointing reviews, and didn't stay at the theaters for very long.
I thoroughly enjoyed Sandra's performances in Speed, then Demolition Man and finally Miss Congeniality. One day out of curiosity, I put on a DVD which came as a promotional bundle - hence B movies. The film was called Fire on the Amazon. I had to force myself to watch it, since the lead actor deserved a punch on the nose for his performance and the dirty cop was only slightly less annoying. Then without warning Sandra was performing a breathtaking love scene, which I watched with my jaw still on the floor.
Although the film was badly directed, the quality was poor and it was obviously made on a low budget, I applaud Ms Bullock for making the film, which I take as her statement to the rape of the rain forests all over the world. Well done Sandy.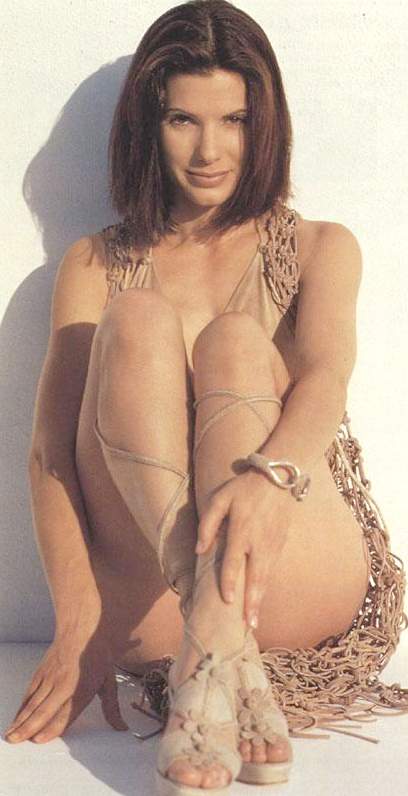 Sandra Bullock - Amazon
QUOTES:
(on marital plans) "I've always been very sceptical about marriage, because I only want to do it once; I want to do it the right way."

"I've learned that success comes in a very prickly package. Whether you choose to accept it or not is up to you. It's what you choose to do with it, the people you choose to surround yourself with. Always choose people that are better than you. Always choose people that challenge you and are smarter than you. Always be the student. Once you find yourself to be the teacher, you've lost it."

"I remember sitting down in Joel Silver's office and Joel going, "Do you want to do this film?". I remember going, "I would like to do it, but I would love to talk about the character, and it was almost like I had said the biggest joke".

The only reason I haven't married yet, is because I take it too seriously.

"Fame means when your computer modem is broken, the repair guy comes out to your house a little faster."

"I have no desire to maintain a lifestyle. I am a horrible celebrity. If I am out in public I dress like a pig."

"The Acadamy Awards shouldn't even nominate Meryl Streep anymore. She should just be given an award every year. There should just be the Meryl Streep category".

"Everyone told me to pass on Speed (1994) because it was a 'bus movie.'"

"I'd rather take risks than make something that's cookie cutter."

"The first Miss Congeniality (2000) gave me the chance to do broad comedy that had nothing to do with being the romantic interest. The girl-next-door thing went away with that film and I tend to do characters that I want to be more like. In the beginning, though, I was sort of the 'action girl'. And then with While You Were Sleeping (1995), I was the romantic-comedy girl. But when I took time off, I thought, 'There's something I'm missing here.' I literally had to start from scratch."

"I don't like to talk about personal things. ... And by keeping it private, you have a better shot at a healthy relationship. I learned at a young age that there are certain things you just don't talk about."

"I don't think there's ever what could be called a 'chilled state' in my head."

"My goal now is to remember every place I've been, only do things I love and not say yes when I don't mean it." quoted in WOMAN'S WORLD (7-5-05)
SALARY
| | |
| --- | --- |
| Murder by Numbers (2002) | $15,000,000 |
| 28 Days (2000) | $12,500,000 |
| Hope Floats (1998) | $11,000,000 |
| Speed 2: Cruise Control (1997) | $12,500,500 |
| In Love and War (1996) | $10,500,000 |
| A Time to Kill (1996) | $6,000,000 |
| The Net (1995) | $250,000 |
| While You Were Sleeping (1995) | $1,200,000 |
| Speed (1994) | $500,000 |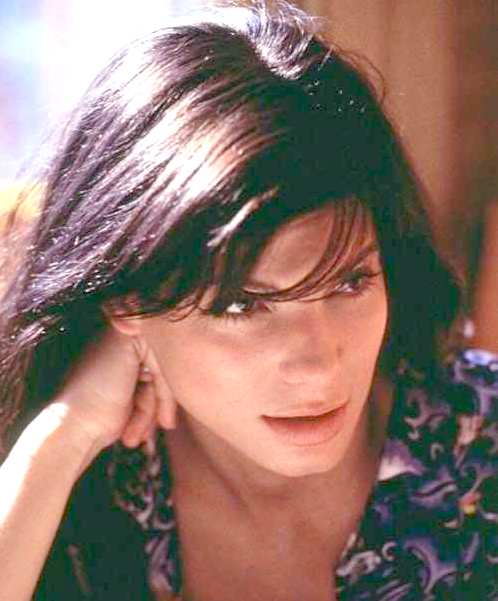 Sandy
Actress - filmography
(In Production) (2000s) (1990s) (1980s)
Producer - filmography
Miscellaneous Crew - filmography
Director - filmography
Making Sandwiches (1998)
Writer - filmography
Making Sandwiches (1998)
Composer - filmography
The Thing Called Love (1993) (song "Heaven Knocking On My Door")
Herself - filmography
(2000s) (1990s)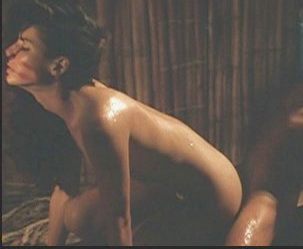 Controversial Sandra Bullock love scene in Fire on the Amazon
Warner Bros. 75th Anniversary: No Guts, No Glory (1998) (TV) .... Herself
Amazon.com Reviews

While reinventing Leopold and Loeb for a new and troubled millennium, Murder by Numbers probes the disturbing psychology of two teenaged murderers and the cleverness of their crime. Like Hitchcock's Rope and other films inspired by the Leopold and Loeb case of the 1920s, the film intensifies as it explores the repressed (and subtly homosexual) tensions between high-school outcasts Richard (Ryan Gosling) and Justin (Michael Pitt), who randomly kill a woman to enact an amoral philosophy--and to tease a savvy homicide detective (Sandra Bullock) with misleading clues. While clashing with the by-the-book procedure of her partner (Ben Chaplin), Bullock gives one of her best performances in a role that comes with its own set of psychological hurdles. It's comfortable territory for Reversal of Fortune director Barbet Schroeder, who draws fine work from his cast while proving that there's no such thing as a perfect crime. --Jeff Shannon


The body of a young woman is found in a ditch in the woods of the small California coastal town of San Benito. SANDRA BULLOCK ("Divine Secrets of the Ya Ya Sisterhood," "Miss Congeniality"), stars as Cassie Mayweather, the seasoned homicide detective and crime scene specialist assigned to the case along with her new partner San Kennedy (BEN CHAPLIN - "Lost Souls," "The Thin Red Line"). The two dectectives make their way through microscopic hints of evidence, which seem to indicate a random act of violence, but Cassie has a gut feeling that there is more to this murder than meets the eye. Something about this case reminds her of her past exactly at a time when she is asked to appear at a parole hearing on an old police matter. These events force Cassie to revisit the past.

Sandra Bullock - capable show woman
LINKS:
A - Z FILMS INDEX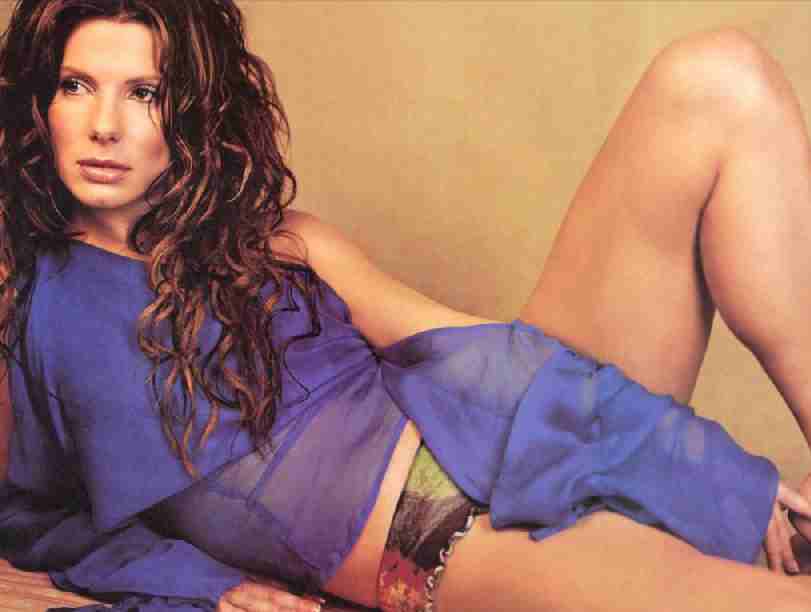 A - Z ACTORS INDEX
Healthier alternative tastes for adventure capitalists
Solar Red | Solar Crush | Solar Cola | Solar Spice | Solar +