Gusty winds and mechanical problems yesterday delayed a British team's attempt to break the speed record for electric-powered cars. The group planned to try again today.

The team is trying to eclipse the record for an electric car weighing more than 2200lbs by using a vehicle with 52 batteries and no mechanical gears.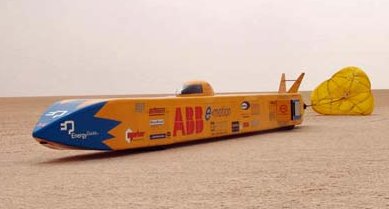 ABB Emotion in Tunisia June 2004

The record is 245mph, set by an American team in 1999 on Utah's Salt Flats, which are too wet at this time of year for speed racing. Nevada is to shut down a state highway for the torpedo-shaped car's attempt to top 300mph.

Britons Mark Newby and Colin Fallows have already accelerated their car to 146mph in 1000 yards – the longest, safest distance available to them in England. Newby, 46, a pilot who does acrobatic manoeuvres, will drive the car.

Fallows, 54, a retired Royal Air Force propulsion technician, designed the vehicle.

Herald News
Election 2005
Sport
Business
Politics
Features
Sport
SEE ALSO:
The Herald Bad weather puts British speed record bid on hold
CONTACTS:
The Herald
200 Renfield Street
Glasgow
SCOTLAND
G2 3QB
| | |
| --- | --- |
| Telephone | 0141 302 7000 |
| Editorial Fax | 0141 302 7171 |
| Business Fax | 0141 302 7117 |
| Sport Fax | 0141 302 7227 |
Readers are requested to send all correspondence which they intend for publication to one of the following two addresses:
Addresses below are for direct communication of live information to the editorial departments listed.
---