EARLY INNOVATION
Between 1832 and 1839, Robert Anderson of Scotland invented the first crude electric carriage. A small-scale electric car was designed by Professor Stratingh of Groningen, Holland, and built by his assistant Christopher Becker in 1835. Practical and more successful electric road vehicles were invented by both American Thomas Davenport and Scotsmen Robert Davidson around 1842. Both inventors were the first to use non-rechargeable electric cells. Frenchmen Gaston Plante invented a better storage battery in 1865 and his fellow countrymen Camille Faure improved the storage battery in 1881. This improved-capacity storage battery paved the way for electric vehicles to flourish.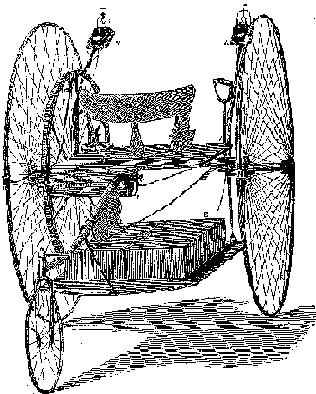 Believed to be the first road going electric vehicle
the Ayrton & Perry Trike of 1881
France and Great Britain were the first nations to support the widespread development of electric vehicles in the late 1800s. In 1899, a Belgian built electric racing car called "La Jamais Contente" set a world record for land speed - 68 mph - designed by Camille Jénatzy.
It was not until 1895 that Americans began to devote attention to electric vehicles after an electric tricycle was built by A. L. Ryker and William Morrison built a six-passenger wagon both in 1891. Many innovations followed and interest in motor vehicles increased greatly in the late 1890s and early 1900s. In 1897, the first commercial application was established as a fleet of New York City taxis built by the Electric Carriage and Wagon Company of Philadelphia.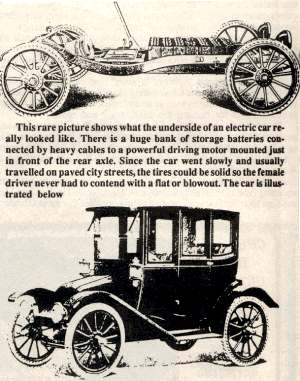 Detroit electric carriage 1912
The early electric vehicles, such as the 1902 Wood's Phaeton (top image), were little more than electrified horseless carriages and surreys. The Phaeton had a range of 18 miles, a top speed of 14 mph and cost $2,000. Later in 1916, Woods invented a hybrid car that had both an internal combustion engine and an electric motor.
By the turn of the century, America was prosperous and cars, now available in steam, electric, or gasoline versions, were becoming more popular. The years 1899 and 1900 were the high point of electric cars in America, as they outsold all other types of cars. Electric vehicles had many advantages over their competitors in the early 1900s. They did not have the vibration, smell, and noise associated with gasoline cars. Changing gears on gasoline cars was the most difficult part of driving, while electric vehicles did not require gear changes. While steam-powered cars also had no gear shifting, they suffered from long start-up times of up to 45 minutes on cold mornings.
The steam cars had less range before needing water than an electric's range on a single charge. The only good roads of the period were in town, causing most travel to be local commuting, a perfect situation for electric vehicles, since their range was limited. The electric vehicle was the preferred choice of many because it did not require the manual effort to start, as with the hand crank on gasoline vehicles, and there was no wrestling with a gear shifter.
While basic electric cars cost under $1,000, most early electric vehicles were ornate, massive carriages designed for the upper class. They had fancy interiors, with expensive materials, and averaged $3,000 by 1910. Electric vehicles enjoyed success into the 1920s with production peaking in 1912.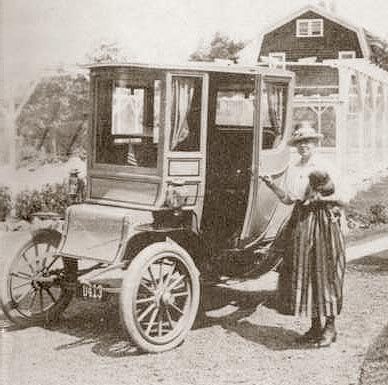 Waverly Brougham - Colonel Mrs Smith
The decline of the electric vehicle was brought about by several major developments:
By the 1920s, America had a better system of roads that now connected cities, bringing with it the need for longer-range vehicles.

The discovery of Texas crude oil reduced the price of gasoline so that it was affordable to the average consumer.

The invention of the electric starter by Charles Kettering in 1912 eliminated the need for the hand crank.

The initiation of mass production of internal combustion engine vehicles by Henry Ford made these vehicles widely available and affordable in the $500 to $1,000 price range. By contrast, the price of the less efficiently produced electric vehicles continued to rise. In 1912, an electric roadster sold for $1,750, while a gasoline car sold for $650.
Thomas Hugh Parker, son of the founder the company, Electric Construction Company (ECC) was a brilliant innovator and inventor. He showed an early interest in powered vehicles and claimed to have had a battery powered car running as early as 1884.
He religiously obeyed the Light Locomotive Act, the red flag law, which lasted until 1896 and set a speed limit of 5m.p.h. on motorised vehicles. Thomas described Wolverhampton, as a hilly town without a single yard of level ground, between his house in Tettenhall and the town centre. During the remaining part of the century he built several other cars, one of which gave over 18 months trouble free service on daily runs to and from Tettenhall, to the works at Bushbury.
Thomas is credited with the design and manufacture of E.C.C.'s most famous car, the 'electric dog-cart', which was built in 1896. Reins were used to steer the vehicle because Mr. A. B. Blackburn, who was works manager, enjoyed horse riding and so the vehicle had to be as similar as possible to a horse-drawn one. The operation of the motor controller was by sliding seat.
EV DECLINE and REBIRTH
Electric vehicles had all but disappeared by 1935. The years following until the 1960s were dead years for electric vehicle development and for use as personal transportation.
The 1960s and 1970s saw a need for alternative fueled vehicles to reduce the problems of exhaust emissions from internal combustion engines and to reduce the dependency on imported foreign crude oil. Many attempts to produce practical electric vehicles occurred during the years from 1960 to the present.
In the early 1960s, the Boyertown Auto Body Works jointly formed the Battronic Truck Company with Smith Delivery Vehicles, Ltd., of England and the Exide Division of the Electric Battery Company. The first Battronic electric truck was delivered to the Potomac Edison Company in 1964. This truck was capable of speeds of 25 mph, a range of 62 miles and a payload of 2,500 pounds.
Battronic worked with General Electric from 1973 to 1983 to produce 175 utility vans for use in the utility industry and to demonstrate the capabilities of battery-powered vehicles. Battronic also developed and produced about 20 passenger buses in the mid 1970s.
Two companies were leaders in electric car production during this time. Sebring-Vanguard produced over 2,000 "CitiCars." These cars had a top speed of 44 mph, a normal cruise speed of 38 mph and a range of 50 to 60 miles.
The other company was Elcar Corporation, which produced the "Elcar". The Elcar had a top speed of 45 mph, a range of 60 miles and cost between $4,000 and $4,500.
In 1975, the United States Postal Service (see top image) purchased 350 electric delivery jeeps from the American Motor Company to be used in a test program. These jeeps had a top speed of 50 mph and a range of 40 miles at a speed of 40 mph. Heating and defrosting were accomplished with a gas heater and the recharge time was 10 hours.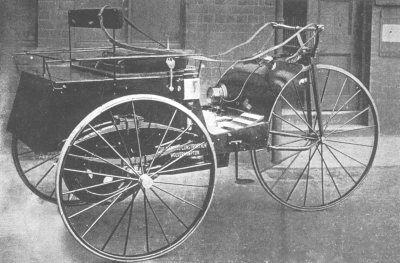 ECC Dog Cart trike - photo Jim Boulton
Several legislative and regulatory actions in the United States and worldwide have renewed electric vehicle development efforts. Primary among these is the U.S. 1990 Clean Air Act Amendment, the U.S. 1992 Energy Policy Act, and regulations issued by the California Air Resources Board (CRAB). In addition to more stringent air emissions requirements and regulations requiring reductions in gasoline use, several states have issued Zero Emission Vehicle requirements.
The "Big Three" automobile manufacturers, and the U.S. Department of Energy, as well as a number of vehicle conversion companies are actively involved in electric vehicle development through the Partnership for a New Generation of Vehicles (PNGV). Electric conversions of familiar gasoline powered vehicles, as well as electric vehicles designed from the ground up, are now available that reach super highway speeds with ranges of 50 to 150 miles between recharging.
Some examples of these vehicles are the Chevrolet S-10 pickup truck (top image), converted by U.S. Electricar and no longer available. It was powered by dual alternating current motors and lead acid batteries. It had a range of about 60 miles and could be recharged in less than 7 hours.
The Geo Metro, converted by Solectria Corp., is an electric-powered 4-passenger sedan powered by an alternating current motor and lead-acid batteries. It has a range of 50 miles, and it can be recharged in less than 8 hours. During the 1994 American Tour de Sol from New York City to Philadelphia, a 1994 Solectria Geo Metro cruised over 200 miles on a single charge using Ovonic nickel metal hydride batteries.
The "Big Three" automobile manufacturers also developed electric vehicles. An early 1990s vehicle was the Ford Ecostar utility van with an alternating current motor and sodium sulfur batteries. The top speed was 70 mph and it had a range of 80 to 100 miles. While about 100 Ecostars were produced, it was considered an R&D vehicle and never offered commercially.
Ford offered an electric version of its Ford Ranger pickup. It had a range of about 65 miles with its lead acid batteries, had a top speed of 75 mph, it accelerated from 0 to 50 mph in 12 seconds, and it had a payload of 700 pounds.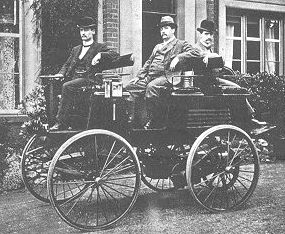 ECC early electric carriage outside the family home
The Manor House, Upper Green, Tettenhall
Thomas Hugh-Parker middle seat
General Motors has designed and developed an electric car from the ground up instead of modifying an existing vehicle. This vehicle, called the EV1, was a 2-passenger sports car powered by a liquid-cooled alternating current motor and lead-acid batteries. The EV1 had a top speed of 80 mph, had a range of 80 miles, and could accelerate from 0 to 50 mph in less than 7 seconds.
In addition to the EV1, General Motors offered an electric vehicle Chevrolet S-10 pickup. This vehicle had a range of 45 miles, it accelerated from 5 to 50 mph in 10 seconds, and it had a payload of 950 pounds.
Other electric vehicles that were available during 1998 included the Toyota RAV4 sport utility, the Honda EV Plus sedan, and the Chrysler EPIC minivan. These three vehicles were all equipped with advanced nickel metal hydride battery packs. Nissan placed limited numbers of their Altra EV station wagons in California fleets during 1998. The Altra was equipped with a lithium-ion battery pack. In addition, both Ford and General Motors during 1998, made the Ranger, the EV1, and the S-10 pickup available with nickel metal hydride battery packs.
While the vehicles in 1998 satisfied the driving requirements of many fleet operators and two car families, the cost of $30,000 to $40,000 (1998) made them expensive. However, this cost was considerably lower when tax credits and incentives were included. Large-volume production and improvements in the production process are expected to reduce prices to the range of current gasoline-powered vehicles.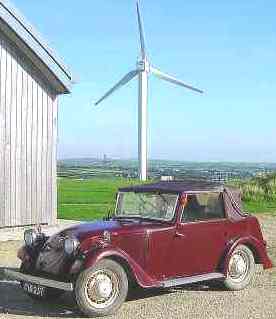 A 1936 electric Wilson - owner Dave Burford BVS
CHRONOLOGY
1834 (yes 1834) Thomas Davenport
1838 Robert Davidson
1851 Charles B. Page
1852-1966 Studebaker
1874 Sir David Salomons
1881-1906 Jeantaud
1888 Fred Kimball
1890-1896 Morrison
1893 William Morrison
1894-1897 Immisch
1895 Volk
1895-1897 Morris & Salom
1895-1899 Bersey
1895-1899 Canadian Motor Syndicate
1896 to present Oldsmobile
1896-1902 Riker
1896-1906 Lohner (Porsche)
1897 Neale
1897 - 1898 Elieson
1897-1898 Barrows
1897-1900 E.M.P.
1897-1900 Headland
1897-1902 Lux
1897-1909 Krieger
1898 Eaton
1898 - 1903 Eisenach
1898-1900 Madelvic
1898-1900 Patin
1898-1902 G.E.C.
1898-1902 Kuhlstein
1898-1903 Jenatzy
1898-1907 Opperman
1899 - 1900 Elecctra
1899 - 1900 Elgin
1899 - 1901 ? Dore
1899-1900 Helvetia
1899-1900 Hub
1899-1900 Kliemt
1899-1900 Schuckert
1899-1901 Averly
1899-1901 Kruse
1899-1901 New England
1899-1901 Scott
1899-1901 U.S. Electric
1899-1902 American Electric
1899-1902 Joel
1899-1902 Munson
1899-1902 Eastman
1899-1903 Maxwerke
1899-1905 Hautier
1899-1906 B.G.S.
1899-1906 Creanche
1899-1906 Henschel
1899-1910 Scheele
1899-1919 Woods
1900 Pfluger
1900 - 1909 Electromotion
1900-1901 Hart
1900-1901 Remington
1900-1901 Strong & Rodgers
1900-1902 California
1900-1902 Solignac
1900-1906 Cardinet
1900-1924 National
1901 Gramme
1901-1902 Bachelle
1901-1902 Thompson
1901-1903 AJAX
1901-1903 Crowdus
1901-1903 Demissine
1901-1904 General Electric
1901-1905 City & Suburban
1901-1906 Buffalo Automobile Company
1901-1912 Phipps-Grinnell
1901-1920 Electromobile
1902 Lefert
1902-1903 Accumulator Industries
1902-1905 Champrobert
1902-1906 Chenhall
1902-1920 Tribelhorn
1902-1934 N.A.G.
1903-1904 Pritchett & Gold
1903-1904 Starr
1903-1905 Ivanhoe
1903-1905 V.E.
1903-1906 Ausonia
1903-1907 Pope-Waverly
1903-1908 Hagen
1903-1908 Regina
1903-1916 Borland
1904 Berwick Auto Car Company
1904 Dinin
1904 Galileo
1904-1906 C.I.E.M.
1904-1908 Synnestvedt
1904-1910 Vedrine
1904-1917 Fritchie
1905 Banker Juvenile Electric
1905 Dora
1905 Provincial
1905-1906 Alexandra
1905-1906 Parsons
1905-1906 Zeddeco

1905-1910 Silvertown


1905-1928 Rauch & Lang

1906 Dynamobile
1906 Hercules
1906-1908 Cloumobil
1906-1908 Lansden
1906-1910 Siemens-Schuckert
1906-1912 Auto-Mixte
1906-1912 Babcock Electric Carriage Co
1906-1913 Stella
1907 American Juvenile Electric
1907-1909 G.E.M.
1907-1913 B.E.F.
1907-1915 Bailey
1907-1938 Detroit Electric
1908 V.A.T.E.
1908-1909 Byrider
1908-1914 Waverly
1909-1914 Ideal
1909-1916 Broc
1909-1918 Thrige
1910-1912 Kimball
1910-1913 Grinnell
1910-1918 Ohio
1910-1923 Geha
1911-1919 Hupp-Yeats
1911-1935 Galt
1912-1913 Church-Field
1912-1913 Fischer
1912-1914 Argo
1912-1915 Flanders
1913-1914 Tiffany
1913-1956 David
1914 GMUR
1914-1918 Columbia
1914-1922 Owen Magnetic
1914-1922 Milburn
1915 Menominee
1915 Storms
1915-1916 Chicago Electric
1915-1917 Beardsley Electric Co
1916 Belmont Electric Auto Company
1920 A.A.A.
1920 - 1924 Electricar
1920 - 1928 Elite-Diamant
1920-1924 S.B.
1921 Automatic
1921 Via
1921-1922 Kaha
1921-1925 Stigler
1922 Chelsea
1922 Omnobil
1922-1924 Alfi
1922-1924 Elektric
1922-1925 Voltor
1924 - 1929 ? D.E.W.
1924-1928 Red Bug
1926-1927 A.E.M.
1928 Parville
1935-1936 Wilson
1936-1939 Bleichert
1937 Auto-Lux
1940-1941 Chapeaux
1941 Revelli
1941 S.A.T.A.M.
1941 - 1943 Electrolette
1941 - 1947 Faure
1941-1942 LeDauphin
1941-1944 Stela
1941-1944 Story
1941-1946 C.G.E.
1942 Internationale
1943 A.F.A.
1943 - 1946 Electro-Renard
1944-1946 C.M.V.
1945 - 1946 Electrociclo
1947-1951 Tama
1948-1949 Paris-Rhone
1950-1960 Fuldamobil
1952 Prince
1952-1957 B.M.A. Hazelcar
1955 Electronic La Saetta
1957 Arbel
1959-1960 Nu-Klea Starlite
1961 - 1976? Electra King
1962-1966 Peel
1964 - 1966 ? Electric Shopper
1965 Marketour
1965 Mobilette
1965 - 1969 ? Electro Master
1969 Enfield
1969 - 1976 (?) EFP - Electric Fuel Propulsion
1970 Autoette
1972 - 1976 Electrosport
1974-1976 Vangaurd CitCar
1977 Braun Elec
1977 - 1979 EVA - Electric Vehicle Associates
1978 EAC
1978 Sears, Roebuck and Company
1978 - 1979 Transformer 1
1978-1987 Comuta-Car and Comuta-Van
1980 Electro-Sport
1985-Present Didik
At the cutting edge of electric vehicle development The Formula EV X-01 comes all the way from Japan where it competes in the Japan EV Club (JEVC). Sponsored by Yokohama tires, the EV racer weighs 1,322 lbs without batteries. The NiMh batteries weigh 582 lbs and come from Panasonic EV Energy. They are wired to produce 237 volts that runs through Café Electric Zilla Z1K-EHV motor controllers to twin Advanced DC Motors XP-1227-A. Total power output for the EV X-01 is 209kW or 284 hp, which can propel the vehicle to speeds around 168 mph.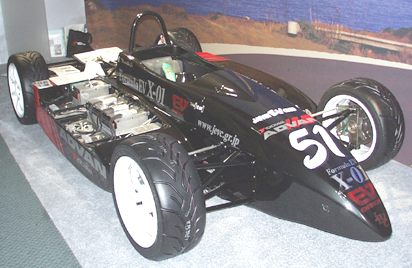 Formula EV X-01
Equally impressive is the technology in the 1000A Zilla liquid-cooled controllers (green cubes) designed and built in the USA by one of electric motorsport's most influential personalities. Electric drag racing today is almost entirely based on Otmar Ebenhoech's Zilla controllers. Some say you either run a Zilla, something custom, or you're just not competitive!
---
LINKS:
See also "http://www.driveclean.ca.gov/" for an official California site on ZEVs and PZEVs.
A page on this site, "http://www.driveclean.ca" will also list the available cars in various categories, especially informative if you are looking for an electrically powered city car (that page has no entries).
EV NEWS STORIES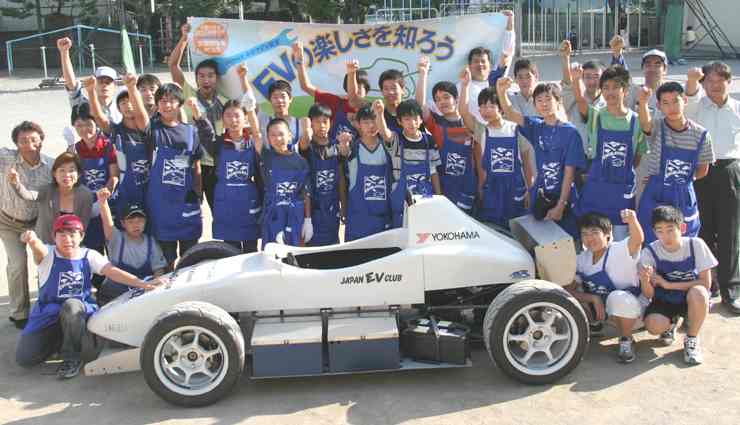 The EV Club of Japan
HybridCars.com - includes articles on hybrid electric cars and their impact on the environment.
Howstuffworks: How Hybrid Cars Work - features an illustrated description of the parallel hybrid powertrain of the Toyota Prius.
FutureTruck - information about the competition which challenges students to modify SUVs into fuel-efficient hybrid-electric vehicles.
GreenHybrid.com - hybrid electric vehicle resource offering forums, articles, car comparisons, and performance statistics.
Care2.com: Hybrid Cars - gives an overview of how hybrid cars work.
UC Davis Hybrid Electric Vehicle Research Program - advanced Hybrid Vehicle research group.
Eartheasy: Hybrid Cars - contains news and information about the various hybrid cars in production as well as upcoming developments.
National Renewable Energy Laboratory (NREL): Hybrid Electric and Fuel Cell Vehicles - works toward developing hybrid electric vehicles (HEVs) and fuel cell vehicles (FCVs) with an eye towards moving them from research and development to the marketplace.
Wikipedia: Hybrid Car - overview including the history, technology, types, and perks of automobiles powered by internal combustion engines, electric motors, and battery rechargers.
California State University, Chico - Advanced Vehicle Research & Development - students designed and built a hybrid electric car.
Energy Quest: Hybrid Vehicles - short summary of the new type of cars that save energy.
MSN Money: Hybrid Cars - helps you decide whether purchasing a hybrid vehicle is the right choice for you over traditional combustion engine cars. Contains information and pricing on current models, the tax advantages of buying, and more.
Wired News: Hybrid Mileage Comes Up Short - hyperlinked article that examines the shortcomings of hybrid vehicles.
All About Hybrid Cars - offers a hybrid car buyer's guide ebook as well as model comparisons, related news articles, FAQs, and a directory of web resources.
Electromotive Hybrid Electric Development - introduces the Electromotive Strategic Power Assist Hybrid System.
Hybrid Car Information - offering hybrid electric car news and a guide to current and future hybrid models.
U.S. Department of Energy: Hybrid Electric Vehicles - contains information about HEV benefits, availability, maintenance, and history.
Hybrid-Cars-Guide.com - offers advice on choosing hybrid cars and information on hybrid vehicle technologies.
---