This is one of the strangest EV's we've ever covered. Nevertheless, it is one. This DIY Dalek uses a 12-24volt DC motor, powered by 50 nickel cadmium batteries wired as 5 12v banks.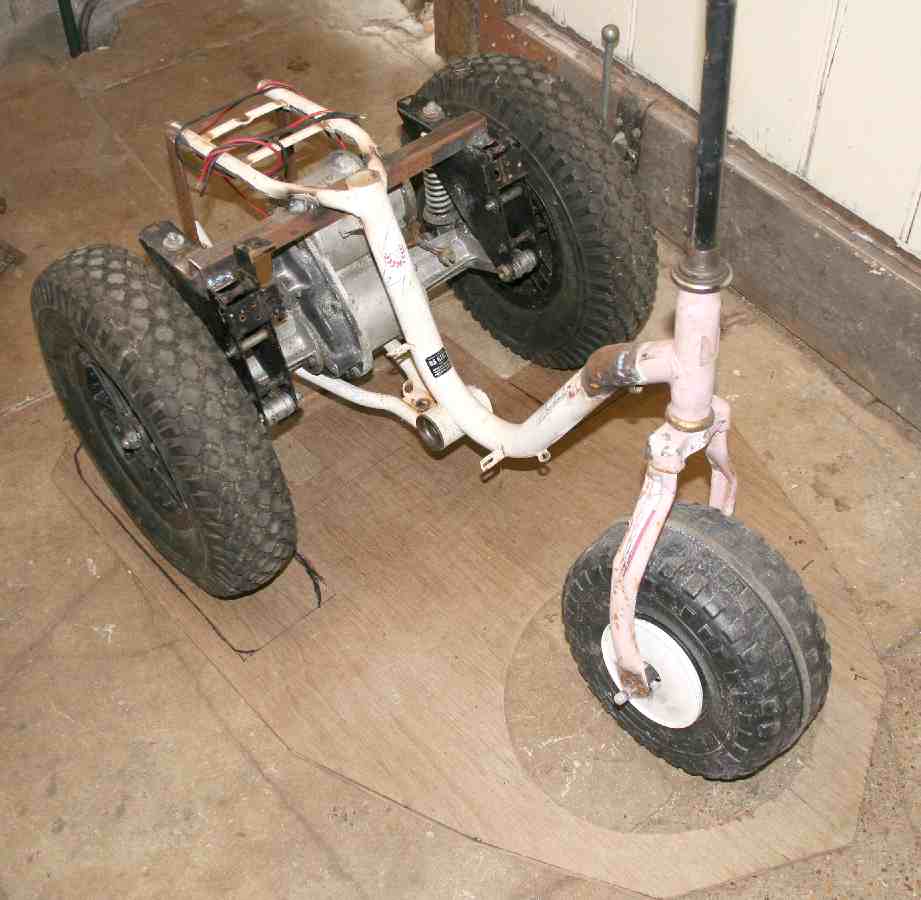 Bicycle to electric tricycle
This working full scale model is based on a junior bike, shortened, with the handlebars replaced by a joystick. An electric motor axle unit is welded to the bike frame to form a trike. You can see the base for the Dalek's body cut from 10mm plywood.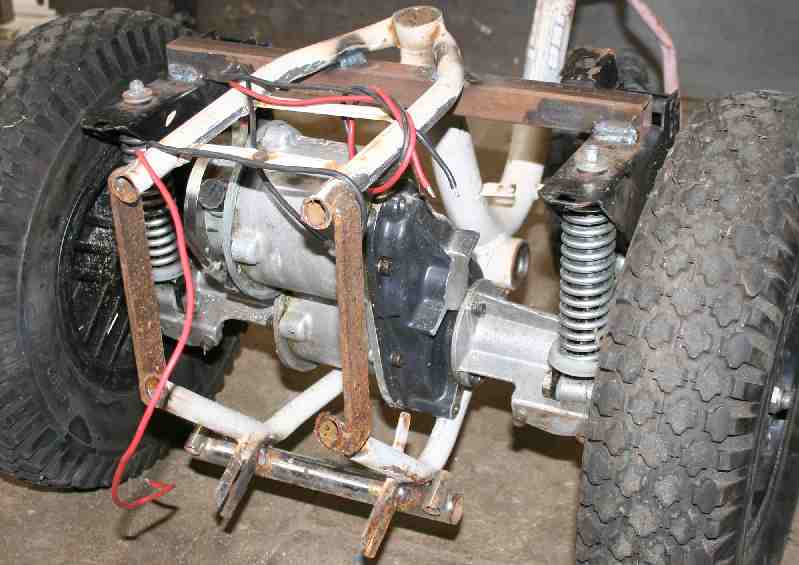 Dalek motor and rear axle
This is what happens after watching the new Dr Who series, with time on your hands. If you've got a workshop and a youngster keen on Daleks - why not. A Seven year old helped to make this DIY Dalek at weekends and very much enjoyed the experience - while also learning some valuable practical skills and that if you want to do something and try hard enough, you can succeed. The skills learned are: 1) Welding 2) woodworking 3) electrical wiring 4) drawing to scale.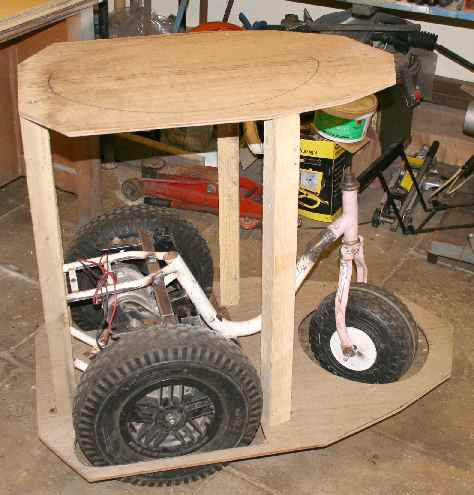 Plywood body formers bolted to trike frame
The wheels fit through slots in the plywood, which is then bolted to the trike's frame. We hope it will not be too difficult to attach the remaining bodywork and that many youngsters will enjoy driving the Dalek with some precision.
The sides of this Dalek were cut from cardboard. When complete, each side will be staled to the plywood frames and painted.
Daleks Invasion Earth 2150 AD
It is important to make sure you can drive your Dalek. Hence, try the vehicle for size at every stage to be sure it works and is comfortable.
More to come....................................body forming .................... we hope to show you the completed Dalek soon ......................
Dalek movie trailer
LINKS:
Cast and Crew list, on the BBC website
Photonovel of episode 2 of The Daleks' Master Plan on the BBC website
Project Dalek (http://www.projectdalek.co.uk/) - build your own Dalek
Dalek 6388 (http://www.dalek6388.co.uk/) - about the various Dalek props built for the series
Science fiction citations - Oxford English Dictionary citation of "dalek"
Dalek Links - the Web's most comprehensive listing of Dalek Web sites
Project Dalek - build your own Dalek
Dalek City - Dalek Building guides
Dalek 6388 - about the various Dalek props built for the series
Doctor Who Collectibles: An Annotated Bibliography
The Last Dalek - Flash game by New Media Collective, on the BBC website
Dalek 3D Resource - General information and 3D models
---
A taste for adventure capitalists

Solar Cola - a healthier alternative