Electric Racers: Ultra-Efficient and Fun

Five streamlined electric cars powered by just 1 hp break 50 mph speed barrier
Five streamlined electric race carsset new levels of "Extreme Efficiency"during the Electrathon National Speed Trials on October30/31, 2006 at New Hampshire International Speedway. Each car broke the existing record by covering more than 50 miles in one hour using less than a kilowatt/hour of electricity....the power of a small hair dryer. Measured in automotive terms, they reached the equivalent of 1500 MPG while traveling at highway speeds.
With a field of competitors that included the fastest teams from Hawaii, the West Coast, the Midwest and New England, it is not surprising that new records were set in the High School, College and Open divisions.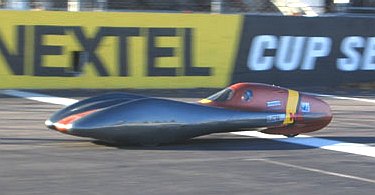 Michael Lewis drives his Open Class electric car Team Electrolite to a new world speed record using less energy than an average hair dryer. Four other electrathon racers also broke the 50 mph barrier, traveling 50 miles in one hour on less than 1000 watts.
Under the supervision of instructor John MacDonald, Mount Blue High School, Farmington, ME upheld their claim to the National High School division record again this year. Driver Alex Prentiss took the team to 50.15 miles in one hour.
Freshman Bradlee Meyers of Iowa Central Community College, Fort Doge, IA drove a car of his own design to a new record of 49.15 miles for the College division.
The highest speeds overall were reached in the Open division, with Team Electrolite of Portland, ME setting the pace at 53.16 miles in the hour. Crediting the extremely small and aerodynamic design of his vehicle, driver Michael Lewis was able to accomplish this with a mere 952.8 watt/hours.
Tension was high as all the teams knew that everything had to be done perfectly to achieve this level of performance - months of effort went into the design and construction of these exotic machines. In a style referred to as 'passive-aggressive', the drivers wrestled the highest possible speed from the lowest possible effort.
Electrathon is a national competition for lightweight, high efficiency electric vehicles. Power is limited to 67 lbs. of production lead acid batteries, which amounts to a little more than one horsepower over the hour. The rules are simple enough to allow a wide variety of creative designs, and although it's open to everyone, most of the competitors are school teams because the sport offers an affordable test of imagination, skill, discipline and teamwork. And, striving to foster an ethic of efficiency, it promotes the development of alternative energy transportation in compelling style.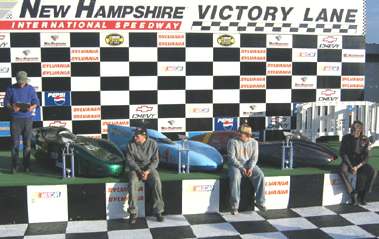 High School, College and Open Division winners. Author is on far right.
The National Speed Trials are supported by the Maine Department of Environmental Protection, Maine Energy Education Program, Patrons Oxford Insurance, Chewonki Pathways, and the many schools, businesses and organizations that support Electrathon teams across the country, and are made possible by the owners and staff of New Hampshire International Speedway.
more info at: www.electrathonnewengland.org and www.electrathonamerica.org
Solar Cola drinkers communicate ......

330ml Earth can - the World in Your Hand