Born in London in 1917, Vera Lynn started her singing career as a young girl and became one of the most famous voices of World War II. She hosted a BBC radio show called "Sincerely Yours" from 1939, and her morale-boosting songs were a favourite among all British servicemen. Vera's most popular song was "We'll Meet Again", however she also put Dover firmly on the cultural map with her spirit-lifting ballad "There'll be Blue Birds over the White Cliffs of Dover", a song which is known the world over. In 1976, Vera Lynn was made a Dame.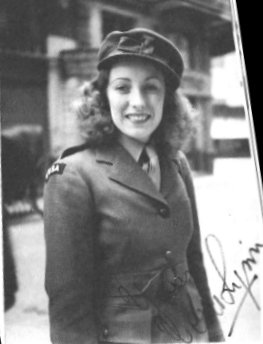 The 100-metre high White Cliffs of Dover require no introduction. These icons of England have been the sign of home for travellers over the centuries, immortalised during the Second World War in Dame Vera Lynn's song 'There'll be Blue Birds over the White Cliffs of Dover'. Both Shakespeare and Wordsworth wrote about the cliffs, their beauty and their role in the nation's identity.
There'll be blue birds over
The white cliffs of Dover,
Tomorrow, just you wait and see.
There'll be love and laughter
And peace ever after
Tomorrow, when the world is free.
The shepherd will tend his sheep,
The valley will bloom again
And Jimmy will go to sleep,
In his own little room again.
There'll be blue birds over
The white cliffs of Dover,
Tomorrow, just you wait and see.
Words - Nat Burton
Melody - Walter Kent
Published - 1941
The White Cliffs of Dover. Click below to hear the song recorded by Jimmy Dorsey and his Orchestra 1942.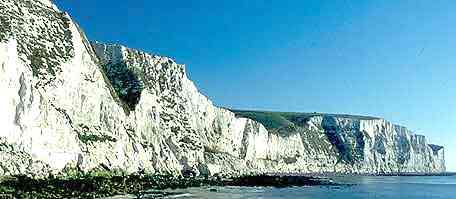 The famous white cliffs of Dover
The White Cliffs look better from a distance. Indeed, the greater the distance the better it would seem. Nat Burton, the lyricist of their most celebrated song, who improbably put 'blue birds over the white cliffs of Dover', was an American who had not been within 3,000 miles of the place. But reality never bothered a good myth. The cliffs loom larger, whiter, and sturdier in the imagination than they do in fact.
'(There`ll Be Bluebirds Over) The White Cliffs of Dover' is one of the most famous of all the World War II era pop classics. It became a sensational hit in 1942, as it reflected the feelings of all the Allies towards the British people in their brave fight against Hitler. Originally released in the U.S. by bandleader Kay Kyser, four other artists also hit the top 20 with this song that year: Glenn Miller, Sammy Kaye, Jimmy Dorsey and Kate Smith. The most well known version of the song on this side of the Atlantic is probably the one recorded by Vera Lynn in 1942. Other artists who`ve recorded this standard include: Connie Francis, Bing Crosby, Jim Reeves, and The Righteous Brothers. In June 1995 Robson and Jerome's version went to No. 1 in the UK in a medley with "Unchained Melody".
Vera Lynn started to sing by Joe Loss, but started her real career by Charlie Kunz. In her autobiography she said: "After a few weeks after my radio broadcastings with Charlie Kunz, I made also a few records with the Casani Club-orchestra directed by Charlie. The first one "I'm in the mood for love", a beautiful song of Jimmy McHugh and Dorothy Fields from the movie called "Every Night at Eight" (1935). It was not a top hit, but it stays a evergreen".

This record was her first commercial record. In the beginning of 1935 she made her first non-commercial record with the orchestra-Howard Baker on the Tele-disk label. A label that made records for private persons. You couldn't buy them in record shops.

She said too: "Charlie Kunz was a friendly shy person. In spite of his popularity in those days, he was really shy. Charlie was a nice person to work with".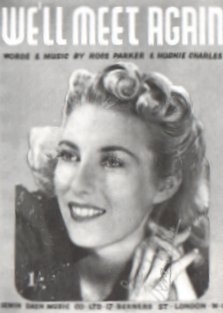 Vera Lynn, the 'Forces Sweetheart'
Her most famous song must be "We'll meet again", which was written by Ross Parker and Hughie Charles in 1939 and sung in the movie of the same name, in which Vera starred in 1942. She first sang the song in 1939 while touring with the Ambrose Orchestra. The movie was produced by Ben Henry and his associate, George Formby, pictured on the right. George was a singer and movie actor and comedian in his own right.
Vera Lynn made two more movies, Rhythm Serenade (1943) and One Exciting Night (1944). While the first movie was basically her own lifestory, of a dancer who becomes a radio star, in Rhythm Serenade she played the 'girl next door' in a comedy, while One Exciting Night sees her in a dramatic role about art thieves. She sings in all three films.
In 1989, together with Robin Cross and Jenny de Cress, Dame Vera Lynn published a 'personal and social history of World War Two' (softback 1994, ISBN 0-283-06233-9), from which these pictures and some quotes have been taken. The book may be a bit hard to find, try Amazon UK.
We'll Meet Again
We'll meet again,
Don't know where,
Don't know when,
But I know
We'll meet again
Some sunny day.
Keep smiling through
Just like you
Always do
Till the blue skies
Drive the dark clouds
Far away.
So will you please
Say hello
To the folks
That I know
Tell them,
I won't be long.
They'll be happy to know
That as you saw me go
I was singing this song.
The audio file downloading will take some time (about 300 k) The song was featured on the Pink Floyd LP "Another Brick in the Wall". If you can't hear the embedded .wav file please click here, or to listen to a midi version click here.
DAME VERA LYNN'S DIAMOND DAY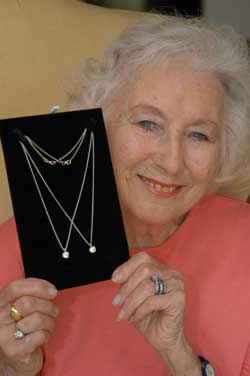 SECOND WORLD WAR forces sweetheart Dame Vera Lynn helped the Army Benevolent Fund (ABF) promote its latest fundraising event by modelling a specially commissioned diamond necklace that must be won.
To mark D-Day and the ABF's 60th anniversary, two specially commissioned diamond necklaces worth £10,000 each will be won by two lucky people who attend "Music on Fire!" the ABF's latest fund raising event to be held at the Royal Military Academy, Sandhurst on the 9th and 10th July.
Produced by Major Sir Michael Parker KCVO CBE who organised HM The Queen's Golden Jubilee Celebrations outside Buckingham Palace, "Music on Fire!" is his latest event, which he says will be the "Greatest Show of Them All."

Using the special effects, techniques, projections and fireworks perfected for the Golden Jubilee celebrations at Buckingham Palace, "Music on Fire!" will be an awe inspiring musical extravaganza that will take the audience on a melodic and magical journey through the "20th Century" – "A Century on Fire", nearly finishing with the "Apocalypse" and Armageddon!" However Sir Michael says it will include some more fun things in between!
The one carat diamonds are fully certified and have been donated by an anonymous benefactor and tickets will be sold at the event on both nights.
The Army Benevolent Fund, the Army's National Charity, was founded in 1944 shortly after D-Day when it provided support for the 4.5 million men and women who had served their country during the Second World War as they returned to civilian life. Its objective in its 60th year is to raise the profile of the organisation, as well as raise much needed funds in order to continue providing assistance to serving and retired members of the Army.
Today the Fund remains strongly committed to the welfare of soldiers, former soldiers and their families, providing substantial grants to those in times of real need. Last year it helped more than 150,000 people.
Although those for whom the Army Benevolent Fund was originally set up for are getting older, there are still more than 300,000 war widows and pensioners eligible for assistance from the Fund.
---
Bertelsmann | SonyBMG | BMG Strategic Marketing Group | BMG Music Service | CDNow
bertelsmann.com | click2music.com | sonybmg.com