What activities are eligible for assistance and funding?
Venture capital and private equity providers generally seek:
companies with high growth potential

companies which have a product or service with a competitive edge or unique selling point

management teams with relevant industry experience

management teams with a clear team leader, that are ambitious to grow their company rapidly

companies that are willing to welcome a new shareholder in the form of a venture capital investor as a future partner.
For companies seeking funding, the BVCA provides a range of literature that can be downloaded from its web site. Some publications may incur a charge.
Services
Membership Directory

Research

Publications

Events
What services and support does BVCA provide?
The membership of the BVCA comprises venture capital and private equity companies active in making equity investments, primarily in unquoted companies, professional firms (including accountants, lawyers and consultants advising on venture capital transactions) or organisations that invest in venture capital as a minor part of their overall activities.
Companies seeking finance and financial advice can search the BVCA Directory of Members on-line at www.bvca.co.uk/, using the following criteria: amount of finance sought, type of investment (start-up, expansion, bridge finance, management buy-outs etc.), industry sector (one of which is energy) and geographical location. The search facility will then return contact details of venture capital and private equity providers that match the criteria entered.
Publications
BVCA publishes a range of documents on sources of private equity, venture and Business Angel capital. These include "A Guide to Venture Capital" and "Sources of Business Angel Capital". These can be searched on, or downloaded from the publications section of the BVCA web site. BVCA research reports are also available, but these will incur a charge to non-members. Some are accessible to BVCA members only.
Membership
Membership of BVCA includes access to an extensive training programme, unlimited publications including those produced solely for the membership and offers the chance to be included in industry research.
What are the application procedures?
Membership criteria can be downloaded in PDF format at
www.bvca.co.uk/publications/membership/memcrit.pdf
Contact details
BVCA
British Venture Capital Association
Essex House
12-13 Essex Street
London
WC2R 3AA
Tel: 020 7240 3846
Fax: 020 7240 3849
E-mail: bvca@bvca.co.uk
Web site: http://www.bvca.co.uk/
MONEY FINDER
---
SOLAR COLA as an INVESTMENT OPPORTUNITY?
The soft drinks market is a tough place to do business, unless you have something different to offer and the marketing muscle to match.
For nearly 100 years Coca Cola and Pepsi Cola have dominated the marketplace with similar products. Each company spends around $600-800 million dollars a year to maintain its market position. The advertising centers around sport and music, with a scattering of irregular television campaigns. Each company launches (or attempts to launch) new brands every year. So far, they have not proved as successful as their regular cola brands.
Red Bull, although in a different drinks category, spends not quite as much on advertising , but has managed to acquire instant status and volume sales from sponsoring formula one, the Darpa Desert Challenge, and now the New Jersey MetroStars football team.
Solar Cola, apart from it's contemporary name, is a healthier cola based drink. Just as refreshing, it contains a unique blend of added ingredients as an aid to good health and energy levels. The company contributes to and sponsors alternative projects, to include this website, featuring movies, music and several thousand pages of general information, which generates in excess of 3 million visits a month already. Recent acquisitions include the rights to the Solar Navigator World Electric Challenge, and also the new Bluebird Electric land speed record car for 2007. The company may also sponsor the London to Brighton Solar Car Run in 2008 (dependent on the number of university entries received).
It is thought that this marketing strategy will equal several hundred thousand dollars of conventional Ad Agency spending. As an example of the kind of media coverage such nautical antics generate, you have only to look at the newspapers when Ellen Macarthur completed her world circumnavigation. The same holds true for Sir Francis Chichester and Sir Robin Knox-Johnston.
The design of the Solar Cola can is copyright protected, with trademark applications in the USA, Australia and Europe pending in Class 32 and granted rights in the UK. Introduction of the drink is held in abeyance pending official launch of one or other sponsored projects, which will be activated when the time is right, such activation to coincide with the market introduction of the drink.
Solar Cola PLC is shortly to be activated for online investment as their trading arm. The company is forecast to produce excellent results for investors, with sustained growth to be followed by an eventual flotation on the Stock Markets of the world in the next few years. At this point estimates suggest investors will reap substantial gains - in line with international Licensing expectations.
Solar Cola Ltd is managing the funding requirement for the trading company. They are looking for medium term or seed investment between £4-5 million to kick start phase two of the venture.
If you are a Business Angel, or Equity House, looking for an opportunity with the potential for good returns, please contact SOLAR COLA LTD for details. Please ask for the funding project manager: Nelson Kruschandl
+ 44 (0) 1323 831727
+44 (0) 7905 147709

This material and any views expressed herein are provided for information purposes only and should not be construed in any way as an endorsement or inducement to invest in any specific program. Before investing in any program, you must obtain, read and examine thoroughly its disclosure document or offering memorandum.
---
A taste for adventure capitalists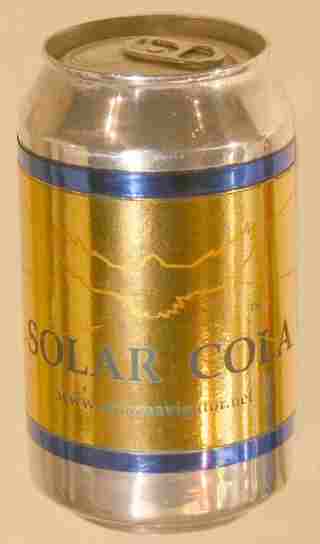 Solar Cola - a healthier alternative