Branson's next venture… Virgin Fuel! - Monday, July 31st, 2006
Richard Branson dominates the world with the Virgin Brand, with business ventures on 6 of our 7 continents. It's hardly surprising that Branson is now making an entrance into the alternative fuel sector. He is set to invest around $1billion into research and development of a new type of alternative fuel, along with opening ethanol plants and solar power stations.
The Virgin air network uses over 700 million gallons of fuel each year, Branson stated:
"I hope that over the next 5 to 6 years we can replace some or all of that (with ethanol)."
Most people either love him or loathe him, and even if you feel that Virgin Fuel is another money grabbing venture for Virgin, you have to praise his efforts for tackling our global warming problem.
Jane Says - July 31st, 2006 at 11:48 am
I'm really pleased that such a big player is taking such a large step towards positive action. It's only through someone such as this taking the lead, someone who consumes so much fuel, that advances will be made, people will listen and costs will reduce. When that happens, the catch-22 situation will be positive, not negative - lower prices, more users, more development and on goes the loop.
We are waiting to see how this idea develops, or whether it was just a bit of spin for some free publicity. Come on Richard - we're all behind this one!
Sir Richard Branson
In a recent interview Sir Richard was asked: "did he ever let his heart rule head." He replied: "All the time - I think that unless you do, you're not going to be a very good business person. The only really good reason for doing things in business is based on what your heart tells you, not your head."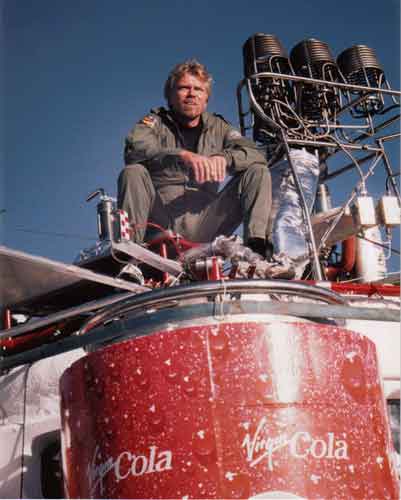 Richard sitting astride a giant Virgin Cola branded propane tank
part of the Virgin Global Flyer balloon in Marrakech, Morocco in 1997
Branson has been tagged as a 'transformational leader' by management lexicon, with his maverick strategies and his stress on the Virgin Group as an organization driven on informality and information, one that's bottom heavy rather than strangled by top-level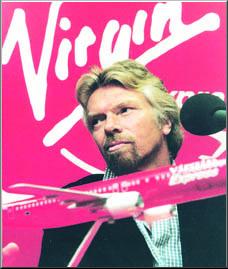 LINKS and REFERENCE
---
A taste for adventure capitalists
Solar Cola - Better for you, good for the Planet