New series of the motoring magazine, featuring test-drives and profiles. Mike Brewer and Mike Rutherford pit the Range Rover Sport and Porsche Cayenne against each other, before explaining how to adapt car stereos to play MP3 tracks. Plus, a preview of the latest soft-road model from Skoda
If you think your car is just for getting you from a to b, think again. A new report conducted by Teletext Cars reveals that a third of UK drivers believe the right model of car has the ability to make the owner more sexy.
And what's more, an astonishing 15% of respondents have been put off someone simply by the car they drive. According to the survey, the top five cars guaranteed to give a driver the most sex appeal are:
Traditional sporty models, e.g. Jaguar E-type: 45%
High performance cars, e.g. Porsche 911: 39%
Vintage cars, e.g. Rolls Royce Silver Ghost: 16%
Company directors' cars, e.g. Jaguar XJ: 12%
Cult cars, e.g. Beetle: 12%





The top five cars guaranteed to give a driver the most sex appeal are:

'Sport' car, e.g. Jaguar E-type (45%)
'High performance' car, e.g. Porsche 911 (39%)
'Vintage' car, e.g. Rolls Royce Silver Ghost (16%)
'Statesman's' car, e.g. Jaguar XJ (12%)
'Cult' car, e.g. Beetle, Spitfire (12%)

The car with the least sex appeal is the people carrier, although strangely 1% did think it was the sexiest car available!

It seems that UK drivers have been up to a lot more than just driving in their cars. The report reveals that 42% of us think a quiet country lane is the best place for 'getting frisky on the back seat', followed closely by dense forests for shy types and lay-bys for real exhibitionists!

7% have been so in the mood for love that they haven't even waited to get through the front door, instead seizing the moment in a car parked in the driveway. The research shows that it's men who prefer to be amorous in a car - 72% compared to 59% of women.

ITV's Mike Brewer and Simon Sikorski from Teletext Cars join us live online at www.webchats.tv on Monday 18th July from 1400 - 1500 to talk about our changing perceptions and attitudes towards our cars in the UK.

---
Ex-car trader Mike Brewer has spent most of his 38 years selling thousands of motor vehicles and is perhaps best known as the star of Channel 4's second-hand car show Deals On Wheels and the top-rated motoring programme Driven.

2004 saw Mike present his first ITV show, Wrecks To Riches, where his challenge was to start with £300 and end up with a new car that a viewer at home could then win. Not only did Mike rise to the challenge but with regular viewers double the average for it's slot and winning the prestigious RTS Best Presenter Award Mike couldn't have been happier with the show.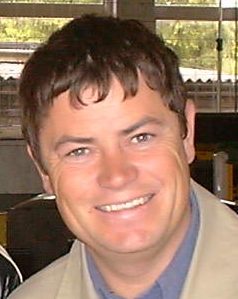 Mike Brewer

Mike has been seen presenting several specials for Channel 4 including Driven at Le Mans. He also presented The British Rally Championships for Channel 4 Sports at all the meetings around the country for the third year running. 2004 was the last year that Channel 4 hosted these meets but The Rally looks set to return on 2005 on another commercial station.

The baby of six, Mike had a South London upbringing and eventually the family settled down in Surrey where, during school holidays, you could hear Mike shouting as he was selling fruit 'n' veg on a stall. Mike got into the motor trade in his late teens and quickly built a reputation for being sharp and honest. Mike set up and ran the biggest 4×4 centre in the south of England importing cars from around the globe. Mike embarked on his television career through pure luck. He answered a friend's telephone and discovered he was talking to a television producer. A long chat and a few anecdotes ensued and he was hired for the first series of Deals On Wheels. His success in this role led him into the presenter's position on Driven.

Last year Mike presented the final series of Driven for Channel 4 (over 100 episodes in total) but also branched out and recorded several other programmes for the Discovery Channel.

Mike had so much fun fronting a series about celebrities and their gadgets, called He's Gotta Have It, for Discovery channel that he was thrilled when the second series was commissioned. Mike also presented a new 10 part motoring series called Wheeler Dealers, which had massive success. The second series of Wheeler Dealers is currently airing on The Discovery Channel and the third series is planned for 2005. The series has been so successful that a box set of the shows is available on DVD in the shops and on various websites.

Mike has also had his own format commissioned. Called Remote Madness it was shown on the Discovery Channel last year and has been sold to several countries. It was great fun to make and was Mike's first pure entertainment show that he hosted. The objective of the game show was a simple race. Only the race was conducted by radio-controlled craft racing each other over obstacles.

Mike was also thrilled to be asked to present Channel Four's flagship programme about overcoming disability in Britain called Celebrity Wheelchair Challenge. Mike oversaw Gaby Roslin, Tanya Strecker and Sean Hughes to travel from Edinburgh to London in a wheelchair. This was a pioneering show, which attracted huge ratings for Channel Four, and it was a departure from the type of programme he normally presents.

Mike also branched out in 2004 co-hosting a property programme for ITV called House Race Challenge. It involved the teams of punters building their own new home in Birmingham City Centre in just 7 days! Needless to say, it was one of the hardest jobs to oversee in television, but also one of the most fun.

2005 looks like being a busy year for Mike with Wheeler Dealers and The British Rally re-commissioned and various new projects in the pipeline.

Several other ventures, like www.wheelerdealer.com, keep Mike on his toes because they put the motoring knowledge of Mike Brewer within the public's reach together with Mike's weekly and monthly columns for Esquire and Auto-Express.

Formula 1, computers and 'toys for boys' vie for a place in Brewer's heart, and beside his passion for cars he is also a keen flyer of model helicopters, for which he has won awards. He is the current holder of the British 24hr endurance record. Mike is also a keen motor bike rider and enthusiast and loves property development.

He lives in Oxford with his Wife Michelle, their daughter Chloe and their two dogs.

---

Winner 2004 Royal Television Society (RTS) Award: Best Presenter

Deals on Wheels, 6 series for Channel 4 between, 1997 – 2002

Driven, 8 series for Channel 4 between, 1998 – 2003

Wrecks To Riches, 1 series for ITV. Winner of RTS Best Presenter, 2004

British Rally Championship 4 seasons for Channel 4 2002 – 2004

Celebrity Wheelchair Challenge for Channel 4 2002

He's Gotta Have It, 2 series for Discovery Europe 2002 – 2003

Wheeler Dealers 2 series for Discovery Europe 2003 – 2004 (3rd Series in 2005)

Remote Madness, 1 series for Discovery Europe 2002

Columnist Autoexpress 2000 – current

Columnist Esquire 2000 – current
---