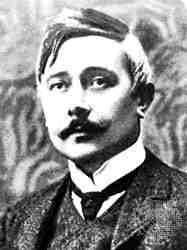 Maurice Maeterlinck 1862 - 1949
MAURICE POLYDORE-MARIE-BERNARD MAETERLINCK, also called (from 1932) COUNT (comte) MAETERLINCK (b. Aug. 29, 1862, Ghent, Belg.--d. May 6, 1949, Nice, France), was a Belgian Symbolist poet, playwright, and essayist whose dramas are the outstanding works of the Symbolist theatre. Maeterlinck was awarded the Nobel Prize for Literature in 1911. He wrote in French and looked mainly to French literary movements for inspiration.
Belgian playwright and poet who was awarded in 1911 the Nobel Prize for Literature. Maeterlink was closely associated with the French literary movement called symbolism, which used symbols to represent ideas and emotions. Among Maeterlinck's most famous plays is The Blue Bird (1908), a fairy tale with the theme of the search of happiness.
"Indeed, it is not in the actions but in the words that are found the beauty and greatness of tragedies that are truly beautiful and great; and this not solely in the words that accompany and explain the action, for there must perforce be another dialogue besides the one which is superficially necessary. And indeed the only words that count in the play are those that at first seemed useless, for it is therein that the essence lies. Side by side with the necessary dialogue will you almost always find another dialogue that seems superfluous; but examine it carefully, and it will be borne home to you that this is the only one that the soul can listen to profoundly, for here alone is it the soul that is being addressed." (from 'The Tragical in Daily Life' by Maurice Maeterlinck in The Treasure of the Humble, 1916)
Maurice Maeterlinck was born in Ghet, Belgium, into a prosperous family of francophone and Catholic tradition. His father, Polydore Maeterlinck, was a retired notary and a small land owner. His mother, Mathilde (Van den Bossche) Maeterlinck, was the daughter of an affluent lawyer. Maeterlick attended the Jesuit Collège de Ste.-Barge and became interested in poetry in his youth. However, his family objected to their son's trifling with poetry and he was sent to study law at the University of Ghent.
At the age of 21 Maeterlinck published his first poem, 'The Rushes.' After graduating in 1885 Maeterlinck continued his studies in Paris. There he met the symbolist poets Stéphane Mallarmé and Villiers de l'Isle-Adam, who was much interested in occultism. Maeterlinck himself published a translation of Jan van Ruysbroeck L'Ornement des noces spirituelles. After returning to Ghent Maeterlinck practiced law and continued his writing. In 1899 Maeterlinck produced his first volume of verse, LES CHERRES CHAUDES (Hot House Blooms), full of fin-de-siècle mysterious images. His first play, LA PRINCESSE MALEINE, was set in an unreal Flanders in an undetermined time. In the1890s he wrote several symbolist plays, among them PELLÉAS ET MÉLISANDE, later produced with musical setting by Claude Debussy. Maeterlinck was furious when Georgette Leblanc was replaced in the opera by the American Mary Garden, and he wished the production will fail. Debussy's opera was crushed in 1902 by critics but four years later it gained a huge success and was praised among others by the writer Romain Rolland. In the tragic story of lovers, Maeterlinck used dark stage sets and haunting sound effects to create an emotional response from the audience. The Finnish composer Jean Sibelius also wrote music for the story.
"It is always a mistake not to close one's eyes, whether to forgive or to look better into oneself." (from Pelléas at Mélisande, 1892)
During the summers, Maeterlinck lived quietly at Oostacher, his family's country home, and returned to Ghent for the rest of the year. In 1895 Maeterlinck met Georgette Leblanc, an actress and opera singer. She was unable to get a divorce from her Spanish husband, but they lived together for the next twenty-three years. At that time Maeterlinck started to take a more realistic approach to his subjects, leaving certain melodramatic aspects of symbolism. He wrote for her several plays: AGLAVAINE ET SÉLYSETTE (1896), ARIADNE ET BARBEBLEUE (1901), MONNA VANNA (1902), a historical drama set in the quattrocento, and JOYZELLE (1903), about victorious love. In 1896 he moved with Leblanc from Ghet to Paris. Leblanc took the leading role in most of Maeterlinck's plays and she also prepared The Children's Blue Bird.
Maeterlinck studied law at the University of Ghent and was admitted to the bar in that city in 1886. In Paris in 1885-86 he met Villiers de L'Isle-Adam and the leaders of the Symbolist movement, and he soon abandoned law for literature. His first verse collection, Serres chaudes ("Hot House Blooms"), and his first play, La Princesse Maleine, were published in 1899. Maeterlinck made his greatest impact in the theatre. His Pelléas et Mélisande (1892), produced in Paris at the avant-garde Théâtre de l'Oeuvre by the director Aurélien-Marie Lugné-Poë, is the unquestioned masterpiece of Symbolist drama and provided the basis for an opera (1902) by Claude Debussy. Set in a nebulous, fairy-tale past, the play conveys a mood of hopeless melancholy and doom in its story of the destructive passion of Princess Mélisande, who falls in love with her husband's younger brother, Pelléas. Though written in prose, Pelléas et Mélisande may be considered the most accomplished of all 19th-century attempts at poetic drama.
Maeterlinck wrote many other plays, including historical dramas such as Monna Vanna (1902). Gradually, he tempered the influence of Symbolism by his interest in English drama, especially William Shakespeare and the Jacobeans. Only L'Oiseau bleu (1908; The Blue Bird) rivaled Pelléas et Mélisande in popularity. An allegorical fantasy conceived as a play for children, it portrays a search for happiness in the world. First performed by the Moscow Art Theatre (1908), this somewhat sentimental dramatic parable was highly regarded for a time, but its charm has evaporated, and the optimism of the play now seems facile. Maeterlinck's Le Bourgmestre de Stilmonde (1918; The Burgomaster of Stilmonde), a patriotic play in which he explores the problems of Flanders under the wartime rule of an unprincipled German officer, briefly enjoyed a great reputation.
In his Symbolist plays Maeterlinck uses poetic speech, gesture, lighting, setting, and ritual to create symbolic images that exteriorize his protagonists' moods and dilemmas. Often the protagonists are waiting for something mysterious and fearful that will destroy them. The profound and moving atmosphere of the plays, though lacking in intellectual complexity, is served by dialogue that is tentative, based on half-formed suggestions, at times naively repetitious, and occasionally sentimental, but sometimes possessed of great subtlety and power. Maeterlinck's plays have been widely translated, and no Belgian dramatist had greater effect on worldwide audiences.
Maeterlinck's prose writings are remarkable blends of mysticism, occultism, and interest in the world of nature. They represent the common Symbolist reaction against materialism, science, and mechanization and are concerned with such questions as the immortality of the soul, the nature of death, and the attainment of wisdom. Maeterlinck presented his mystical speculations in Le Trésor des humbles (1896; The Treasure of the Humble) and La Sagesse et la destinée (1898; "Wisdom and Destiny"). His most widely read prose writings, however, are two nature books, La Vie des abeilles (1901; The Life of the Bee) and L'Intelligence des fleurs (1907; The Intelligence of Flowers). These are not rigorous works of science or natural history but are instead extended essays in which Maeterlinck sets out his philosophy of the human condition. Maeterlinck was made a count by the Belgian king in 1932.
THE BLUE BIRD - (PLAY)
This was a play originally conceived for children but enjoyed by adults the world over. it was published as L'Oiseau bleu in 1908. In a fairy-tale-like setting, Tyltyl and Mytyl, the son and daughter of a poor woodcutter, are sent out by the Fairy Bérylune to search the world for the Blue Bird of Happiness.
The children visit the Land of Memory, the Palace of Night, and the Kingdom of the Future (where they meet the soul of their as yet unborn little brother, who will not survive). The children have a magic diamond that enables them to communicate with inanimate objects and animals. Only when Tyltyl and Mytyl return home do they discover that the Blue Bird has been in their bird cage all along. Tyltyl gives the bird to a neighbor child who has been ill; the bird flies away. True happiness, the children learn, is usually found close to home. It comes from making the journey, not from reaching the destination; from seeking and not from finding; and from acting unselfishly, without thought of reward.
The Blue Bird was made into a successful film (1940) starring Shirley Temple. A 1976 remake, the first co-production of a film by the United States and the Soviet Union, was a lavish undertaking but a critical and box-office failure.
(1940 FILM starring SHIRLEY TEMPLE)
Adapted from the play: a sister and brother seek happiness in the past, a luxurious palace, and the future, but find it at home.
Trespassing Myltyl (Shirley Temple) and Tyltyl (Johnny Russell) catch a bird in the royal forest but don't share it with sick Angela (Sybil Jason). Mummy Tyl (Spring Byington) and Daddy Tyl (Russell Hicks) say they are late. Myltyl complains they are poor. Daddy Tyl learns he must report for the war against Napoleon's invasion. Fairy Berylune (Jessie Ralph) tells Myltyl and Tyltyl they must look for the bluebird of happiness. Their dog and cat become human as Tylo (Eddie Collins) and Tylette (Gale Sondergaard). Light (Helen Ericson) appears to guide them. They go back to the past by a graveyard. Scared Tylo falls in a grave and runs away. Their grandparents awake and greet Myltyl and Tyltyl when they think of them. Myltyl can't find a blue bird but sings "Lady-O." Myltyl says they have to return, and her grandparents go back to sleep.
Tylette leads them to the land of luxury, and they enter a palace and meet Mr. Luxury (Nigel Bruce) and Mrs. Luxury (Laura Hope Crews); but Tylo has to stay in the kennel. Myltyl and Tyltyl fight over the pony. Myltyl can't sleep and finds Mr. Luxury has gout. Tylo cries, because he has no pedigree. He and Myltyl decide to leave, and she apologizes to Tyltyl. Tylette breaks an urn, and they flee. Mrs. Luxury says they are too young to appreciate luxury, and Mr. Luxury says they are too old to escape it.
Light suggests Myltyl sleep. Tylette calls Oak to summon the trees. Tylette and Oak tell them to terrorize the children of the wood-cutter. During a storm Myltyl, Tyltyl, Tylo, and Tylette run scared as trees fall and burn. They have to leave Tylette in the fire. Light guides Myltyl and Tyltyl to the future. They see children who are not yet born and meet a scientist and a reformer who will be destroyed. A boy is sad to leave a girl as many are called to earth; but most are eager to go. Myltyl, Tyltyl, and Tylo return home and say good-bye to Light. Mummy Tyl wakes Myltyl and Tyltyl, and they are glad to see their parents. They learn of a treaty. Myltyl sees her bird is blue, and she is happy. Myltyl shows her bluebird to Angela, but it flies away. Myltyl says they will find it again, because now they know where to look.
This mystical story conveys many spiritual truths about the attitude of happiness and shows the continuity of life after death and before birth. (Maeterlinck also wrote about karma and reincarnation.) The timeless message is that selfishness and greed lead to quarrels and war, while love and understanding nurture peace and happiness.