London to Brighton Classic Car Run - For all pre-1980 Classic Cars
This is an increasingly popular event with an increasing number of classic car owners. It's a chance to meet other like minded motorists and enjoy a trip in the Sussex countryside.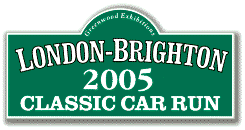 THE FIRST LONDON~BRIGHTON CLASSIC CAR RUN took place 17 years ago. The Run, for pre-1980 cars, is a touring assembly for enthusiasts from all over the United Kingdom and Western Europe. Greenwood Exhibitions have been organising classic motoring events for the last nineteen years, including outdoor events at stately homes including Knebworth on August Bank Holiday weekend.
The 17th London~Brighton Classic Car Run takes place on Sunday 12th June 2005. This professionally run event provides a memorable day out for all classic car owners who enjoy driving their vehicles, plus the chance to take part in one of the most impressive displays of vehicles in the unique setting of the renowned Madeira Drive on the sea front at Brighton. Now, seventeen years on, the classic car run is a memorable day out for car owners who enjoy driving their cars on country roads at their own pace. Hampton Court Palace, one of the worlds' great palaces, is the historic start point for this years run.
Entrants drive at their own pace through picturesque villages and along un-spoilt minor roads to the Weald & Downland Museum in the heart of the South Downs. After a relaxing break, entrants continue their scenic route to Brighton. A different route each year gives you the chance to explore some of southern England's finest scenery with other enthusiasts. Greeted by our commentator and up to 20,000 spectators, the hundreds of cars make a wonderful display on Brighton's famous seafront road, Madeira Drive, where the atmosphere is really buzzing.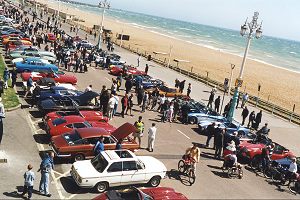 The Start
The 2006 run starts from Hampton Court Palace, easily reached via the M25 and A3. One of the great palaces of the world, Hampton Court has been at the centre of English history for over 700 years, and is a major tourist attraction. Stunning architecture, fine art treasures and beautiful gardens combine to make Hampton Court Palace a wonderful start to any day. The imposing East front is the start point for the 2005 Run, where cars gather at their appointed time, leave every 20 seconds and are ceremoniously sent off with a wave of a Union Jack. We have appointed a photographer and copies will be available to order. Run entrants have reduced price entry to Hampton Court Palace on Saturday 11th. Entrants could spend Saturday at Hampton Court, soaking up the unique atmosphere and set off on the run fresh on Sunday morning. Or those arriving on the day can spend a little time looking around Hampton Court before departure. For those wishing to enjoy a leisurely weekend we have reserved rooms at a nearby hotel (limited numbers). Please tick box on Application Form for Hotel booking form.
The Route
A new route is devised each year giving entrants the chance to discover the beautiful villages and unfamiliar picturesque country roads in this delightful area of Southern England.
Stopping Point
Our official stopping point en route is Weald & Downland Museum giving the opportunity for a relaxing break and lunch with new found friends before the final stage to Brighton. Weald & Downland Open Air Museum, set in the heart of the South Downs, is where you can explore the homes and gardens, farms and rural workplaces of the past 500 years - a fascinating contrast to the Royal splendour of Hampton Court Palace. Entry is included for driver and navigator but not a requirement, giving you the flexibility to plan your day as you wish. Extra passenger reduced tickets can be booked in advance.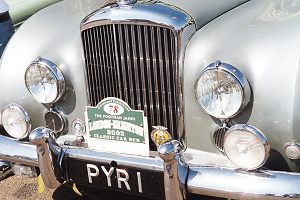 The Finish
Arriving in Brighton from midday onwards the participating vehicles make up a spectacular display on the picturesque seafront road Madeira Drive, which is closed to non-event traffic for the day. They are joined on Madeira Drive by the Kit & Sports Car run who have reached Brighton by their own different route. Autojumblers & Traders set up their stands underneath the arches and a top motoring journalist provides an entertaining & informative commentary for the participants and up to 20,000 spectators.
Entrants
Entrants take part from all over the UK & Western Europe either on an individual or group basis. Discounts are available for group bookings of 6 or more - book 5 vehicles and get one free entry. (All group entry forms must be received together). A tremendous variety of classics of all marques, ages & condition take part from the very rare to the more familiar including American vehicles, etc. (Please note some roads on the route may be unsuitable for very wide vehicles). All cars are welcome provided they were registered before 31st December 1980. Sports cars registered after this date may take part in the Kit & Sports Car Run - please apply for a separate entry form. The entry fee for all vehicles is £72.50.
The entry fee includes:-

Entry to Hampton Court Palace grounds and gardens on Sunday 12th June, reduced admission to the Palace on Saturday 11th, and Weald & Downland Museum on 12th June for the Driver & Navigator only. Extra passenger tickets should be purchased in advance - please see the Entry form.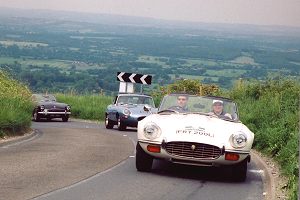 All entrants receive:~
Commemorative Numbered Rally Plate

Commemorative Brass Rally Plaque

Comprehensive Route Book

Listing of all cars taking part

Personalised Certificate of Participation for the Driver

Free entry passes for driver & navigator to Hampton Court Grounds

Free entry passes to Weald & Downland Museum on 12th June
And of course, the experience of taking part in and impressive display of classic cars.
Autojumble, Trade & Craft sites
At the combined finish of the London to Brighton Classic Car Run and the London to Brighton Kit & Sports Car Run, autojumble, trade and craft sites are available under cover, underneath the arches adjacent to the display of participating vehicles. Sites measure 5m frontage and 3m depth (15ft x 8ft) no space for vehicles - cost for Autojumblers is £20 per plot inc VAT (£15 pre-booked) and for Trade, Craft & General is £40 per plot inc VAT (£30 pre-booked).
Trade and Autojumble includes ONE vehicle pass and allows entry for TWO people in that vehicle, all other people entering the site will be charged the normal entry fee. Setting up times Sunday morning ONLY from 08.00hrs to 10.00hrs.
Save up to 20% by pre-booking and paying in advance
Click to Pre-book Autojumble, Trade, General & Craft sites or alternatively you can pay on the day if you prefer.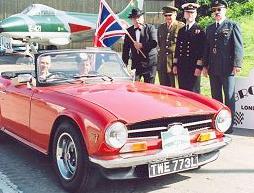 ---
CONTACTS:
Greenwood Exhibitions, PO Box 10214, Bromsgrove, Worcs. B60 1WB
Tel: 01527 871150 Fax: 01527 835256
Email: info@classicmotorshow.com
Web: www.classicmotorshow.com
LINKS:
Classic Show Home Page - 2006 Events TBC - 2005 Diary of Events - Downloads - Contact - Classic Motor Shows - Classic, Kit & Sports Car Runs
---