The KillaCycle is claimed to be the world's quickest electric motorcycle. Official World record holder in the 1/4 mile drag.
Current Record, 1/4 mile drag: 9.450 seconds 152.07 mph August 26th, 2000
NEDRA Electric Drags, Woodburn Dragstrip, Woodburn, Oregon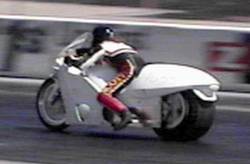 Killacycle - driver: Scott Pollacheck, Medford
BACKGROUND
Bill Dube' got his start in electric vehicles a few years ago by converting a VW Rabbit convertible from gasoline to battery power, and using it to commute from Denver to his job at the Boulder Laboratories of the National Institute of Standards and Technology. Once he decided to try drag racing, it wasn't long before he found he had a knack for it; in less than a year he had converted a '77 Kawasaki KZ1000 frame into a world-class drag racing bike.

For the new season, Bill has some new changes in store which should greatly improve the KillaCycle's performance, although it is already impressive: the KillaCycle II does 0 to 60 mph in 2 seconds, which is a lot like being shot out of a cannon, Dube' says.

---


SPECIFICATIONS
Electric-Powered Motorcycle: The KillaCycle II

-Custom chrome-moly frame
-312 volt battery pack by SVR Batteries
-"Zilla 2002" motor controller by Cafe' Elecric
-Two ADC series-wound traction motors



Designer, Builder and Owner: Bill Dube', Denver, Colorado billdube@killacycle.com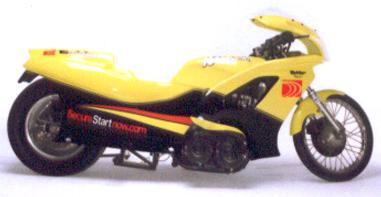 New yellow bodywork


A/C Drive Specs

Battery Pack Specs
•312 volts, nominal
•624 thin-metal-film, lead-acid cells made by Bolder Technologis, Inc
•132 pounds (60kg)
•3,600 peak amps
•Peak Specific Power is approx. 9,000 W/kg. We draw about 4,000 W/kg during a run down the strip.
•1400 amps peak, 400 amps average, during the run.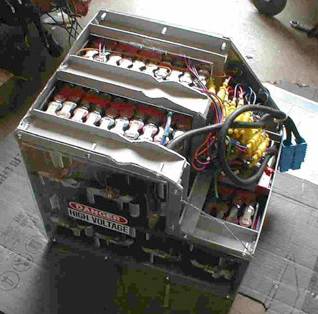 New Pack: 624 Bolder TMF cells 312 volts 3,600 amps 132 pounds


Motor Controller Specs

•Zilla made by Otmar at Cafe' Electric
•2,000 amps max. output
•400 volts max. input

Motor Specs

•Manufactured by Advanced DC Inc. Supplied by Wilde Evolutions
•6.7 inch diameter
•Series-Wound DC traction motor modified for racing, of course.

CONTACTS:
SPONSORS:

Wes Messick
Fort Collins, CO
(970) 221-7223
Custom Frame
Suspension
Driveline Components
messick1@mindspring.com

Wi lde Evolutions
www.evparts.com
High Performance
Drive-Train Parts

Quality Tire
1256 South Riverside
Medford, OR 97501
(542) 770-6827
Owned by
Scotty Pollacheck
World Record Holder
and official rider of the
MegaCycle

Power X
Semiconductors
www.pwrx.com
Drive System Components

Future Electronics
www.futureelectronics.com
Drive System Components

---