Norway is a Nordic country on the western portion of the Scandinavian Peninsula, bordering Sweden, Finland and Russia. Norway has a very elongated shape; the country's extensive coastline along the North Atlantic Ocean is home to its famous fjords. The Kingdom of Norway also includes the Arctic island territories of Svalbard and Jan Mayen. The Norwegian sovereignty on Svalbard is based on the Svalbard Treaty, but this does not apply to Jan Mayen. Bouvet Island in the South Atlantic Ocean and a claim for Peter I Island in the South Pacific Ocean are also external dependencies, but these are not part of the Kingdom. Norway also claims Queen Maud Land in Antarctica where it has established the Troll permanent research station.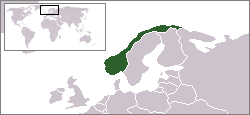 World location map - Norway
Geography
The landscape is generally rugged and mountainous, with several major glaciers occupying central mountain plateau. Its coastline of over 83,000 kilometres (51,575 mi) is punctuated by steep-sloped inlets known as fjords, as well as a multitude of islands and islets. The northern part of the country is also known as the Land of the Midnight Sun because of its location north of the Arctic Circle, where for part of each summer the sun does not set, and in winter much of its land remains dark for long periods. In summertime in the southern part of Norway, the sun is only away for a few hours.
Norway is bounded by seas of the North Atlantic Ocean: the North Sea to the southwest and its large inlet the Skagerrak to the south, and the Norwegian Sea to the west. In the northeast is the Barents Sea, part of the Arctic Ocean. To the east, in order from south to north, it shares a long border with Sweden, a shorter one with Finland, and a still shorter one with Russia. Norway's highest point is the Galdhøpiggen at 2,469 metres (8,100 ft). With a maximum depth of 514 metres (1,686 ft), Hornindalsvatnet is Norway's and Europe's deepest lake.
The Norwegian climate is fairly temperate, especially along the coast under the influence of the Gulf Stream. The inland climate can be more severe and to the north more subarctic conditions are found, especially in Finnmark.
Climate data for some cities in different regions of the country; base period 1961-1990 (temperatures are 24hr average):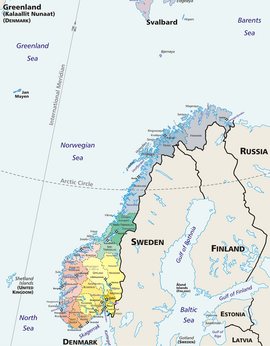 Map of Norway
Economy
The Norwegian economy is an example of mixed economy, featuring a combination of free market activity and government intervention. The government controls key areas, such as the vital petroleum sector. The control mechanisms over the petroleum resources is a combination of state ownership in major operators in the Norwegian fields (Statoil ca 70% in 2005, Norsk Hydro 43% in 2004) while specific taxes on oil-profits for all operators are set to 78%, finally the government controls licencing of exploration and production of fields. The country is richly endowed with natural resources: petroleum, hydropower, fish, forests, and minerals. Norway has obtained one of the highest standards of living in the world, partly from petroleum production but mainly from efficient economic policies, creating a good environment for doing business. Norway has a very high employment ratio.
In 2004, oil and gas accounted for 50% of exports. Only Saudi Arabia and Russia export more oil than Norway, which is not a member of OPEC. The last 30 years, the Norwegian economy has shown various signs of the economic phenomenon called Dutch disease. In response to Dutch Disease, and to concerns about oil and gas reserve depletions, in 1995 the Norwegian state started to put away the annual surplus in a fund, now called The Government Pension Fund. The fund is invested in developed financial markets outside Norway. The fiscal strategy is to spend the "normal interest" of the fund each year, set to 4%. By January 2006, the Fund was at USD 200 billion, representing 70% of GDP in Norway.
Norway opted to stay out of the European Union during a referendum in 1972, and again in November 1994. However, Norway, together with Iceland and Liechtenstein, participates in the European Union's single market via the European Economic Area (EEA) agreement. The EEA Treaty, between the European Union nations and the EFTA nations, EØS-loven [5], is constituted as superior law in Norway, which makes Norway a full member of EU's free trade market.
In 2000 the government sold one-third of the then 100% state-owned oil company Statoil. The economic growth was 0.8% in 1999, 2.7% in 2000, and 1.3% in 2001. After little growth in 2002 and 2003, the economy expanded more rapidly in 2004.
Recent research shows early evidence of massive amounts of coal beneath the oil-reserves on the continental shelf of Norway. A rough estimate has been given at 3×1012 tonnes of coal of unknown quality in these reserves. In comparison, the currently known coal reserves for the entire world is estimated at 0.9×1012 tonnes. The coal is inaccessible today, but there are realistic hopes that it can be accessed in the future.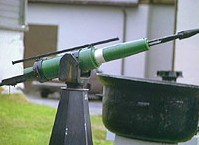 Whaling explosive harpoon
Animal rights and anti-whaling groups have commented that given Norway's economic position it is paradoxical that this is one of a very small number of countries actively engaged in, and favouring the continuation of, commercial whaling. This is despite the argued negligible contribution that whaling makes to the economy, and despite opposition from around the world ([6]). Many supporters of whaling agree that its macroeconomic importance is negligible, but hold that the livelihood of individuals and small firms depend on it and that sustainable development depends on human harvesting of all non-endangered species ([7]), and that it is an important part of culture in coastal areas. Norway's whaling today is limited to the non-endangered Minke Whale, which are killed using explosive grenade harpoons, which also accounts for more than 90% of the catch in Norwegian waters since the 1920s ([8]).
1 Norwegian Krone = 0.159418442 U.S. Dollars
1 U.S. Dollar = 6.2728 Norwegian Kroner
1 Euro = about 7.99029264 Norwegian Kroner
As of Aug 16, 2006
Demographics
The size of the Norwegian population is around 4.6 million and is increasing by 0.4% per year (estimate July 2004). Ethnically most Norwegians are Nordic / North Germanic, while small minorities in the north are Sami or Finnish. The Sami are considered an indigenous people and traditionally live in the central and northern parts of Norway and Sweden, as well as in northern Finland and in Russia on the Kola Peninsula. The largest concentration of Sami people is, however, found in Norway's capital Oslo.
In recent years, immigration has accounted for more than half the population growth, and 7.9% of the population are immigrants as of 1 January 2005. The largest immigrant groups are Pakistanis, Swedes, Danes, Iraqis, Vietnamese and Somalis. (Here, immigrants are defined as persons with two foreign-born parents [9].)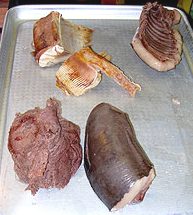 Whale meat
Approximately 86% of Norway's inhabitants are members of the state church, the Evangelic Lutheran Church of Norway. Other Christian denominations total about 4.5% (the Evangelical Lutheran Free Church, the Roman Catholic Church, Pentecostal congregations, the Methodist Church, etc). Among other religions, Islam is the largest in Norway with around 1.5%, and other religions comprise less than 1% each, (including Judaism; see Jews in Norway). Around 1.5% adhere to the secular Human Ethical Union. As of 1 January 2003 approximately 5% of the population are unaffiliated ([10]).
The Norwegian language has two official written forms, Bokmål and Nynorsk. They have officially equal status, i.e. they are both used in public administration, in schools, churches, and on radio and television, but Bokmål is used by the majority. Around 95% of the population speak Norwegian as their native tongue, although many speak dialects that differ significantly from the written language. Nevertheless, all of the Norwegian dialects are interintelligible. Several Sami languages are spoken and written throughout the country, especially in the north, by the Sami people. The Germanic Norwegian language and the Finno-Ugric Sami languages are entirely unrelated. However, the Finnish language is distantly related to the Sami language.
---
LINKS
Environmentalists hope to save the whales - again
Japan backs Iceland's whaling decision Seattle Post Intelligencer - 18 Oct 2006
TOKYO -- Major pro-whaling nation Japan on Wednesday welcomed Iceland's decision to resume commercial whaling, saying Iceland's catch won't "endanger the whale ...

Iceland whaling decision condemned Stuff.co.nz

Greenpeace 'disappointed' by Iceland's whaling plans ABC Online

Moves begin on Iceland's whaling BBC News

Monsters and Critics.com - Radio New Zealand
Greens dismayed at Iceland whaling decision Scoop.co.nz (press release), New Zealand - 17 Oct 2006 News that Iceland is to begin commercial whaling after a 20-year hiatus is being greeted with dismay by Green Party Conservation Spokesperson Metiria Turei. ...
Iceland to Resume Commercial Whaling Los Angeles Times, CA - 17 Oct 2006
REYKJAVIK, Iceland -- Iceland said Tuesday it would resume commercial whaling after a nearly two-decade moratorium, defying a worldwide ban on hunting the ...
Green warrior to come to Iceland IcelandReview, Iceland - 20-10-06
... According to RÚV, the US government is also opposed to Iceland resuming commercial whaling and has the power to block all imports from Iceland to USA. ...
Today's Scoop Just Politics News Summary 17 Oct 2006
Scoop.co.nz (press release), New Zealand - commercial whaling administered by the International Whaling Commission. See... Greens dismayed at Iceland whaling decision
Update: Finnair strike expected to continue next week International Herald Tribune, France - hours ago
... "We have received several e-mails from people saying they have decided not to visit Iceland as long as Iceland is conducting whaling," said Thorunn ...
Tharp She Gets Shot! The Return of Whaling in Iceland 19 Oct 2006
Plenty Magazine, NY - which Iceland's whales have been protected from hunters came to an end on Tuesday, when the country's lawmakers voted to resume commercial whaling in the ...
Whaling is affecting tourism IcelandReview, Iceland - 19 Oct 2006
... of Swiss travel agency Baldinger Reisen AG sent a written statement to icelandreview.com yesterday, expressing his concerns about Iceland resuming whaling. ...
Iceland, Whales, Politics FiNS Magazine, Singapore - 18 Oct 2006
... For a good overview on the Iceland decision and the issues associated with commercial whaling in general, see this recent article in the Guardian. ...
Iceland to resume commercial whaling after almost 2 decades USA Today 17-10-06
Critics say the "scientific" whaling practiced by Japan and Iceland is a sham. Norway ignores the moratorium altogether and openly conducts commercial whaling.
Iceland's Whaling Comeback - Preparations for the Resumption of ...
The Whale and Dolphin Conservation Society (WDCS) is the leading international charity dedicated solely to the worldwide conservation and welfare of all ... www.wdcs.org/dan/publishing.nsf/ allweb/B2460680BC28D8F480256D4A0040D97B
BBC NEWS | Science/Nature | Moves begin on Iceland's whaling
Iceland's ambassador to Britain is summoned to explain his country's return to commercial whaling. news.bbc.co.uk/1/hi/sci/tech/6064028.stm
BBC NEWS | Science/Nature | Iceland bids to resume whaling
Iceland reveals its plans to catch whales again for the first time since 1989, despite the international whaling moratorium. news.bbc.co.uk/1/hi/sci/tech/2910655.stm
Iceland Whaling v/s Whale watching. Whaling v/s Whale watching.
The most commonly used argument in Iceland is that whaling must be resumed before the whales start ... Yearly report on Iceland whale watching industry: ... www.global500.org/news_83.html
My opinion: Iceland's reasons for scientific whaling are FUBAR and if we can ... I wonder how many of you criticising Iceland's whaling have actually read ... weblog.greenpeace.org/iceland/archives/001530.html
Stop Icelandic Whaling: Arctic Sunrise Expedition 2005, Stop Icelandic Whaling: Arctic ... tourism in Iceland IF Iceland discontinues whaling. One Icelandic ...
weblog.greenpeace.org/iceland/archives/2003_09.html
Greenpeace 'disappointed' by Iceland's whaling plans. 19/10/2006
Greenpeace says it is very disappointed Iceland has decided to resume commercial whaling Iceland has authorised an annual hunt of 30 minke and nine of the ...
www.abc.net.au/news/newsitems/200610/s1768443.htm
Iceland's whaling proposal threatens its growing whale-watching industry. In 2002, more than 62000 people went whale-watching in Iceland. ...
www.earthisland.org/takeaction/new_action.cfm?aaID=167
Japan backs Iceland's whaling decision - Yahoo! News
Major pro-whaling nation Japan on Wednesday welcomed Iceland's decision to resume commercial whaling, saying Iceland's catch won't "endanger the whale ...
news.yahoo.com/s/ap/20061019/ ap_on_re_eu/japan_iceland_whaling
Whales on the Net - Iceland Whaling Protest Letter
I am appalled to learn that Iceland has decided to resume commercial whaling under the guise of scientific research, and plans to kill 38 minke whales this ... www.whales.org.au/alert/iceletter.html
---
---
A taste for adventure capitalists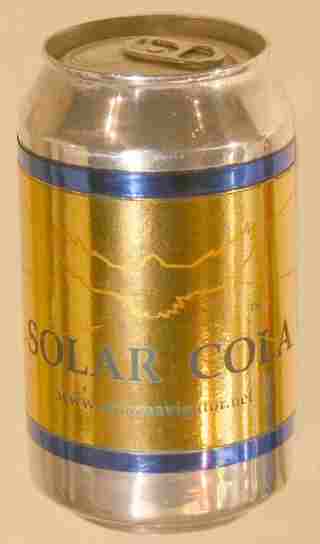 Solar Cola - a healthier alternative