Plot Outline: A shy woman, endowed with the speed, reflexes, and senses of a cat, walks a thin line between criminal and hero, even as a detective doggedly pursues her, fascinated by both of her personas.
Genre: Action / Crime / Fantasy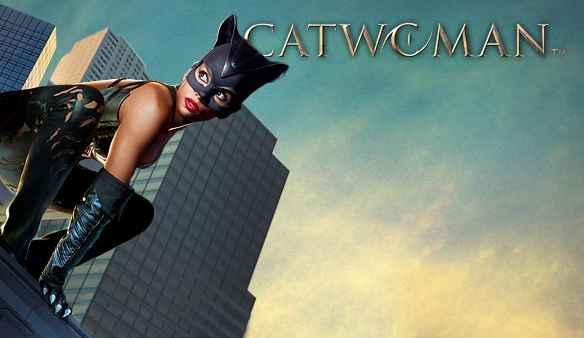 Shy, sensitive artist Patience Philips (HALLE BERRY) can't seem to stop apologizing for her own existence. A meek people-pleaser, she works as a graphic designer for mammoth cosmetics company Hedare Beauty, run by the despotic George Hedare (LAMBERT WILSON) and his supermodel wife, Laurel (SHARON STONE). When Patience inadvertently stumbles upon a sinister secret about the company's soon-to-be-released revolutionary anti-aging product, she finds herself trapped in the middle of a dangerous conspiracy. But at her darkest moment, Patience is saved – reborn with the strength, speed, agility and ultra-keen senses of a cat.

Guided by a mysterious mentor named Ophelia Powers (FRANCES CONROY), Patience soon begins to explore her newfound prowess and feline intuition, as well as her history – she is the latest in a long line of women who have been chosen throughout the ages to be gifted with these extraordinary powers. With her newly-gained knowledge and strength she becomes Catwoman, a strong, sleek and stealthy creature delicately balancing on the thin line between good and bad.

Catwoman's adventures begin as she goes on the prowl to settle a few scores, but her double life is quickly complicated by Patience's burgeoning relationship with stalwart detective Tom Lone (BENJAMIN BRATT). Lone is falling for Patience, but he cannot shake his fascination with the feline fatale who appears to be responsible for a string of crimes plaguing the city.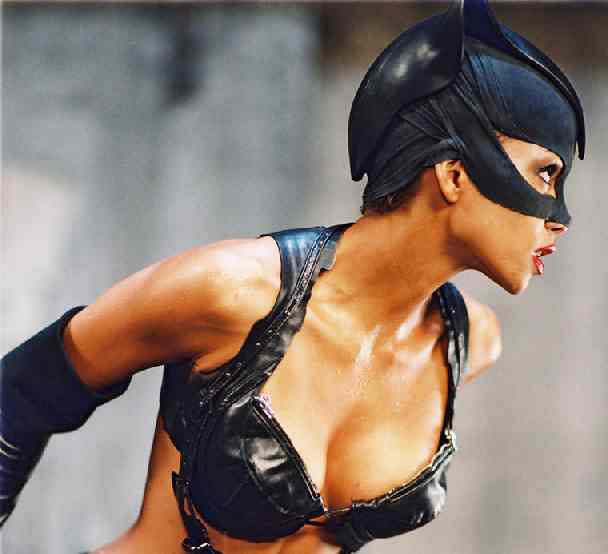 Halle Berry is tremendous
PERSONAL COMMENT :
Warner Brother's rendition of this now classic comic book tale, is superbly portrayed in the 2004 version starring Halle Berry, Sharon Stone and Benjamin Bratt. Halle Berry is the perfect choice for the lead. Although the leather suit amply shows her phenomenal physique and cat like moves, Miss Berry in fact acts as well as she moves. The opening sequences introducing the mystique of ancient Egypt and their worship of felines as gods, sets you up for an almost believable mix of sci-fi and hocus pocus. The special effects will appeal to cat lovers the world over, however, the animation stretches credibility (as with Spiderman) with mind blowing leaps too far. The music mix is great and really gets you in the mood to party. Girls will love the way Patience slowly realises her potential. I loved it and my children (who also follow Dr Who) soaked it up. I wasn't bored watching it again.
Other User Comments: 1200+ 1 point votes? Get a life, people, it wasn't that bad! (more)

User Rating: *****3.4/10 (9,009 votes)
NUMBERS
Box Office: $40,173,429
VHS Rentals: $2,060,000
details...


CAST & CREW

Halle Berry, Benjamin Bratt, Lambert Wilson

Pitof

(WGA) Bob Kane (characters) Theresa Rebeck (story)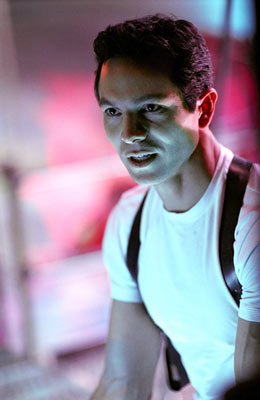 Benjamin Bratt


SYNOPSIS

Patience Philips is a shy, reserved young woman who wants to be an artist but instead is a designer for an advertising company. more...

MPAA RATING

PG-13, action violence and some sensuality

RUNTIME

1 hour, 44 minutes

RELEASE COMPANY - Warner Bros.

GENRE

Action/Adventure, Science-Fiction/Fantasy, Romance, Science-Fiction, Superheroes, Theatrical Release


OFFICIAL SITE

Also Known As:

Untitled 'Batman Returns' Spin-off (USA) (working title)
MPAA: Rated PG-13 for action violence and some sensuality.

Runtime: 104 min
Country: USA
Language: English
Color: Color
Sound Mix: DTS / Dolby Digital / SDDS
Certification: Argentina:13 / Australia:M / Brazil:10 / Chile:TE / Ireland:12 / Netherlands:12 / Norway:11 / Peru:PT / Philippines:GP / Singapore:PG / South Korea:12 / Switzerland:12 (canton of Geneva) / Switzerland:12 (canton of Vaud) / UK:12A / USA:PG-13 / Finland:K-11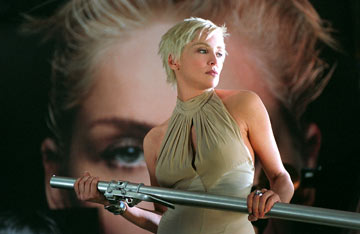 Sharon Stone

Trivia: When production stalled in mid-2003, rumors circulated that Warner Bros. would scrap the project and instead incorporate the character of Catwoman into Batman Begins (2005), but with Halle Berry still in the role.
---
CAT HISTORY | CAT GODDESSES | CAT MUMMIES | CAT WOMAN | CAT LINKS
A - Z FILMS INDEX
A - Z ACTORS INDEX
---
A taste for adventure capitalists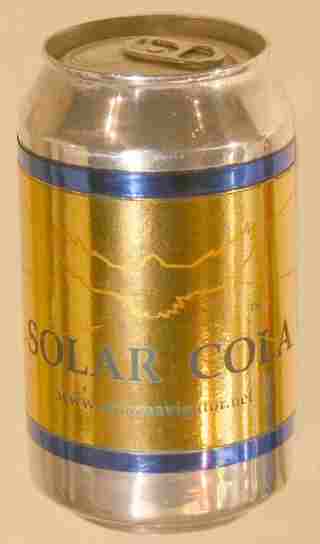 Solar Cola - a healthier alternative