THE PIONEER RUN - EPSOM TO BRIGHTON ON A VINTAGE BIKE
South of England: Monday September 20, 2004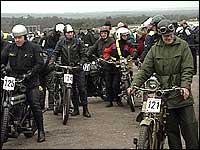 Veteran motorbikes need some warming-up
Taking to the roads on a motorbike built before 1915 is more than just a way of getting from A to B. Inside Out follows comedian Gina Yashere as she trades in her 600cc dream machine for a 1913 Gerrard motorbike and enters the Pioneer Run to Brighton.
Gina Yashere meets up with New Milton man Sammy Miller, who teaches her the quirky ways of the veteran bike. All bikes built before 1914 are clutchless, and new riders need to be introduced to the riding experience.
The definition of a veteran bike depends on when it was made, a pre-1915 bike is a veteran bike and post-1915 is a vintage one.Although, both a veteran and vintage bike alike is positively dangerous in the wrong hands.
Sammy Miller is legendary in the motorcycle world with much experience of old bikes.
After establishing himself as one of Britain's premier trials riders in the 1950's and 1960's he now has a private collection of hundreds of bikes on show at the Sammy Miller Museum in New Milton.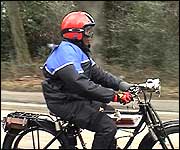 The brakes on this bike are similar to those on a pushbike
From 600cc to pushbike brakes
Sammy shows Gina how to ride the 1913 Gerrard bike. Gina is more used to Japanese motoring finesse and she needs to get familiar with the vehicle before she can take to the open roads of the run.
A disused airstrip in New Forest gives Sammy a chance to show Gina how to work the intricacies of the clutchless bike.
Gina says, "He was very forthright. He didn't take any nonsense. I thought by the end of the day he'd be getting quite cross with me but we got on very well." The Pioneer Run is organised by the Sunbeam Motorcycle Club in West Sussex and is the start of the motorcycle season.
The run starts in London and finishes in Brighton. It attracts bikers of all ages. Nicola Edmond, 21, from Driffield in East Yorkshire is the youngest participant. She is riding a 1914 Triumph and has already won an award for restoring and running veteran motorbikes. Nicola's friends tend to take the mickey out of her. They all ride ponies, but Nicola prefers her old bikes.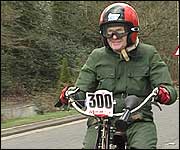 Experience is needed for a safe ride
Great rides - prone to breakdowns
The 2004 Pioneer Run saw 325 riders take part, and even if all the bikes have to roadworthy before starting off, many of them breakdown, needing repairs. All too often the bikes are taken apart and put back together at the road side in order to finish the run.
For Gina, the run is the highlight of the veteran bike experience. She arranged to meet Sammy on the stating line at Epsom Downs at eight in the morning, although he is cutting it fine.
"Sammy didn't turn up until the last minute I was beginning to think he'd stood me up".
Eventually Gina, as bike entrant 325, takes to the open roads towards Brighton, with Sammy in tow of course, for the 66th Pioneer Run. If you want to catch up with Gina and see her work her comedy magic, she will be appearing at the Jongleurs comedy club in Southampton on September 30.
---
CONTACTS:
LINKS:
Bikes For Sale

Pictures

Merchandise

Loads More
---
---
Real Classic .co. uk Bike Profiles:
a | b | c | d | e | f | g | h | i | j | k | l | m | n | o | p | q | r | s | t | u | v | w | x | y | z

Bikes | Opinion | Events | News | Books | Tech | About | Messages | Classified | Directory
---