Amanda Sevenson was not born in the saddle, but very nearly. She has been riding horses since the age of 2. This show jumping event was her first, at this level. Amanda got off to am indecisive start, at the first two fences but soon recovered to turn in a very respectable round and clinch third place.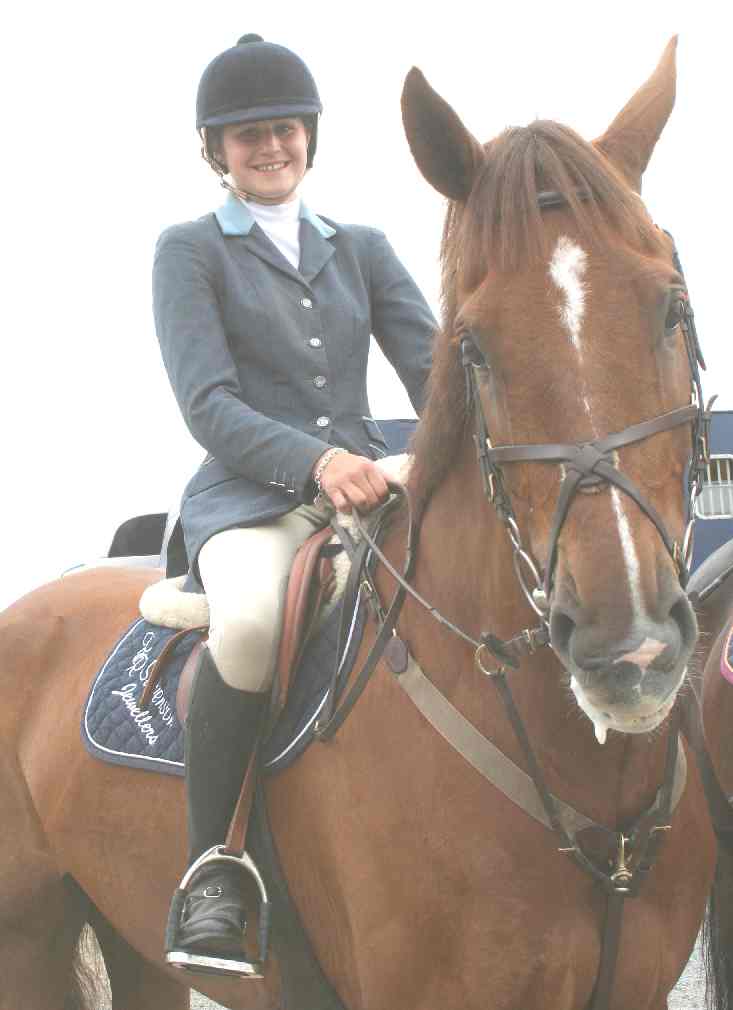 Amanda Stevenson - all saddled up
The event was the eight in a series sponsored by RR Stevensons Jewellers of Haywards Heath. was another superb event, very entertaining and great fun for the competitors and spectators. The Challenge took place at The Golden Cross Equestrian Centre near Hailsham.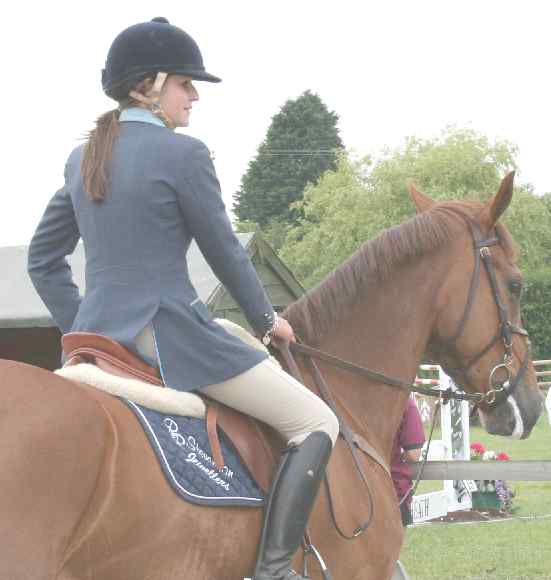 Surveying the course
Golden Cross is a quality equestrian venue located in East Sussex run by Ian Bareham. The centre is easy to find, located on the A22 with good access from the M23 and M25. The Golden Cross Equestrian Centre is one of the busiest competition events in the South of England regularly running affiliated and unaffiliated Show-jumping and Dressage. They are also a host to many local Pony and Riding clubs, etc. Click here to find out a little more about the centre. Click here for directions.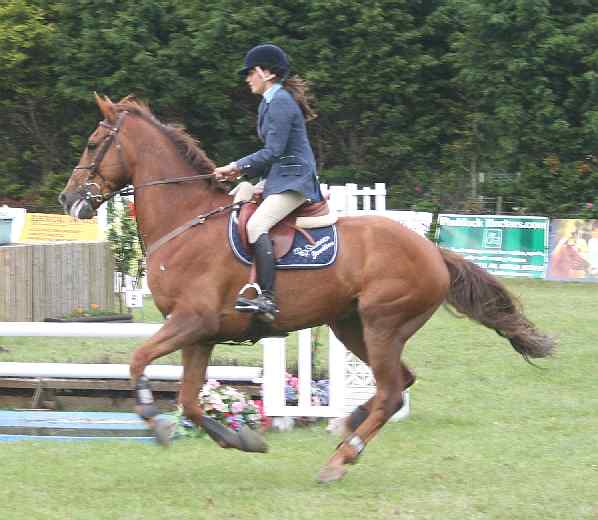 Golden Cross Equestrian Centre, Sussex - Amanda lining up a jump
The event was judged in accordance with BSJA rule 183, table C for registered horses. The competition was open to entrants who'd qualified at: Pyecombe, Royal Leisure, Golden Cross or Felbridge and/or 12 invited riders based in Sussex, Surrey or Kent and registered with the BE or BSJA. The fences were between 1.10 and 1.25m, to include some knockdown and solid cross country type fences, including bounces, arrowheads and corners.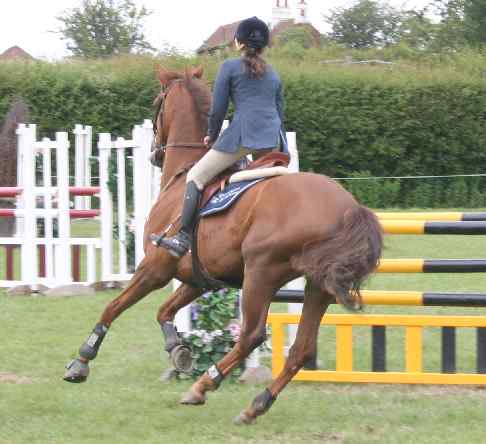 A tight turn in here .................
An award ceremony followed, where everyone was greeted with champagne, and strawberries. Prizes included engraved crystal bowls and £200, £150, £120, £70, £40 and £20 in cash respectively for the first 6 places.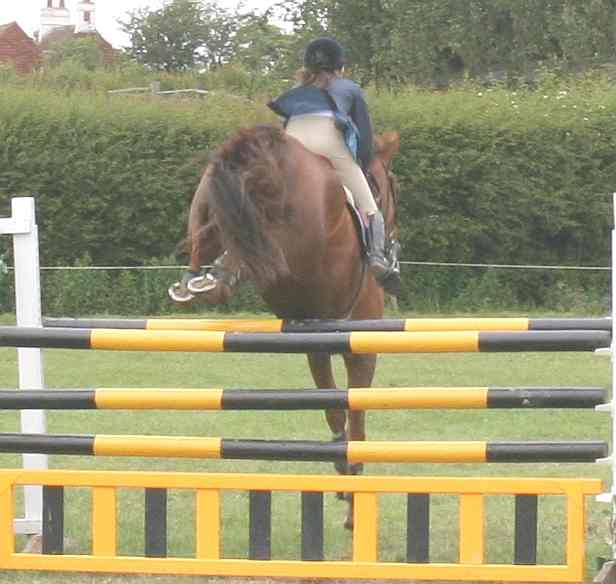 .............. and over the double - no problems
Not too hot and not cold. A friendly atmosphere made it a fun event for competitors and spectators alike. There were some good performances, and only one fall - which fortunately was not serious and nobody was hurt - the horse refusing the water jump.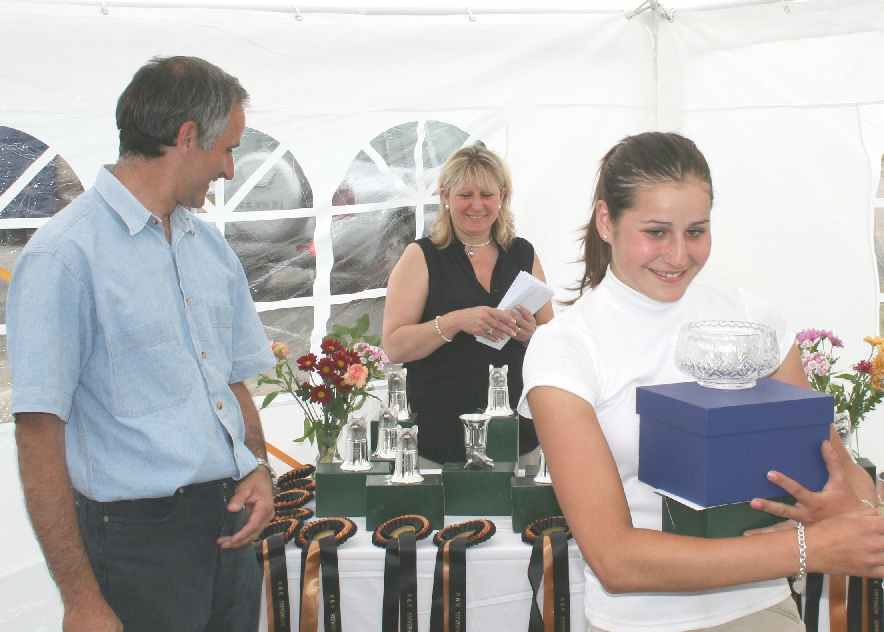 Proud sponsors present Amanda with an engraved crystal bowl
and cheque for £120
A - Z SPORTS INDEX
---
A taste for adventure capitalists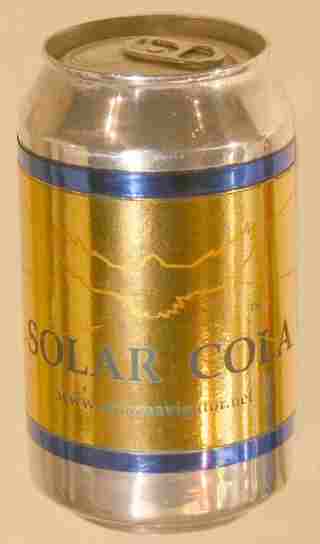 Solar Cola - a healthier alternative