At McDonald's, making customers happy is what business is all about. They know it takes a lot to make that happen and realise they are a soft target when it comes to global criticism. They claim to work hard to provide every customer with a choice of meals and an experience that exceeds their expectations. But that's only part the story. When you go through their doors and look beyond the front counter, there's a company and a system dedicated to earning your trust.
Whether it's called "good corporate citizenship" or "social responsibility," they take seriously their commitment to conducting business in a way that respects the world around them and the issues that matter most to you. We hope McDonalds have a sense of humour, where in researching information for our report on their global environmental strategy, we came across dozens of sites dedicated to undermining the company's policies. However, some of the pictures are amusing and should not be taken seriously.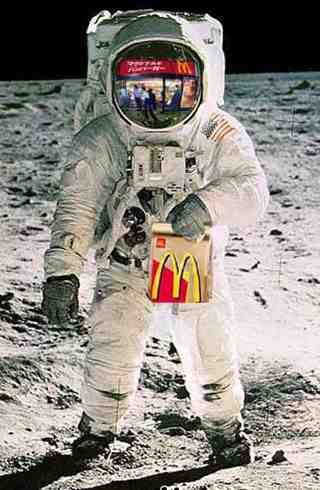 McDonald's might one day serve on the moon

Mc Donalds goal in laid our in their second Worldwide Corporate Responsibility Report is to communicate our progress and direction related to the most relevant and material corporate responsibility - related aspects of their business. To that end, the report is structured according to key elements of our business strategy - the "Plan to Win." The Plan is a global alignment around five drivers of exceptional customer experience, all beginning with the letter P. They have focused on three of the five Ps: Products, People and Place. (The remaining two are Price and Promotion.)

To meet a variety of needs, this report is divided into two sections:
Both sections focus primarily on the ten largest markets in the McDonald's system—Australia, Brazil, Canada, China, France, Germany, Japan, Spain, the United Kingdom, and the United States. The Overview is available in Spanish, as well as English.

McDonalds offer a variety of ways for you to view the report. You may download the entire report or download individual chapters and access the online documents they refer to. Alternatively, you may read the report online, without downloading. Links will allow you to navigate through the report according to your interests. You may obtain bound copies of the report by calling 630-623-5926.

Learning your thoughts and perspectives helps us improve our corporate practices. We value and welcome your feedback. So please take a few moments to complete our online survey.

Decentralization is fundamental to their business model—and to their corporate responsibility efforts. At the corporate level, McDonalds provide a global framework of common goals, policies, and guidelines rooted in our core values. Within this framework, individual geographic business units have the freedom to develop programs and performance measures appropriate to local conditions. They view this model as a source of strength.

Some local business units have initiated their own corporate responsibility reports. Others are in the process of doing so. We are delighted to share the newest local reports on this Web site and offer a word of advice to one of the world's largest restaurant chains: Don't take yourself too seriously. If you are doing your bit to generate wealth, provide high quality food at value prices, and still operating responsible policies, then you are bound to come in for some flak from some parties, who may or may not have a point concerning audience targeting and packaging. Consider this; the amount of packaging in one of your meals may be no more than a supermarket might use, to sell the same quantity of food for home preparation. Food for thought!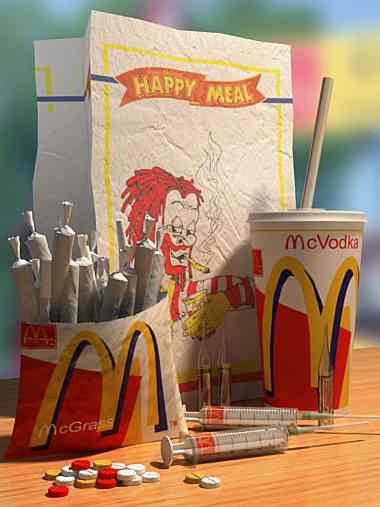 McDrugs happy meal - not to be taken seriously
2004 Worldwide Corporate Responsibility Report: Downloadable Chapters & Related Resources

Other McDonald's Corporate Responsibility Reports
Read Our 2004 Corporate Responsibility Report Online
Download Our Entire Corporate Responsibility Report (Rev. Ed.) (27
Download the Spanish Language Translation of the Corporate Responsibility Report Overview (Rev. Ed.)
Download Packaging Use Corrections Page (
For further information about corporate responsibility in the U.S., visit the Good Works section on the McDonald's USA Web site.
ENVIRONMENT
McDonald's has a long record of industry leadership in environmental protection. Working with prominent independent experts, we have initiated a range of measures to conserve natural resources and reduce waste. Our efforts have earned awards and recognition from major environmental organizations. Today, we are expanding our efforts with a new socially responsible food supply initiative while continuing to also focus on major restaurant-level impacts.

Recycling truck McDonald's Switzerland
Our Commitment. Our diverse environmental initiatives around the world flow from a global commitment to environmental leadership, expressed in a statement of global principles. In them, we recognize a special responsibility for conservation, based on our relationship with millions of customers around the world.

Natural Resources. Worldwide, in a variety of ways, we are acting to conserve natural resources. Our local business units are reducing uses of energy and water, minimizing emissions that contribute to pollution and global warming, and exploring cutting-edge technologies to produce further breakthroughs.

Waste Management. Solid waste management is a key element of our environmental program. Working with our suppliers and an expert advisor, Environmental Defense, we have reduced the material content of our packaging, expanded recycling and uses of recycled materials, shifted to materials made from renewable resources, and found safe, feasible ways to reuse materials.
SHARES :
Current Price: $31.61
Change: $.03 +
as of 3-28-05 12:43 CT

Stock split and dividend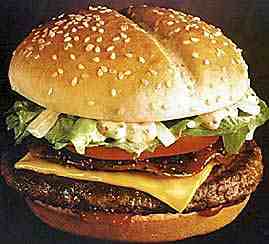 McDonald's burger
CORPORATE LINKS :

03/08/2005 ''it's what i eat and what i do ... i'm lovin' it''
McDonald's® Launches New Worldwide Balanced, Active Lifestyles Public Awareness Campaign

03/08/2005 McDonald's Global Comparable Sales Increase for the 22nd Consecutive Month

02/17/2005 McDonald's® and Destiny's Child Team Up for 2005 Worldwide Concert Tour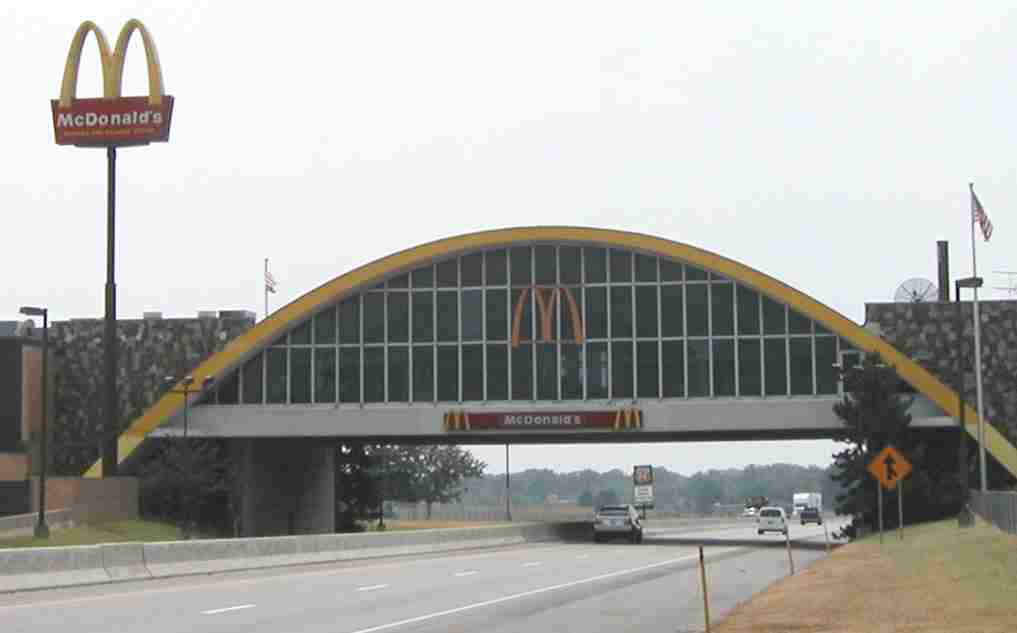 ---
A taste for adventure capitalists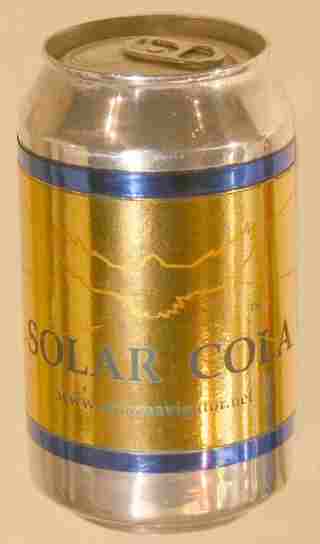 Solar Cola - the healthier cola alternative
This material and any views expressed herein are provided for information purposes only and should not be construed in any way as a prospectus or offer. Please contact the company concerned for information of any business opportunity or specific program. Before investing in any business, you must obtain, read and examine thoroughly its disclosure document or offering memorandum.