A lot of people enjoy the taste of Pepsi Cola in preference to other colas. Some years ago there was the famous Pepsi challenge, where people in the street were asked to try different colas blindfolded and choose the one they liked best..............
When the thirst bites ...
The Pepsi Challenge has been an ongoing marketing promotion run by PepsiCo since the 1970s.
The challenge
The challenge is designed to be a direct response to critics who allege that Coca-Cola and Pepsi-Cola are identical drinks, with no meaningful differences. The challenge takes the form of a taste test. At malls, shopping centers and other public locations, a Pepsi representative sets up a table with two blank cups, one containing Pepsi and one with Coke. Shoppers are encouraged to taste both colas, and then select which drink they prefer. Then the representative reveals the two bottles so the taster can see whether they preferred Coke or Pepsi. The implication is that Pepsi tastes better than Coke, and thus consumers should purchase Pepsi.
The reasoning
In blind taste tests, more consumers prefer the taste of Pepsi to that of Coca-Cola. Because Coke was the historical leader, more people expected that they'd prefer and select Coke. Their surprise at picking Pepsi in the blind taste test (products were served in unmarked cups) helped change their minds about which product they prefer. Capturing this on film, Pepsi turned this into a memorable TV campaign that lasted many years.
The results
After years of The Pepsi Challenge, Pepsi began to outsell Coke wherever the two were sold side-by-side (for example in Supermarkets and Convenience Stores) in the US. (Coke continues to outsell Pepsi in total because Coke is sold in more places, like restaurants, exclusively.)
The parody
During the period when the Pepsi Challenge was used in commercials, Coca-Cola countered with parody commercials, including one in which a third choice was offered, a tennis ball. The "volunteer" claimed that he preferred the taste of the tennis ball to both Coke and Pepsi, and that he thought it was the "fuzziness" that made the difference.
Other challenges
The Pepsi Challenge is also a cross country ski race at Giant's Ridge Ski Area in Biwabik, MN.
---
A healthier alternative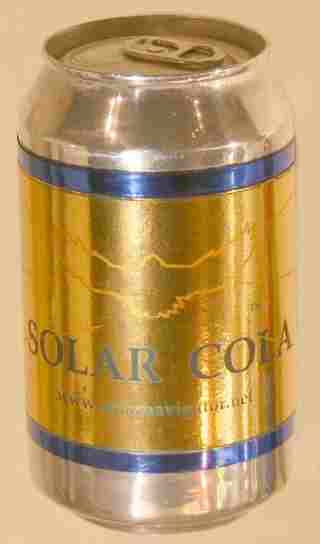 Solar Cola - a taste for adventure capitalists