Girls Aloud are one of the most successful girl groups in the United Kingdom.
Created from TV talent show Popstars: The Rivals in 2002, Girls Aloud have achieved notable success, with twelve UK Top 10 hit singles (including two UK number ones) and three hit albums. Internationally their music has also been released throughout Europe and Australasia with plans to release in China and Japan also underway.
For a pop group, they receive unprecedented praise from the 'serious' music press, with publications including the Observer [1] [2] and the NME [3] giving rave reviews to their music.
All of their twelve singles have entered the Top 10 of the UK Singles Chart: a feat no other girl group has ever achieved; and surpassing the Spice Girls' record of ten. They are also one of the only reality TV acts to have had continued success.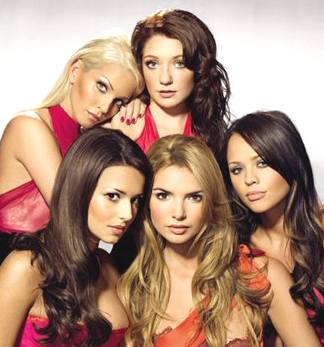 Girls Aloud in a promotional shot from their 3rd album, Chemistry
Formation
Girls Aloud were formed on November 30, 2002, in front of millions of viewers on the ITV1 programme Popstars: The Rivals. The concept of the programme was to produce a boyband and a girlband who would be 'rivals' and compete for the Christmas #1 single in 2002. Following the success of Hear'Say (winners of the original Popstars show), several thousand applicants attended auditions across the UK in hopes of being selected for the show. Ten men and ten women were chosen as finalists by judges Pete Waterman, Louis Walsh and Geri Halliwell; however, two finalists were disqualified before the live shows began: Hazel Kaneswaren was found to be too old to participate [4] whilst Nicola Ward refused to sign the contract, claiming the pay the band would go on to receive was too poor. [5] Two new finalists (Kimberley Walsh and Nicola Roberts) were chosen as their replacements.
During October and November, the finalists took to the stage participating in week-by-week live performances every Saturday night (alternating between the girls & boys each week). One contestant was eliminated each week (due to polling the least amount of phone votes) until the final line-ups of the boy band and girl band emerged. The 5 girls who polled enough votes to make it into the band were Cheryl Tweedy, Nadine Coyle, Kimberley Walsh, Nicola Roberts and Sarah Harding. They called themselves Girls Aloud and were managed by Louis Walsh (and Hilary Shaw from 2005). The winning boy band was called One True Voice and was managed by Pete Waterman.
In Christmas 2002 the two bands competed for the symbolic number one position in the Christmas Week UK's singles chart. Girls Aloud won the battle with their single Sound of the Underground (produced by Brian Higgins and Xenomania) which stayed at number one for four weeks. Disney Channel viewers later voted this as best single of 2002-2003 at the Disney Channel Kids Awards. Originally tipped to be more successful than the girls, One True Voice released just two singles and disbanded.
Subsequent career
Sound Of The Underground
After a hectic start, Girls Aloud took several months to record their album and did not release their second track until May 2003.
They followed their debut single with the number two hit No Good Advice. This track went on to become one of the biggest of the year and was the first winner of the tongue-in-cheek Popjustice £20 Music Prize. The video, whilst known to have been the girls' least favourite video due to problems in production, was deemed one of the sexiest videos of the year.
Girls Aloud's debut album, Sound Of The Underground, was released in May 2003. It went to #2, behind Justin Timberlake's album "Justified"". One track, "Girls Allowed", was penned for the girls by ex-Westlife star Bryan McFadden.
Also released in 2003 were the singles Life Got Cold (charting at number three), and Jump (number two) – a cover of a Pointer Sisters song, which featured on the soundtrack to the 2003 film Love Actually. Both were popular, reaching #3 and #2 respectively, and helped to increase sales of the album, which went platinum after a re-issue at the end of the year.
The new version of "Sound Of The Underground" included You Freak Me Out (which appeared on the soundtrack of Freaky Friday) and also their cover of Girls on Film, originally available as a B-Side on the "Life Got Cold" single. The re-issue also included Jump, which was to be followed by either You Freak Me Out or Some Kind of Miracle. The plans were scrapped in early 2004 as work began on their sophomore release.
Cheryl Tweedy's Conviction
On 20 October 2003 band member Cheryl Tweedy was convicted of assaulting Sophie Amogbokpa, a toilet attendant at The Drink nightclub in Guildford where the incident took place on 11 January. Amogbokpa claimed the attack was racially motivated, but the singer was acquitted of this charge. Tweedy claimed Amogbokpa was the instigator of the assault. During the trial, Judge Richard Haworth criticised Tweedy for showing no remorse whatsoever for the attack and described it as "an unpleasant piece of drunken violence". The court ordered her to perform 120 hours of unpaid community service, £3000 prosecution costs plus £500 in damages. [6] On 5 November 2003 on BBC Radio Five Live, she made a statement: "I'm sorry to the fans and to my family and the other girls that it ever happened." [7] However, she refused to apologise to Amogbokpa, who on the 7 November 2003 revealed in The Guardian newspaper that she would seek aggravated damages in the civil courts on the basis that the assault was racially motivated [8] ; although she subsequently chose not to proceed with the case.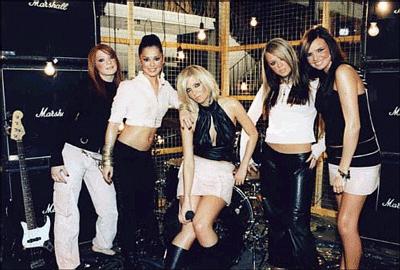 Girls Aloud in a promotional shot from the music
video to Sound of the Underground
What Will The Neighbours Say?
The first single to be taken from their second album was The Show, which entered the singles chart at number two in July 2004. This single showed off a brand new look for the girls. It was backed by a promotional campaign prior to it's premiere featuring 5 empty chairs with each of the girls' names on. This built up excitement over the new look and later featured on the single cover with the girls in their seats. The Show was released on a 3" Pocket format a few weeks after its initial release. This limited edition version was part of a trial, which was subsequently scrapped, by Universal Records.
Love Machine also peaked at #2 in September 2004. It is seen as one of the girls' finest songs. Love Machine was nominated for ITV's Record Of The Year and came 6th - the winners being Busted with their single Thunderbirds Are Go. Love Machine went on to be used in a television advert for Homebase and was also covered by the Arctic Monkeys on Radio 1's Live Lounge in 2006.
Their 7th single saw them reach the #1 position in November 2004, a cover of The Pretenders classic I'll Stand By You. This was 2004's single for the Children In Need appeal; its proceeds went to the charity. The single sold almost 60,000 in its first week of release.
What Will the Neighbours Say?, named for a lyric from Love Machine, was released on November 29, 2004 and entered the album charts at number 6, achieving platinum status within one month. What Will the Neighbours Say? featured the production and song writing by Xenomania, a British production house. The immediate success of this album led to the girls announcing their first tour, scheduled for May 2005. What Will The Neighbours Say? received excellent reviews; most critics deemed it an improvement over their debut release.
Girls Aloud co-wrote five out of fourteen tracks on their second album: Big Brother (Cheryl Tweedy), Hear Me Out (Sarah Harding), Thank Me Daddy (Kimberley Walsh), I Say a Prayer for You (Nicola Roberts), and 100 Different Ways (Nadine Coyle). They also co-wrote two B-sides History and Loving Is Easy (both from the Wake Me Up single.)
In early 2005, the girls picked up a Glamour Award for 'Band of the Year' and were also nominated for a Brit Award alongside McFly and Natasha Bedingfield for Best Pop.
The girls' eighth single, Wake Me Up, was released on February 21, 2005 and charted at number four; it was their eighth top-five single. This was the final single to be taken from their second album. In September 2005 the single followed in the footsteps of No Good Advice scoring a second Popjustice £20 Music Prize award for Girls Aloud.
Chemistry
Enjoying a short break after their successful tour, the girls began to work on their third album.
The first single to be released from "Chemistry" was Long Hot Summer in August 2005 and charted at number seven, ending their consecutive Top 5 run.
The single that launched their third album was Biology. It entered the UK charts at number four on November 20, 2005, therefore equalling the Spice Girls record of ten consecutive Top 10 singles in the UK. "Biology" also reached number one on the iTunes Most Downloaded Chart, TV Airplay Chart and number two on the Official UK Download Chart.
Chemistry was released on December 5, 2005, and includes the singles Long Hot Summer, Biology, See The Day, Whole Lotta History and the popular album track Models, first heard being recorded on their ITV2 documentary Girls Aloud: Home Truths and currently the theme music to their current E4 documentary Girls Aloud: Off The Record. "Chemistry" peaked on the charts at number 11; it eventually went Platinum and has currently sold over 330,000 copies in total. One track was written by the group (It's Magic). Some of the girls' other efforts appeared as B-Sides on singles from the album, such as Crazy Fool from the single "Whole Lotta History", which received great praise from their fanbase.
Their cover of Dee C. Lee's See The Day, released in the all-important Christmas week, charted at number nine. With this single they became the first girl group in the UK to achieve 11 consecutive Top 10 singles in a row from debut. See the Day became Girls Aloud's biggest hit on Radio Airplay since Sound Of The Underground, peaking at number six. The video also topped the TV Airplay Chart.
Girls Aloud released their debut DVD Girls On Film in June 2005, featuring the first 8 music videos & TV performances. This was followed by What Will The Neighbours Say? Live DVD in November 2005. Other merchandise released included a 2006 calendar and an official book.
The girls travelled to Australia and New Zealand in February 2006 to release the single "Biology" and the album "Chemistry". Arriving on the 23rd, their promotional tour lasted one week, appearing on many TV shows. "Biology" peaked at number 26 in the Australian singles chart.
The trip also started press speculation about a relationship between Nadine and American actor, Jesse Metcalfe.
Whole Lotta History was the fourth single to be taken from Chemistry, released on March 13th 2006. It entered the UK Singles Chart the week prior to its physical release due to a new rule stating that singles could enter on the Sunday before release based on download sales. It became the 4th highest 'download only' entry at #80. The week after it officially debuted at number six - as the #80 position was outside the recorded Top 75, this became the week's highest new entry. The single is accompanied by a video filmed in Paris, making it their third video (the first two being "Life Got Cold" and "Jump") to be filmed outside a studio, and their first outside the UK.
The girls embarked on their second UK Tour "Chemistry" (their first Arena Tour) in May 2006.
It was rumoured that Girl Aloud would release a 5th single from Chemistry, the second track on the album Models, and appeared in release schedules for a 15 May release. Originally Nadine Coyle said it would be the next single (in an interview with The Sun newspaper), but Cheryl Tweedy contradicted Coyle's previous statement, by claiming in another interview that there would be no further releases from Chemistry.
In May 2006, Polydor Records launched Fascination Records - a label dedicated to pop artists, including Girls Aloud, Sophie Ellis Bextor, and support act on the Chemistry Tour Frank. All future Girls Aloud releases will be published by Fascination Records.
All 5 members feature in this year's FHM's 100 Sexiest Women list, voted for by the public. Their positions are as follows: Cheryl Tweedy (6th, down from 2nd), Sarah Harding (15th, down from 8th), Nadine Coyle (55th, down from 35th), Kimberley Walsh (66th, down from 44th) and Nicola Roberts (84th, down from 77th). This is the second year in a row all five members have featured and the 4th year for Cheryl, Sarah and Nadine have featured.
Girls Aloud said in a magazine interview (POP in February 2006) that their next album will be their fourth studio album, and not a Greatest Hits compilation as had previously been reported by other sources. Cheryl Tweedy has announced that her wedding to Ashley Cole will take place on July 15th, 2006.
June 2006 saw the group facing a great deal of press attention: first rumours that Sarah was tired of the band and quitting to go solo, which prompted the singer to post a message on the groups official website stating she "would be insane to even consider leaving." The Sun then ran a picture of Kimberley apparently smoking cannabis at a private New Years party. She apologised immediately, but reports later suggested she was forced to admit to smoking weed when in fact the story was embellished.
On June 16th 2006 Girls Aloud won the Heart Award for the single "See the Day" at the O2 Silver Clef Lunch, an annual awards honouring songwriting and performance in aid of Nordoff-Robbins Music Therapy. Nicola Roberts and Kimberley Walsh, members of the band, attended the awards presentation ceremony.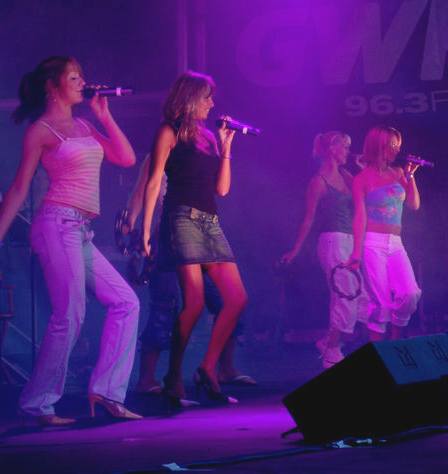 Girls Aloud on stage in 2004
Tours
Despite being the successful contestants of talent show, Popstars: The Rivals (which required live performances), Girls Aloud tend not to sing live; most of their performances are mimed. However, they proved their worth as a live group on the "What Will The Neighbours Say? Live" Tour in 2005, in which many of the songs were sung live. The tour was also done with a live band.
More recently the group also sang live during the entire promotion of "Biology" in Australia, and more often than not peform their ballad singles live in the UK ("Life Got Cold", "I'll Stand By You", "See The Day" and "Whole Lotta History"). Nadine Coyle claimed on the Australian talk show "What You Want" that the group enjoy opportunities to sing live because it is typical that UK venues do not even provide working microphones for performances.
After the successful "Popstars: The Rivals" (which climaxed with a Christmas chart Top 3 with Girls Aloud at #1, One True Voice at #2 and the Cheeky Girls at #3, a Popstars: The Rivals tour was scheduled for early 2003. However, due to lack of ticket sales the tour was cancelled. Louis Walsh, then their manager, stated the girls would go on their own tour in the near future.
What Will The Neighbours Say?
Following the success of the What Will The Neighbours Say? album - the girls announced dates for their debut tour.
The tour (What Will The Neighbours Say? Live) was a theatre tour. They performed at 24 different locations in 30 dates.
Support acts were Cookie and Kute, along with Triple 8 (only at the Hammersmith gigs) - Triple 8 include the boyfriend of band member Kimberley Walsh.
The set list was: 1. The Show 2. Here We Go 3. Girls On Film 4. No Good Advice 5. Grafitti My Soul 6. Teenage Dirtbag 7. Wake Me Up 8. Life Got Cold 9. Deadlines & Diets 10. I'll Stand By You 11. Love Machine 12. Real Life 13. Girls Allowed (with C'est Chic interlude) 14. Jump 15. Sound Of The Underground
The tour is available on the "What Will The Neighbours Say? Live" DVD - out now!
'Le Freak, C'est Chic' was performed by Sarah & Nadine in between of album track 'Girls Allowed', as part of a disco dance. The cover of 'Teenage Dirtbag' by Wheatus was edited with new lyrics from a girls' perspective. An audio of this performance is available on "Whole Lotta History" CD2.
Album track 'Real Life' was also a popular performance with its fanbase, given a samba re-working and started as a bluesy ballad. An audio of this performance is available on "Long Hot Summer" CD2.
Chemistry
In 2006, Girls Aloud went on their first arena tour. They appeared in various arenas across the UK.
Dates for the tour were revealed in October 2005, before tickets went on sale in November 2005. The venues were larger than the ones used in the previous tour (which was a theatre tour), and the girls performed fewer dates (just ten).
Unlike their 2005 tour, there was no Irish leg of the Chemistry Arena Tour - something which many Irish fans complained about since the announcement. It was believed that dates in Ireland were planned to be added before Christmas but were scrapped after their latest releases did not perform as well as earlier ones in the Irish Charts.
Support acts were girl groups "Frank" (from TV Show "Totally Frank") and "Nylon".
Chemistry Tour Dates
22 May 2006 - Nottingham Arena
23 May 2006 - Sheffield Hallam FM Arena
24 May 2006 - Newcastle Metro Radio Arena
26 May 2006 - Birmingham National Indoor Arena
27 May 2006 - Manchester Evening News Arena
28 May 2006 - Glasgow Scottish Exhibition and Conference Centre
30 May 2006 - Cardiff International Arena
31 May 2006 - Bournemouth International Centre
1 June 2006 - Brighton Centre
3 June 2006 - Wembley Arena

The tour received rave reviews from respected publications such as The Times, The Guardian (both awarding 4/5) and The Telegraph. The set list was 1. Biology 2. No Good Advice 3. Waiting 4. Love Machine (with 1 Thing interlude) 5. Long Hot Summer 6. Whole Lotta History 7. Watch Me Go 8. I Predict A Riot 9. See The Day 10. Sound Of The Underground 11. Musical Medley: Fame/What A Feeling/Footloose 12. The Show 13. Intro 14. Models 15. Racy Lacey 16. I'll Stand By You 17. Biology (Chorus) 18. Wild Horses 19. Wake Me Up 20. Jump
The last night of the tour at Wembley was filmed and is being released on DVD later this year.
Girls Aloud are also set to appear at the V Festival in Chelmsford and Staffordshire on August 19th & 20th, 2006.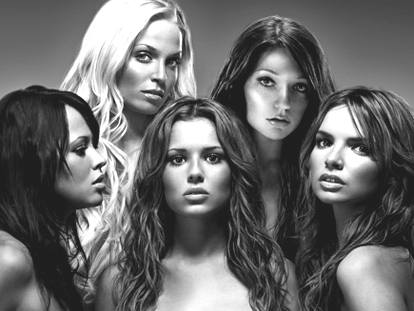 Girls Aloud 2005
Girls Aloud: Off The Record
Girls Aloud recorded a six-part fly on the wall documentary series for E4 called Girls Aloud: Off The Record, which started on April 11th, 2006 at 10:30pm. A DVD of the series will be released on July 17th, 2006.
Discography
Albums
Sound of the Underground (May 2003) - UK: #2 (Platinum)

Sound of the Underground (Re-Issue) (December 2003) - UK: #42

What Will the Neighbours Say? (November 2004) - UK: #6 (2x Platinum)

Chemistry (December 2005) - UK: #11 (Platinum)
Hit singles
The following singles reached the top ten in the United Kingdom and/or Ireland. Their chart peak positions are shown, along with peak positions for other regions, as an indication of Girls Aloud's chart performance in other markets, such as Europe and Australia.
Key to chart headings: United Kingdom Singles Chart (UK), Ireland (IRL), Australia (AUS), Greece (GR) and Poland (PL).
| Year | Title | Album | UK | IRL | AUS | GR | PL |
| --- | --- | --- | --- | --- | --- | --- | --- |
| 2002 | "Sound of the Underground" | Sound of the Underground | #1 | #1 | 31 | 8 | 27 |
| 2003 | "No Good Advice" | Sound of the Underground | 2 | 2 | - | 4 | 43 |
| 2003 | "Life Got Cold" | Sound of the Underground | 3 | 2 | - | 3 | 32 |
| 2003 | "Jump" | Sound of the Underground (re-issue) | 2 | 2 | 23 | - | 16 |
| 2004 | "The Show" | What Will the Neighbours Say? | 2 | 5 | 67 | #1 | 97 |
| 2004 | "Love Machine" | What Will the Neighbours Say? | 2 | 9 | - | - | 88 |
| 2004 | "I'll Stand By You" | What Will the Neighbours Say? | #1 | 3 | - | 5 | 51 |
| 2005 | "Wake Me Up" | What Will the Neighbours Say? | 4 | 6 | - | 15 | 12 |
| 2005 | "Long Hot Summer" | Chemistry | 7 | 16 | - | - | 90 |
| 2005 | "Biology" | Chemistry | 4 | 7 | 26 | - | 66 |
| 2005 | "See The Day" | Chemistry | 9 | 14 | - | - | - |
| 2006 | "Whole Lotta History" | Chemistry | 6 | 18 | - | - | - |
External links
---
New energy drinks for adventure capitalists
Solar Red | Solar Crush | Solar Cola | Solar Citrus | Solar Spice