The more we know about our precious blue planet, the better we can manage our future. Please use the links table at the foot of this page to explore the countries of the world and learn about our fellow man, their customs and the land they inhabit.
THE ULTIMATE CHALLENGE for Solar Navigator: is to circle the globe. Many routes have been proposed, developed and investigated. The best example of which and the most likely is shown on this page as the Sunshine Route.
Nelson Kruschandl - "It's a wonderful world"
Planning this expedition has not proved to be a simple matter. One of the most important factors to be considered is the safety of the ship and crew. Many tropical areas are only safe for six months of the year. Our route is west-about so as not to fight the prevailing winds on a course designed to capture the sun. The boats average performance and the number of provisioning stops, will determine the time of the voyage, as will the requirements of our project partners.
We hope you will in part experience the flavour of this exciting voyage from the destinations listed and learn something of the exotic locations. The World is indeed our Oyster.
Several records will be set, others to beat notably:-
1. The electric Trans-Atlantic Ocean record - to be set.
2. The electric Trans-Pacific Ocean record - 138 days to beat.
3. The electric Trans-Indian Ocean record - to be set.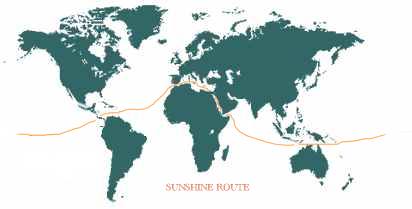 THE SUNSHINE ROUTE
A date for the start of the event has yet to be set, although it is hoped for a launch in 2008 and an attempt to set a number of records in 2009. Gibraltar is where the fun begins and ends. The route will encompass both great Canals. It is hoped to transit the Panama Canal in February heading for the Galapagos and thence joining the South Equatorial Current to Indonesia via the Torres Strait by August. Still going with the S.E. trades across the Indian Ocean, then through the Suez Canal to Port Said into the Mediterranean to Malta and Gibraltar. It is expected this expedition will last 120 days.
| | | | |
| --- | --- | --- | --- |
| START DATE | DAY 10 LATEST | DAY 20 LATEST | DAY 30 LATEST |
| DAY 40 LATEST | DAY 50 UPDATE | DAY 60 UPDATE | DAY 70 UPDATE |
| DAY 72 UPDATE | DAY 74 UPDATE | DAY 76 UPDATE | DAY 78 UPDATE |
Eventually, it is hoped to be in a position to go around the world in 80 days or less as per the above route calendar.
---
A taste for adventure capitalists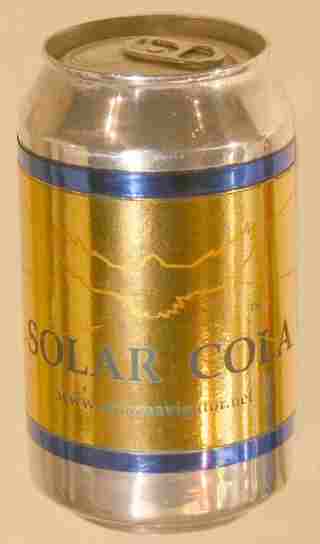 Solar Cola - a healthier alternative