League Tables



SCHOOL




Glen Urquhart High School




EA




Highland

- View listings for this area


-This institution
-EA average
-Scotland average

STANDARD

- 33 Eligible

SCORE



2002
97%
82%
76%
2001
97%
2000
97%

HIGHER

- 78% Stayed on

SCORE



2002
31%
24%
22%
2001
30%
2000
36%
COMPARISON

AREA

SCOTLAND

STANDARD
5 of 28
31 of 418
HIGHER
6= of 28
98= of 418

(click numbers for details)



-This institution
-EA average
-Scotland average
Craigmonie Centre at Glen Urquhart High School



Drumnadrochit
Inverness-Shire
IV63 6UG



Tel: 01456 450243
Fax: 01456 450756

Headteacher:
Mrs Josie Mackenzie (Acting)




Click on the map to zoom in
GLEN URQUHART HIGH & ARDNAMURCHAN HIGH
Highland Council is trying new approaches to school organisation and the use of technology in two new community high schools - Glen Urquhart High and Ardnamurchan High. The building of these new schools by Highland Council offers an opportunity to pilot new ways of using ICT to raise achievement of school pupils and, through links to the wider community, to increase the local skills base through home-school-community ICT partnerships.
FLaT involvement?
FLaT support is provided to pilot new ways of using ICT in learning, teaching and schools' administration in environments purpose built for 21st century learning and teaching.
Links with National Priorities?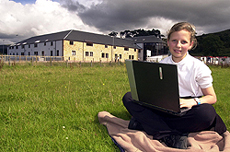 1. Achievement & Attainment
2. Framework for Learning
3. Inclusion & Equality
4. Values and Citizenship.
Project aims?
Ardnamurchan High School:
To raise achievement in learning and teaching through provision of laptops to pupils, allowing continuous access to ICT and the Internet.

To improve home-school links and allow the community more access to and knowledge of ICT.

To allow the small number of pupils (and parents) in the school to enjoy the benefits of a broad, balanced, varied and enriching curriculum.
Glen Urquhart High School
Project outcomes? (both schools)
Develop learning and teaching environments and estates designed for the 21st century.

Increase accessibility to and opportunities for e-learning.

Improve quality and accessibility of information on pupils to support better learning and teaching.

Improve home-school links through ICT.
---
Please note: We are not equipped to cope with requests from students for work experience. Most of our work is a closely guarded secret. Our staff are highly trained craftsmen, producing prototype vehicles using traditional methods by hand. We made an exception in Michael's case due to his obvious enthusiasm.
TEAM TECHNICAL WIND-TUNNEL CHASSIS SUSPENSION MOTORS TRANSMISSION BATTERIES BODYWORK INSTRUMENTS SPONSORSHIP