The Republic of South Africa is a country located at the southern tip of the African continent. It borders the countries of Namibia, Botswana, Zimbabwe, Mozambique, and Swaziland. Lesotho is an enclave entirely surrounded by South African territory.
South Africa has experienced a significantly different evolution from other nations in Africa arising primarily from two facts; immigration from Europe reached levels not experienced in other African communities and a level of mineralogical wealth that made the country extremely important to Western interests, particularly during the Cold War. As a result of the former, South Africa is a very racially diverse nation. It has the largest population of people of Coloured (i.e., mixed racial background), White, and Indian communities in Africa. Black South Africans account for almost 80% of the population.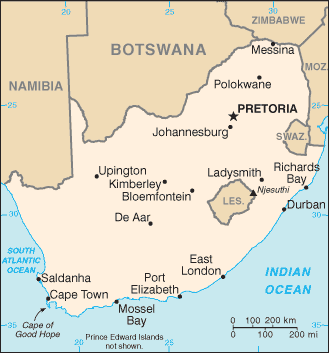 Racial strife between the white minority and the black majority has played a large part in the country's history and politics, culminating in apartheid, which was instituted in 1948 by the National Party, although segregation existed prior to that date. The laws that defined apartheid began to be repealed or abolished by the National Party in 1990 after a long and sometimes violent struggle (including economic sanctions from the international community) by the Black majority as well as some White, Coloured, and Indian South Africans.
The country is one of the few in Africa never to have had a coup d'état, and regular elections have been held for almost a century; however, the vast majority of black South Africans were not enfranchised until 1994. The economy of South Africa is the largest and best developed on the continent, with modern infrastructure common throughout the country.
South Africa is often referred to as The Rainbow Nation - a term coined by Archbishop Desmond Tutu and later elaborated upon by then-President Nelson Mandela as a metaphor to describe the country's newly-developing multicultural diversity in the wake of segregationist apartheid ideology.
South Africa was the host nation for the 2010 FIFA World Cup. It was the first time the tournament was held in Africa.
LINKS
Africa's Failed Economic History - Yale Economic Review
Lending Africa an Invisible Hand - Yale Economic Review
African Development Bank Group
IMF World Economic Outlook (WEO) -- September 2003 -- Public Debt in Emerging Markets
allAfrica.com current news, events and statistics
BBC News In Depth - Africa 2005: Time for Change?
Guardian Unlimited - Special Report: Hear Africa 05
Yale Economic Review Africa:Failed Economic History
CONCERN
Concern are working on specific country sections where they've gone into detail about the issues and work being done in areas such as the Democratic Republic of Congo and Uganda. These are all linked to their our Africa hub page - https://www.concern.net/where-we-work/africa.
Photos and Information
L'Afrique Hundreds of photographs of Rwanda, Ethiopia, Senegal, and Burundi. Also articles in French and English.
Jungle Photos Jungle Photos Africa provides images and information on various countries in sub-Saharan Africa.
Africam - African Wildlife Webcams
Directories
AfricaResource.com Africaresource.com is an educational portal that develops and distributes content.
Columbia University - African Studies
The Index on Africa directory from The Norwegian Council for Africa
Library of Congress - African & Middle Eastern Reading Room
Open Directory Project - Africa directory category
Stanford University - Africa South of the Sahara
University of Chicago - Joseph Regenstein Library: African Studies
University of Pennsylvania - African Studies Center
Politics
African Anarchism: The History of a Movement
An Irish anarchist in Africa, western Africa from anarchist perspective.
Working class history in Africa -- people's and grassroots histories
Sports
Confederation of African Football; in English and French
Global warming has unexpected consequences for competing groups of scientists
each wanting to take credit for themselves for the find of the century.
This short story is being developed for release as a full length novel (e-book)
for 2015 with storyboards for a film in 2016 of ASAP thereafter.