What makes a genius? According to dictionary definition a genius is a person who displays exceptional intellectual ability, creativity, or originality, typically to a degree that is associated with the achievement of unprecedented insight. There is no scientifically precise definition of genius. The term is used in various ways: to refer to a particular aspect of an individual, or the individual in his or her entirety; to a scholar in many subjects (e.g. Gottfried Wilhelm Leibniz or Leonardo da Vinci) or a scholar in a single subject (e.g., Albert Einstein or Stephen Hawking).
Research into what causes genius and mastery is still in its early stages, and psychology offers relevant insights. Genius is expressed in a variety of forms (e.g., mathematical, literary, performance). Genius may show itself in early childhood, as a prodigy, or later in life. Geniuses are often deemed as such after demonstrating great originality. They tend to have strong intuitions about their domains, and they build on these insights with tremendous energy. After you have read the extract below of this man's achievements, refer back to this dictionary definition - when you may come to the same conclusion as ourselves.*
NELSON KRUSCHANDL
Nelson Kruschandl is seen below as a baby with his mother in South Africa and a bachelor at Cowes, Isle of Wight. Nelson was born in Johannesburg the son of Frank and Gean Kruschandl, British subjects, and at the time, colonials living at first in India, then Africa. When just one year old, Nelson was brought back to England, where he attended his first school (infants) in London.
Frank Kruschandl was a clever man in chemistry and problem solving in the building world, you can see evidence of that with Firmcrete. Gean Kruschandl was a gifted violinist, with some suggestion of mild psychosis in mid-life, which has been linked to genius. The family relocated many times, leading to disjointed schooling and instability.
During his formative years, the family business was manufacturing and building using, a then, revolutionary cement and timber based material known as Firmcrete. This was used mainly to insulate and protect the roofs of high rise blocks of flats and offices. Nelson's grandfather, Edward Victor Kruschandl, set up a factory in Seaford to produce slabs and blocks by a patent (1952 GB722003) method, which was later bought by Tate & Lyle to produce building materials from sugar cane waste. Thus it was that Nelson attended the Seaford Primary school, before moving to Eastbourne and Ratton Secondary School in the 1970's where he won the 5th Form Physics Prize. A keen sports-man, Nelson keeps fit by jogging, climbing and occasionally sport diving.
Frank Kruschandl (Nelson's father) bought back the Firmcrete business from Tate & Lyle, when they found it difficult to produce enough panels to fulfill contracts for the GLC (Greater London Council). The building company Wates, who had nobody reliable to fix their roofs, knew that Frank could run the operation in Seaford, East Sussex, which was where the factory was situated: 48 Brooklyn Road.
Frank got production back on track, the secret being how the product was mixed and when certain operations were carried out. With a revitalised fixing team, a new name (Insulcrete Installations), new trucks and vans, all was well for several years. Most of the business was flat roofing for high rise blocks in and around London. But, the product could be produced as blocks and wall cassettes, with pre-fabricated floor joisting for quickbuild homes. One house was built in 24 hours using this system.
1. Firmcrete panels being stacked at the factory 2. A Quickbuild house under construction at Ashford, kent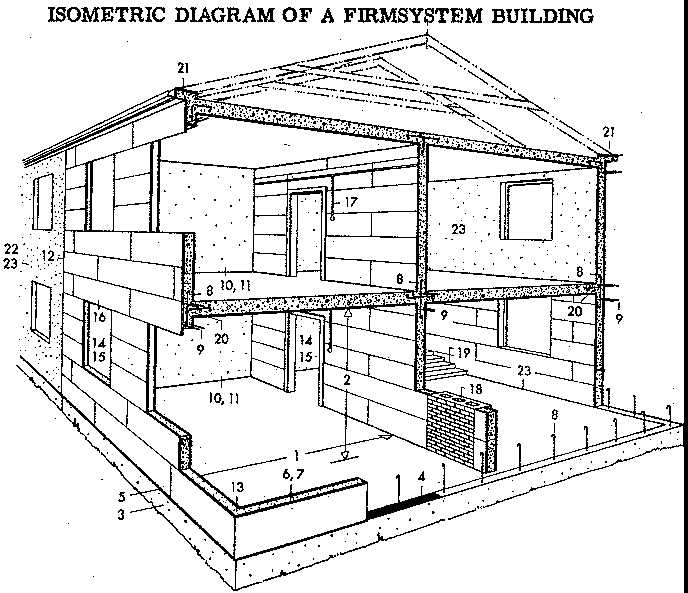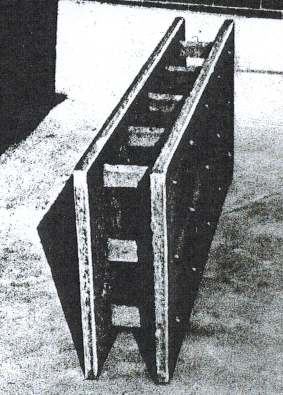 3. A diagram of the patent unit building system 4. A pre-fabricated Firmcrete wall cassette 1960
When the flat roofing business was killed off without warning by the Conservative Prime Minister, Margaret Thatcher, Nelson's family moved into the jewellery business, opening a shop in Newhaven. This was where he worked designing gold earings, rings and necklaces and sometimes repairing watches.
ROBOT PROJECT
Through 1980 to 1984, Nelson worked on designs for a large hexapod robot for film special effects, eventually placing the product, but then the film company went under. Even so, much of his theory was adapted by Hollywood, in such films as Honey I Shrunk the Kids. Nelson's robots were designed to work for real, unlike robots used in such movies as Terminator, that were hand operated with sticks.
Frame patterns for the head of the hexapod, you may recognize the jaws as those of the Australian Bulldog Ant, an extremely dangerous Ponerine, on this robot roughly 110 times the size of the natural insect - developed between 1980-84.
Later the inventor became a welder, did the odd truck driving job and finally became a planning consultant in 1997 after he was asked to run an appeal for a local animal sanctuary, which he won for them, and went on to chair a charity as a trustee, enabling stables demolished by heavy handed local authority, to be re-built. Nelson went on to set a precedent concerning mobile homes, winning another appeal against the same local authority in 2003, now the basis for a modular flatpack system and fresh patents in the future. An inventor's job in never done.
No doubt the variety of professions broadened his outlook on life, but he really wanted to make his vehicle designs a reality. As with most young men, Nelson had a love affair with motorbikes and then cars. His first bike was a Yamaha, which he used to commute to college in Eastbourne. Later he bought a Yamaha RD 250 and a Suzuki TS 250 for some much loved off road dirt biking.
Nelson with pram in London & his first Yamaha 125 AS3 motorcycle at Seaford Head in the 1970s
He loved that bike. His VW camper in 1995 and VW Baha until 2003
Nelson's first car was a Vauxhall Ventora, a 3 litre beast and not at all suitable for a learner driver, not least because of the horrendous insurance cost. Later he owned a Mini, a Volkswagen Baha, a VW Camper, a BMW 5 series and a Land Rover. He now uses a Jeep very occasionally, which is both practical everyday transport and lively off-road sport, while coping with logging, towing and other necessary country tasks.
Nelson finally embarked on his first car at workshops in Sussex in 1983, having purchased a derelict generating building in need of much restoration the year before. The first car was a sharp learning curve, where welding had to be mixed with blacksmithing and panel forming from sheet alloy and mild steel - all this in between urgent repairs to the historic remains of the generating building, which turned out to be a unique archaeological find according to English Heritage, also a time consuming labour of love. By 1992 he was granted patent No. 2218187 for this joystick car which he named the Borzoi after a pet hunting dog and the similarity in shape of their noses.
In 1991 Nelson designed his first electric car which was put on display at Beaulieu in 1993, then featured in many newspapers, finally ending up as a show car for London Electricity. In 1995 he was granted patent No. 2253379 for an electric vehicle refueling system, subsequently successfully incorporated in a converted Rover Metro and now an electric land speed racer called Blueplanet Ecostar. You can see Nelson's designs below, or click on the links on this page for more details.
Nelson (as mechanic) completing an engine rebuild on a Renault car
For many years Nelson strived to prove the old electricity generating building in Herstmonceux was of historic interest and should be preserved. While the battle raged in closed corridors, he did not make many friends with the powers that be, some of which were thought to be masons. Then some 20 years later English Heritage and the County Archaeologist in Lewes finally came to the rescue with professional independent reports to confirm his contentions. Read more of this using the links above. Please note this although this issue was amicably resolved with a binding Court Order, that subsequently Wealden District Council have breached the terms of that order, despite the fact they know this building is without any reasonable, beneficial use. Thus, this fight is due to recommence, by way of publication of taped meetings of a corrupt council is action: The new 'Battle of Britain,' or perhaps the 'Best of British.' Sorry Maam, but corruption at any level must be exposed. They tried to sweep me under the carpet.
Nelson continues working to restore the building in co-operation with the Trust that own the site and surrounding land. What this chapter in the story demonstrates, is that you cannot trust local authority. A warning though, relationships rarely survive this kind of struggle and local authorities have close links with the police and the courts. He has not made many friends locally, some of which would have seen a historic building destroyed. That is the price one pays for standing up to be counted. As one of our finest British Bulldogs said:-
Sir Winston Leonard Spencer Churchill (1874-1965)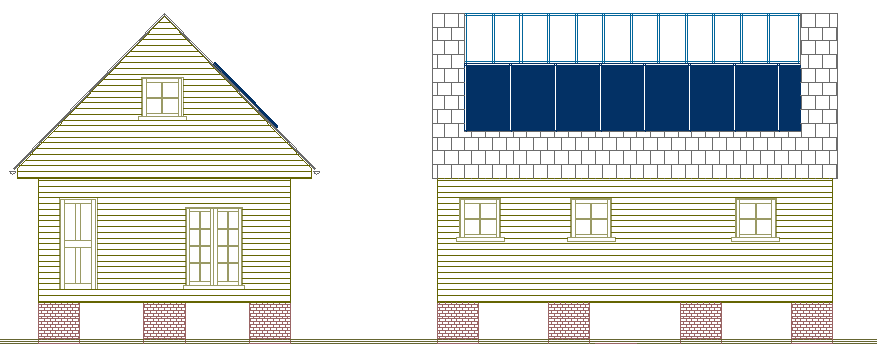 A prefabricated house incorporating a high-tech heating system (not visible).
Such a system could solve the housing crisis, if Council's made cheap building land available.
BUILDING DEVELOPMENTS
Taking the unit construction method developed for Firmcrete a stage further, Nelson has designed a system that captures heat and stores it economically. The vision is that whole villages might be built with this heat and energy harvesting system so that energy bills are virtually eliminated and electricity is sold into the grid for export. The rights to this system have been transferred to a development group.
Nelson has always had a love of the sea, which is why he is so fond of Seaford and Newhaven, for the high winds and cliff views of Seaford [head] and the busy working harbour at Newhaven. He trained as a diver in Brighton and Plymouth, achieving a Class 2 BSAC qualification. He enjoys discovering wrecks and has dived on the site of the Mary Rose helping to survey, etc, as a volunteer.
Nelson building his first car - the 'Borzoi' - with patent joystick controls
and practicing archery
Nelson is an enthusiastic amateur yacht designer, and has enjoyed memberships of the Amateur Yacht Research Society, the Royal Yachting Association and the Speed Record Club. Nelson's first boat was a hybrid design not unlike a modern Jetski. He made this with plywood and fibreglass in his bedroom on the third floor at 8 Old Orchard Road, Eastbourne, and later in a garage in Seaford, where he fitted it with a lawn mower engine.
The Solar Navigator project began as a challenge to power a practical diving work boat or survey vessel with solar panels. There followed a series of hull-form evaluations in small scale, with the size gradually creeping from 1/50th to 1/10th and back to 1/20th. The idea for a solar powered ocean cruiser was conceived in 1993. The 'Solarnavigator' project is the culmination of years of practical experiment. The first of a series of development models went on display at the 1995 Earls Court Boat Show. Nelson was a member of the International Solar Energy Society (ISES), an organisation dedicated to the use of alternative energy and a keen amateur archaeologist.
Where the Solarnavigator project started as a theoretical exercise, the models worked so well, other teams have built solar powered catamarans, one of which crossed the Atlantic ocean. As a showcase for renewable energy the project would be excellent PR for alternative energy in use as a practical level, perhaps something the G8 or G20 would be proud to be associated with. Indeed, since Nelson published his world route, the French/Swiss team actually completed their world circumnavigation with PlanetSolar, which began life as a trimaran design, but finished up as a catamaran.
Nelson believes that increasingly quicker circumnavigations will provide a unique opportunity to collect data for scientific evaluation. Such projects will focus attention on natural sunlight and other renewable resources as a practical alternative to reliance on dwindling fossil reserves. As scientists predict worsening global weather shifts, pollution and warming continues, Nelson believes that research in this field is important conservation work for our ecology. That this is important, should be passed on to future generations at an early stage, and Nelson is pleased to note these subjects are covered in Schools around the world, which partly accounts for the hits on this site.
Borzoi joystick prototype patent car 1986

Electric Bluebird racing car BE1 1993 (120 seconds)

Electric Bluebird racing car BE2 1997

Blueplanet Ecostar racing car BE3 for 2014-16

Solar charged/assisted WLSR (60 seconds)
Nelson's hand crafted vehicles 1986 to 2013. All of the electric designs feature the Bluebird FE™
instant recharging system, changing batteries in seconds.
| | |
| --- | --- |
| | |
| Prototype battery cartridge suitable for racing and road cars as fitted in the BE1 below - this design has since been improved. | Prototype pneumatic battery cartridge loading servo installed in the BE1 electric racing car in 1995 - uses more space to achieve exchanges but it is formula one pit stop fast |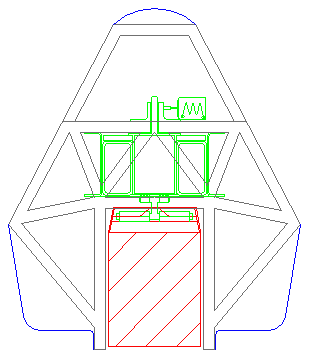 This is one of the design drawings for the BE1 cartridge loading system as used in 1995/6.
You can easily identify the chassis as being that in the workshop above - and the cartridge and pneumatic loading servo seen in the pictures above the frame. Click on the picture above to see this loading system fitted to a sports (Tomcat) concept car from 1997.
| | |
| --- | --- |
| | |
| Battery cartridge refueling system - Electric servo loading mechanism installed in a prototype Rover - front end | Rear end of Rover car (boot) - this is a more compact design than the pneumatic servo above - with exchanges taking no more than two to three minutes in total - or 60 seconds for the replacement operation. |
Nelson enjoys a good book and a good movie. See our top 100 films, but what is a good film? Nelson enjoys a mix of adventure (Pirates of the Caribbean, Master and Commander), romance (Titanic, Sound of Music, Just like Heaven) and thriller stories (James Bond) with a preference for true stories (Seabiscuit, Worlds Fastest Indian). Nelson also enjoys good music, interesting food and evenings out at his favourite haunts in Sussex. He actively encourages local musical talent, once offering free recording to bands on a tight budget and free web-space to publish their songs. No longer, so please don't ask.
Nelson would have liked to pass on his accumulated knowledge and skills to generations to come via his genes in time honoured fashion, but in a modern society is that really necessary? We have sperm banks for those without the time for partners. There is no guarantee of a child being born with his skills, where the mother's mitochondrial DNA determines so many factors. See the Boys From Brazil. It's a matter of luck. There is no sure thing. But, statistically, there will always be skilled people springing from the most unlikely parents- it's a mathematical certainty.
This site is some evidence of his achievements as a source of inspiration (example) to others. It is lodged with the British Library for posterity. As to intelligence, it is not just breeding, it is also the environment one is brought up in, though it helps to have good eyesight and coordination. Other than that it is the wiring in the brain that causes some people to be creative, and the social advantages that might allow those with creative tendencies to be curious about their surroundings and experiment, to be able to advance their particular interests, despite a small number of clods in positions of power, who have done their best to stifle his creativity. Forgive them father, for they know not what they do. Oh yes they do. Inventors through the ages have been persecuted. See the Witchfinder General.
Left: Nelson making his first closed loop MkI wind tunnel (in plywood), Wolverine model car testing and Right: his second all electronic MkII (in alloy) development with strain gauges to measure drag, lift and down-force, with a rotating turntable; the bluebird electric BE1 test model in the chamber.
AROUND THE WORLD IN 80 DAYS MR FOGG
Okay, 80 days if cutting it a bit fine. On the 4th of May 2012 the Swiss PlanetSolar Turanor set the first record for a solar powered circumnavigation at 585 days in their solar powered boat, a notable effort. That is now the record to beat. The boat on the left is from the United Kingdom, called Solar Navigator. The development of this project has been mostly in the backyard and on local Sussex waters. The rights to the design have recently been licensed to a film production company.
EARLY BOAT DESIGNS
| | |
| --- | --- |
| Solar powered SWATH boat | Solar powered catamaran |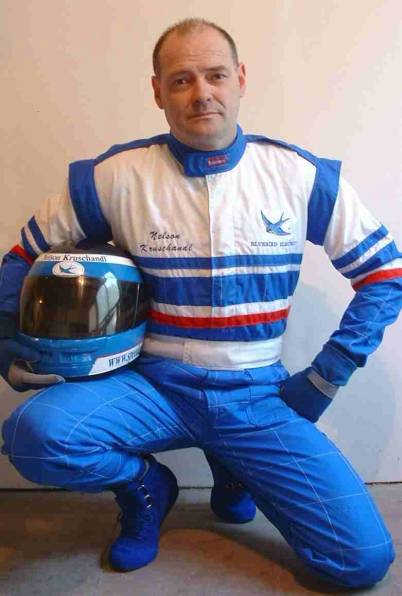 Nice suit Mr Creative. Nelson Kruschandl in his racing outfit
OTHER SKILLS

WILDLIFE PAINTING:
A leopard reposed - Study: Acrylic on paper, canvas & oils next time

An angry leopard snarling - Acrylic on paper

Field mice enjoying the wheat harvest - Acrylic/paper
WOOD CARVING: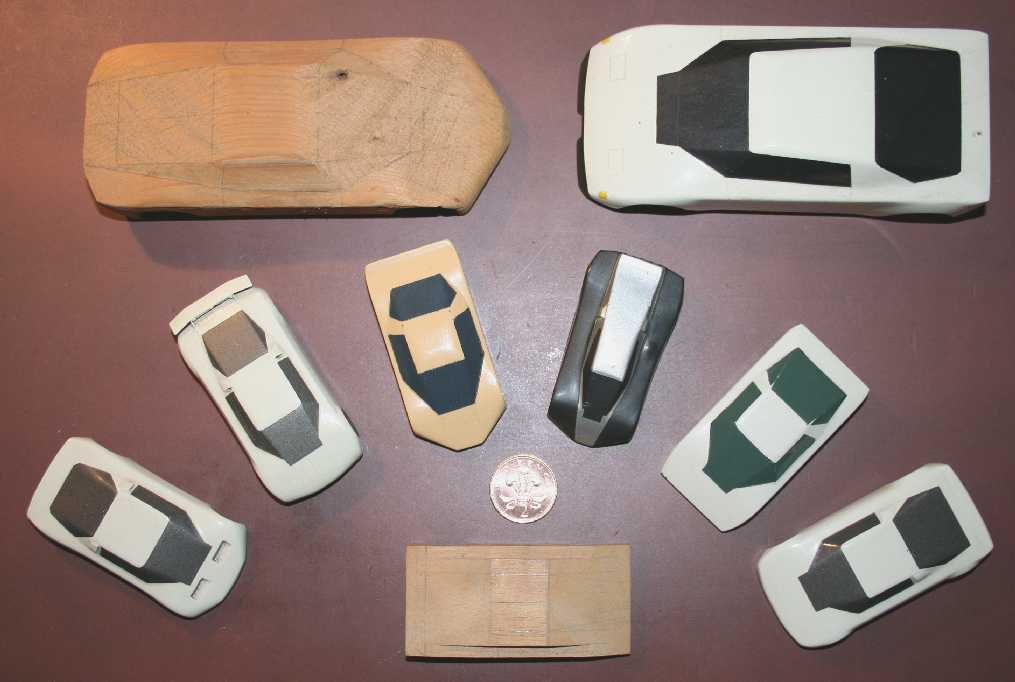 Nelson also carves in wood, mostly to visualize his designs, in this case cars that he first designed on paper, then before even considering building the real thing, he carves a small scale model, which also serves for test purposes in a wind tunnel. The 4th model from left in the radial display was constructed full size to test a joystick control system for his first patent GB221888187. Beech (lower carvings) gives better detail than pine (top carvings).
This Formula E design in the latest to incorporate his patent recharging system. Thought to be the world's fastest battery replacement mechanism - for instant refueling during pit stops (around 10 seconds). Your team can now get a free developer License from Bluebird Marine Systems Ltd.
* Returning then to the subject of genius. Consider the range of skills demonstrated by this one man on this page extracting from his works, and we say there can be no doubt about it. It is not just his range of skills (including wood carving, welding, electronics, metal forming, fine art painting), it is his insight and originality. Then consider the consistent evolution of designs for various products, including robots, wind tunnels, cars, boats and eco houses. It is the range of skills and the variety of projects that we say qualifies this man as a Creative Genius. In history there have been many like him, the most obvious of which is Leonardo da Vinci. One person who had visited a museum in France dedicated to Leonardo da Vinci, and who also had been into Nelson's workshops, wrote to say that the museum in France was like stepping into his workshops.
Leonardo's codices, include concepts of a car, bicycle, helicopter, glider, parachute, SCUBA, submarine, military tank and ideal city to name a few. That list is near identical to projects that Nelson Kruschandl has worked on and not just on paper. Is that just a coincidence? We don't believe it is, we believe there is some pattern in geniuses, and that maybe Nelson is more closely related to Leonardo da Vinci that he realizes.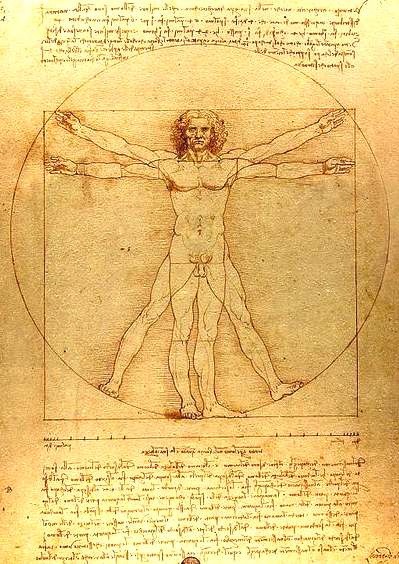 LINKS:
http://www.chateaux-france.com/closluce
Château du Clos Lucé - Parc Leonardo da Vinci
2, rue du Clos Lucé 37400 Amboise France
http://www.telegraph.co.uk/news/Leonardo-Da-Vinci-theme-park-to-open-in-France.html
http://www.macchinedileonardo.com/index.php?links-eng
http://legacy.mos.org/leonardo/qtvr4.html
http://www.davincithegenius.com/
http://www.bbc.co.uk/science/leonardo/gallery/vitruvian.shtml
http://en.wikipedia.org/wiki/Genius
From the above, it should be obvious that the generating buildings in Herstmonceux, where this genius of a design engineer lived and worked for so long, should be preserved, not so much for it's historical beginnings, as for the work that poured out of this one man, much of which survives. The building that is presently managed by the Lime Park Heritage Trust, should be a re-classified and access made available to the public.
| | |
| --- | --- |
| | |
| - | - |
| New release: The Energy Age (illustrated) 1890 - 1936 available for Kindle and other readers from June 2013. This is the first in a series of factual volumes about the writers personal experiences, successes, struggles and vindication. We are hoping to persuade the inventor to undertake a volume on his inventions. | Work in progress. Nelson keeps meticulous records of all matters pertaining to his projects, right down to the last nut and bolt ordered, which is useful when it comes to telling the story - this one some 20 years in the making - covers his first car, all the way to the present vehicles under construction to his design. This is to be a factual volume including the refueling system that took 2 minutes to recharge, is now down to seconds and suitable for Formula E |
INVENTORS A - Z

Another example of creative design by this engineer. Probably the world's fastest electric car.