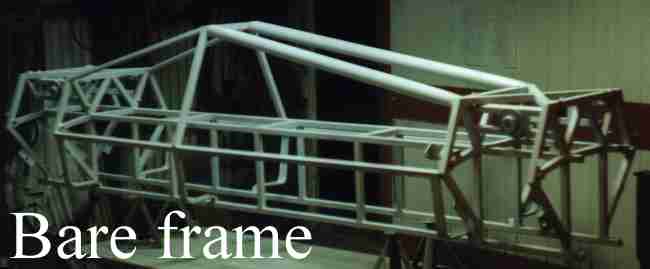 BE1 steel space frame chassis with suspension mounting lugs
The frame of BE1 was constructed of welded box and circular section mild steel tube, over which an aluminum (stressed) skin was riveted to increase its torsional stiffness. No exotic weight saving materials were necessary due to the simple design. This had the advantage of reducing build costs and allowed repairs to be undertaken at an event should the vehicle become damaged.
CHASSIS LOADING-SERVO CARTRIDGE MOTORS JOYSTICK-CAR WIND-TUNNEL
RENEWABLE ELECTRICITY
Solar power from micro generation is now a growing industry as many Youtube videos are demonstrating. As these conversions and new builds gain in popularity electric vehicles will also gain favour, especially for households generating excess energy, which they could get better value from by using for transport. Electricity used in this way might reduce transport costs by up to 200%. So provide a higher quality of life with lesser environmental damage.
If buying an EV, it would make sense to have the latest future proof technology, such as battery cartridge exchange built into the vehicle, for self servicing, or exchanges at local stores or cooperatives. This technology exists but has not yet been incorporated in production vehicles.
When EVs become available with cartridge refueling, it would make sense to have in place at least a few service stations to cater for eventual demand. The technology would thus be in place when it is needed. Such a move when it is implemented will greatly reduce carbon dioxide build up in the atmosphere and ease the transition from oil based economies to abundant clean energy.
THE CHICKEN AND EGG SITUATION
If there were service forecourts to cater for battery cartridge exchange, that might in turn persuade motor manufacturers to produce vehicles with the system. This is a classic chicken and egg situation. Who should do what first.
Given the scale of the problem, it might be prudent for every corporation involved in the industry to at least investigate the potential that any emerging technology might offer for the future on mankind, which is after all the future of their company and eventual profits for their shareholders.
ENERGY GENERATING-DISTRIBUTION UTILITIES
A heartwarming adventure: Pirate whalers V Conservationists,
with an environmental message.
For release as an e-book in 2013 with hopes for a film in 2015 TBA
(graphic design: Martin House)